Splintershards (SPS) || MEXC...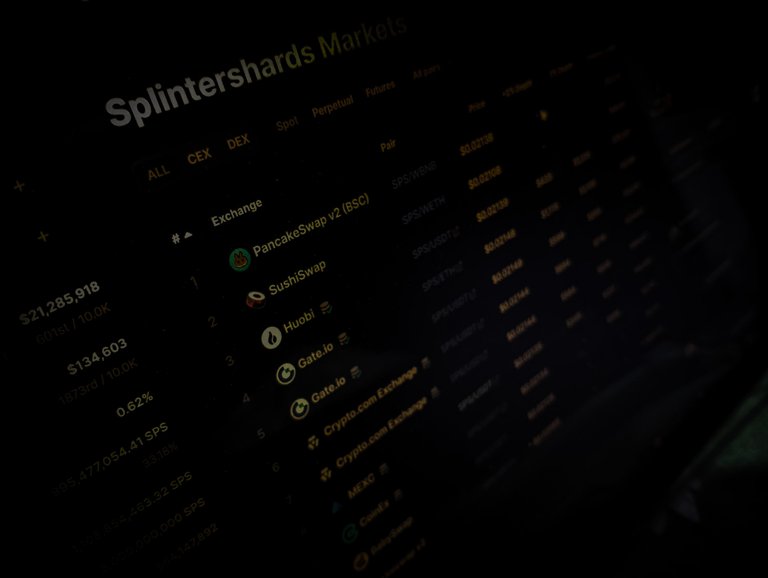 I have been exploring different exchanges for the past few weeks. Mostly, searching for opportunities to make some decent returns on my investments. Upon searching, I was surprised by few facts regarding our Splintershards (SPS).


As of writing this post, Splintershards (SPS) is listed upon few CEX and DEX.
| EXCHANGES | LIQUIDITY | 24 HOUR VOLUME |
| --- | --- | --- |
| Pancakeswap (DEX) | $1.6M SPS/WBNB | $5,024 |
| Uniswap (DEX) | $1.6M SPS/WBNB | $818 |
| HUOBI (CEX) | ----SPS/USDT | $75,301 |
| CRYPTO.COM (CEX) | ----SPS/USDT | $724 |
| Mexc (CEX) | ----SPS/USDT | $41,800 |
---
There are few other pairs which are currently available for trading SPS in DEX/CEX's. As you may notice from the chart above, wwhat we are missing? Splinterlands, sure has a dedicated community, investors developers, also it has what it needs to reach to the peak where it deserves to be as a play to earn games. BUT we are surprisingly not able to show it to the world. May that it be via publicity, advertisement and so on. Also one of the main factor on the chart as you may see, is the trading volume.
As it surprises me there is nothing happening in terms of trading volume for SPS in both DEX's and Cex's. The amount of trades and volue that is happening at current state, these are not so attractive and nor it is what we expect. Although, the scenarios might be little different in Tribaldex.
But the main point remains! Whatever that is happening in Tribaldex, it is happening within Splinterlands and Hive eco system. These are the people who already knows about Splinterlands. What we need now is primarily focus and a boom! Which will take our play to earn game, aka Splinterlands to the peak where it deserves.




Once SPS, gets listed on some exchanges, we sure will see spike in price of SPS. Which will probably bring the focus and attention which we are looking for the game. While I hope, we get the attention that we are looking for, or else things are not going to look good for us in the coming days. While, the fact that we are seeing at the moment is the present listing of SPS.
SPS listing on MEXC exchange was probably due to the public demand! Which holds quite a significant value. As MEXC Exchange is undoubtedly one of the reputed exchange in the crypto space. SPS is currently at assessment zone of this centralized Exchange. By assessment zone it refers to the following term.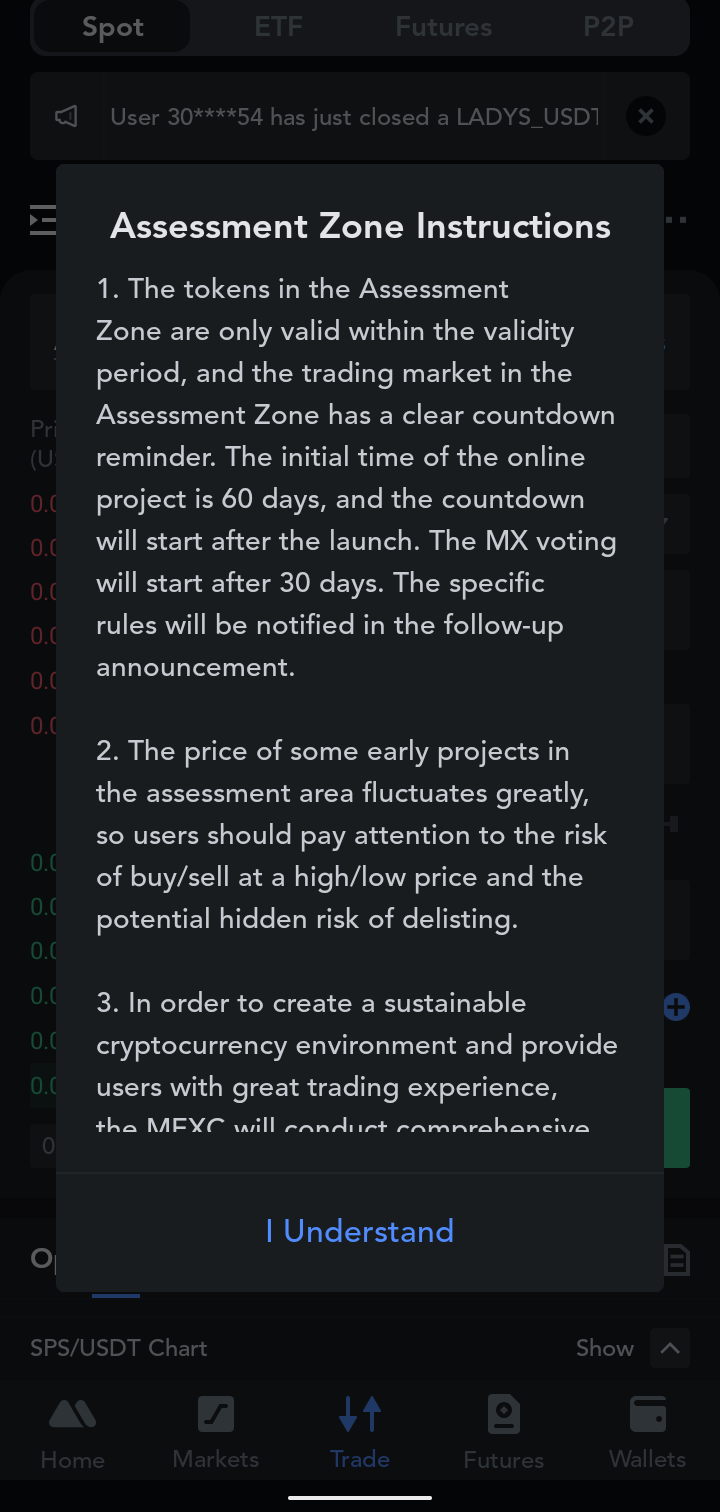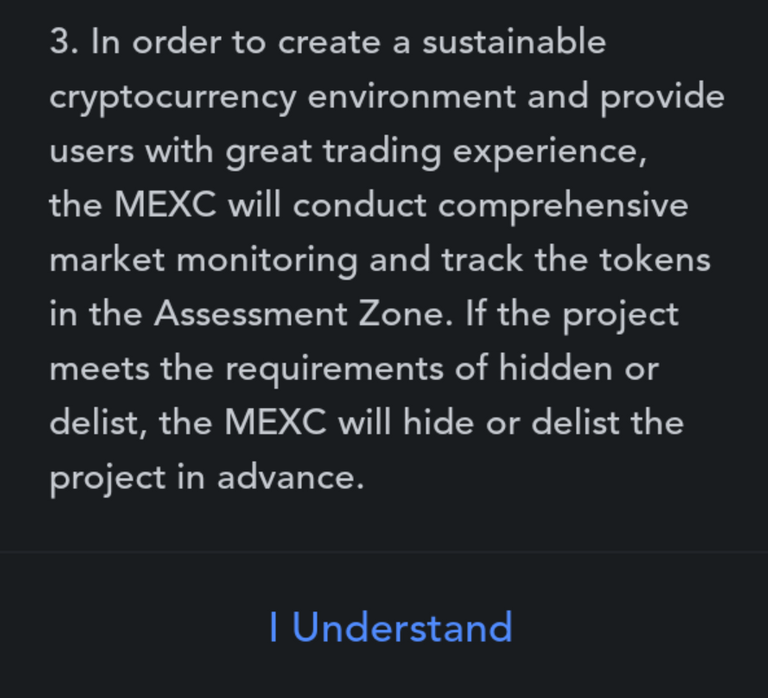 As of writing this post, there is almost 13 days remaining in the countdown. The term assessment zone refers to in simple terms are, MEXC will monitor the token/coins in this assessment zone and if they get concrete evidence of this coin being sustainable and will hold up for the terms of MEXC exchange, they will keep the pair or else it might end up in delist or may face other steps in the process.


Any listing of SPS at the current moment is a blessing indeed. We sure have passed a proposal which will make SPS list in reputed exchanges but these free listings are always a cherry in the pie. Why loose these free promotions along the way.


Few steps we might take in the coming days. Although, I do not prefer to use CE's for trading purpose but without these CEX's the growth becomes stagnant for a project.
Trade in those Exchanges
Buy/sell, from/to these Exchanges
Overall use these CEX's from time to time
---
A good volume and a steady pace of price does reflects a lot about the coins/tokens team, community behind it. We will get some good listings of SPS in the coming months but lets not waste any sort of opportunity along the way. As listing in exchanges needs deep pockets, which is quite difficult at the current situation of the bear market. I really want to see the long term view of SPlinterlands and want to be a part of it. In probably next five years, things are not going to stay the way as they are. But we the hodlers and players will get the most benefit out of it! Fingers crossed, for those golden years ahead!


Try out MEXC Exchange, if you can! And of course do try out the pair of SPS/USDT!
Important link




Image sources: Mexc
---
Best regards
Rehan
---
Want to play & earn from Splinterlands

---
---

---
---