The Gray Man || Netflix Original
During childhood there was a time when I felt like, once I grow up I will choose the path of being one of those Spy characters. It was an occasional feeling while watching spy, thriller movies. Apparently, as it seems life had other plans for me. Which is why, I am now writing a review of a spy, thriller movie with you all lol!
---
The Gray Man, is a 2022 American spy, action, thriller film. It was directed by Russo brothers (Anthony and Joe). The films distribution was taken care of by Netflix. Netflix is going above and beyond with its films and Tv series over the past months. The Gray Man has an estimate of whooping 200 Million production budget. One of the most expensive movies made by Netflix. Although the casting of the movie seemed perfect. Ryan Gosling, Chris Evans, Ana de Armas, Jessica Henwick, Dhanush and many others. Over the years, Russo brothers has created a space for themselves in the film industry. The direction of their previous films has made them somewhat of a prodigy in the industry. Although, some might disagree but the numbers ($$$$) which are printing from their directed movies are saying other wise.
---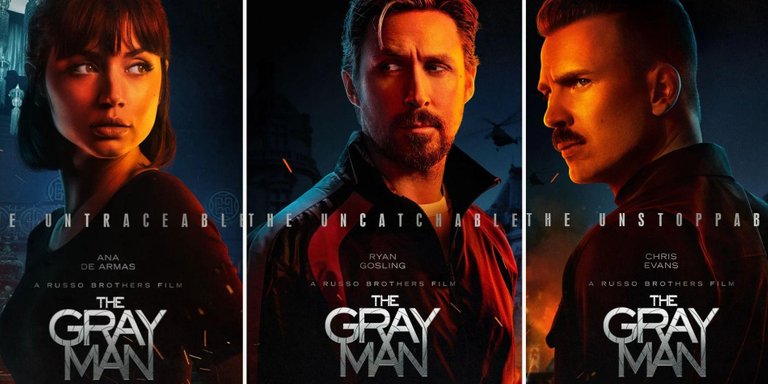 Image source
---
Ryan Gosling going out on a rampage with Chris Evans was one of the attraction of the movie. Not only these two but Ana de Armas and the all starrer movie created a huge buzz across the industry. Including Dhanush, many of you might not be aware of him but Dhanush has a very big fan base in the Asian region, especially in India. Which allowed the movie to create an extra attraction in several region of India. The movie was consumed due to several big facts which led it to be on second most popular opening weekend on Netflix of 2022. It was watched 88 million hours on the course of its first three days. Although, considered to the top watched movie Adam Project still keeps the top place in terms of watched hours with a whopping 92.4 Million hours in its opening weekend.
---
Knock Knock Spoliers Ahead !!
---
Ryan Gosling was facing his jail time due to killing his abusive father. Since childhood his father made his life living hell. He had to kill him in order to save his brother's life. During his jail time, he met a person who introduces himself as a CIA agent. Upon talking back and forth he was offered to get out of jail but he had to work as an assassin for the CIA. Namely in the program SIERRA, where he would eliminate threats without any questions which governments can not handle or would like to keep it a low profile. The duration for his worktime would be indefinite. While the offer is quite intuitive from my pov. The offer seemed quite numb, like die in prison or be here for a very long time or alternately get out of the prison and at least have a life. But as amazing as it sounds the plot of the movie gets deviated after SIX spends years in this line of conduct.
---
Over the years, Ryan Gosling aka "Sierra SIX" became a prodigy in his path of work. On a special appointed task, he was told to kill someone who holds secret information and on a certain aspect during their confronts SIX found out he was up against SIERRA FOUR. As being shocked the information/drive was handed over to SIX by Four. Being confused what to do SIX somehow became convinced and went in to search what was in the drive. He was convinced with Four's last confession about the corruption of CIA official Denny Carmichael, he went on a rampage and went rogue.
---
Since Denny Carmichael had to cover up his tracks this situation needed to be dealt with. This is where Chris Evans (Lloyd Hansen) enters. Being a private contractor he who seeks ultimate results reaches out to Hansen. A former CIA agent who was kicked out of CIA due to his immoral attitude. Being a sociopath he has his own way of dealing with tasks. The retrieval of that data was a must for Hansen. The pursuit of Six made the movie very intriguing. Hansen going after the people who six cares about. Fitzroy and his nephew were taken hostage. Six had to find them both and along the way stay alive. With Hansen on his back and all the other government employees and mercenaries looking for the bounty on his back.
---
Few key points regarding these sort of spy movies which makes them kind of interesting to watch. Not mixing up the scenes, keeping it simple but yet interesting and developing the excitement as the movie moves forward. Screenplay, cinematography and not using much of a VFX during action sequences are up to mark. Although, these are action movies but some of these sequences will not make any sense to us normal people. I have learned to live with that. Instead of focusing on those points I just tend to enjoy and keep the movie going.
---
During these scenarios, Ana De Armas Cia agent helps Six to clear up her name which got colluded in this fiasco. She played an important role in the movie and in different situations her presence within the movie was impactful. Like saving Six's life from known death and helping six rescuing Fitzroy and his nephew. She did justice on her role within the movie. On the other hand let's talk about Dhanush, an Indian actor who played the role of a private assassin in the movie. Hansen almost failed retrieving the data from six even after sending his best teams and mercenaries but Lone Wolf aka Dhanush successfully retrieves the data and brings it back to hansen. This simple role of Dhanush has made the whole India go into craze of an Indian actor playing a role in Hollywood. Although, there were other actors who have played roles in Hollywood before but it became a sensation. Which is why the movie got a lot hyped in this side of the world.
---
Although, there are some twists along the end of the movie which shows there might be a chance of having a sequel for this movie. Although works are being made and hopefully we will a sequel of it in near future. I would kind of like to watch a sequel of it as well.
---
One of the issue which I noticed within these sort of movies are some corrupted individuals makes all the mess. which results in chain reactions along the way. Whenever you get unlimited resources and support from the government some people takes it for granted and use them for their own gains. Happens in our real life as well. But ultimately, at some point they get what they deserve. It might take some time but it gets resolved. A happy ending indeed!
---
Imdb rating : 6.5/10
---
Best regards
Rehan
---

Posted using CineTV
---
---