Unforgettable Day in Splinterlands (Riftwatchers, Validator Node License)

Every day in crypto is unpredictable! No one knows, what is going to happen next! That stimuli makes it even more special to be in crypto and feel that excitement along the way!
---
Yesterday, was one of those epic day's to remember in Hive blockchain. Many of you might have known about the event of Riftwatchers presale organized by @Splinterlands. Almost every users who were related to splinterlands were excited about it and the craziness which happened during the presale was one of a kind to remember.
---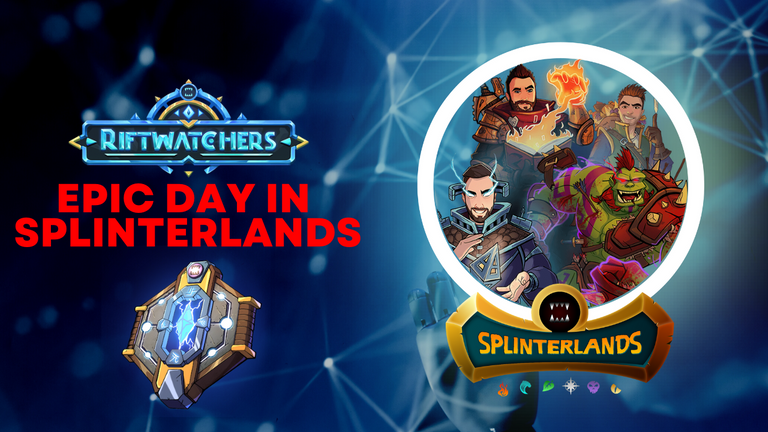 ---
Presale concluded in 1 Minute!
---
Riftwatchers, another edition of Splinterlands cards which includes 43 new cards being introduced within the game of Splinterlands. The presale event took place on Thursday, September 15th, 2022 at 2 PM ET / 18:00 UTC. Yup, you heared it right! The presale event concluded under a minute. Which is a total of 500k packs (some changes were made due to rush) which is approximately worth ($5.00 USD each packs + one voucher) $2,500,000.00 worth of SPS sent to DAO of SPS fund. Where the game economy got strengthened a lot. This funds from DAO will be used for the development and ultimately used for the users/stakers of the game in one way or another.
The king note behind this presale was, in the presale event users will be airdropped limited edition promo card/s for which all these rushes were made by the purchasers. The FOMO was EPIC in this scenario. I must say, Splinterlands has reached to this place where people are buying anything which they are offering. And it is a very good sign for Splinterlands. As faith is quite difficult to come by in crypto companies. Glad that Splinterlands is showing this much integrity and compassion towards their users to bring development and changes within the game which helps both users and the company.
There were a handful of people that didn't get the voucher piece right when they submitted their purchase request. We're planning to allow anyone that was in the first 500K purchased, but screwed up the number of vouchers to put in a support ticket, transfer any missing vouchers, and get bonus packs appropriate for the amount of packs they purchased.
---
Riftwatchers Update
---
As of writing this post, 647,769 Packs were purchased. The numbers are increasing very rapidly. Although, it seems like before the launch event of scheduled for Sept 27th, 2022 the packs will sell out. Let us witness what happens until then.
---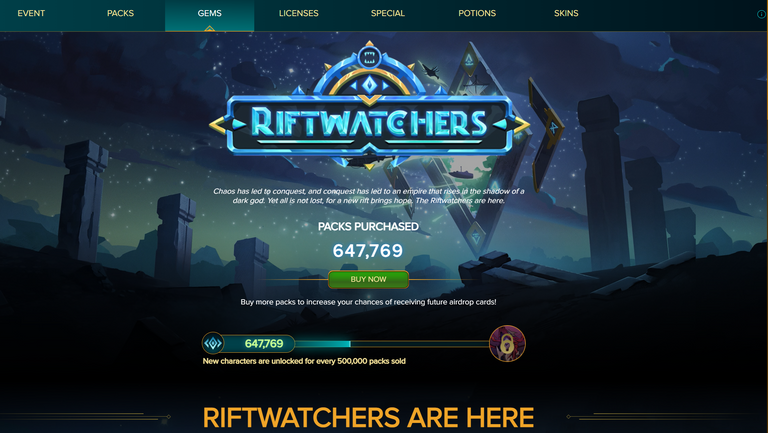 ---
I wanted to participate in the presale pack but I missed it as there were too much anxiety to handle lol. And also the issue of fund was out there. I was little late to take the decision of buying the packs. But nothing can be done, it is what it is.
---
Effect of Pre-sale
---
The excitement was one of a kind which I have not felt in a long time. There were multiple ripple effect due to this sale. Which resulted some crazy out put within the game.
---
Yeah, crazy thing happened. Before the last day of presale, Tranche 1 sale period was going on. Where more than 1000 node licenses were left for sale. Once the presale event took place, FOMO hit the head of almost all those buyers (who bought the node). Making them sweep the node licenses of Tranche 1. Can you imagine the craziness of Splinterlands players and investors. $1500 plus 500 additional vouchers (Vouchers were needed to reduce the price) to purchase a node. So a simple calculation, $1500*1000 node= $1,500,000 worth of SPS. All these happened within few hours of the presale. Simply a crazy event took place in the history of Splinterlands. Not to mention these node licenses were being sold little slowly than expected. But a perfect time for them to get sold and increase the hype little more.
---
Welcome to Tranche 2
---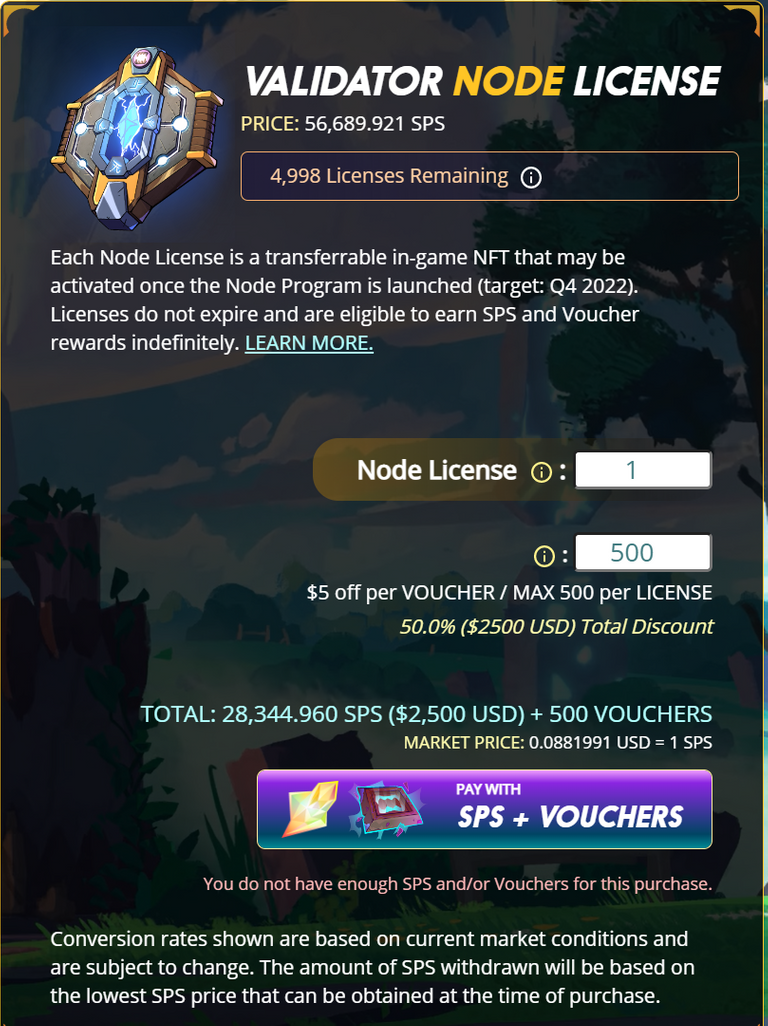 ---
I wanted to get another node licenses and wanted it to be my third node license. But unfortunately, now either I am going to be happy with two nodes or purchase another one with a higher price. But as the way things are going it would be difficult for me to stay away from node purchase. So lets see what happens.
---
---
Honestly, this price pump was expected. As you may notice there was a pump in the price. So there was an opportunity to grab in those price movements. I was able to collect some $$ in between this price pumps. Which is I sold some SPS at high rate and planning to buy them back if the price drops. Even if I convert them now I would be a profit. So there is that!
DEC also saw a nice pump in this event. 1000 DEC is at $0.700 Although, I wish I had little more DEC, as I could have made some nice $$ during these event. But whatever I was able to do during that moment, I am happy with it.
---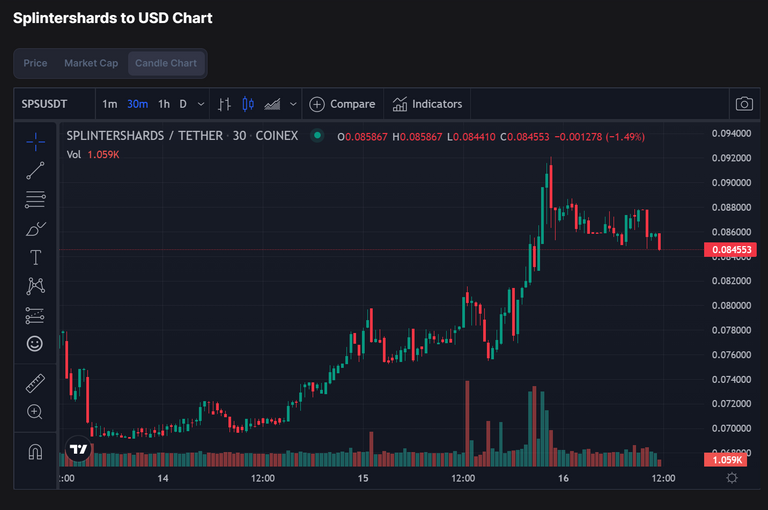 ---
So overall, the event was a grand success. A lot was learned during this presale event. One of the prime lesson which I learned during the event was, I need to keep a lot of money during the next events. As I do not want to miss any of the opportunities at hand. And last but not the least Congratulation to @splinterlands for hosting such a grand event and make it a success!
---
Image source : Some images were used from Splinterlands.com
& CMC
---
If you want to play Splinterlands
Join the game here
---
Best regards
Rehan
---

Posted Using LeoFinance Beta
---
---