WHEN A MAN LOVES A WOMAN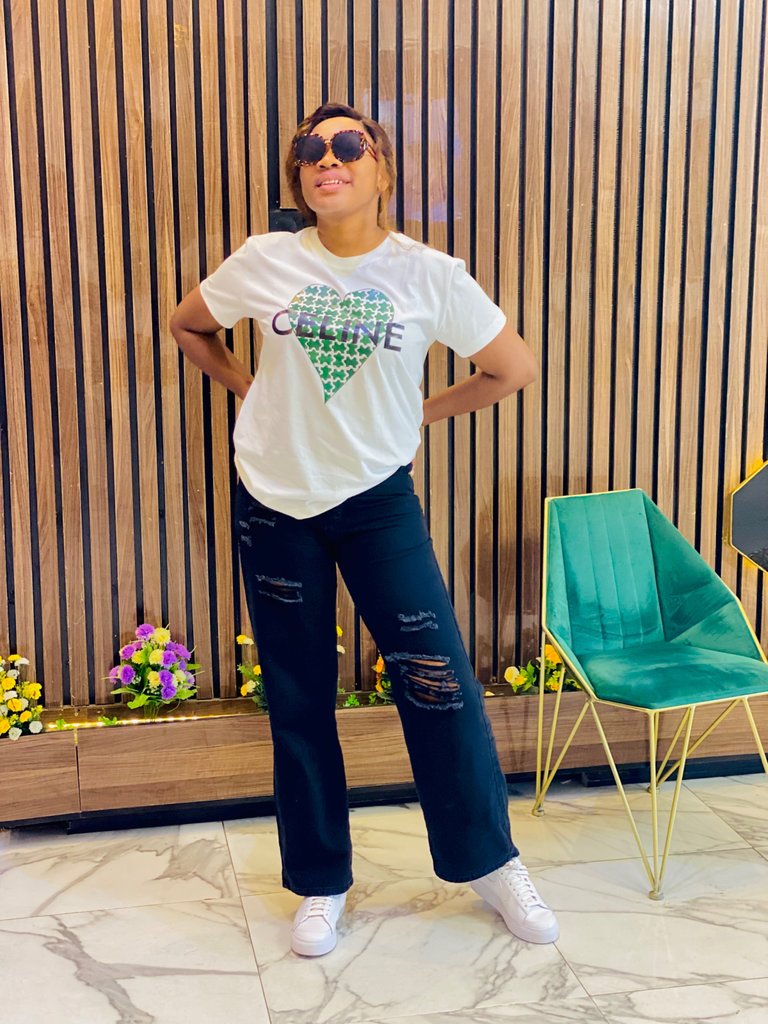 Hey guys
Welcome back to my blog, I can't say how much I have missed you all. So recently I had this client whose wife birthday was fast approaching and he wanted to do something sweet for her. This client is one of my favorite because he is fully loaded financially and he doesn't stress me with too much price negotiations. I think I look forward to his wife's birthday every year more than the owner of the birthday. (Lol)
So this year we were to throw a Suprise mini party for her right in their house and he wanted it to do some first thing in the morning. At first I couldn't wrap my head around the idea of doing a decor right in her living room without her hearing us work or getting busy. As a woman I know how sensitive to noise I can be when I am sleeping, the slightest noise and I am up and waking my husband. My client assured me that if we work as quietly as possshe won't hear a thing, we went to his house to inspect the space and what would be needed, he even showed me the distance between his bedroom and the living room and assured me that she won't hear anything. It was a risk he was willing to take just to Suprise his wife and I was all in. I love a good challenge.
We concluded the budget and made plans to stay in a near by hotel, a fair distance from his house to enable me and my team do all the pre-decorations, we blew out all the balloons we would need, I made the money castle, arranged the gift boxes. We worked well into the morning. At about 2am he sent his driver to come and get us and all our stuffs. He already left his front door opened for us so we just got into the house quietly and started set up.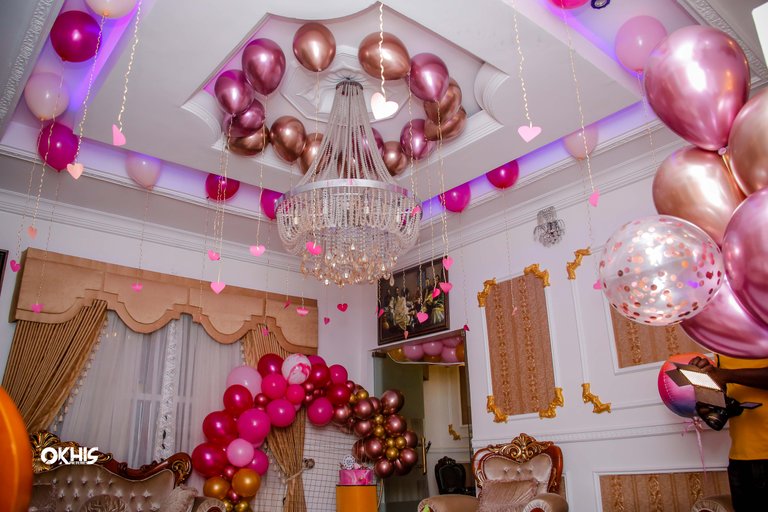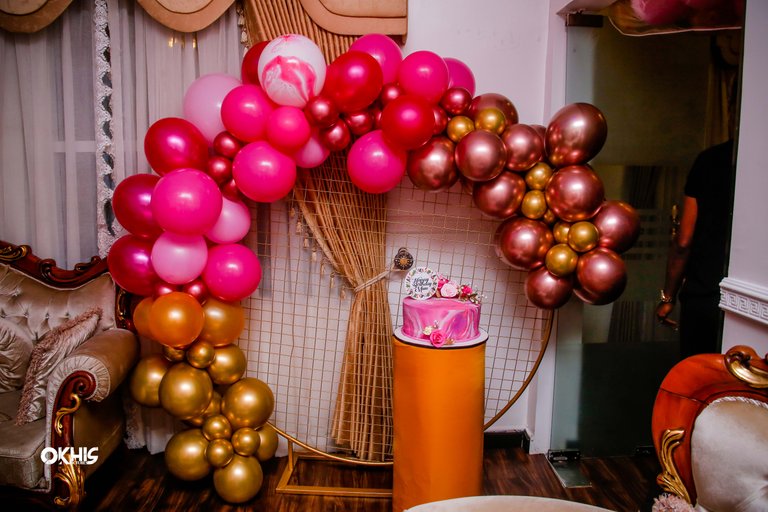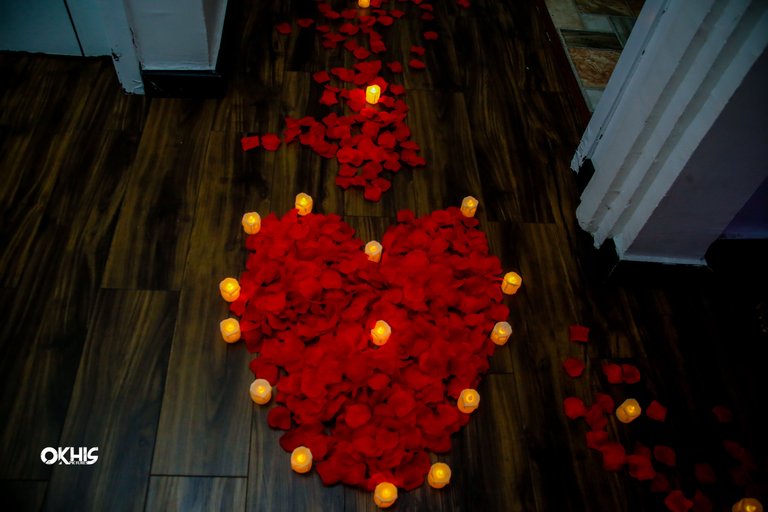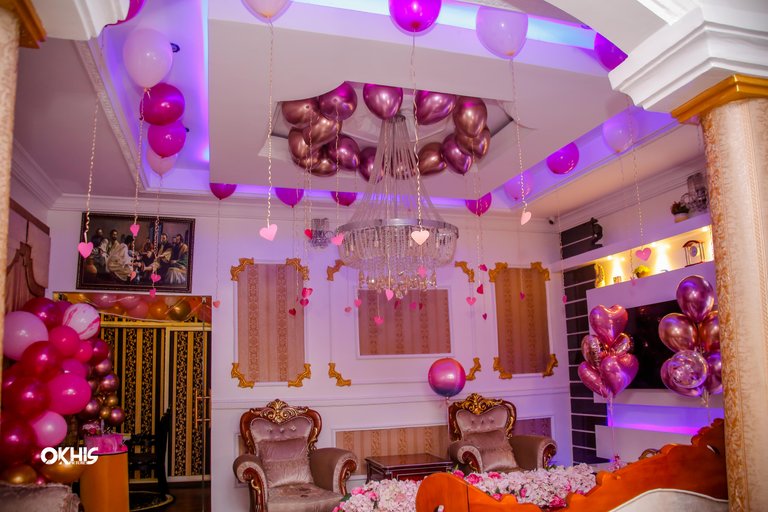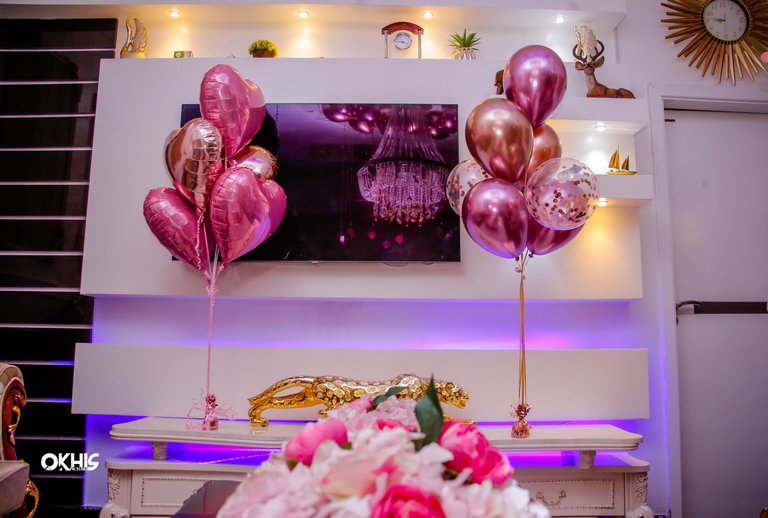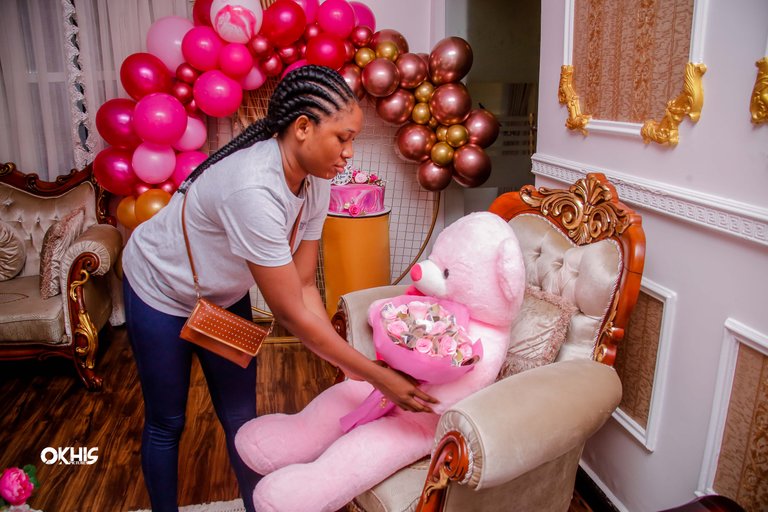 me and my team working quickly and quietly by 2am
We hung balloons to the ceiling, we placed the photo backdrop and cake stand, I did a petals and candle trail which was so so romantic to behold. I was in awe of the length this client goes every year to mark his wife's birthday, this year took the icing on the cake.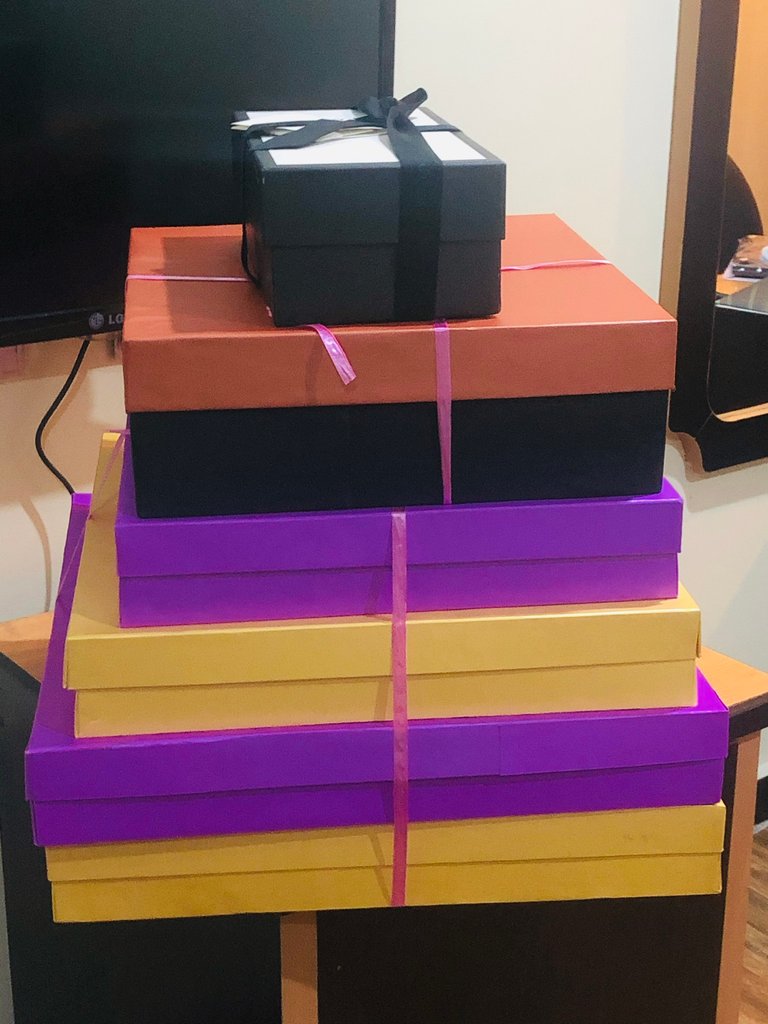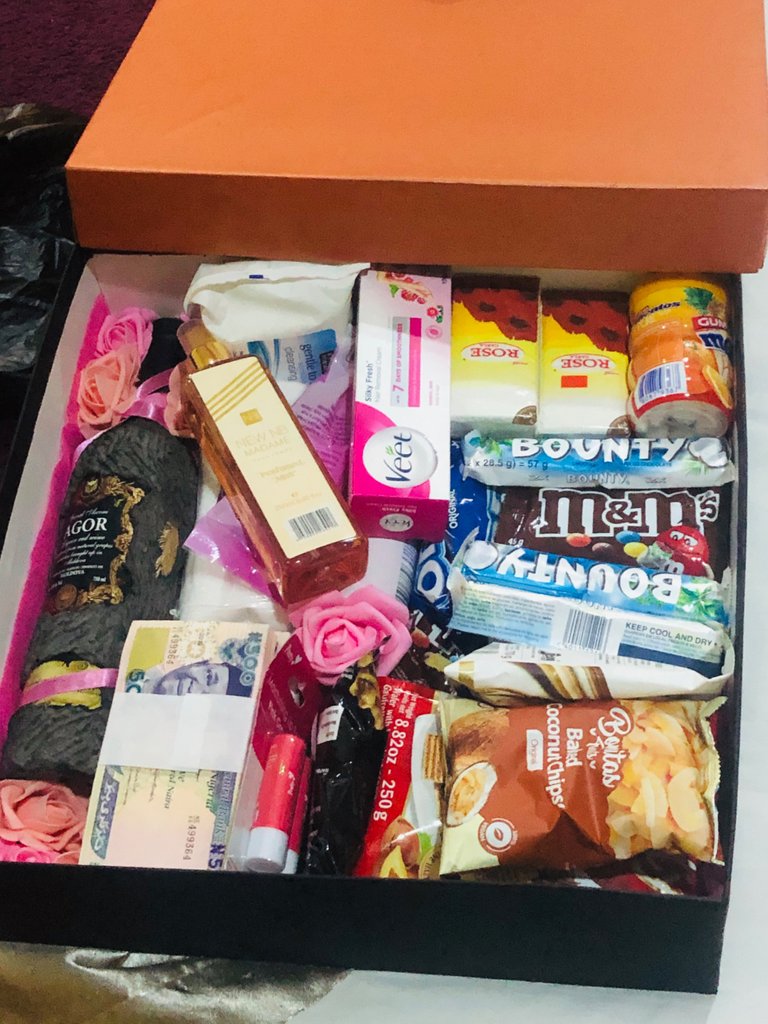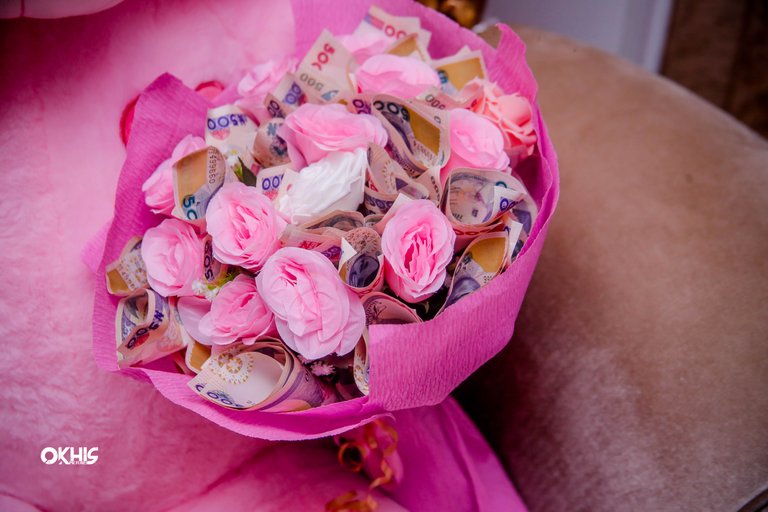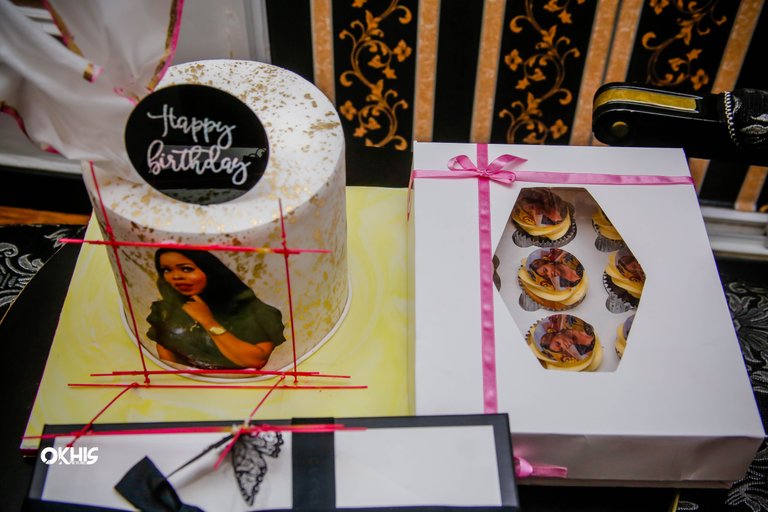 This money bouquet and every other thing was done by me*
At about 5am, we were done with all the set up, he came out quietly and was really impressed with all we had done. He confirm that even though knew we were in his house working, we were so quiet he did not hear a sound and even slept well.
At about 5:30am, some of their friends and family began to arrive, he had invited a few of her close friends and family to join the Suprise party. We also got a saxophonist who would play her a serenade as she walks right into her Suprise.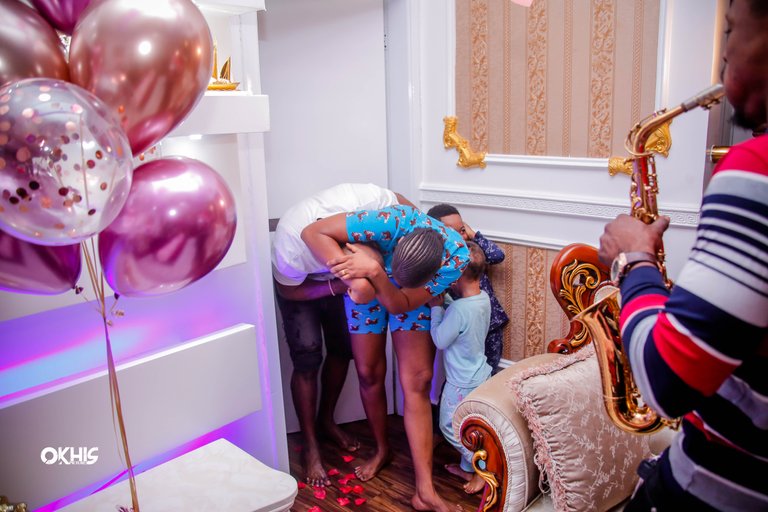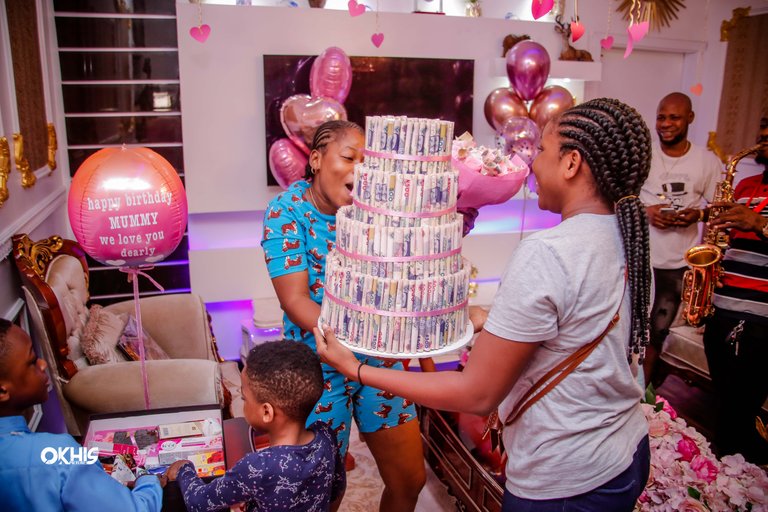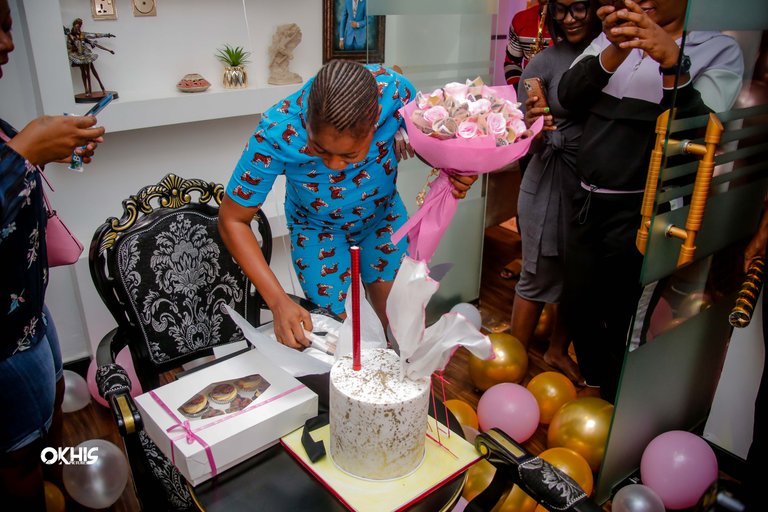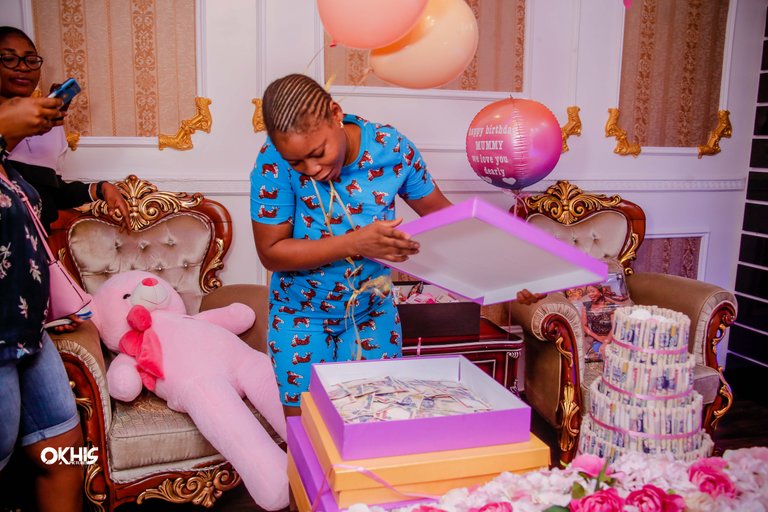 the whole boxes were filled with raw cash
When the clock struck 6am we were all in position waiting. He got her to out and as soon as she walked into the living room we all shouted out **SUPRISE, HAPPY BIRTHDAY **, she screamed as she hugged and hit her husband at the same time, she was blown out of her mind. If not that she had a strong heart, such things could actually give one a heart attack. She kept asking
how did you guys decorate my house like this and I did not hear a thing, when did you guys do this?.
She was definitely in shock, she played some music, as she hugged her friends and family, received her gifts and begain opening all the gifts her husband had paid for her. Trust me when I say, we delivered, my client was so impressed he gave all my staffs extra cash for a job well done, including myself.
It was a good day, I felt so fulfilled and happy we were able to execute all we had planned, not one detail of things was missing or undone. Even tho I did not get a good night sleep that day, I was too excited to care, I went home happy, and slept through the day.
Thank you for stopping by to read
See you in my next
Ps: All pictures are my copy, taken by the photographer hired for this job, I am in these pictures too and my client gives full approval to post and use the pictures of my work.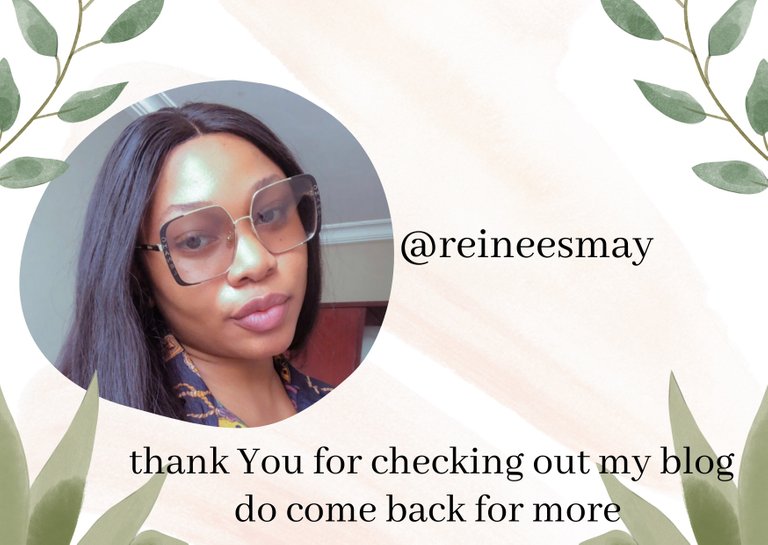 ---
---