The reward of parenting - You get to witness the miracle of life!

The joy and satisfaction that comes from raising a child and watching them grow and develop into a confident, independent adult are enormous. This is the one best thing, the reward of parenting and especially motherhood.
It's the feeling of pride and accomplishment that comes from being a positive influence in someone's life and helping them to reach their full potential, right? The unique bond and relationship that is formed between us with our offspring, can bring a deep sense of love, fulfillment, and connection to both parties.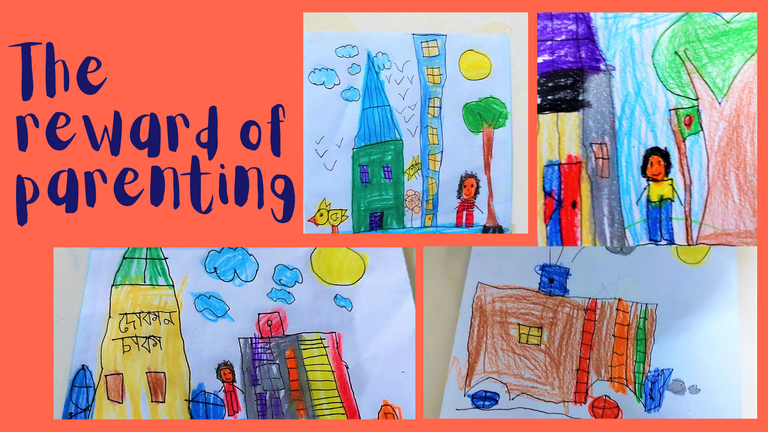 Some of my son's drawings when he was 3.
I can say, 'I love you' to my son with a deep meaning to it. This can't be explained with any words, this feeling can't be felt by anyone else. And the same happens to his side as well, I can see by looking into his eyes!
That's my reward!!
Furthermore, it extends beyond our own lives and can have a positive impact on future generations, as our children grow up to be responsible and successful individuals who make valuable contributions to their families, communities, and the world. That's how we break the chain of our generational trauma (if any) and make a positive change.
While the growth and development of our children can bring a great deal of happiness and fulfillment to parents, it comes with so many challenges, no?
I can remember, how I struggled when my son was in the toddler stage. It was an obvious challenge to let with his desire to explore the world safely, providing the correct information and everything he need. Now it feels like, I'm in control of the boat but there can be a big storm anytime, and I need to learn further, how to survive.
While parenting can be challenging at times, seeing our kids grow and thrive can provide a strong sense of purpose and help to offset the difficulties. Ultimately, the growth and success of our children are a true reflection of the love, hard work, and dedication that we have invested in as parents.
That's where all the rewards are.
The opportunity to shape the future and make a lasting impact on our children's lives is what we live for. What do you think?
---
Have a good day, everyone.

---
---