Delegation Contest + Battle-Hive Hint
Battle-Hive is underway. (What is Battle-HIVE?) The Hive version of Battle-Ship. Sink my ships and earn HIVE Prizes. To find out more and/or to participate click the following link: https://hive.blog/hive-167922/@rentmoney/battle-hive-win-free-starter-packs. So far 4/6 of my ships have been sunk. Two ships with prizes in them remain. All entries must be in the official Battle-Hive post previously linked.
---
Battle Hive Hint
None of my ships are located on grid letter B or Grid letter F
Battle Hive Hint Two
@arkasz was nice enough to share their Hit/Miss board with everyone in the official Battle-Hive post. I have screenshotted it below for any interested party. I'll be sending Arkasz a HBI share once the Battle-Hive game is over as a thanks.
More Missed Shots: A-6, F-1, C-7, G-5, D-5, G-3, D-2


---
MEME Delegations
Its that time again (250,000+ MEME Delegation Contest). If you are interested in a 50,000 MEME delegation (Five 50,000 MEME delegation will be rewarded to five different winners) simply express your interest in the comment section below. A random number generator will pick three of the winners and I reserve the right but may not use that right to pick two of the winners. There also might be bonus winners at the rate of 10,000 MEME each. The MEME delegation will stay for at least 30 days but I'm known to let delegations linger longer. If your name is on the below list you might see your delegation removed over the next week or so. Past delegation winners are welcome to join again. Good luck to all who enter.
---
Current MEME Delegations
| MEMESTER | delegation |
| --- | --- |
| @emeka4 | 25,000 |
| @forsakensushi | 25,000 |
| @theabsolute | 25,000 |
| @operahoser | 25,000 |
| @blitzzzz | 25,000 |
| @steven-patrick | 25,000 |
| @forsakensushi | 25,000 |
| @imno | 25,000 |
| @indiebandguru | 25,000 |
| @psychopumpkin | 25,000 |
| @hoosie | 25,000 |
| @dizzyapple | 25,000 |
---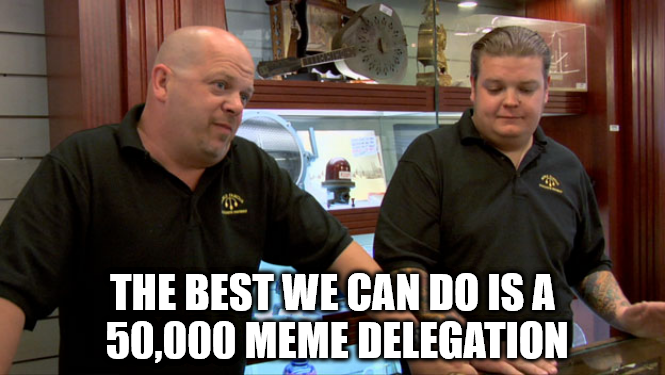 ---
What Is MEME?
Hiveme.me is a frontend that is used to access the Hive Blockchain. Creating and curating content on Hiveme.me allows users to earn the frontends native token known as MEME. One can also earn the HIVE Blockchains native tokens (HIVE/HBD) while curating and creating content on Hiveme.me. The Hiveme.me frontend allows for NFT creation and has an onsite market in which you can trade your NFT creations. Visit the official Site Here: https://www.hiveme.me/@rentmoney/
---
Trade MEME Tokens
LeoDex:
https://leodex.io/market/MEME
Hive-Engine:
https://hive-engine.com/trade/MEME


---
RentMoney's Upcoming Posts:
We have some MEME to burn. The first ever MEME burn post was a smashing success and we intend on creating another in the upcoming days. At which time we will burn the authors share of MEME the first post earned. A new Free HBD giveaway post will be posted in just days but for now there is still one actively ongoing Click here to participate. Some Splinterlands and Play2Earn content will be mixed in with the aforementioned upcoming posts. Giveaways, oh yes there will be giveaways. If any of this interest you smash that follow button so you don't miss out on our future posts.
---
Click To Visit The MEME Front-End: https://www.hiveme.me/


Posted Using LeoFinance Beta
---
---