🧠 Not So Random Splinterland Thoughts!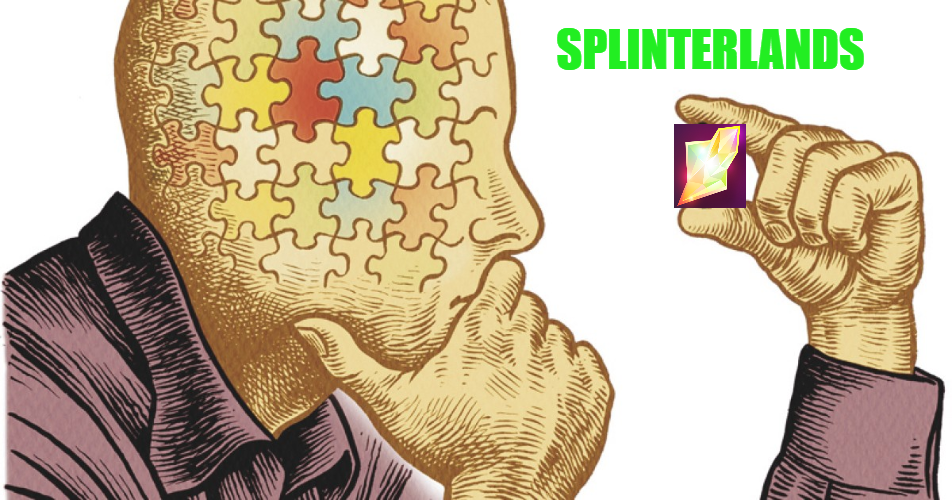 Not So Random Splinterland Thoughts!
SPS Airdrop
Most Splinterlands players/investors already know that there is a planned airdrop for a new Splinterlands token called SPS. This token is a governance token, a token that will allow players/investors and holders of the SPS token to help decide the direction in which the Splinterlands game is headed.
I been getting some questions about the SPS token and upcoming airdrop tossed my way and I been giving some non-official answers. For direct official answers you would need to ask one of the many Splinterlands team members. In either case I would like to address the most common question I have received.
"When is the airdrop?"
The airdrop is planned to start on the date of July 2021. The airdrop itself is a non-traditional airdrop. Normally how airdrops work is there is a one and done type deal with claiming your share of the airdropped token. This is not how the SPS airdrop works. SPS will be airdropped over a period of 12 months (Start Date: July 2021) and will get dropped daily to those holding Splinterlands assests. The Splinterlands Assests (And Points Ratio) that qualify towards the SPS airdrop can be seen below. Links to the whitepaper will also be listed below.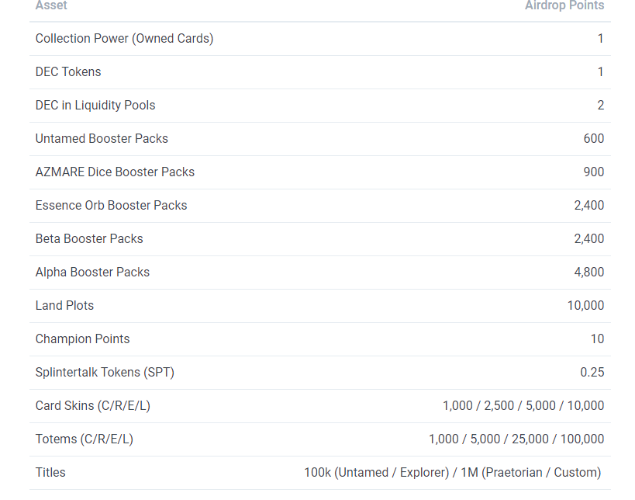 SPS WhitePaper Links
SPT Thoughts
As many of you that regulary read my blog know I'm a big supporter of the SPT token and I hope that one day the SPT token will get a continued in game use case within the game of Splinterlands. SPT being included in the SPS airdrop is a step in that direction.
Since the announcement that SPT is included in the SPS airdrop the USD value of SPT has about doubled. Even at this new price SPT is still very cheap to attain. I don't see the USD price of SPT getting much lower than it currently is.
As noted above the SPS airdrop will take 12 months to conclude. This means its unlikely that Holders of the SPT token are going to be eager to sell any large portions of SPT because if they do they will miss out on some airdropped SPS tokens.
Maximizing Airdrop Points
I recently read an article written by @chrisroberts about maximizing SPS Airdrop Points via selling cards that have a USD Sales value higher than their DEC burn rate value. To read this article in full click here. Using the below example to show how this works we look at a card that has 200 DEC burn rate but is listed for sale at $0.72 USD.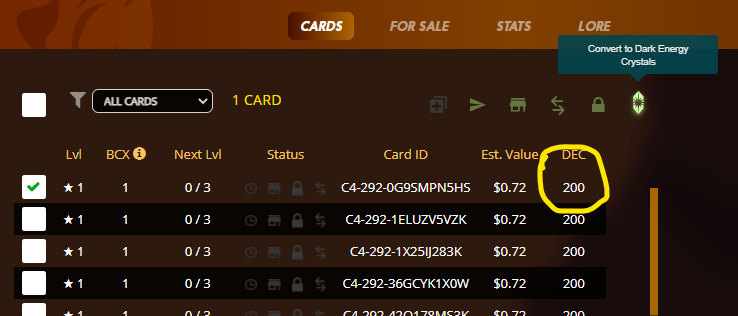 Example / *Quote and Image taken from the linked article above.
If I were to sell a single BCX card for the lowest market price, I would be given 720 DEC as payment. That 720 DEC would be worth 720 points in the airdrop. By continuing to hold the card in my collection, it will account for only 200 points. So by selling this card and holding the DEC instead, I will gain more than 3x the SPS airdrop points.
For me the question becomes what do I value more, My Cards and their future value or utilizing my collection to attain as much airdrop points as possible? For now I'm not sure what route I want to take but its a thought that is certainly worth pondering.
Splinterland Sales
Allot is happening in the Splinterlands universe. Not only are we on the verge of an ongoing 12 Month airdrop but the UNTAMED collection booster pack supply is nearing its end. As of today (6/6/2021) there are only 162,000 UNTAMED Boosters left.
I have been around since the orginal Alpha collection and let me tell you that it's not going to take long for those 162,000 Boosters to sell. Once the total number of boosters for sale drops below 100,000 its very likely FOMO kicks in and the remaining 100,000 Boosters will quickly become sold out. So if you are thinking about purchasing some UNTAMED boosters you better get them now because if you wait until later you may find yourself being Boosterless.
The same is true for Land. Currently there is only 18,260 plots of land left so if you haven't purchased any yet but are planning to I wouldn't wait too long because one of these days you are going to head on over to Splinterlands Marketplace to find out that all the LAND has been bought.
Land
I hate to admit it but I still haven't purchased any land. I'm stuck with deciding on how much I want. Do I want to be a Splinterlands Slum lord and own oodles of land or do I just want a few plots to play around with? The answer, I'm still uncertain. I know eventually I won't be able to give my land the attention it deserves so I'm leaning towards owning just a few plots. Only if there was a way I can "own" land but not have to maintain it ......
The Praetoria Cartel
Recently I stumbled upon a post by @flauwy who is attempting to create "The Praetoria Cartel". Basically how it works is a group of Splinterland players/investors chip in to purchase a Region. A Region cost $15000 USD, any extra funds will be used to purchase extra Regions if possible (MAX 5 Regions).
Land will never be sold in the Cartel instead a crypto currency will be created called CARTEL. The amount of CARTEL one gets will be given at a Ratio of $1USD / 1 CARTEL. This means if you invest $20 USD towards the Praetoria Cartel you will be issued 20 CARTEL.
If all goes well its possible that 1 CARTEL will eventually sell for more than $1 USD on the HIVE-ENGINE exhcange. To read in detail the ins and outs of The Praetoria Cartel click Here. I think this is a great idea and I will very likely be investing in this within the upcoming days.
Splinterlands MarketCap
Looking at the Splinterlands Marketcap all I can say is I'm speechless. It seems as there's no end to its upward trend and with all the FOMO that is currently surrounding the game in which is only going to increase over the next few months I don't see the upward trend slowing down anytime soon. I mean just take a look at the below graph, simply amazing.
Total Market Cap: $17,751,692
Final Thoughts
I have no clue what the Splinterlands team has up its sleeve next. All I know is I don't think I have ever "met" a harder working bunch. Anytime I even remotely think of selling some of my collection there's an announcement that makes me want to open my wallet to purchase and hold even more Splinterlands assets. As always, It's a great time to be a Splinterlands Player/Investor.
---
Splinterlands is a digital card game created by @aggroed and @yabapmatt. Tournaments are already being played with prizes being offered in which have real monetary value. You can get started with investing in or playing Splinterlands by clicking here.
---
---
Posted via proofofbrain.io
---
---