RentMoney's Deals & Steals + Giveaway!
What is RentMoney's Deals & Steals?
In this topic I will list two things. One will always be a Splinterlands asset I have for sale on the market. I'll offer it at a discounted price here on my blog. The second thing I will list (The Steal) is a Splinterlands asset that is for sale by someone else in which I think has potential to give decent returns. There will be a giveaway at the end of this topic so if you have no interest in the Deals & Steals portion just scroll on down to the section that is titled GIVEAWAY.
The Deal
Sadly the time has come in which I have decided to sell a Splinterlands card or two. The decision wasn't easy but reading the rules for the upcoming Splinterlands airdrop its better to hold DEC than it is a card in which USD value exceeds its DEC burn rate value. Not too worry I'm not too sad as I have almost 25,000 BCX worth of Splinterland cards and I can't play with them all. I'm sure my monsters will go to a good home.




Its been awhile since I looked at the stats shown in the above screenshot. The most shocking to me is the amount of Reward cards I have. As you can see 2/3rds of my collection are rewards cards. I'm not sure what to make of that but I thought it an interesting fact that was worth mentioning. I got a little off topic here (Sorry about that) so lets get back on topic .
This Week's Deal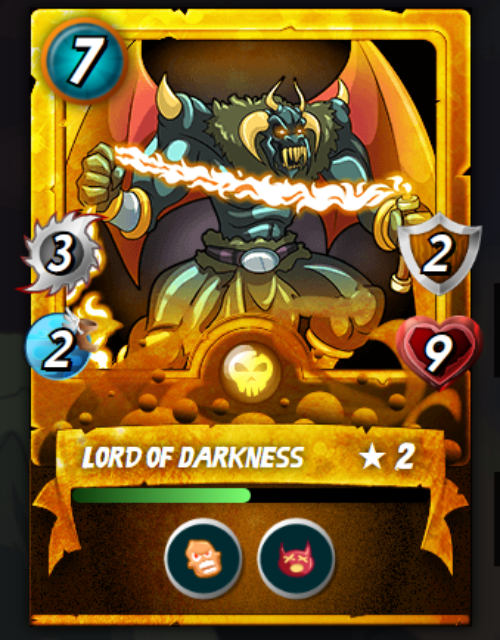 That's right, go big or go home. Since this is my first Deals & Steals topic I figured I'd offer up one of my Gold Foil Legends. I picked this specific Gold Foil Legend because I have two of them. Currently the cheapest Lord Of Darkness GFL for sale in the Splinterlands marketplace is for the amount of $749.98 in which is being sold by yours truely (@rentmoney). The cheapest Alpha version is double that at $1,500 USD. The version that is being offered here today is the BETA version. There's two Beta GFL LOD listed in the Splinterlands marketplace at the low price of $750* after which the next cheapest is listed for $1200 USD.
Lord Of Darkness Lore:
The Lord of Darkness is the ruler of the Dark Eternals of Mortis. Long ago, when he was named Lagfael, he discovered the truth of darkness from a Dark Tzar who paid him a visit from the dark eternity. Defecting from the living of the Splinterlands, Lagfael wrote the Dark Codex and began recruiting souls for the Dark Eternal collective. The Lord of Darkness loves combat, and his mighty flame whip leads Dark Eternal teams to victory again and again at Mount Mox.
I don't plan on leaving my LOD Gold Foil listed for long. I just listed it moments ago and once this topic reaches post payout I will unlist it (If it doesn't sell before then). Anyone who stumbles to the Splinterlands marketplace looking to buy one will have to pay the full price of $749.98 USD. If you are in the market for a GFL LOD and stumble upon this topic first than you are in luck because I'm offering it here for the discounted price of 700,000 DEC. That's a 50,000 DEC savings if we go by the $1USD/1000 DEC value that Splinterlands pegged the DEC/USD value at. Currently the secondary market price for DEC is slightly above that peg but it usually always settles somewhere around the peg price of $1/1000 DEC.
The Steal
In this portion of the Deals and Steals topic we will go over a Splinterlands card that is listed for sale in the Splinterlands marketplace in which I think has the potential to give decent ROI (Return On Investment). No-one knows for sure what tomorrow brings so I base my findings on the state of todays marketplace.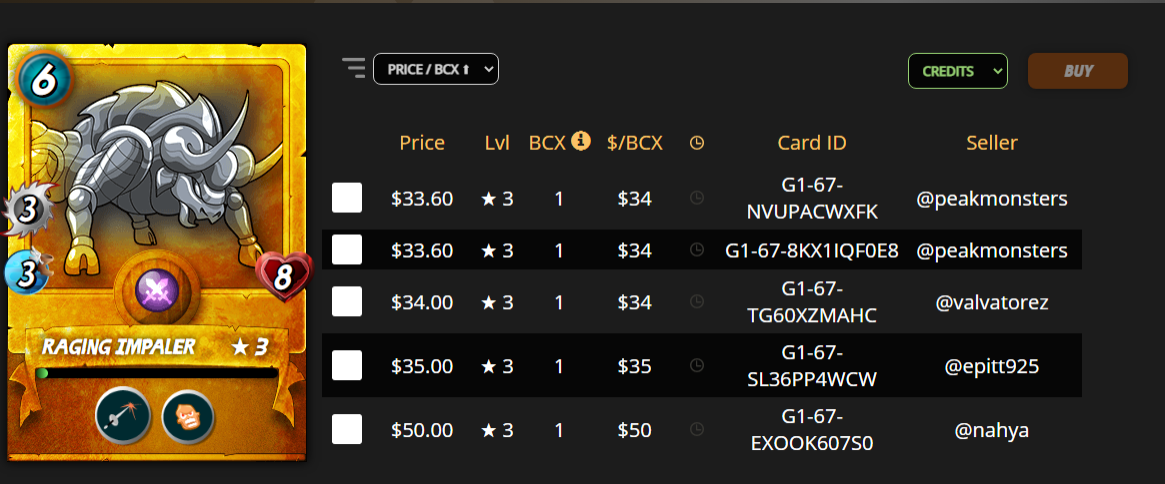 Short Version As To Why GF Raging Impaler Is Today's Steal
(1) There's only five for sale for realitively cheap (Price Control)
(2) The GF Raging Impaler is the cheapeast Beta Gold Epic currently for sale
(3) Its sale price of $33.60 is almost $30.00 USD cheaper than the average cost of an Epic Gold Foil (BETA Version).
Long Version
Keeping with the gold theme in this topic this weeks steal is the Epic Beta Neutral card Raging Impaler. For the most part the Beta Neutral cards seem to get overlooked by most Splinterland players. This means there's deals to be had. As the screenshot above shows the cheapest one on the market today (7/1/2021) is being sold for $33.60 by @peakmonsters. What makes this card a great deal isn't its abilities or its very cool design. Nope its neither of those things. The thing that makes this card a Steal of a deal is its currently the lowest priced Epic Gold Foil in the Beta collection.
If we ignore summoners we will see that the most expensive Epic Gold foil of the BETA collection is currently listed for $90.00 USD. If one was to beleive that all Gold Foil Beta Epics will eventually be around the same price than there's potential here for a three times profit return. The second cheapest Gold Foil Beta Epic is listed for $43.98. That's about $10 USD more than the Raging Impaler is listed for. Further more there's only five Raging Impaler monsters available for sale so the supply for sale is very small making it easier to dictate a sale price once these cheap ones are sold.
I looked at one more aspect when deciding the Raging Impaler was a good deal at the price of $33.60 USD. That aspect was the average price of Beta Epic Gold Foils. This was easy to do as I just added up the USD value of all twelve Epic cards and then divided it by the total available Beta Epics in existence. The current total cost of purchasing one of each Beta Epic Gold Foil in existence would be $748 USD. Divide that number by 12 (the amount of Beta Epics in existence) and we get the average price of $62.33 USD.
The Giveaway


It's giveaway time but what to giveaway. How about a 15,000 SPT delegation for 30 days. If you are reading this topic than its likely you are a Splinterlands Monster Maniac or will soon become one. In either case having some SPT delegated is great for earning some extra rewards. SPT is the native token of the Splintertalk site in which was created for players and investors of the Splinterlands game to discuss the game itself. Creating and curating content on the Splintertalk site will allow you to earn SPT tokens in which can be traded on the Hive-Engine exchange. You can also use the tag SPT on your regular HIVE blog topics (that are Splinterlands related topics) to earn the SPT token.
How To Enter The Giveaway?
Express your interest in the comment section
Tag two others in which you think would like a SPT delegation
That's it
Seriously, That's IT
Nothing else is required!
How I Choose The Winners
The sequence of your comments determines your raffle ticket number
A random number generator will pick the winner
10,000 SPT delegation goes to the winner the RNG picks
2,500 SPT delegation goes to the two accounts in which were tagged by the 10,000 SPT delegation winner (No tagging your alt accounts)
Splinterlands Total Market Cap: $20,927,906
Graph and market cap taken from Splinterlands official discord channel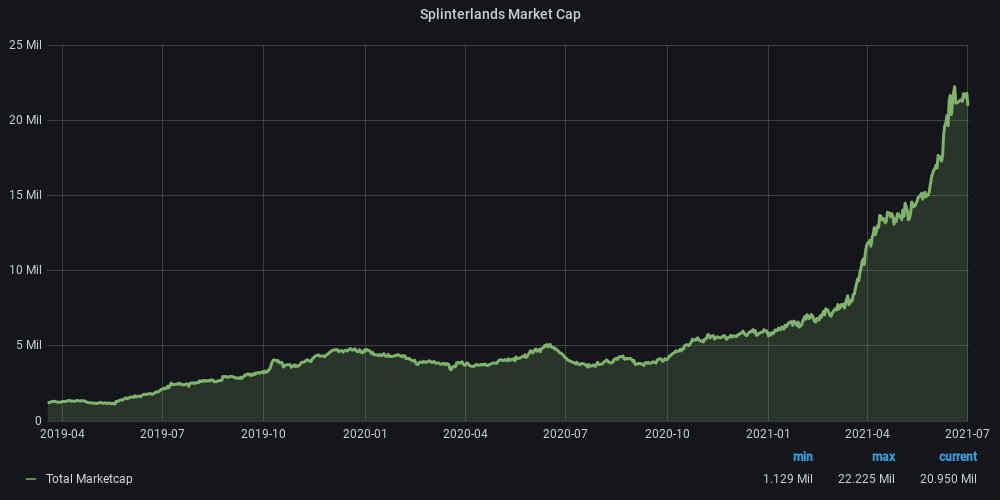 Posted Using LeoFinance Beta
---
---