Splinterlands Has Given Me $5,819.32 For Free!



No the title is not a typo. In fact I've been very conservative with the number displayed in the title. If I were to tell the complete truth Splinterlands has given me a good amount more than the $5,819.32 USD displayed in the title and I'll explain how below.


First lets take a look at the number $5,819.32 USD. You might be asking yourself, "Rentmoney how did you get such a precise number". The answer to that question is an easy one and can be explained in one word, PeakMonsters.
PeakMonsters is a secondary Splinterlands marketplace that has some unique features. For example if you have an abundance of unused cards in your collection PeakMonsters has an option that allows you to list your cards for rent to other players. One of PeakMonsters other awesome features is it displays the USD value of a persons collection.
The collection value display can be adjusted to many different levels. One such level is only showing the collection value of a specific edition of cards. Cards that are originally attained for free are usually part of the Rewards edition. So when using PeakMonsters to display only my Rewards edition cards the USD displayed will be the total amount my Rewards cards are worth.

The Screenshot above shows the total value of all my Rewards cards that are in my Splinterlands account @rentmoney. The first number we see is the List Prices value ($5,819.32). The second number we see is the Market Prices value ($5,533.62). List price is calculated via adding up the collections value in accordance to the value in which cards are listed for sale. Market Prices value is calculated via using the value in which a card was last sold for. In my case the two numbers displayed are very close but if one holds some higher value Rewards cards the gap between the two values might be much larger. All Rewards cards are originally attained for free by simply playing the awesome game that is Splinterlands.
Now you might remember that earlier I said that the amount of $5,819.32 USD is a conserative number given. The reason for this is because Splinterlands has become much more than just a game. It has introduced different assets and crypto currencies in which have value. These Splinterlands assests can also be attained for free. One such asset is the in game currency known as Dark Energy Crystals. DEC is attained for free via playing Ranked battles. Currently I have just over 500,000 DEC spread across the different platforms such as Hive-Engine, Steem-Engine and in game. Splinterlands values 1000 DEC at $1 USD. So this 500,000 DEC I have earned for free nets me another $500 USD that Splinterlands has given me for Free. This now brings my total to $6,319.32* USD that has been given to me in one form or another from Splinterlands.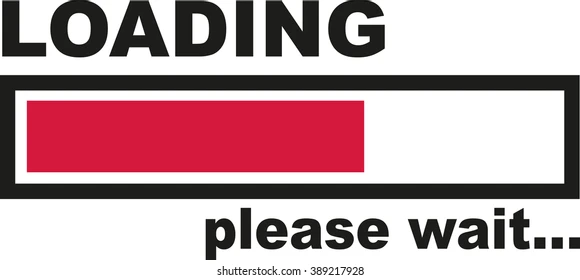 WAIT I'm not finished yet. There's still other Splinterland assests in which I have attained for free that have monetary value. The next assest we will take a look at is the SPT token. SPT is the token earned on the Splinterlands official blog site Splintertalk. I have roughly 630,000 SPT tokens. Their current value is about $160 USD. I also have 20 ORBS in which was given to me in my Rewards Chests. For those that don't know, Rewards Chest are loot boxes given for daily challenges completed in the Splinterlands game. These Rewards Chest contain Splinterlands assests.
I was lucky enough to find some ORB boosters in some of my Rewards Chest and I managed to keep 20 of them unopened. ORB boosters can no longer be purchased on the official Splinterlands site or attained via the game as they are currently out of print and that brings their value way up from their original cost of $2.50 USD (2500 DEC). Currently those 20 ORBS are valued at roughly $230 USD. This now brings the total to $6,709.32 ​that Splinterlands has given me for FREE. You may think this is a subtle brag post but its not. This post is to put an explanation point on what can be earned within the game of Splinterlands.
The game itself is about to enter its fourth edition of cards and it might sound like complete BS to you but I'm here to tell you today that its still early in this games conception and getting in today still makes you an early investor/player. So if you were waiting to join the Splinterlands game there is no better time than right now. Land expansion was just introduced and will be "soon" implemented. There's an airdrop about to commence that is set up in such a way that gives even more value (FOR FREE) to those who hold Splinterlands assests. If you wait too long to join you might end up being one of those sitting on the sidelines in the years to come saying,"I remember when RentMoney told me about this game, I should have joined then".
---
---
Splinterlands is a digital card game created by @aggroed and @yabapmatt. Tournaments are already being played with prizes being offered in which have real monetary value. You can get started with investing in or playing Splinterlands by clicking here. Read all about the recent airdrop announcement via clicking HERE.
---
Splinterlands Total Market Cap: $21,711,947
Graph and market cap taken from Splinterlands official discord channel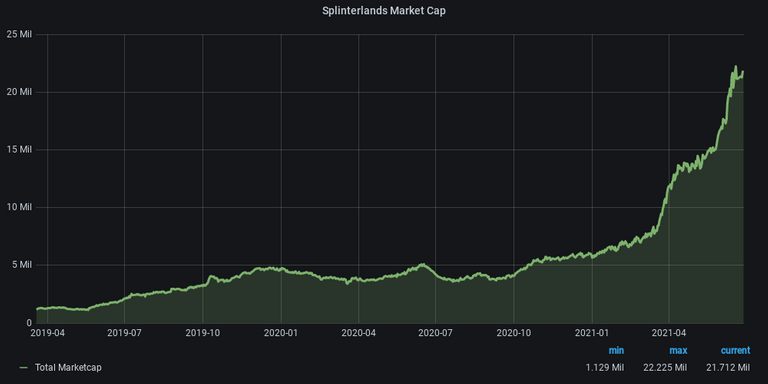 Disclaimer: This is not financial advice. The value stated in the title is the value of the Reward cards in my collection not my total collections value. Reward cards are earned for free via playing the Splinterlands game. The vast majority of Reward cards in my collection I got by playing the game or lending out my alt Splinterland accounts to others who then split their won rewards with me. Truth is the amount of USD assets I earned for "Free" from Splinterlands is higher than the number displayed in the title. It was just easier to use the displayed number as its the number I can easily show screenshot proof of.
Posted Using LeoFinance Beta
Posted via neoxian.city | The City of Neoxian
---
---