WTF Twitter (Splinterlands Account Suspended)

On Wednesday 6/23/2021 the official Splinterlands Twitter account was met with the surprise of being suspended from Twitter. A transcript of the unfortunate news being first released can be seen screenshotted at the bottom of this article. There was no warning given just a straight up ban out of left field. Today (6/25/2021) Splinterlands has made an official response on the issue which can be read in full via Clicking Here
As the saying goes, "there's no such thing as bad publicity". The Splinterlands team has made the best of the situation via spawning a contest out of it. That's right Splinterlands gets banned from Twitter and they respond by rewarding their player base. The contest is a simple one and prizes are TBD. Click the highlighted link below to go to the official contest post.
We've (Splinterlands) decided to make a little contest out of this Twitter call to action. Show your support for Splinterlands on Twitter and share your tweet in the comments below this post. In a few days, we will select the most creative, the most humorous and the most engaging tweets and award their authors with TBD Splinterlands prizes.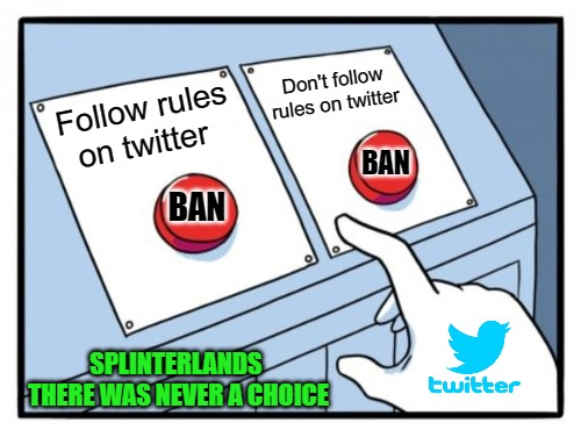 @aggroed- Quote taken from BTCManager article.
"This will only help us grow," says Dr. Jesse Reich, co-founder and CEO of Splinterlands. "We're thankful to the community for spreading our messages of in-game asset ownership and economic freedom even when we ourselves are silenced."
@yabapmatt - Quote taken from discord.
Being blocked from twitter is like a rite of passage in the crypto world - it means we're important enough to block lol. We can all make a big fuss about it on twitter and get more attention too :stuck_out_tongue:
---
Other Sources That Have Reported The issue:


Coinspeaker: Twitter Suspends Account of Blockchain Gaming Outfit Splinterlands
---


BTCMANAGER: Twitter Account of Popular Blockchain Game Splinterlands Suspended without Warning or Explanation
---
Give us your thoughts on the situation in the comment section below!
---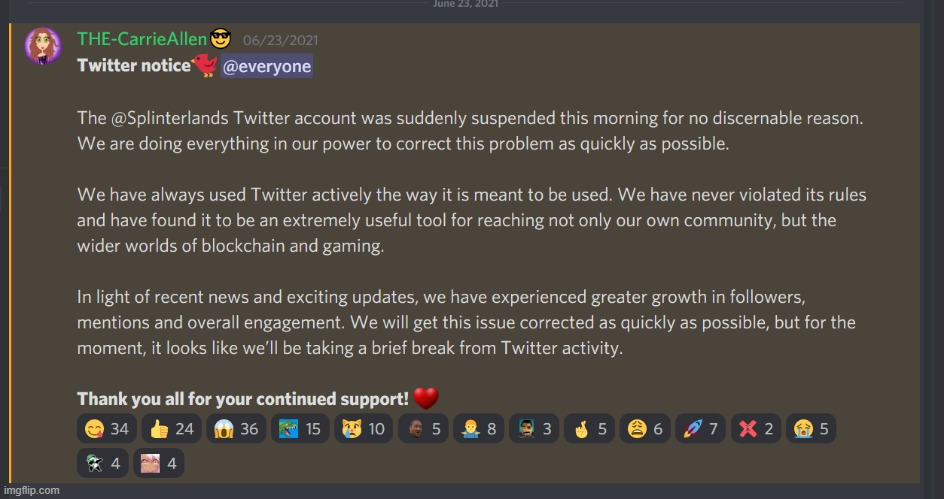 ---
Posted via proofofbrain.io
---
---