Steem VP: Browser Extension to get voting power and vote values - UPDATE
Steem VP is a Google Chrome / Brave browser extension that shows you your voting power for STEEM and a range of steem-engine tokens.
I've included nine popular tokens (CCC, LEO, NEOXAG, PAL, PHOTO, PORN, SCT, SPT, STEM), but I'm happy to include more on request. Simply click on the settings cog, and select the tokens you want included in your extension display.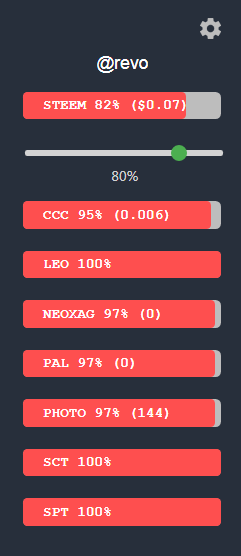 With this update I have added vote values for STEEM and the included steem-engine tokens. This allows you to see what your vote will be worth before you cast it on the various steem front-ends. Simply open the post you are interested in voting on in your steem front-end and the extension will show what your vote is worth for the relevant tribes. So if a post has the tags creativecoin, palnet and photography, the Steem VP extension will show vote values for the tokens associated with those tribes.
In the previous update I mentioned that the value of the STEEM vote that was displayed was not entirely accurate because of changes to the voting procedure in the last hardfork. I'm happy to report that the STEEM vote value calculation is accurate now.
The vote weight slider now applies to all tokens (including STEEM) that have a vote value displayed. Just note that it takes a second or so for the steem-engine token vote values to calculate, so you should wait until they display before using the vote weight slider if you are interested in what a token vote value will be.
Existing users might notice that their extension is disabled. This is because it uses a new permission that you need to explicitly OK before it will re-enable. The extra permission is to access token information on the steem-engine API. Just go to your extensions page in your browser and select Steem VP and it will offer you the new version to OK.
You can pick it up at the Google Chrome store
As always, I welcome any feedback and suggestions. I hope you get some value from this extension. Cheers!
---
---