[ESP | ESP] ~Un Desayuno Delicioso y Diferente | A Delicious and Different Breakfast
Hola queridos Hiver's, ¿Cómo se encuentran?, Espero que muy bien. Ya estamos a mitad de semana como dirían por ahí "feliz ombligo de semana" a mí en lo particular me gustan los miércoles siento que está en la mitad sin importar nada.
Hello dear Hiver's, How are you doing, I hope very well. We are already in the middle of the week as they would say "happy navel of the week " I particularly like Wednesdays I feel it's in the middle no matter what.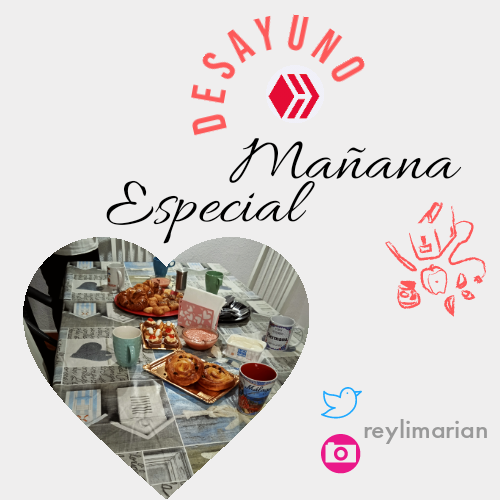 El día de hoy les quiero contar sobre una salida un poco inusual para mí. ¡Se trata de un desayunó!. En España la gente acostumbra a quedar para desayunar, en un principio me pareció algo raro porque por lo general estaba acostumbrada a quedar con amigos, para almorzar, merendar o cenar, muy rara vez para desayunar a menos que tuviéramos cosas previas que hacer, pero no por voluntad propia. Así que bueno está soy yo madrugando para desayunar con unas queridas amigas, por ahí dicen que no hay nada mejor que para alegrar el corazón, que una buena taza de café y una salida con amigas, y el que madruga Dios lo ayuda ¿Ustedes amigos que opinan de eso?.
Les confieso que me costó despertar, ya que el día anterior me había acostado pasada la 1 de la madrugada viendo el partido de fútbol del Real Madrid vs. Manchester City, por cierto ¿Se esperaban ese resultado?. Así que despertar a las 7 de la mañana no fue tarea fácil, pero ya me había comprometido, así que está es mi cara de trasnocho.
Today I want to tell you about an unusual outing for me, a breakfast! In Spain people are used to meet for breakfast, at first I thought it was a bit strange because I was usually used to meet friends for lunch, snack or dinner, very rarely for breakfast unless we had previous things to do, but not of our own free will. So here I am getting up early to have breakfast with some dear friends, they say that there is nothing better to cheer up the heart, than a good cup of coffee and an outing with friends, and the early bird catches the worm, what do you think of that?
I confess that I had a hard time waking up, since the day before I had gone to bed after 1 a.m. watching the Real Madrid vs. Manchester City soccer match, by the way, did you expect that result? So waking up at 7 a.m. was not an easy task, but I had already committed myself, so this is my late-night face.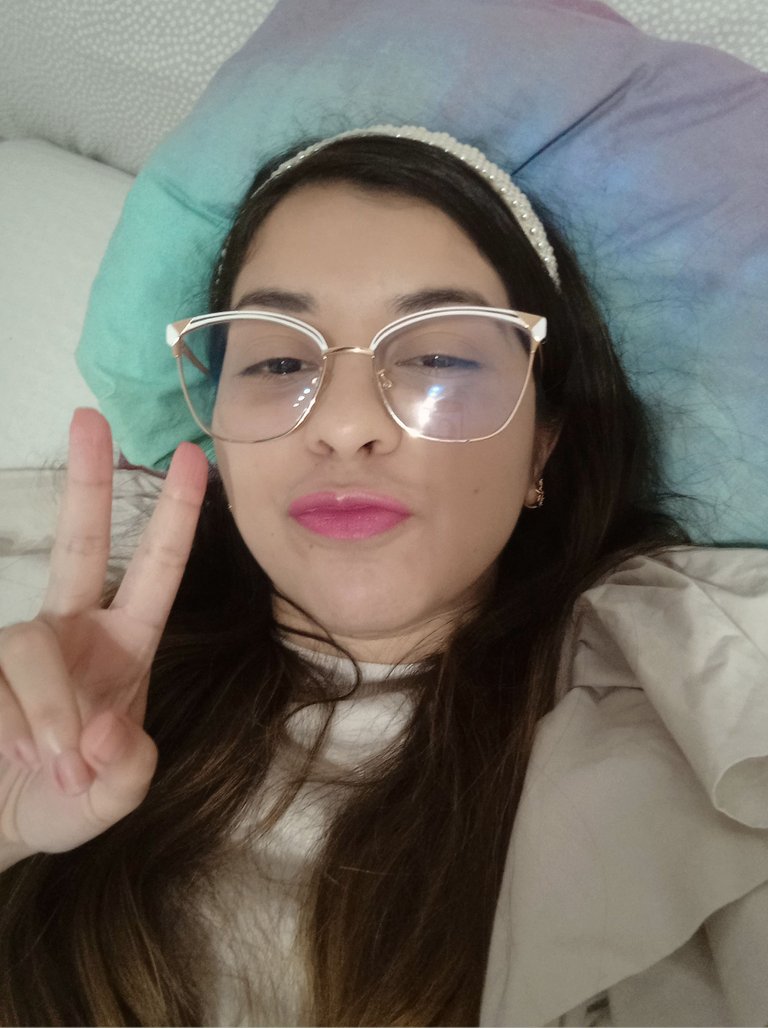 El día estaba un poco frío y lluvioso aunque estamos en primavera las temperaturas han bajado considerablemente y la lluvia casi no ha parado, las calles estaban mojadas eso me hace pensar que llovió parte de la madrugada, la temperatura estaba en 10° con sensación de 6°, realmente nada motivador para salir, pero como les comenté ya me había comprometido, y eso me hizo pensar: que bueno somos para cumplir los compromisos con los demás, pero no podemos comprometernos con nosotros mismos a mejorar, a cambiar hábitos hacer cosas que mejoren nuestro día a día, yo admiro a las personas que se comprometen con ellas mismas, esas mismas que se despiertan a las 5 de la mañana para salir a trotar a las 6, aquellas que son constantes, que son disciplinados, en mi caso particular de verdad soy 0 disciplinada aunque lo intento el día anterior me digo" te vas a despertar temprano para ir hacer deporte" y si tengo mucho sueño desactivo la alarma y sigo durmiendo, o quizás me digo a partir de mañana vas a mejorar tal cosa y si inicio, pero ya a mitad de semana pierdo el interés y es que la motivación es momentánea, en cambio, la disciplina es diaria y constante y la verdad quiero ser disciplinada conmigo mismo, porque para compromisos ajenos estoy hecha.
The day was a little cold and rainy although we are in spring temperatures have dropped considerably and the rain has almost not stopped, the streets were wet that makes me think that it rained part of the morning, the temperature was 10 ° with a sensation of 6 °, really nothing motivating to go out, but as I said I had already committed, and that made me think: I admire the people who are committed to themselves, those who wake up at 5 am to go jogging at 6 am, those who are constant, who are disciplined, In my particular case I really am 0 disciplined although I try the day before I say to myself "you are going to wake up early to go do sports" and if I am very sleepy I deactivate the alarm and continue sleeping, or maybe I say to myself starting tomorrow you are going to improve such a thing and I start, but by midweek I lose interest and the motivation is momentary, instead, the discipline is daily and constant and the truth is that I want to be disciplined with myself, because I am not made for other people's commitments.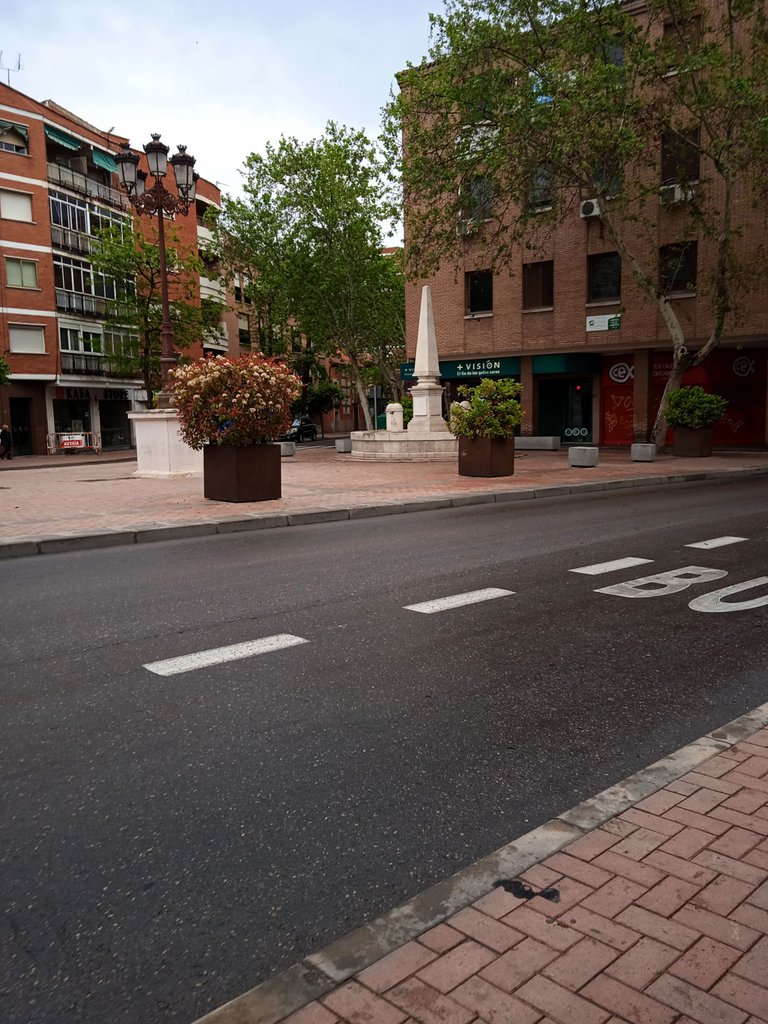 Me desvié un poco del tema,, pero siempre es bueno reflexionar ¿No?, Así que continuo a las 9 de la mañana me encontré en el camino con una amiga y nos fuimos caminando hasta llegar al apartamento de quién nos invitó a desayunar, y realmente se esmeró mucho, sobre la mesa nos tenía algunos croasanes, pan tostado, panquecas, café y leche caliente, mermelada, mantequilla, queso crema, una salsa a base de tomate ah y unos postres muy deliciosos. Todo estaba superdelicioso y bonito, pasamos un buen rato, hicimos planes para ir a una feria Romana que se presentará en estos días, que mas adelante les mostraré y la compañía estuvo muy amena y el sueño desapareció, aunque mi amiga no tiene hive muchas gracias espe, por ese desayuno tan delicioso.
I deviated a little from the topic, but it is always good to reflect, isn't it? So I continued at 9 in the morning I met a friend on the road and we walked until we reached the apartment who invited us to breakfast, and really took great care, on the table we had some croissants, toast, pancakes, coffee and hot milk, jam, butter, cream cheese, a tomato-based sauce ah and some very delicious desserts. Everything was super delicious and nice, we had a good time, we made plans to go to a Roman fair that will be presented in these days, that later I will show you and the company was very pleasant and the sleep disappeared, although my friend does not have hive thank you very much espe, for that delicious breakfast.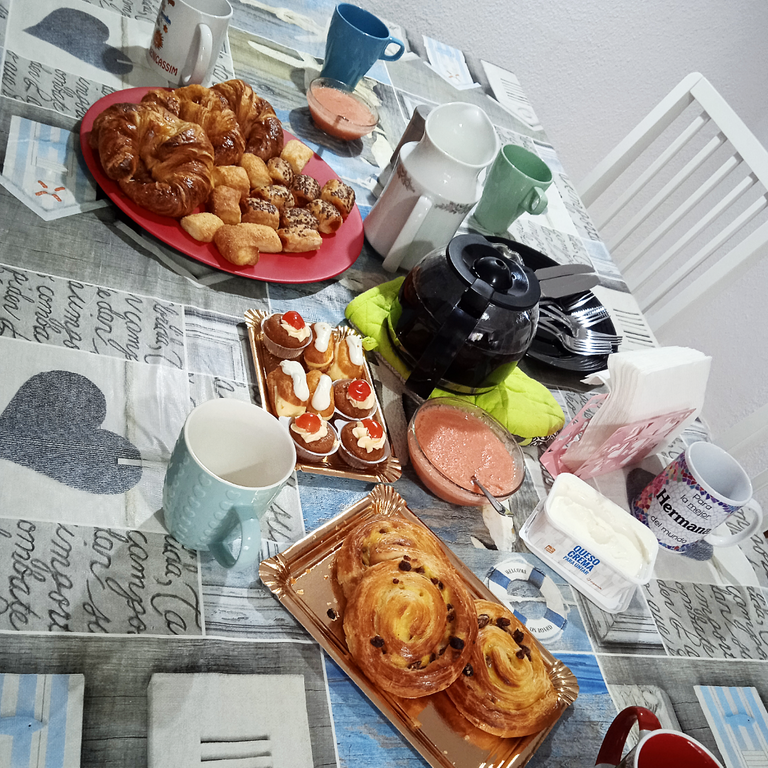 Bueno amigos, con esto les quiero decir que no se cierren a ninguna invitación, quizás la disfruten mucho, ni siquiera a madrugar para ir a desayunar. Gracias por leerme, espero que les termine de ir muy bien, les envío un fuerte abrazo, nos estamos leyendo
Well friends, with this I want to tell you not to close yourselves to any invitation, maybe you will enjoy it very much, not even to get up early to go to breakfast. Thank you for reading me, I hope you end up doing very well, I send you a big hug, we are reading each other.

Separador de texto | Text separator: separadores-de-texto-para-blog | cryptocharon
---
Fotos hechas en CANVA

Imagen hecha por mí @reylimarian en Canva | Image made by me in Canva
---
Texto traducido en | Text translated in: DeepL
---
Fotos tomadas por mí @reylimarian ; Dispositivo Xiaomi 9C | Device: Xiaomi 9C | Photos taken by me @reylimarian ;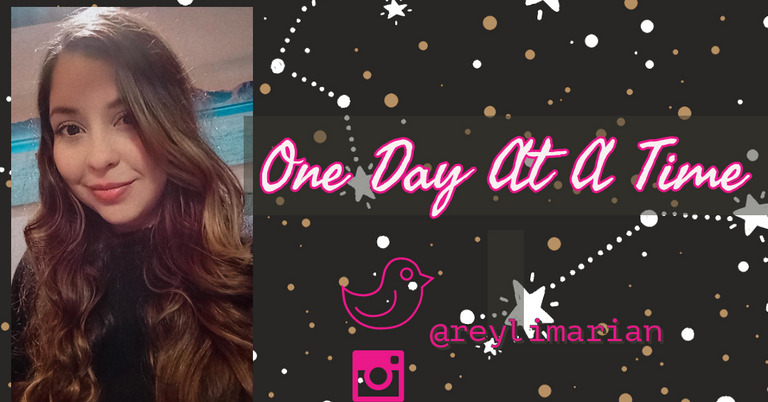 ---
---