¡Nueva Aventura! [ENG/ESP]
Hola amigos feliz lunes, lunes de comenzar de cero, espero se encuentren muy bien, y que vengan con las pilas recargas está semana.
¡Hoy nos vamos de Aventuras con Reyli, y es que a veces me pasan unas cosas que dios mío tengo que reírme para no llorar!
Hello friends, happy Monday, Monday to start from scratch, I hope you are very well, and that you come with recharged batteries this week.
Today we are going on Adventures with Reyli, and sometimes things happen to me that my God I have to laugh to keep from crying!
---
---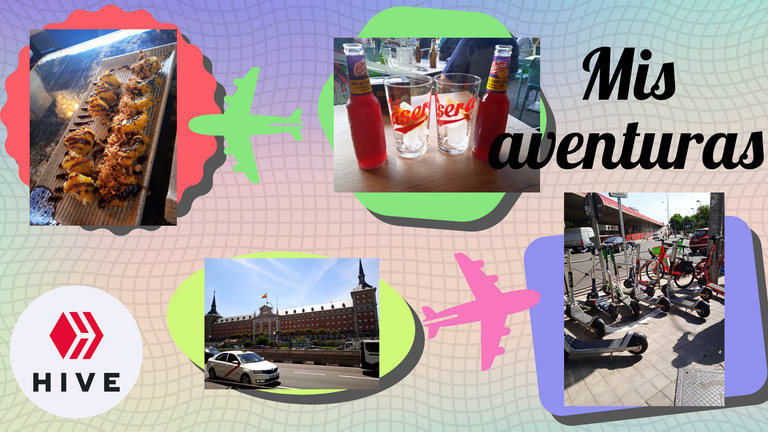 ---
---
Comenzaré por el principio, resulta que yo estaba muy tranquila en el trabajo, y me llama un amigo pidiéndome el favor que lo acompañará a unas entrevistas de trabajo, como no tenía más nada que hacer por la tarde le dije que si, pero estaba haciendo un calor y un sol que estábamos a casi 40°, terrible la verdad y para mi sorpresa es que las entrevistas de trabajo quedaban de un extremo a otro y no sabíamos cómo llegar, como buen turista colocamos el "Google Maps" y justo ese día nos enviaba la dirección errónea, y no dábamos con la parada del bus, de tanto caminar y dar vueltas llegamos al arco de la Victoria.
Se preguntarán ¿y ese arco que?
Es un arco conmemorativo a la victoria del bando sublevado sobre la guerra civil española, aunque también le llenan puerta de Moncloa por su ubicación justo en el intercambiador de Moncloa Madrid, a pesar de ello se ha planteado su demolición, pero lo cierto de todo esto es que tiene su valor histórico. Y sería interesante que lo recostuyeran, ya que está en muy mal estado, a pesar de su significado y controversias políticas respecto al mismo.
I will start at the beginning, it turns out that I was very quiet at work, and a friend calls me asking me the favor to accompany him to some job interviews, as I had nothing else to do in the afternoon I said yes, but it was getting so hot and sunny that we were almost 40°, The terrible truth and to my surprise is that the job interviews were from one end to another and we did not know how to get there, as a good tourist we put the "Google Maps" and just that day sent us the wrong address, and we could not find the bus stop, so much walking and turning around we arrived at the arch of Victory.
You may ask, what about that arch?
It is a commemorative arch to the victory of the rebel side in the Spanish Civil War, although it is also called Moncloa's door because of its location right in the interchange of Moncloa Madrid, although its demolition has been considered, but the truth of all this is that it has its historical value. And it would be interesting if it were restored, as it is in very bad condition, despite its significance and political controversies about it.
---
---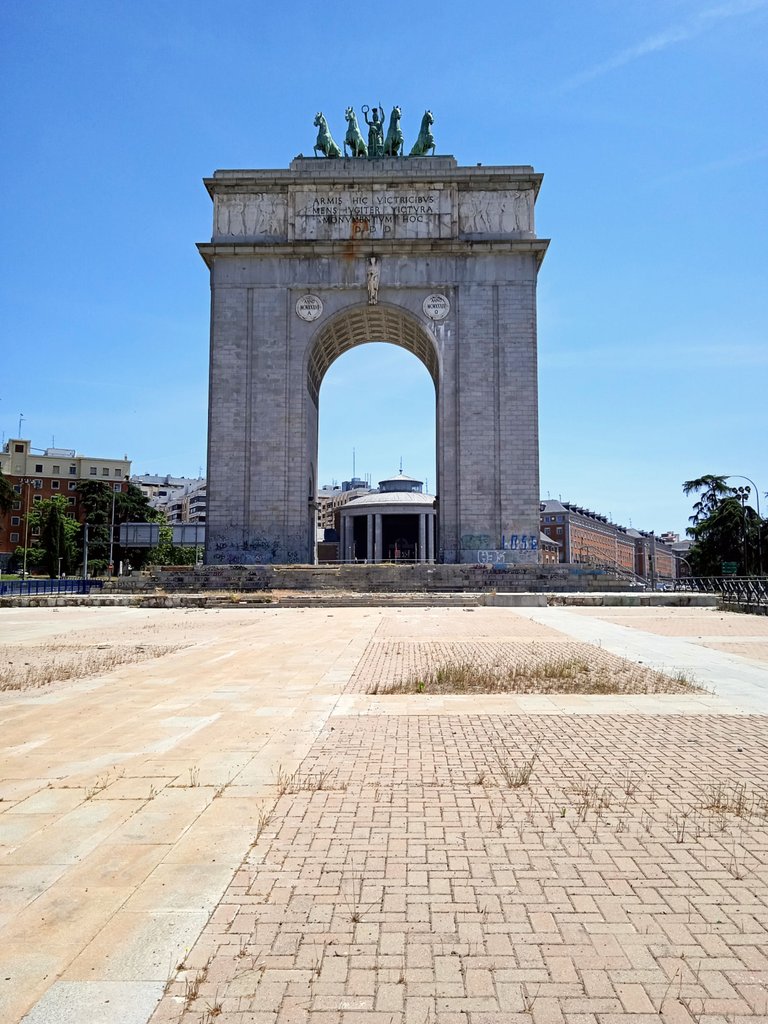 ---
---
Cuando por fin logramos ubicarnos tuvimos que agarrar un bus que duraba casi 40 minutos en llegar al lugar de la entrevista de trabajo, y de ahí volvernos a regresar, agarrar el metro para ir a otra entrevista, ya para este punto eran más de las 5 de la tarde y sin almorzar bajo 40° de sol, sentía que me derretía.
Pero todo valió la pena porque consiguió un buen trabajo y para celebrarlo nos fuimos a comer sushi, realmente a mí no es que me encantará el sushi porque tuve malas experiencias, quizás por no conocer de este plato y no saber seleccionar, pero si íbamos a celebrar que mejor que arriesgándome a comer platos diferentes, cuándo llegamos estaba cerrado, así que fuimos a un bar por un tinto de verano que nos cayó de maravilla por el calor y unas tapas, así que esperamos una hora, hasta que abrieran el restaurante.
When we finally managed to get to our location we had to take a bus that took almost 40 minutes to get to the place of the job interview, and from there we had to go back, take the subway to go to another interview, by this point it was already after 5 in the afternoon and without lunch under 40° of sun, I felt like I was melting.
But it was all worth it because he got a good job and to celebrate we went to eat sushi, I really do not love sushi because I had bad experiences, maybe because I did not know this dish and did not know how to select, but if we were going to celebrate what better than risking to eat different dishes, when we arrived it was closed, so we went to a bar for a summer red wine that fell great for the heat and some tapas, so we waited an hour until they opened the restaurant.
---
---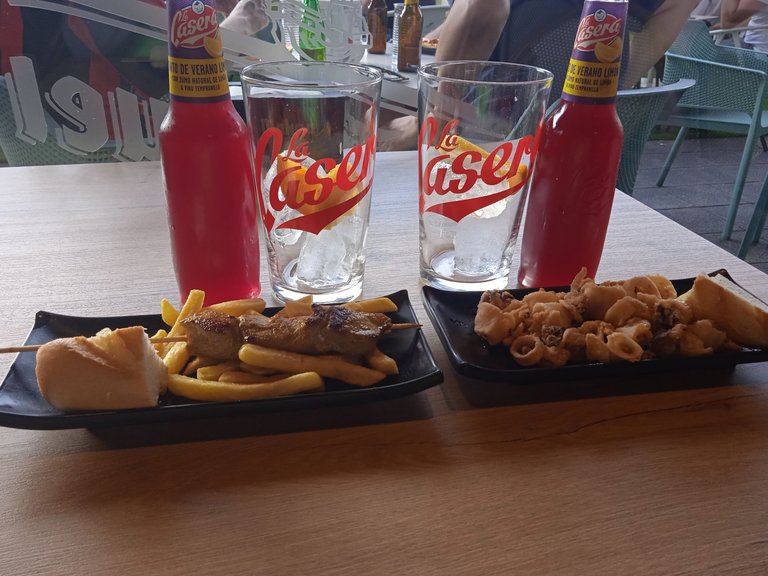 ---
---
Este restaurante se llama Kyoka, es muy reconocido en la Garena - Madrid y no solo por su calidad en la comida y el ambiente tan lindo, pero este restaurante tiene una particularidad muy especial resulta que los platillos te los trae un robot, si amigos un robot, pero justo ese día no estaba funcionando (les prometo que cuando vuelva a ir le tomaré fotos para enseñarles), a demás de su famoso robot, uno paga solo entrada y puede comer todo el sushi o los diferentes platillos que venden en la carta, así que porfin comimos y comimos mucho y todo estaba muy delicioso, y ahora soy fan del sushi de ese restaurante.
This restaurant is called Kyoka, is very well known in La Garena - Madrid and not only for its quality food and the nice atmosphere, but this restaurant has a very special feature, it turns out that the dishes are brought to you by a robot, yes friends, a robot, but just that day it was not working (I promise that when I go again I will take pictures to show you), besides its famous robot, you only pay entrance and you can eat all the sushi or the different dishes they sell on the menu, so we finally ate and ate a lot and everything was very delicious, and now I am a fan of sushi from this restaurant.
---
---
| | |
| --- | --- |
| | |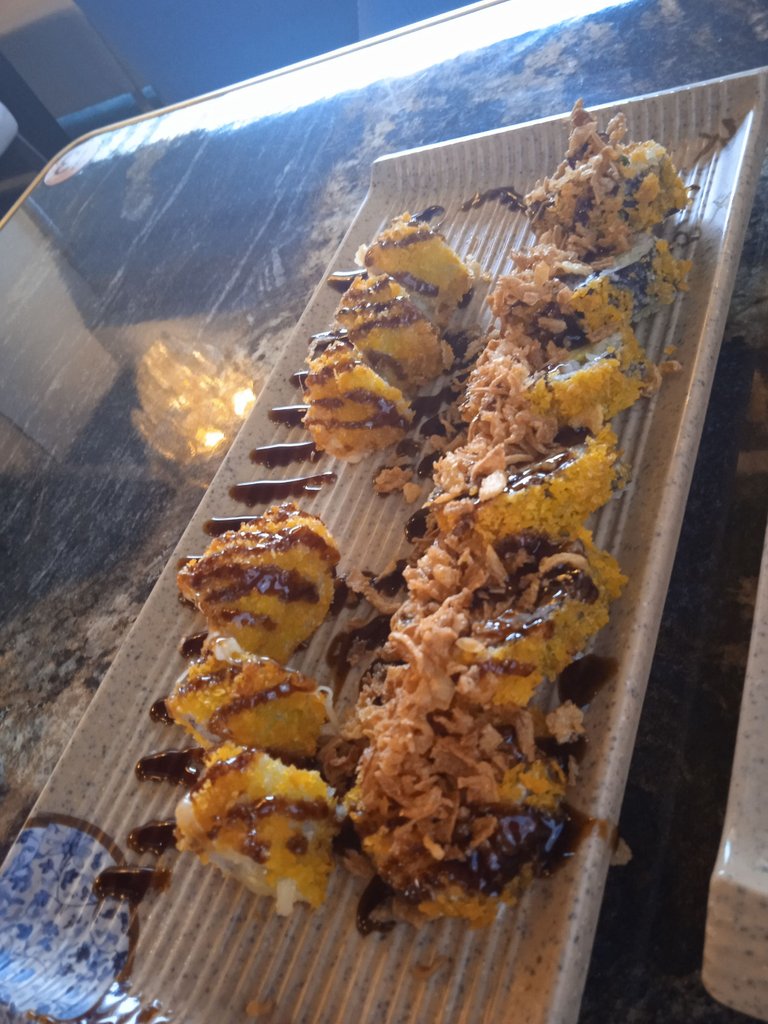 ---
---
Bueno amigos, finalmente caminamos a la estación de Tren para regresar a nuestros hogares, y nos acompañó un hermoso "atardecer" lo coloco entre comillas porque ya eran las 9 de la noche, pero aquí le dicen las 9 de la tarde. No dejo de impresionarme que a pesar de que hablemos el mismo idioma, todo tenga diferente significado, realmente todos los días aprendo más sobre su cultura y me gusta, ya estoy adaptándome mucho mejor, aunque aún me pega el horario pero todo poco a poco.
Well friends, finally we walked to the train station to return to our homes, and we were accompanied by a beautiful "sunset " I put it in quotes because it was already 9 pm, but here they call it 9 pm. I never cease to be impressed that even though we speak the same language, everything has a different meaning, really every day I learn more about their culture and I like it, I'm already adapting much better, although the schedule still hits me but everything little by little.
---
---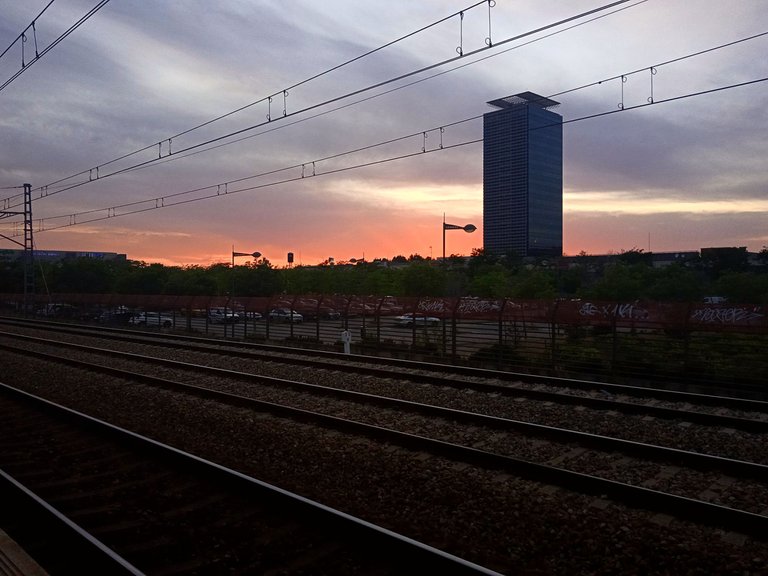 ---
---
Gracias, amigos por acompañarme a esta nueva aventura, leerme y llegar hasta aquí, les envío un fuerte abrazo 💕 nos seguimos leyendo.
Thank you, friends for joining me in this new adventure, reading me and getting this far, I send you a big hug 💕 we keep reading each other.

Separador de texto | Text separator: separadores-de-texto-para-blog | cryptocharon
---
Fotos hechas en CANVA

Imagen hecha por mí @reylimarian en Canva | Image made by me in Canva
---
Texto traducido en | Text translated in: DeepL
---
Fotos tomadas por mí @reylimarian ; Dispositivo Xiaomi 9C | Device: Xiaomi 9C | Photos taken by me @reylimarian ;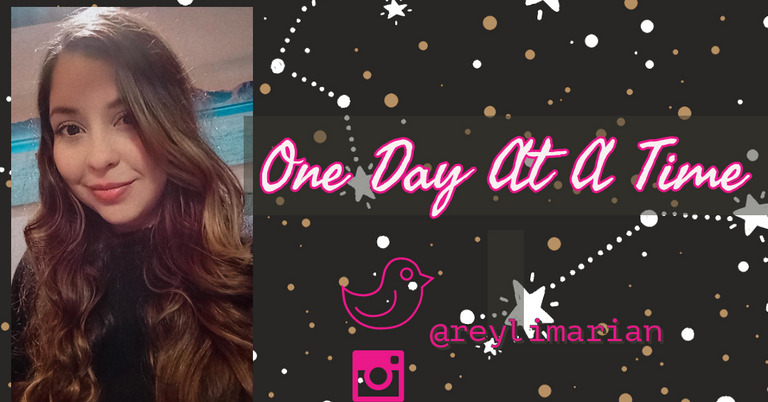 ---
---