Getting to know my stapelia gigantea. Eng/Esp stapelia
---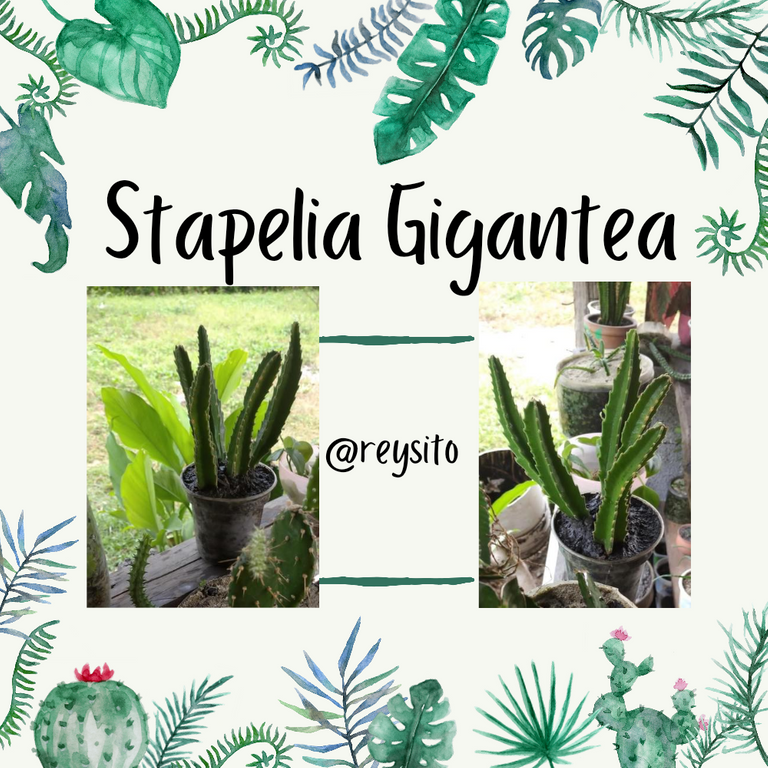 ---
Hello my hive people wishing all the good things for everyone and that we always think of positive things.
For today I will be telling about the stapelia gigantea, located in my cactus and succulent garden, where it is a succulent plant very different from the others due to its features where its stems are completely green, they are located in homemade or plastic pots, wherever they are in a part that hits the direct sun so that where the stems turn reddish green something spectacular to see that change in them.
It should be noted that what is stem, is in charge of carrying out photosynthesis, and when it begins to give the flower that it is the largest of its kind that reaches up to about 35 cm in diameter where if they will be able to see them Physically, these flowers have their signatures and the color is creamy yellow. When I first saw this gigantea flower, it was great to see it in the flowering process since it is very curious in the way it comes out, expanding from the inside out, closing .
Something very curious is when the flowers open the flies begin to arrive due to the smell it releases, they release the lava in the flower to begin the pollination process, and after that is where the flower begins to dry and begins to emit a pod that when they dry you will come out what are new plants.
---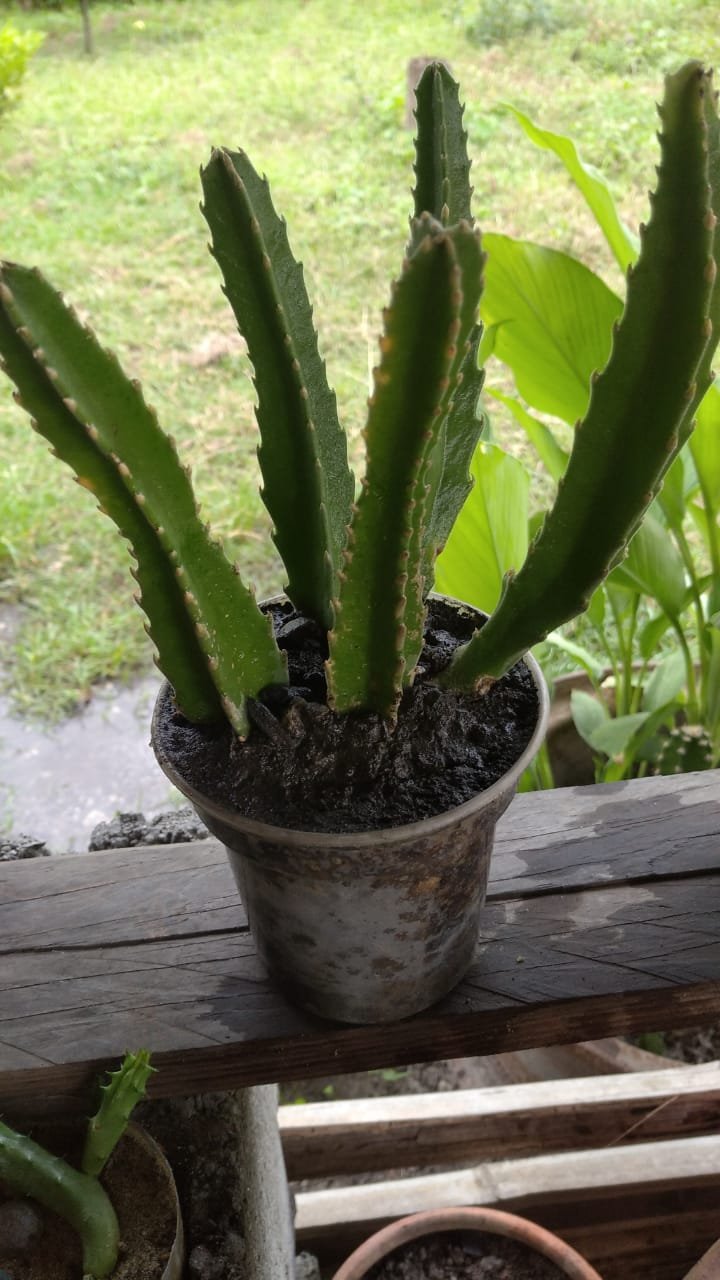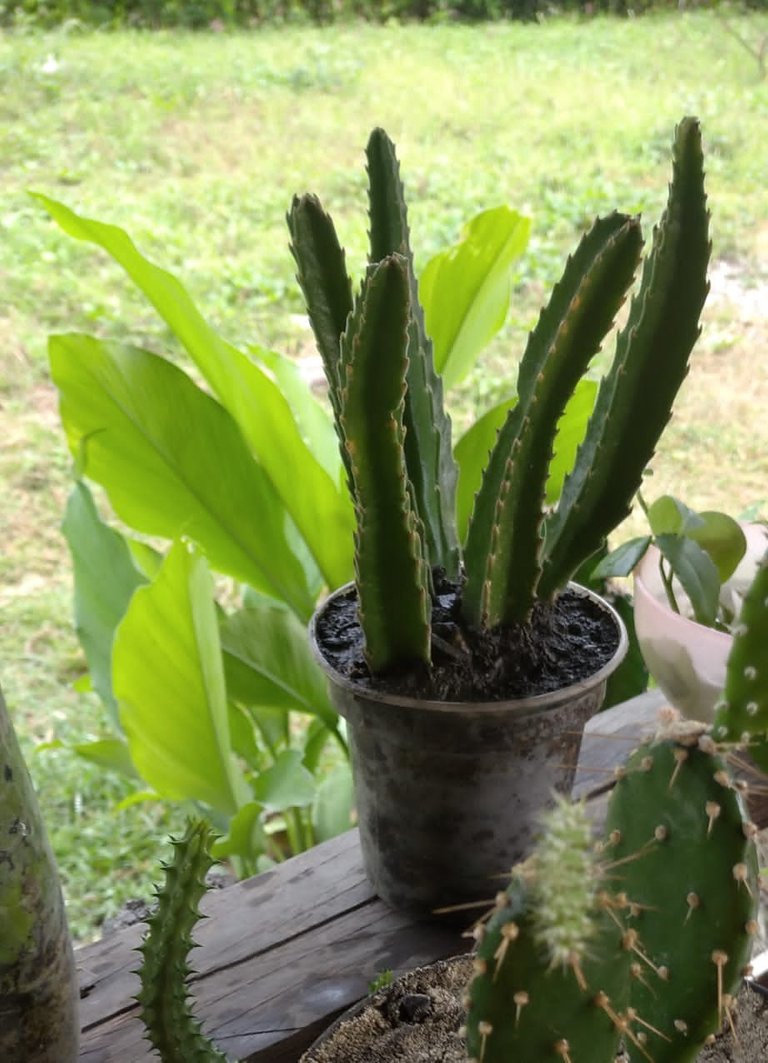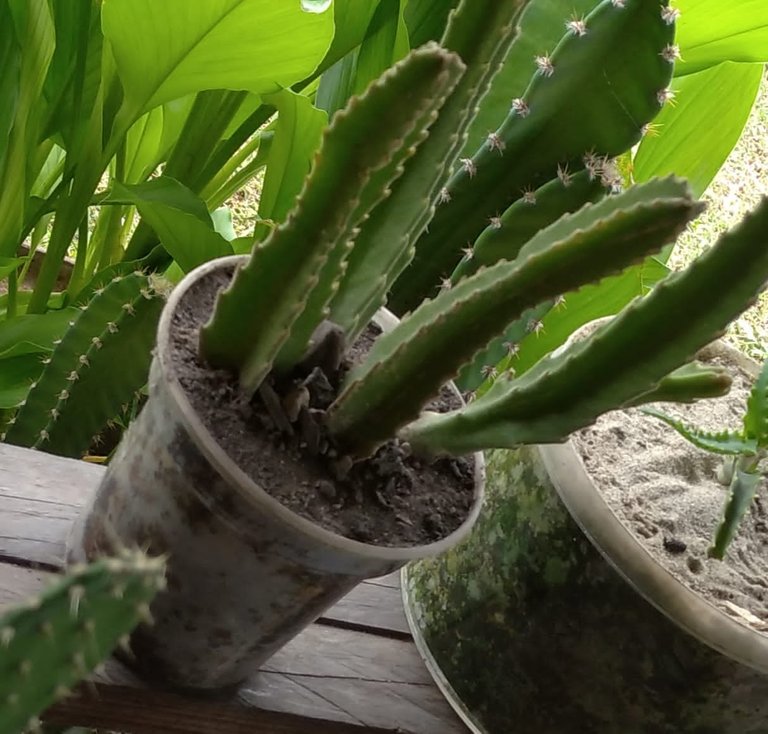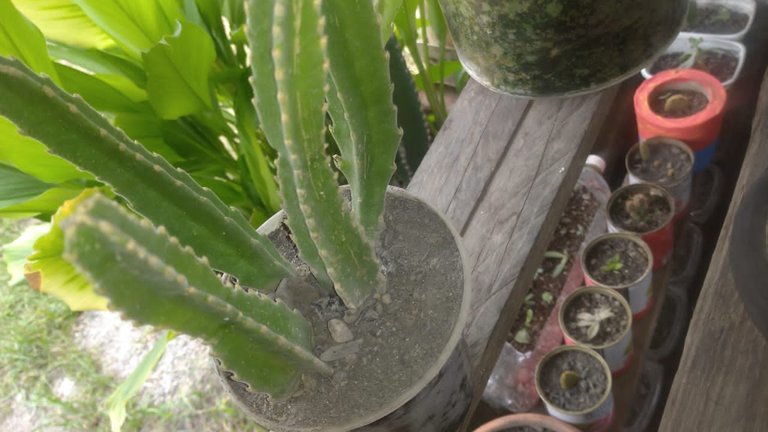 ---
Little was it where you saw the flies in the giganteas since being the first flowering I was expecting to see what that process was since I was a bit busy but I did get to see them a few times and it is exciting to see this type of development in my plants seeing how beautiful the world of plants is too.
Regarding the lighting of the gigantea, it needs direct sun to develop and thus begin to flower, because where I have it there the sun pays for it while waiting for the other flowering, because I realized that was when I had the gigantea in hard shade a lot for the first flower to come out, for this reason I had to place it where more sunlight hit it, and at the same time the first flower did come out.
It is also important to highlight this part with regard to the substrate, its requirement for the soil is not so demanding, since only having a loose and porous soil, and that it has excellent drainage, avoiding waterlogging in the giantess in order to prevent them from rotting and damaging them, for That must be taken into account with respect to irrigation.
And also make it do a light sparse watering and because of the much water it tends to cause giant rot, so it is advisable to apply the watering when it is completely dry, there if we can proceed to the watering and also when it is rainy time there is Avoid excess watering given the weather.
Well I hope you like my post counting on your support every day and good comments, see you next time and thank you very much.
---

---
Español
Conociendo mi stapelia gigantea
---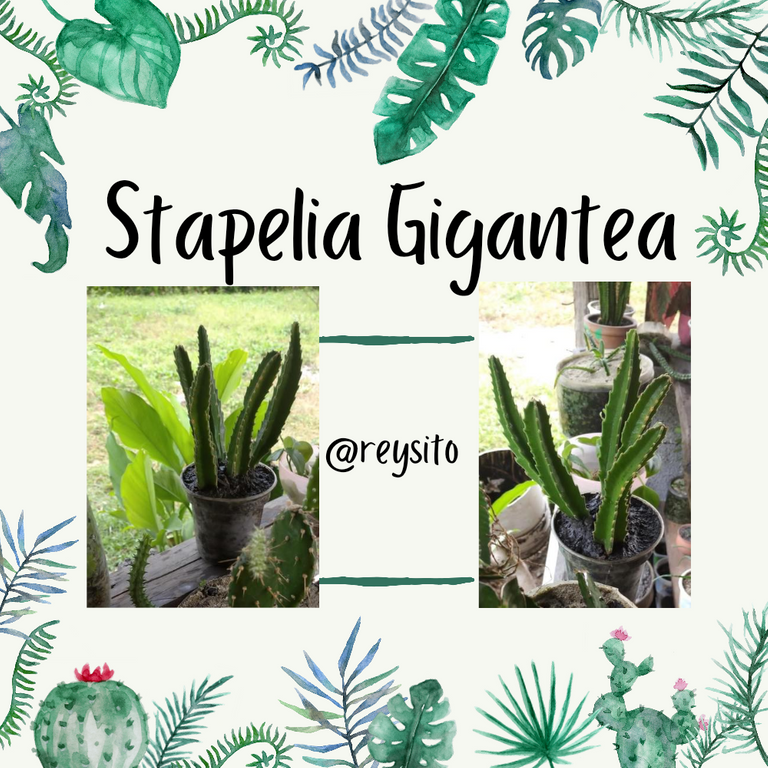 ---
Hola mi gente de hive deseando todas las cosas buenas para todos y que siempre pensemos en cosas positivas.
Estare contando por hoy sobre la stapelia gigantea , ubicada en mi jardín de cactus y suculentas , dónde es una planta suculenta muy distintas a las demás por sus rasgos donde su tallos son completamente verdes , estan ubicados en materos caseros oh de plásticos , allí donde están en una parte que le pega el sol directo para que así dónde los tallos tornan en verde rojizo algo espectacular ver ese cambio en ellas.
Cabe destacar que lo que es tallo , es el encargado de realizar lo que la fotosíntesis , y cuando empieza a dar la flor que ella son las más gran de de su género que llega hasta alcanzar hasta unos 35 cm de diámetro dónde si las lograrán ver en físico estás flores tienen firmas de ellas y el color es amarillo crema , cuando ví por primera está flor de gigantea fue genial verla en el proceso de floración ya que es.muy curiosa en la forma que sales , expandiéndose de adentro hacia a fuera cerrándose.
Algo muy curioso es cuando las flores abren las moscas comienzan a llegar las moscas dado el olor que suelta , ellas sueltan las lavas en la flor para comenzar el proceso de polinización, ya despues de allí es donde comienza a secarse la flor y empieza a emitir una vaina que al secarse ellas irás saliendo lo que es unas plantas nuevas .
---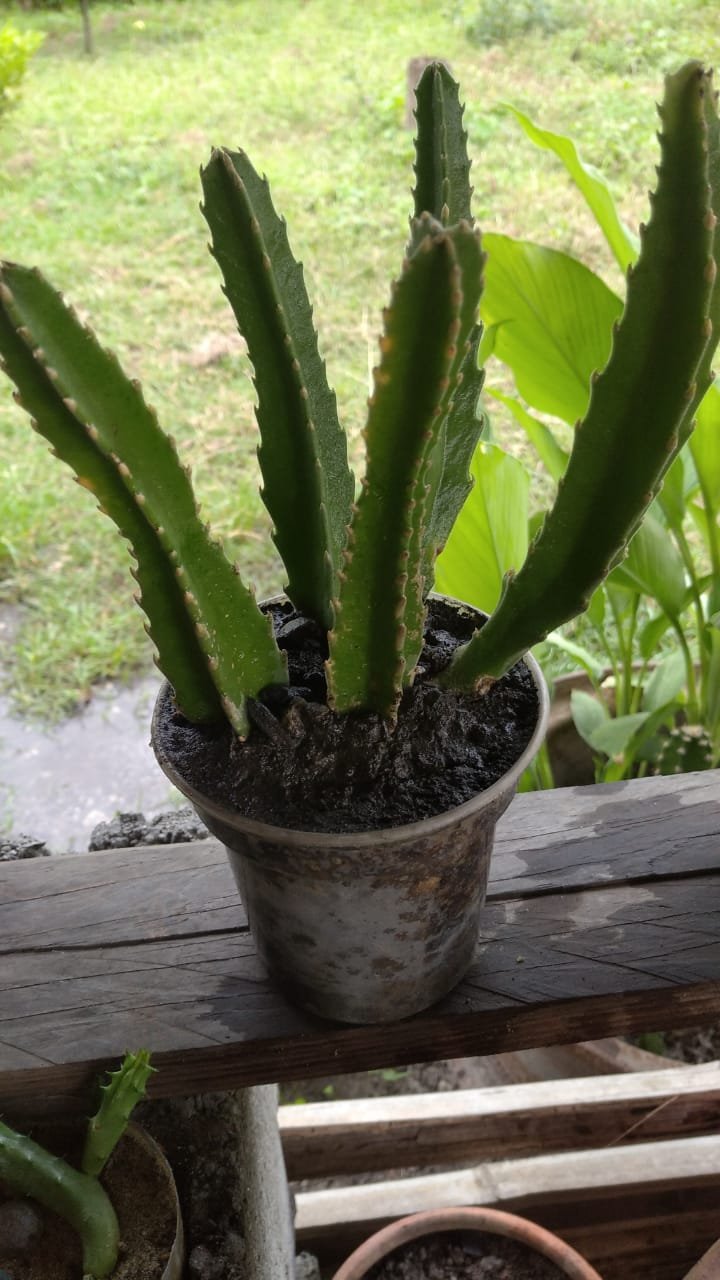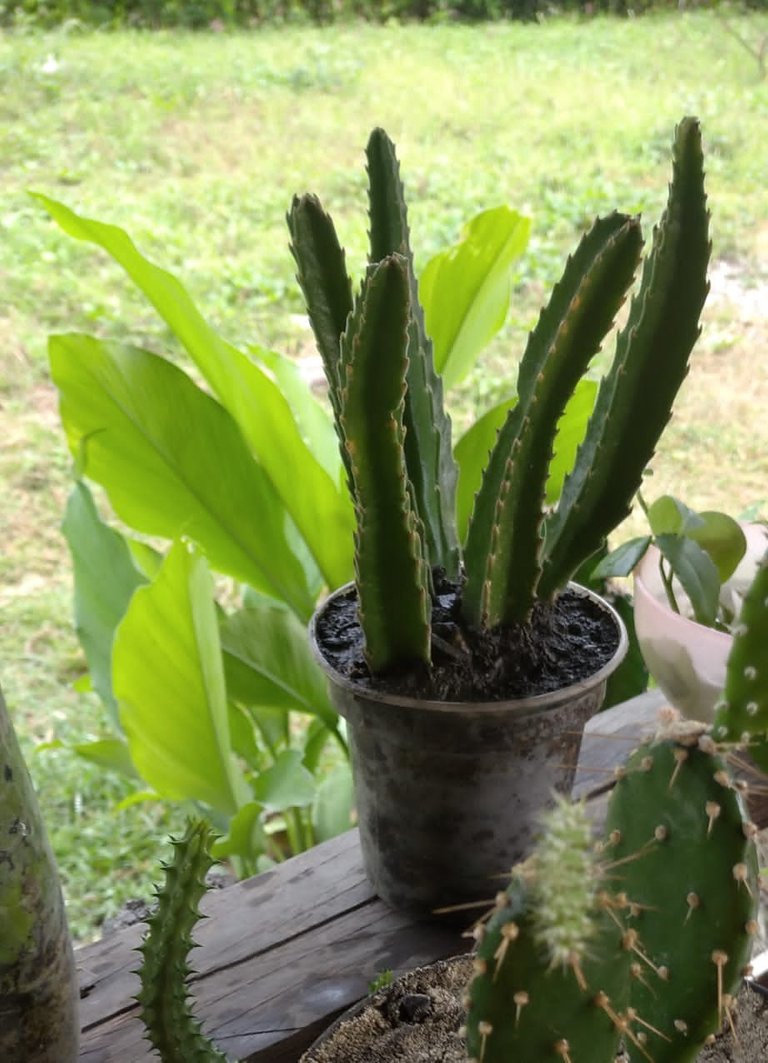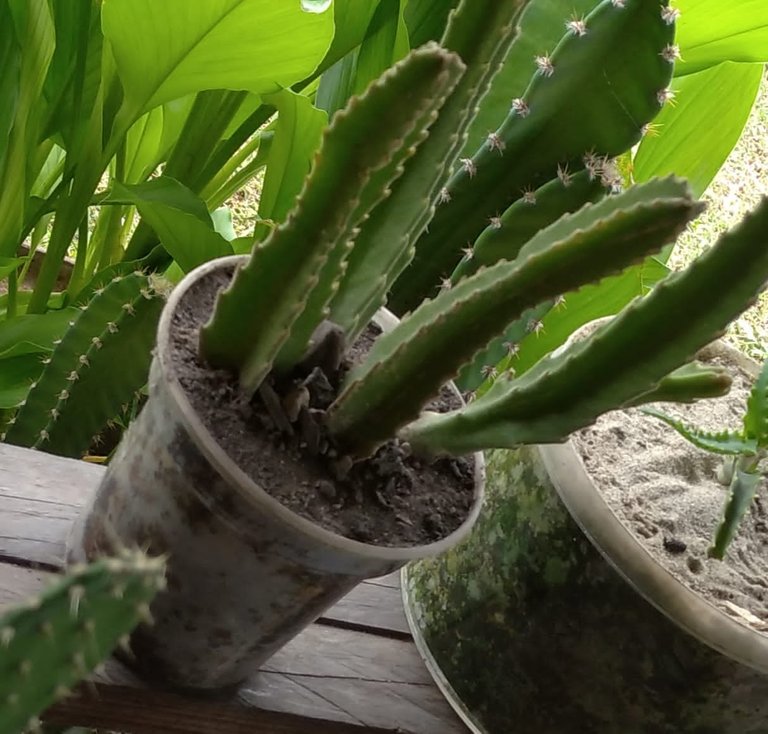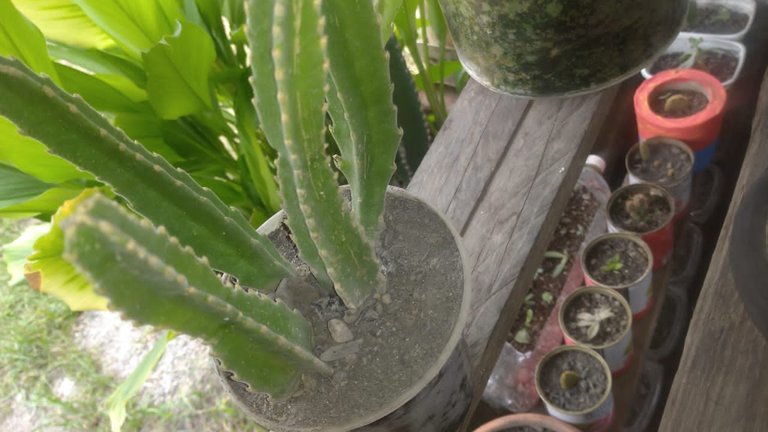 ---
Poco fue fue donde veías las moscas en las gigantea ya que al ser la primera floracion estaba a las expectativas de ver lo que ese proceso dado que andaba algo ocupado pero si llegué a verlas pocas veces y es emocionante ver este tipo de desarrollo en mis plantas viendo como es tan linda el mundo de las plantas también.
Con respecto a lo que la iluminación del gigantea necesita del sol directo para desarrollarse y así empezar a florecer , porque dónde la tengo allí le paga el sol esperando la otra floración, porque me di cuenta de eso fue que cuando tenía la gigantea en sombra duro mucho para que saliera la primera flor , por tal motivo tuve que colocarla ya más donde le pegaba más luz del sol, y al tiempo si salió la primera flor.
También es importante resaltar está parte lo que respecta al sustrato su requerimiento al suelo no es tan exigente ya que solo con tener un suelo suelto y porozo , y que tenga un excelente drenaje evitando encharcamientos en la gigantea para así evitar que podrirlas y dañarlas , por eso hay que tener en cuenta eso con respecto al riego .
Y también hacerle hacerle un riego leve esparcido y por la mucha agua tiende de una a lo que la podricíon de la gigantea por eso es recomendable aplicar el riego cuando esté totalmente seco , allí si podemos proceder al riego y también cuando es tiempo de lluvia hay que evitar el exceso de riego dado al clima .
Bueno espero les guste mi post contando con su apoyo cada día y buenos comentarios , hasta una próxima y muchas gracias.
---

---
---
---