Knowing this tree. [ENG/ESP]
For me it is a pleasure to talk about this great plant that I will be talking to you about a little later.
It is yesterday afternoon when I was visiting a friend where I met this beautiful tree that was impressed by its height and its great fruit that is extraordinary to see.
Given that this type of tree is common to see but at a height already more than twenty meters forward, but the one I will be talking about is smaller than the others.
The common name by which it is known around here is poor man's bread. When I saw this tree at first, I did not think it was poor man's bread until they told me that it really was.
It is approximately ten meters high and its ramifications are abundant and the fruit is enormous, it is not like the normal bread for the poor whose fruits are smaller.
---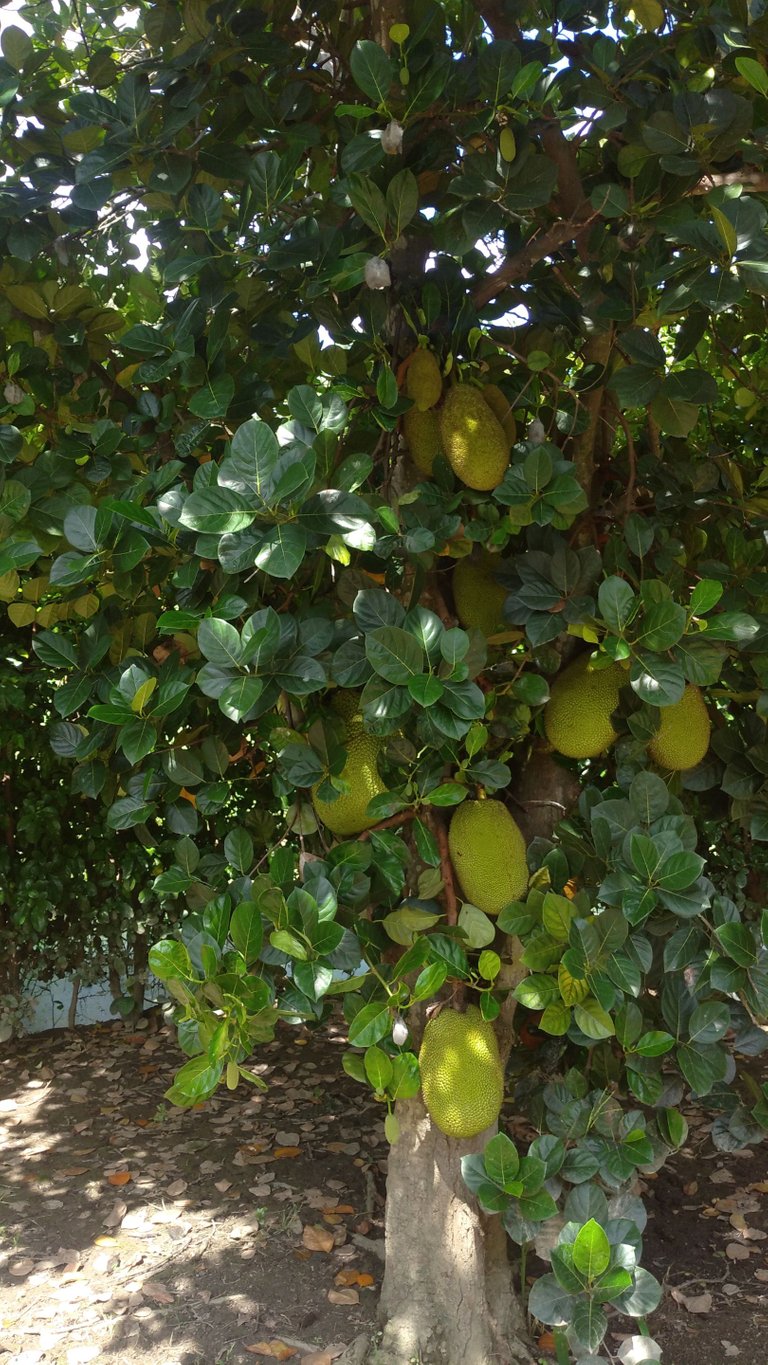 ---
This tree is approximately more than twenty years old, where it is the only one here in the town of these species since nowhere else in the nearby municipality are there such impressive ones.
This something that is what draws attention is also that each fruit is huge and weighs more than a common one , it reaches up to half a meter , where they are it is still true because it still needs to grow a little more .
This tree is located in the back of my friend's house in the patio, something important that I want to highlight is that behind the tree there is a small water channel, something that is very useful because it will have to absorb water when it is not the rain falls and I think that is one of the reasons why it has kept him alive.
---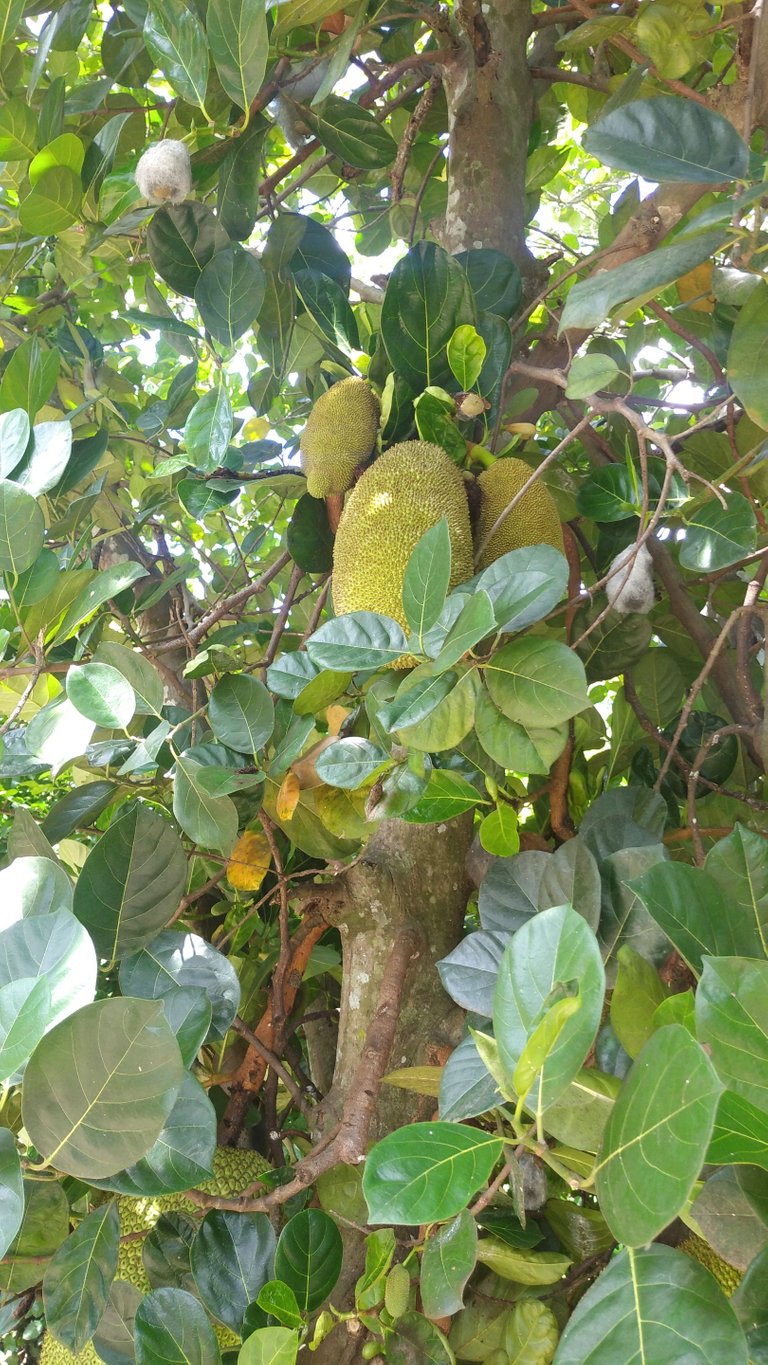 ---
The fruit that this poor man's bread bears is greenish where its cover that protects it is a bit hard and scratchy and where it has a minimal brown tip, and inside of them it bears the seed I can say it like this, that the one used for consumption.
This is hard where to consume you have to cook them in water in order to speak them and from there be consumed.
---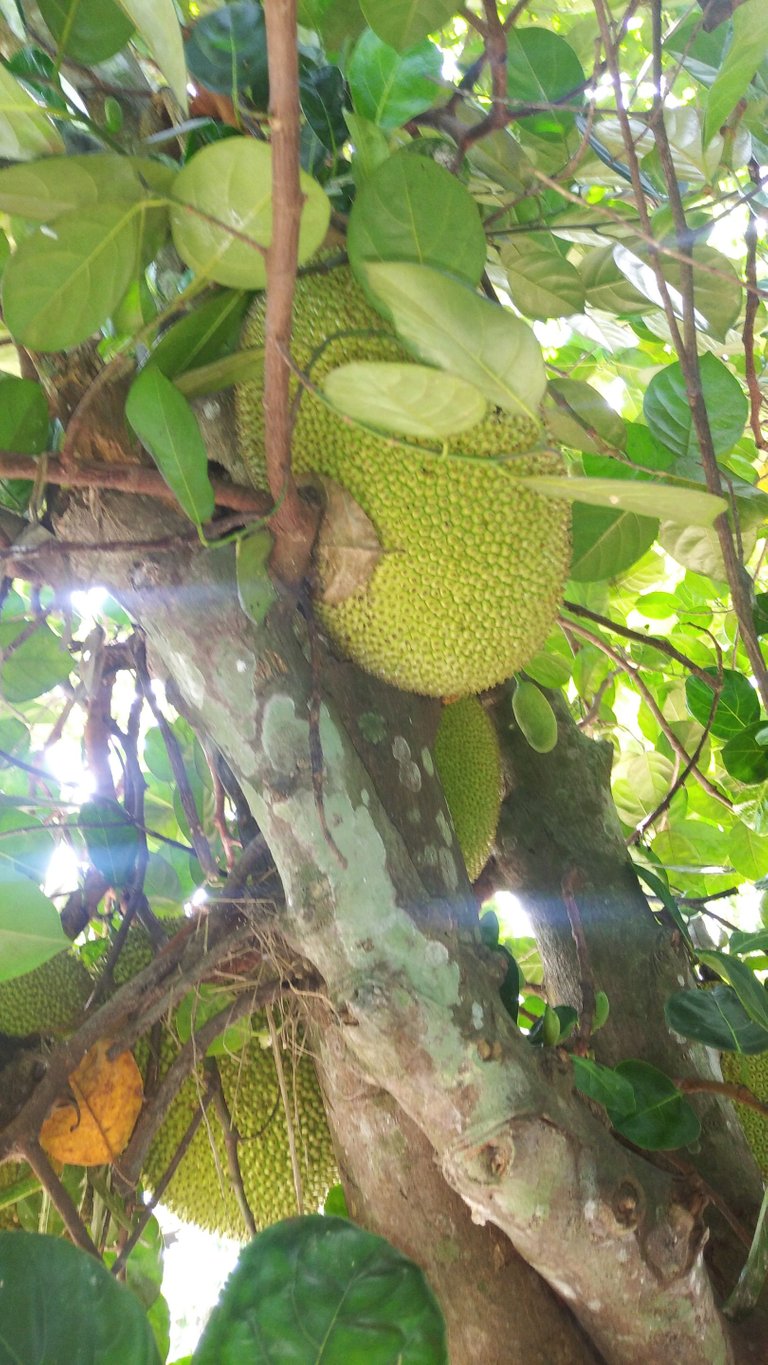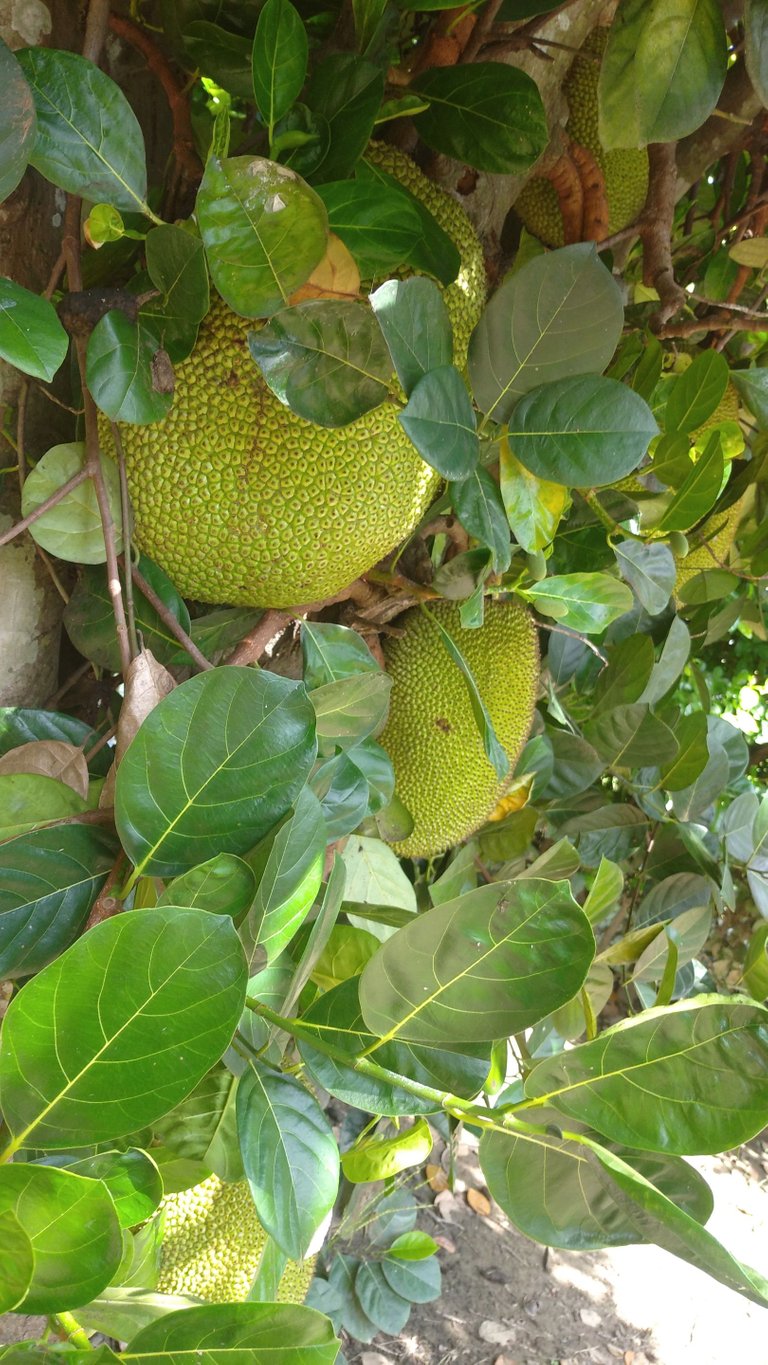 ---
One of which they told me is that this tree is foreign, it does not originate from these parts, since it is foreign and grafted for what you see, because of its shape and rare and strange characteristics, but that makes it look great since it is uncommon to see it on these sides.
The other poor man's breadfruit tree is common to see almost everywhere since you can mostly also have it in your patios of your house in large size.
I was impressed by this tree for the first time I saw it, something that caught my attention, I had never seen these poor man's bread with this condition that they give you an enormous beauty.
This is all for today as always hoping to improve every day, thank you very much.
Versión Español
Conociendo este árbol
Para mí es un placer hablar de esta gran planta que les estaré hablando un poco a continuación.
Es hora de la tarde de ayer en lo que andaba de visita dónde una amiga me encontré con esta bellas de árbol que quede impresionado por su altura y su gran fruto que es extraordinario verlo.
Dado a que este tipo de árbol es común verlo pero a una altura ya a más de veinte metros hacia adelante pero al que les estaré hablando es pequeño a los demás .
El nombre común por el que se conoce por aquí es pan de pobre al ver este árbol en primer momento no pensé q era pan de pobre hasta que me dijeron que si era en realidad.
Tiene un aproximado de diez metros de altura y sus ramificaciones son en abundancia y el fruto que enorme , no es como los pan de pobre normales que su frutos es más pequeños .
---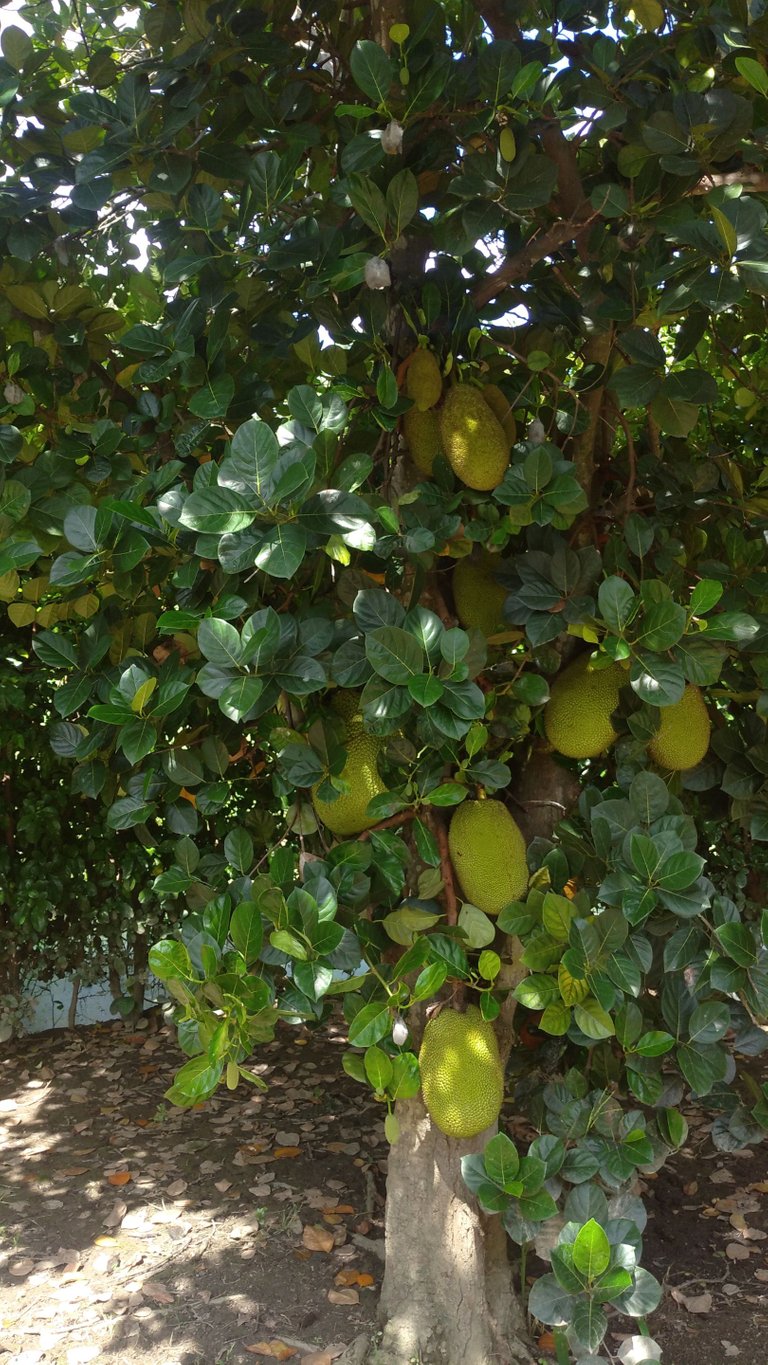 ---
Este árbol tiene un aproximado de más de veinte años ,dónde es el único aquí en el pueblo de estás especies ya que en ningún otro sitio oh municipio cerca hay de estos así tan impresionante.
Este algo que es lo que llama la atención también es cada frutos es enorme y pesa más de el que pesa uno común , llega hasta medir hasta medio metros , allí donde están está verdad todavía por le falta crecer un poco más .
Este árbol está ubicado en la partes trasera de la casa de mi amiga en el patio, algo importante que quiero resaltar es que detrás del árbol pasa un pequeños canal de agua , algo que le resulta muy útil porque tendrá para absorben agua en momento que no caiga la la lluvia y creo que esa es una las razones por la que lo ha mantenido vivo.
---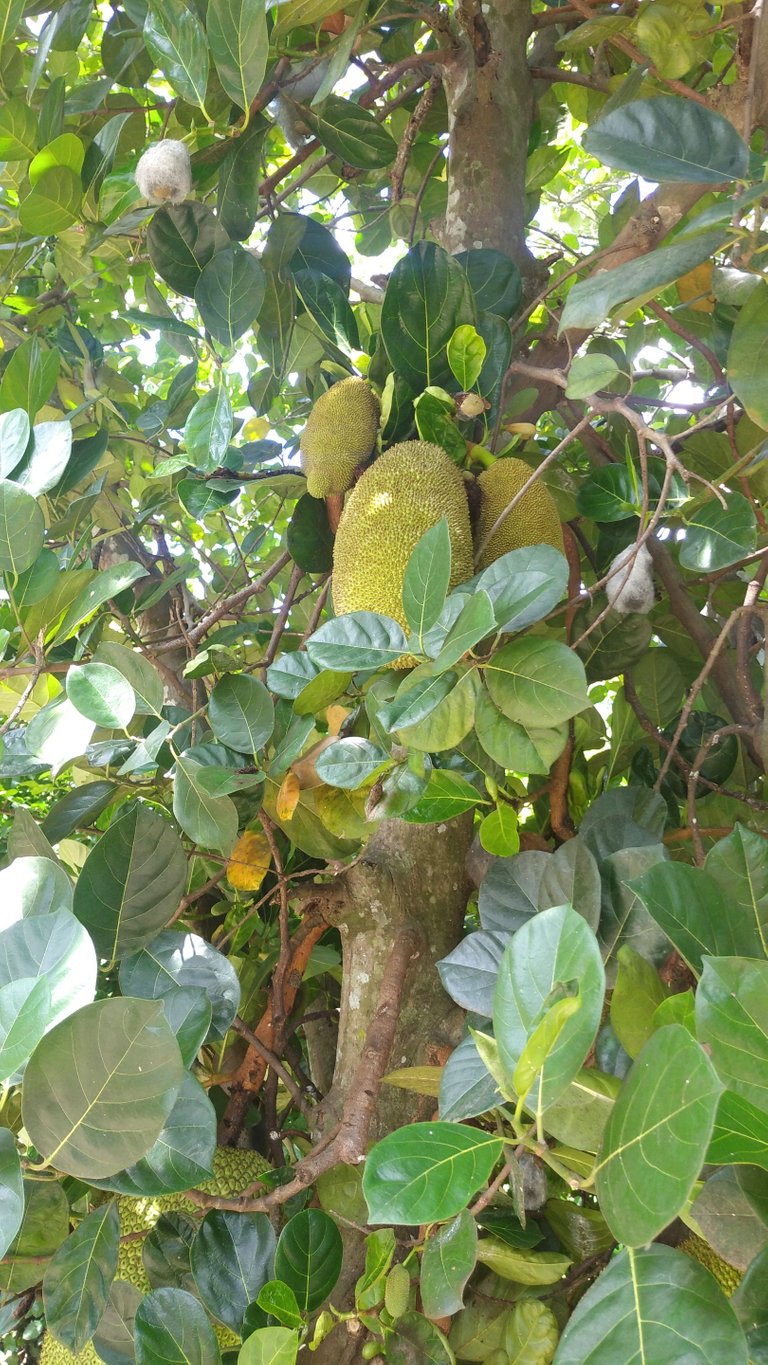 ---
El fruto que trae este pan de pobre, es verdoso dónde su cubierta que lo protege es un poco duro rasposa y dónde tiene una punta mínimas de color marrón, y dentro de ellas trae la semilla lo puedo decir así , que la que se utiliza para el consumo.
Está es dura dónde para consumir hay que cocinarlas en agua para así hablandarlas y de allí ser consumidas .
---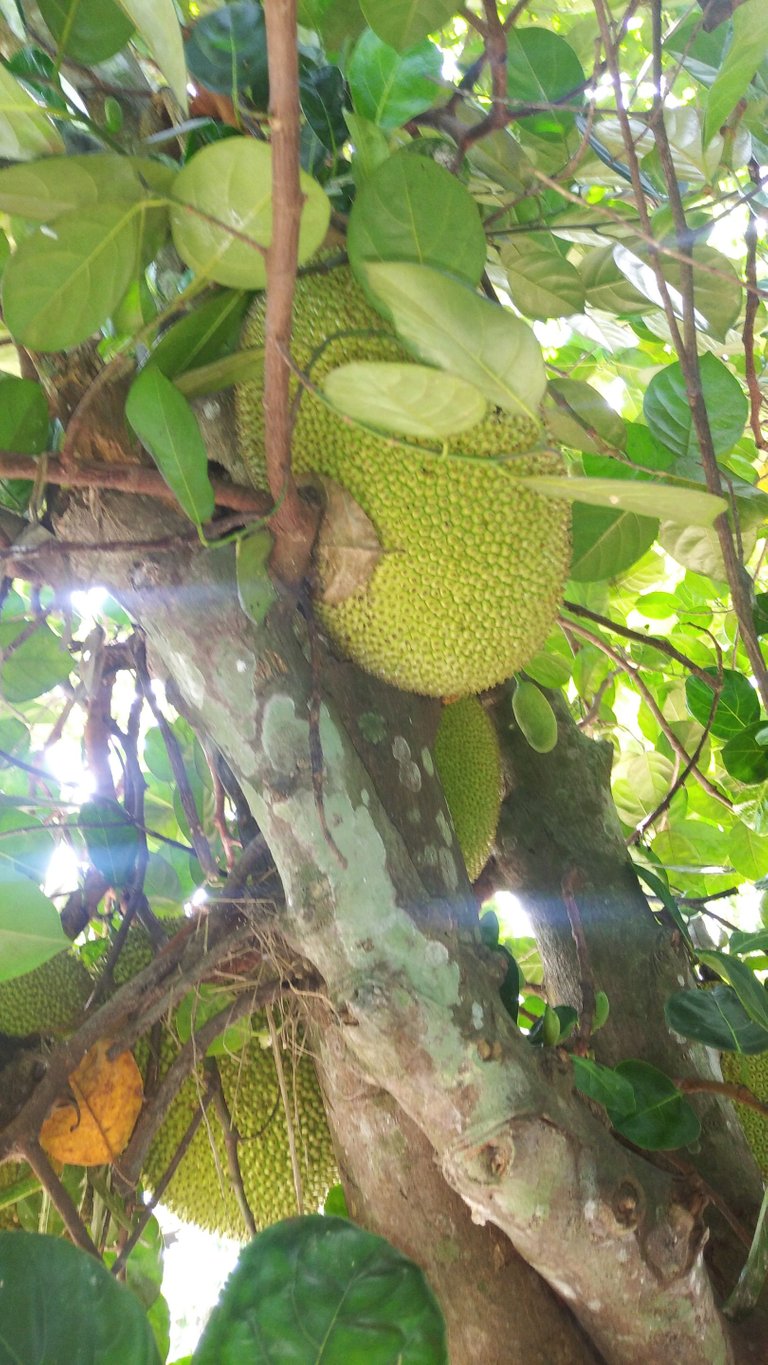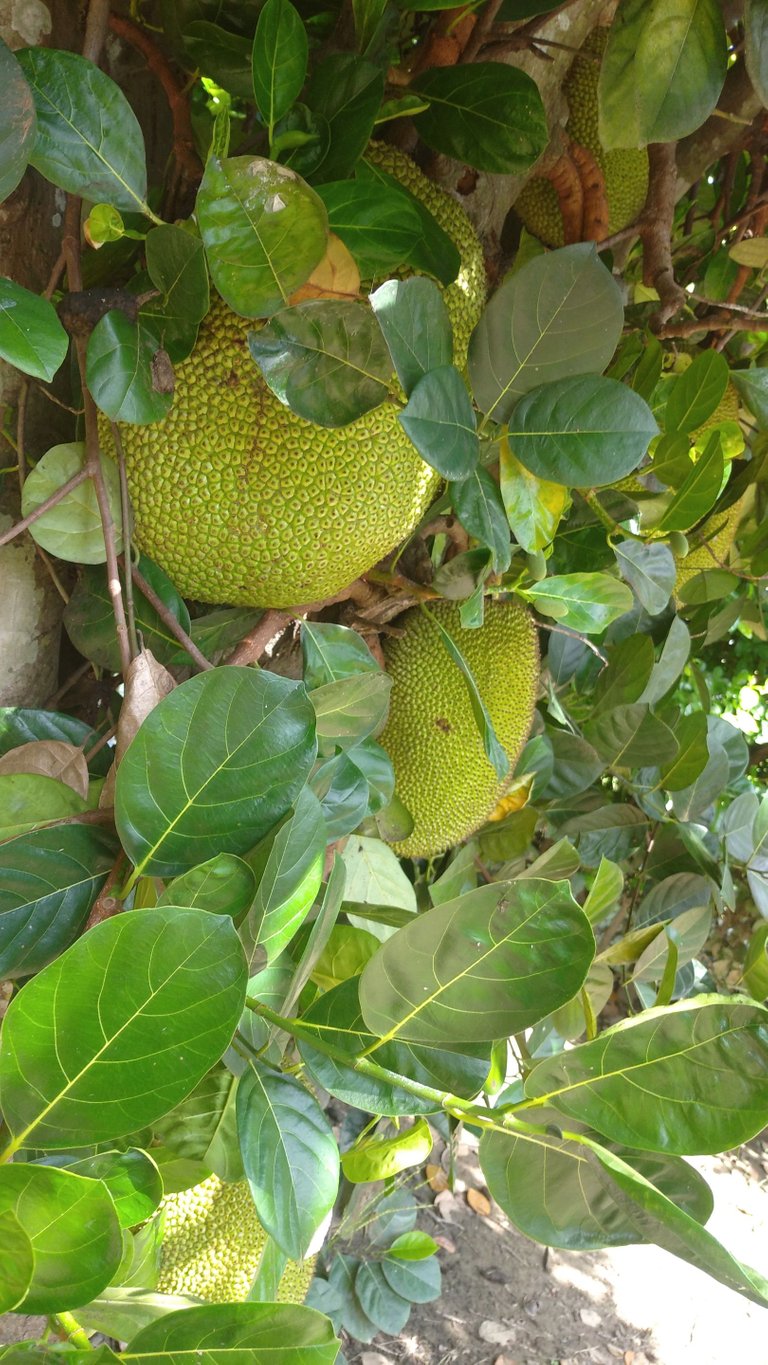 ---
Una de las cuales me dijeron es que este árbol es extranjero no es originario de estos lados , ya que es extranjero y ingertado para lo que se ve, por su forma y características raras y extrañas pero eso lo hace ver genial ya que poco común verlo por estos lados.
El otro árbol de pan de pobre si es común verlo casi en todos lados ya que mayormente lo puedes tener también en sus patios de su casa en gran tamaño.
Quedé impresionado por este árbol al ser primera ves que lo veo , cosa que me llamo mucho la atención, nunca había visto estos pan de pobre con esta condición que te brindan una belleza enorme.
Esto es todo por hoy como siempre esperando mejorar cada día , muchas gracias.
---
---