My turmeric crop. Eng/Esp
---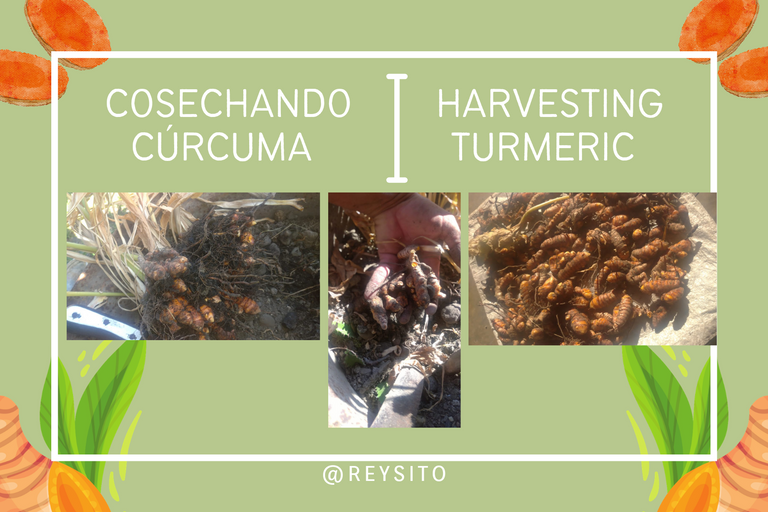 ---
Hello to all the hive from all over, always wishing that good vibes and that you always be positive at all times.
An East Indian plant that belongs to the ginger family and is used as a spice and food coloring. In some cultures, the underground stems are used to treat certain stomach problems. The substance in turmeric, which gives it a yellow color (curcumin), is being studied in the treatment of cancer, Alzheimer's disease, cystic fibrosis, and psoriasis. The scientific name is Curcuma longa. Also called Indian saffron and jiang huang.
A few months ago I made a post regarding turmeric where he was talking about its benefits and its care and planting etc.
For me it is very important to record my experience with this turmeric plant because little by little I will say what my harvest was with total success because I was always very good at them.
Today more than happy because at last because the turmeric harvest was very good after nine months of seeing it planted I took the initiative to get down to the harvest which fills me with great joy because what is taken care of with patience will give good fruits.
At the beginning of the harvest, I had to take a comb or machete as it is called around here, a small one since I used it to loosen the earth a bit since the ground was a bit hard, also due to the drought.
And so I was doing that process of tearing the turmeric from the place where it was planted.
---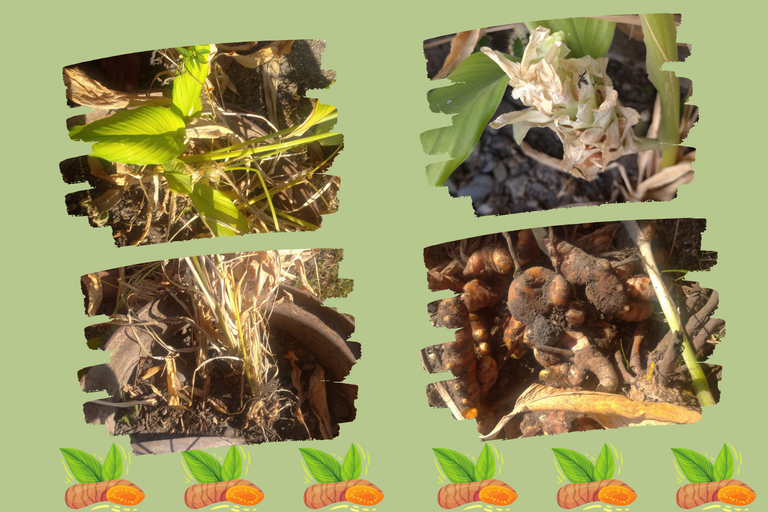 ---
The harvested turmeric was on the wheel of a truck that I used, filling up to a certain amount of soil, and that was where everything that was the process began, when when everything began regarding the planting, not as big as a piece of land as such but if it served to keep them there during this period and thus was also out of danger of any rodent that they harmed.
Now to continue delimiting with respect to my turmeric harvest after gradually finishing uprooting them and placing it in a separate place.
From there I was removing the earth that remained between its roots and the fruit so that it would become cleaner and I also cut what was its stem or the plant, which is like a mountain that was already dry and thus only leaving the fruit absolutely alone with few roots and little dirt, but afterward we proceed to wash it.
---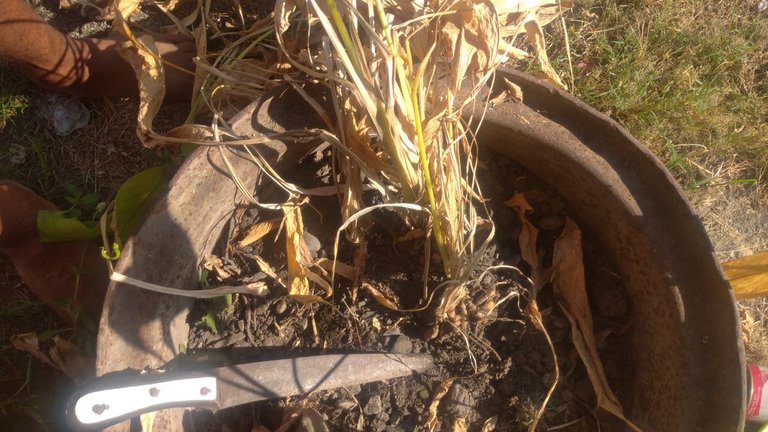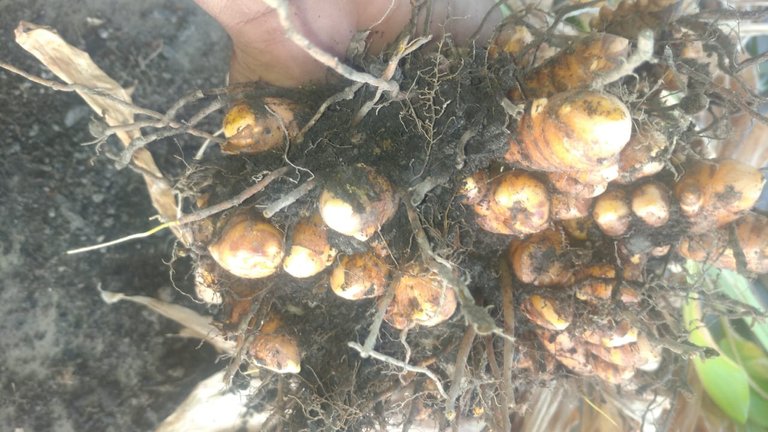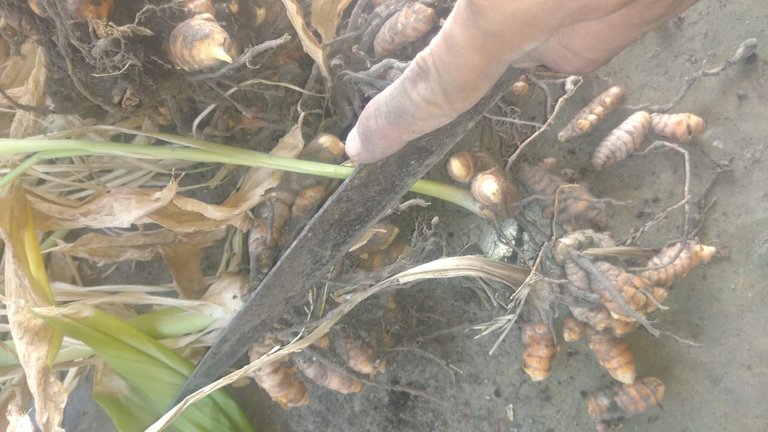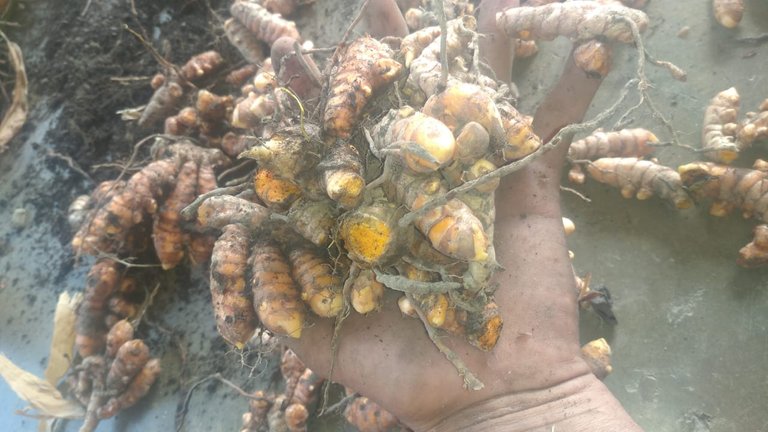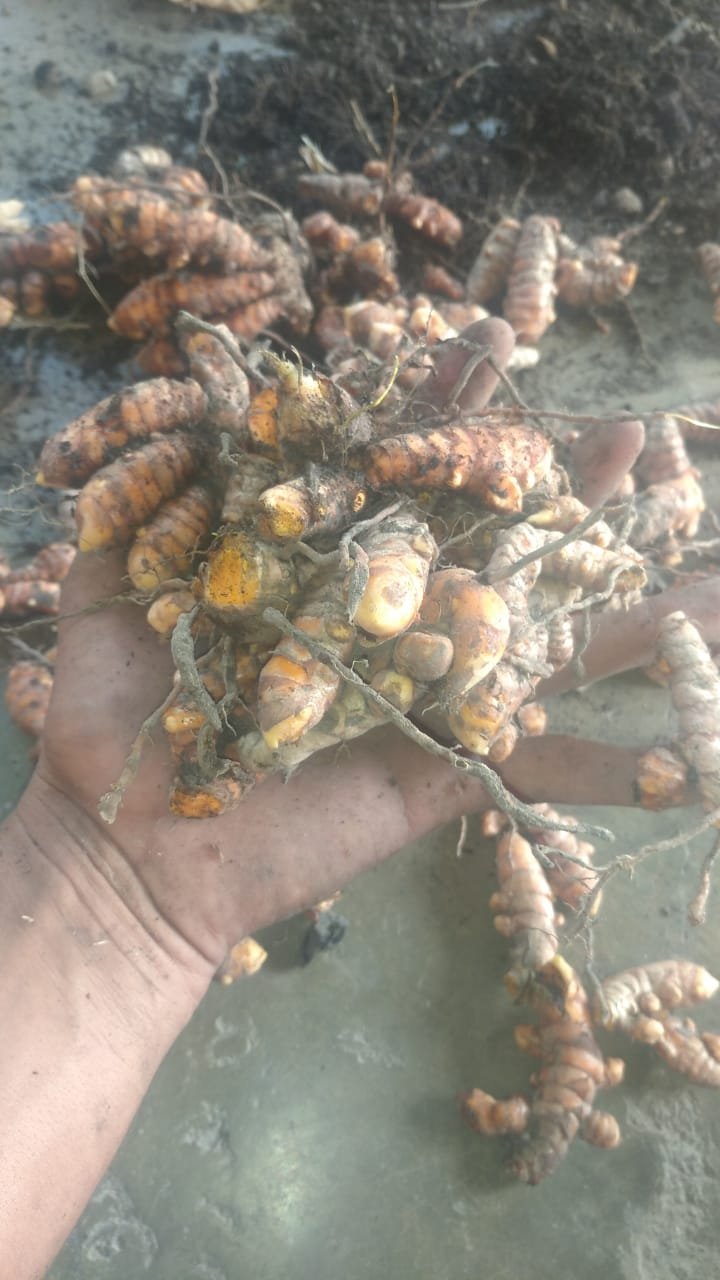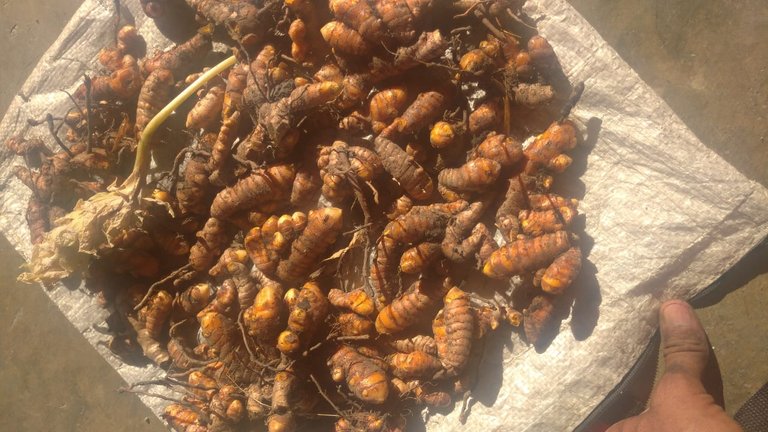 ---
After all the planting and care process and all those things, during the period, with respect to which the leaves began to dry, after the rain ended, because when that little water was applied given that with the same The rain also took advantage of this factor , but after the rain passed , I applied the irrigation manually , avoiding dryness , but the weather is a bit strong after the rain , but the important thing was that there was a very good planting .
It is a very beautiful experience because you know the fruit that you sow yourself, and see how it grows and everything until you get to the point where you harvest it and you see the good quality fruit there, pure, that you sow yourself and that fills you with satisfaction and even with knowledge, about them because you cultivate it yourself, investigate it, so you can already take advantage of it that is necessary that it has so much and all the benefits that it has so much for health that little is known and known about, but it is exciting to have achieved a successful turmeric harvest, since that is what it is about getting the best out of these plants.
Well here is today's post, as always waiting for good constructive and supportive comments, just to say thank you very much and see you next time, thank you.
---

---
Español
Mi cosecha de cúrcuma.
---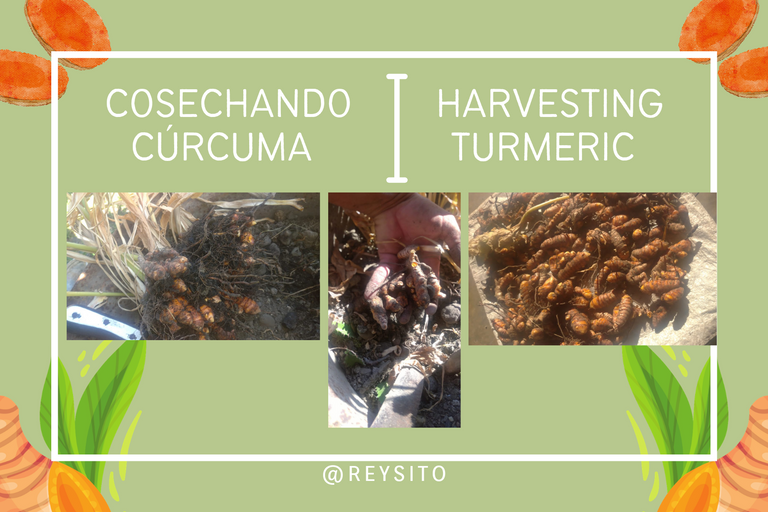 ---
Hola a todos los hive de todas partes , deseando siempre esa buenas vibras y que siempre estén positivo en todo momento.
Planta de la India Oriental que pertenece a la familia del jengibre, y que se usa como especia y colorante alimentario. En algunas culturas, se usan los tallos subterráneos para tratar ciertos problemas del estómago. La sustancia de la cúrcuma, que le da un color amarillo (curcumina), está en estudio para el tratamiento del cáncer, la enfermedad de Alzheimer, la fibrosis quística y la psoriasis. El nombre científico es Curcuma longa. También se llama azafrán de la India y jiang huang.
Hace ya algunos meses hice un post con respecto a la curcuma dónde estuvo hablando de sus beneficios y sus cuidado y su siembra etc.
Para mí es muy importante constar mi experiencia con esta planta de cúrcuma porque poco q poco iré diciendo lo que fue mi cosecha con un total éxito porque se me dió muy bien la siempre de ellas .
Hoy más que contento porque al fin porque se me dió muy buena la cosecha de de cúrcuma despues de nueve meses de a verla sembrado tome la iniciativa de poner manos a la cosecha cosa que me llena de mucha alegra porque lo que se cuida con paciencia dara buenos frutos.
La iniciada de la cosecha , tuve que tomar una peinilla oh machete como se le dice por aquí , una pequeña ya que con ella la utilice para aflojar la tierra un poco dado a qué el terreno estaba un poco duro , dado también a la sequía.
Y así fui haciendo ese proceso de proceso de ir arrancando la cúrcuma del lugar donde estaba sembrada .
---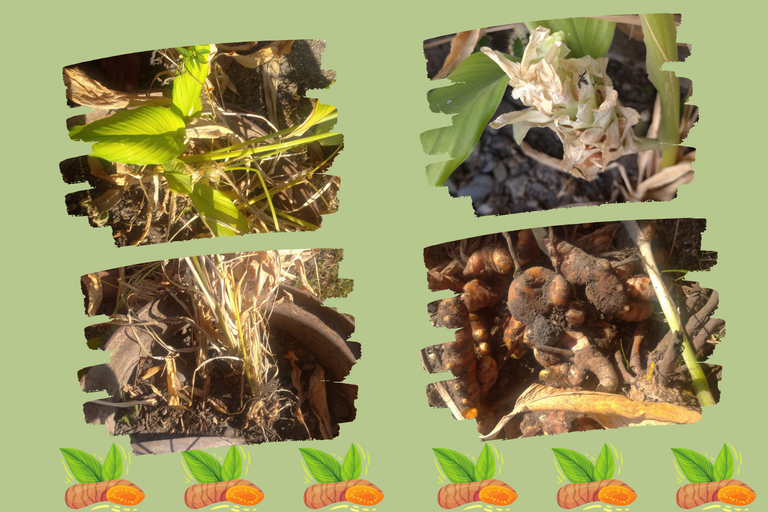 ---
La cúrcuma cosechada estaba en un rin de camión que utilice llenando hasta una cierta cantidad de tierra , y allí fue donde empezó todo lo que fue el proceso , cuando cuando inicie todo respecto a la siembra , que no tan grande como un terreno como tal pero si sirvió para mantenerlas allí durante este periodo y así también estaba fuera de peligro de algún roedor que ellas dañara.
Ya para seguir acotando con respecto a mi cosecha de la cúrcuma después de ir poco a poco terminando de arrancarlas y colocándola en un lugar aparte.
De allí le fui quitando la tierra que le quedaba entre sus raíces y el fruto para que , vaya quedando más limpia y también fui cortando lo que era su tallo oh la planta , que es como un monte que ya estaba seca y así solo dejando el fruto absolutamente solo con poca raíces y poco sucio pero ya después se procede a lavarla .
---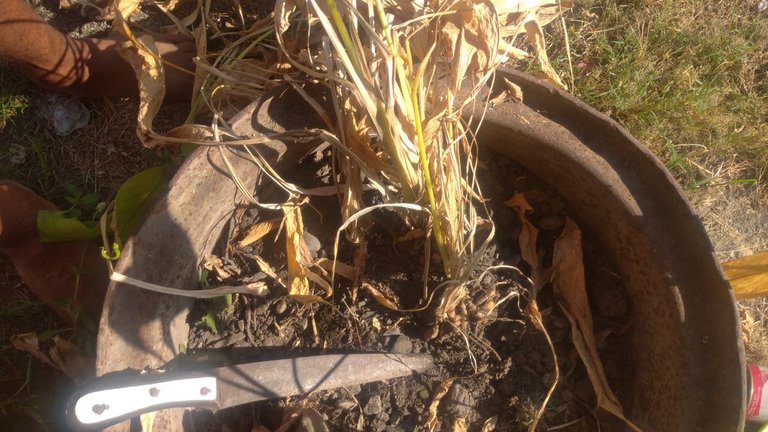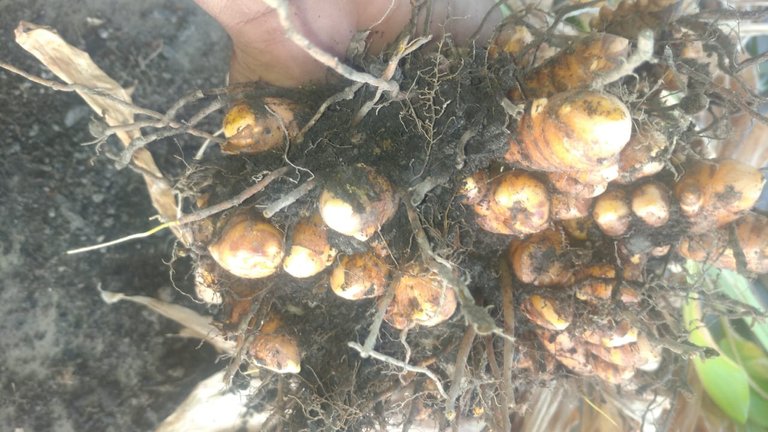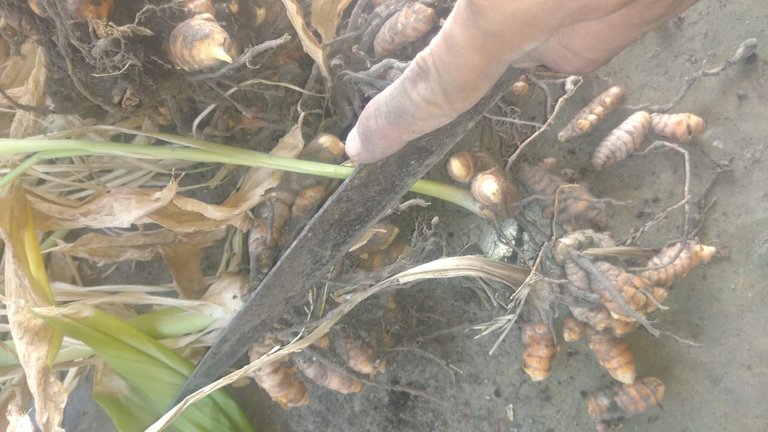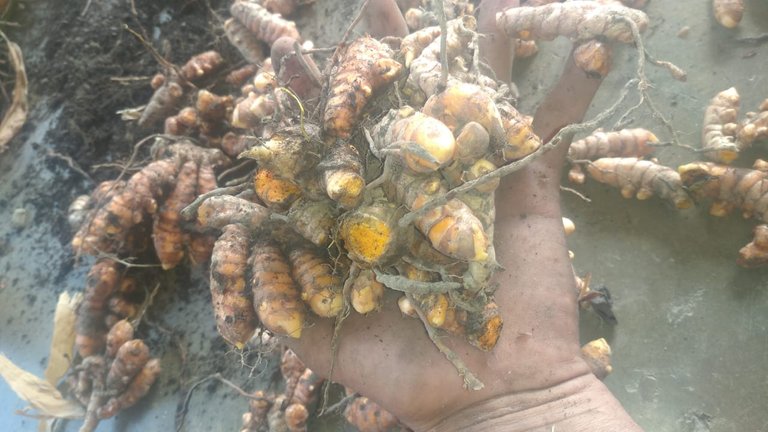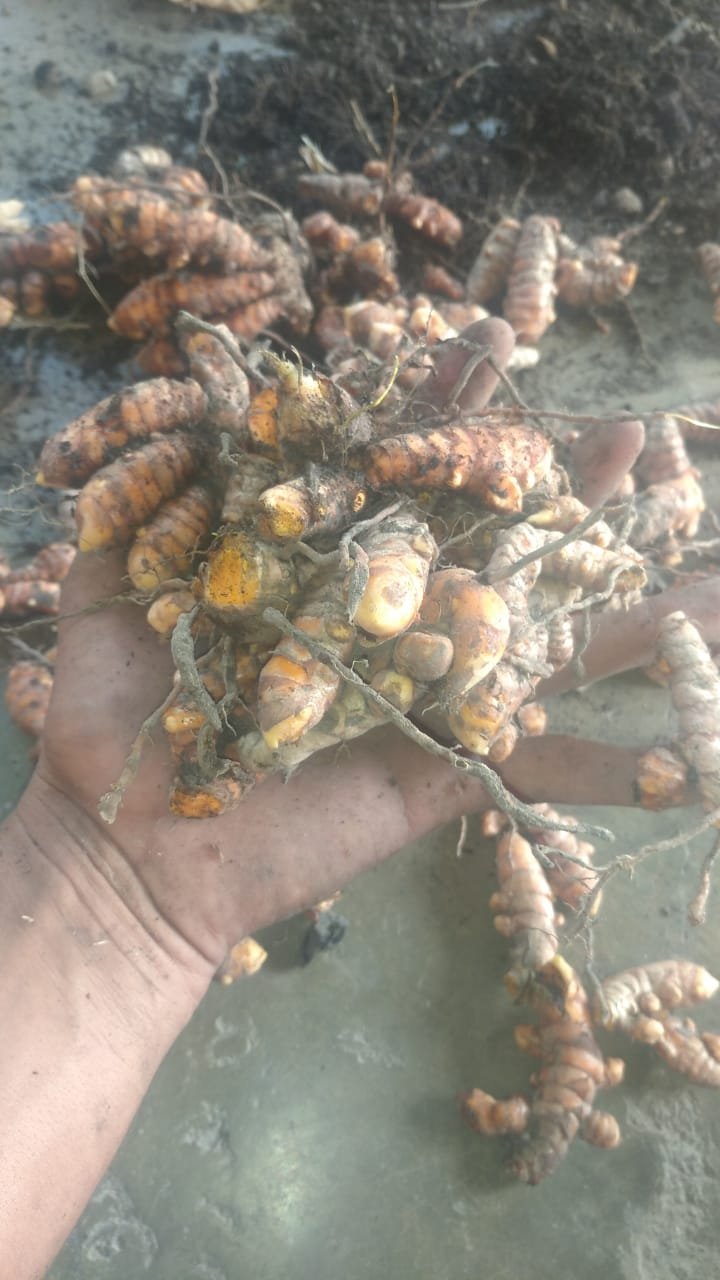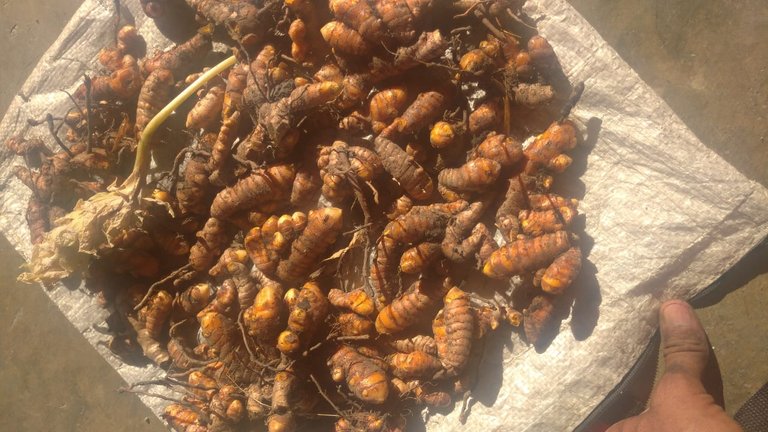 ---
Ya después de lo que todo el proceso de siembra y cuidado y todos esa cosas , durante el periodo , con respecto que se empezaron a secar las hojas , después que termino la lluvia , porque cuando eso poca agua le aplicaba dado a que con la misma lluvia también aprovechaba ese factor , pero después que paso la lluvia le aplicaba manualmente el riego , evitando la sequedad pero el clima es un poco fuerte después de la lluvia , pero lo importante fue que se dió una siembra muy buena .
Es una experiencia muy bonita porque conoces el fruto que uno mismo siembra , y ve como va creciendo y todo hasta llegar al punto que lo cosecha y ves el fruto de buana calidad allí puro que tú mismo siembra y eso te llena de satisfacción y hasta de conocimientos, sobre ellas porque uno mismo lo cultiva lo investiga , así ya sacarle ese provecho provecho necesario que tanto tiene y todos los beneficios que tiene tanto para la salud que poco conocen y saben , pero emociona haber logrado una cosecha de cúrcuma con buen éxito , ya que de eso se trata sacarle lo mejor a estas plantas.
Bueno hasta aquí el post de hoy , cómo siempre esperando buenos comentarios constructivo y de apoyo , sin más que decir muchas gracias y hasta una próxima, gracias.
---

---
---
---