Purple Hearts (2022)
When a movie story is based on Army-related things, I'm being very much fascinated to watch that. Basically, they're I find a disciplined life and love life quite fascinating of course. The previous day when I was randomly browsing my social media feed, suddenly a brief video was visible (the title of it was Purple Hearts) which was shared by one of my friends. The movie was released last month. Watching a trailer of any movie I hardly feel a great level of thirst to watch in recent times. I predicted that the movie would be a love story of an army, but after watching the whole movie that night I was wrong.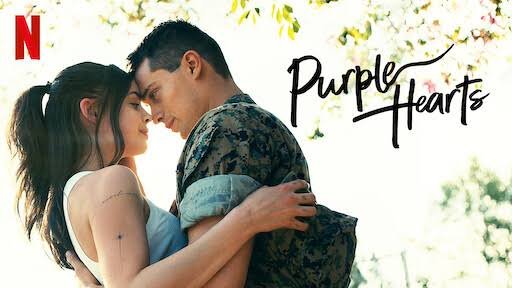 Image Source
The movie starts by showing a scene in a bar where cassie (one of the central characters of the movie) was performing her song there. The first meeting between cassie and luke over there, but in a great way. As a Marine army luke and his team members just got a few day's vacation that's why they choose the bar to celebrate in a great way. But a member from his side threw a flatly comments having in too much excitement and then the situation went wrong and Cassie got angry. In the first meeting, luke somehow convinced her that the situation did not worst and that's why the movie started.
In the movie, cassie is a diabetes patient, she needs a good sum of money to purchase her medicines but that had not been possible just because her brand doesn't go well and money doesn't come to her hands easily. The most interesting scene I have found is when Luke made his debut in the marine army. Well, his life was quite chaotic when her mom passed away from his life and he spent quite frustrating life. He truly got trackless from her life but he came back and came back strongly and was selected in the marine army. This is one of the sweetest parts of the movie to me.
When someone gets out off track in his life, at that moment nothing goes in one's favour. His dad exited him from the home. Both married each other to take advantage and the advantages are, If cassie marrieds him, she gets her medicines without any cost and Luke will get a good sum of money back and he can finalize his borrow which he made when he was addicted. In the contract, both were benefited but the riskiest part is: If they caught as they are acting like a fake marriage then both would be facing a great punishment.
Days go on, and they both get unknowingly fall in love with each other. Ultimately they were caught as they were acting as a fake couple. Luke expressed his love to her but she was obsessed with herself. Trying to go away from him, as when she went away from him and performed on a concert stage she got his moments in her imagination and felt that she is love him and can't spend days without him. At the time of marriage, they both promised each other that they both will stay with each other in any condition.
The last part was amazing. It shows If you promised someone you would also be able to fulfil that as well. Overall the movie ended with throwing a couple of positive vibes. These are you should obey the promises, if you spend time with others for so long you will fall in love with the character for sure and that's a beautiful thing of life and that's the beautiful thing of the movie. It's a romantic based movie but you will find a positive vibe of love If you watch. I would rate the movie 7 out of 10. Because the last part matched my prediction. Hehe, overall a good watch! To grab the positive vibes of love you may watch it.
Happy Watching!
---
---