¡Apex Legends Mobile! Up to the top [ENG/ESP]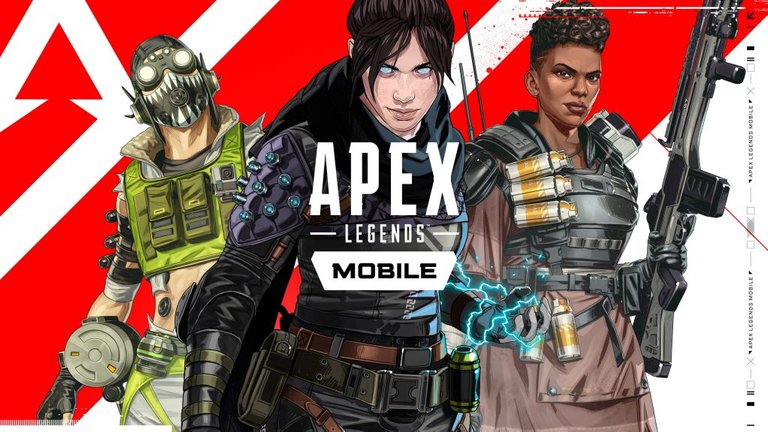 Hello gamers, Apex is a first (or third) person shooter where the main game mode is the BattleRoyale, stay and find out why this game is different from all the competition and convince yourself to download it so you can play some games together.
Legends-Characters-Operators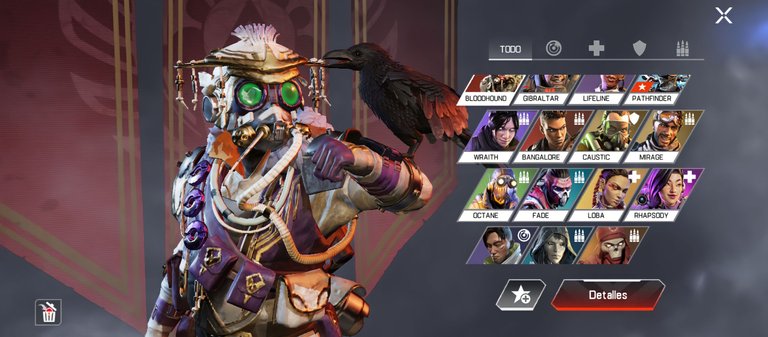 In the Mobile version we have so far a maximum of 15 playable characters, each with their passive, tactical and ultimate ability, as if this were league of legends 🤣 which makes your gaming experience very varied and entertaining in general.
When you start playing you won't have them all unlocked, but as you level up and play believe me you will have them all, with a lot of time, but all hehe, of course, I can only tell you about the free to play part of the game, by paying you can unlock lots and lots of VERY VERY nice cosmetics and you could advance faster regarding missions and that kind of stuff, it doesn't affect the gameplay, very important to emphasize this, it's not a pay to win game.
Game modes
BattleRoyal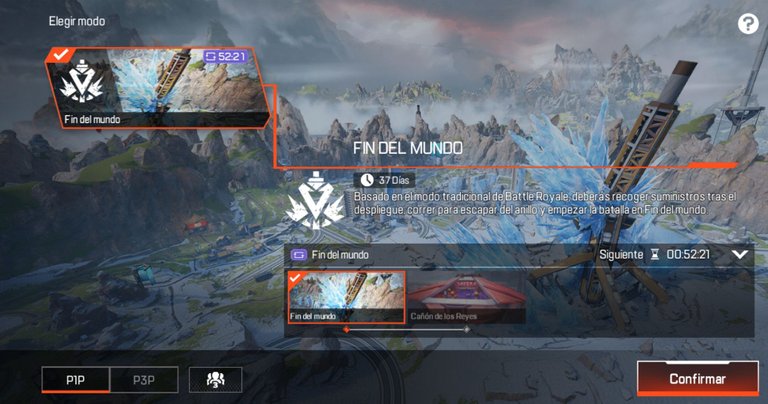 Being originally a BattleRoyal game I could say that this is where we can find the best gaming experience, as everything is designed for this mode, being much more frenetic and dynamic than other games, currently we have two very distinctive maps and usually in each season special events are added to the maps to highlight and various gaming experience.
Multiplayer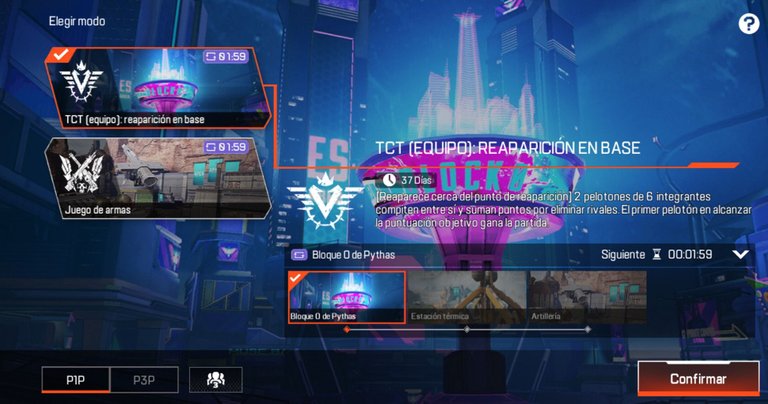 Game modes annexed to both the Mobile and PC versions requested by players in the first season due to the great success of the game, in each season they rotate the game modes to have variety and we do not get tired of these over time, which does not work much because at most placed 3 multiplayer modes always tired in the long run, we have a limited gaming experience because the legends were not designed for these modes, but still very enjoyable and tactical skills give an extra plus to each mode.
Qualifier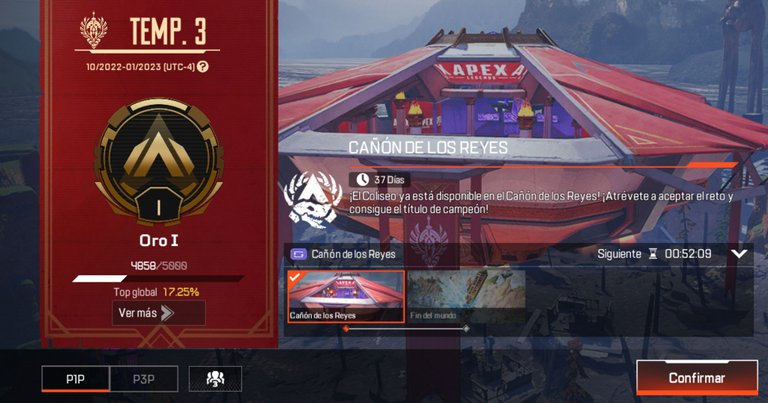 In this case the qualifiers are from BattleRoyal and well... what can I say a system of rankeds that I consider well balanced until you reach medium high levels where everything gets out of control haha and if it starts to be partially unfair, but still you can go climbing normally.
This is a team game, even if you are very good, sooner or later you will reach a ceiling which you can not break because you need your teammates, the legends have synergies with each other, which makes you can rely on your teammates and get the maximum potential in each game, this does not mean that you can not shine individually, just that it will be much more difficult.
The gameplay experience is familiar, ok, it's nothing TOTALLY revolutionary, but in my case I find it more attractive than other titles of this nature, how COD, PUBG or FORNITE because Apex is much faster and dynamic than these, but on paper it's the same, you fall to an area of the map where you will have to loot in order to improve your weapon and your equipment as the game progresses, you have rings that are closing and so on.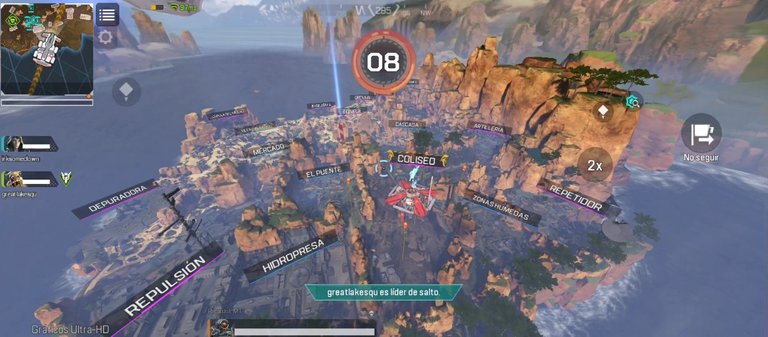 ---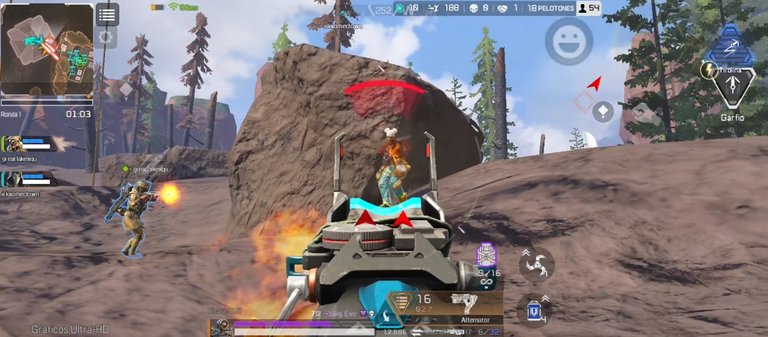 ---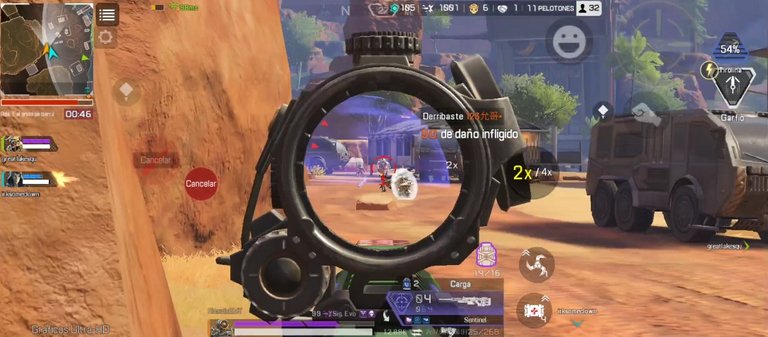 Beyond that, it's almost inexplicable the experience that Apex gives, I invite you to take a good look at it and let's play together.
I have a project with which I am super excited, in which I will begin to upload Gameplays of Apex here, with a single goal, TO REACH PREDATOR which is the highest rank of Apex, I hope to arouse your interest in Apex, See you in the Canyon of Kings or at the End of the World, LETS GOOOO!!!
---
NICKNAME:RicardoEMT
ID:CBE2D90E089984BF6363BD

ESPAÑOL-ESPANISH
Hola jugadores, Apex para los panas, es un shooter en primera (o tercera) persona donde su principal modo de juego es el BattleRoyale, quédense y averigüen el porqué este juego se diferencia de toda la competencia y se convenzan de descargarlo para poder echar unas partidas juntos.
Leyendas-Personajes-Operadores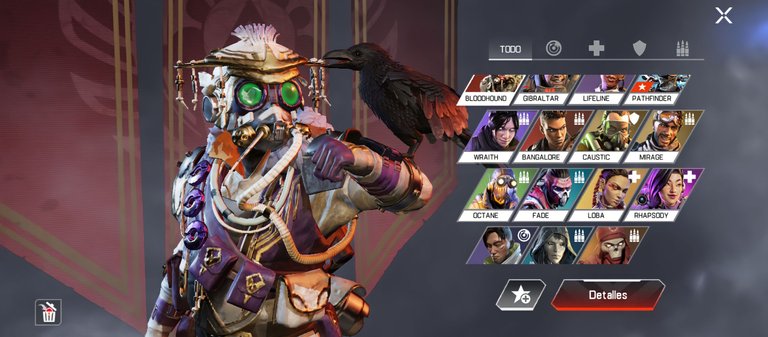 En la versión Mobile tenemos hasta ahora un máximo de 15 personajes jugables, cada uno con su habilidad pasiva, táctica y definitiva, como si esto fuera el league of legends 🤣 lo que hace que su experiencia de juego sea muy variada y entretenida en general.
Cuando comienzas a jugar no los tendrás todos desbloqueados, pero a medida que vayas subiendo de nivel y jugando créeme que los tendrás todos, con mucho tiempo, pero todos jeje, claro, yo solo les puedo hablar de la parte free to play del juego, pagando puedes desbloquear muchísimos cosméticos MUY MUY bonitos y podrías avanzar más rápidamente respecto a misiones y ese tipo de cosas, no afecta la jugabilidad, muy importante recalcar esto, no es un juego pay to win.
Modos de juego
BattleRoyal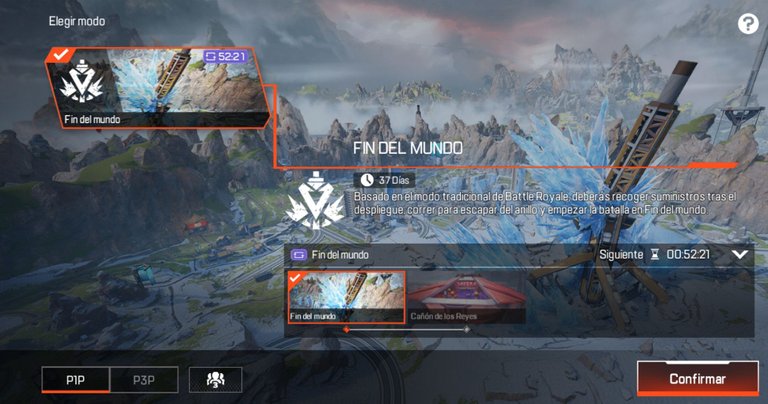 Siendo originalmente un juego para BattleRoyal podría decir que en este es donde podemos encontrar la mejor experiencia de juego, ya que todo está diseñado para este modo, siendo mucho más frenético y dinámico que otros juegos, actualmente contamos con dos mapas muy distintivos entre sí y por lo general en cada temporada se añaden eventos especiales a los mapas para así destacar y varias la experiencia de juego.
Multijugador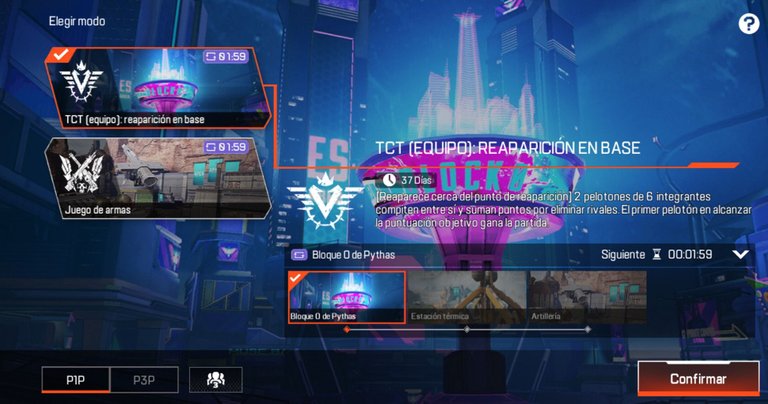 Modos de juegos anexados tanto a la versión Mobile como a la de PC solicitados por los jugadores en la primera temporada
debido al gran éxito que tuvo el juego, en cada temporada van rotando los modos de juegos para tener variedad y no nos cansemos de estos con el tiempo, cosa que no funciona mucho debido a que como máximo colocan 3 modos multiplayer siempre cansan a la larga, tenemos una experiencia de juego limitado debido a que las leyendas no fueron concebidas para estos modos, pero aun así se disfruta mucho y las habilidades tácticas le dan un plus extra a cada modo.
Clasificatoria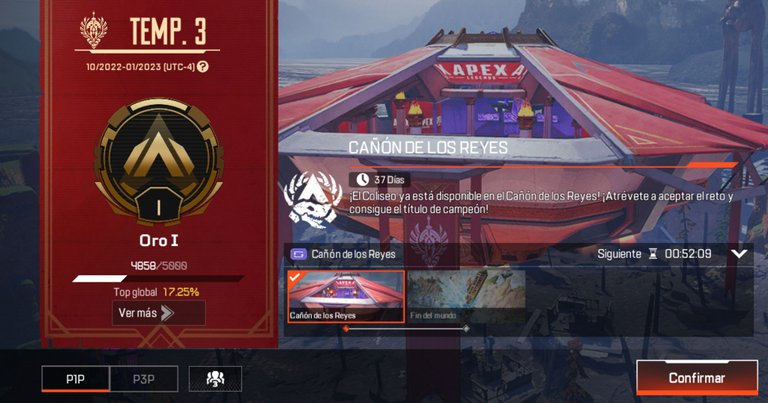 En este caso las clasificatorias son de BattleRoyal y bueno... que les puedo decir un sistema de rankeds que considero yo bien balanceado hasta llegar a niveles medianamente altos dónde todo se descontrola jaja y si comienza a ser parcialmente injusto, pero aun así se puede ir escalando normalmente.
Este es un juego de equipo, aunque seas muy bueno, tarde o temprano llegarás a un techo el cual no podrás romper debido a que necesitas de tus compañeros, las leyendas tienen sinergias entre sí, lo que hace que puedas apoyarte en tus compañeros de equipo y sacar el máximo potencial en cada partida, con esto no quiero decir que no puedas brillar individualmente, solo que será mucho más difícil.
La experiencia de juego es familiar, ok, no es nada TOTALMENTE revolucionario, pero en mi caso lo encuentro más atractivo que otros títulos de esta índole, cómo COD, PUBG o FORNITE debido a que Apex es mucho más rápido y dinámicos que estos, pero en papel es lo mismo, caes a una zona del mapa donde tendrás que lootear para así ir mejorando tu arma y tu equipamiento a medida que avance la partida, tienes anillos que se van cerrando etc.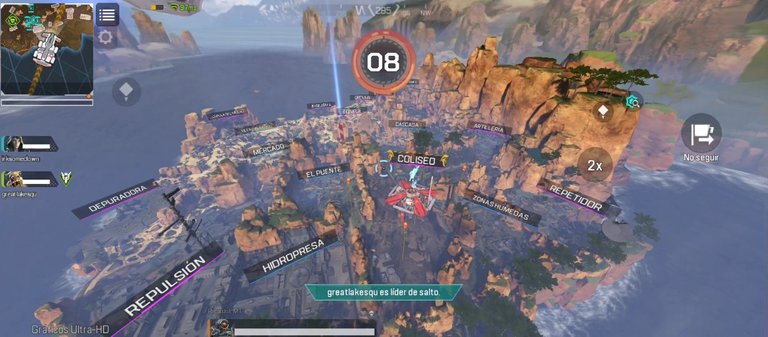 ---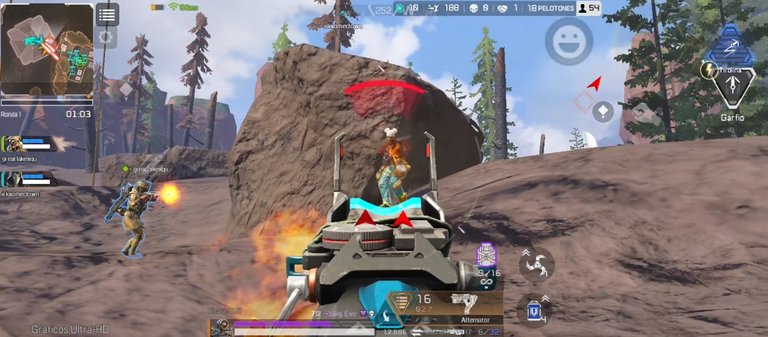 ---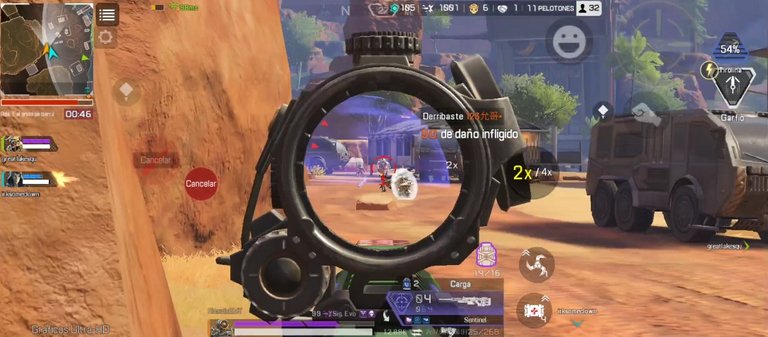 Más allá de eso, es casi inexplicable la experiencia que da Apex, les invito a que le echen un buen vistazo y juguemos juntos.
¡Tengo un proyecto con el que estoy súper entusiasmado, en el cual comenzaré a subir Gameplays de Apex acá, con una sola meta, LLEGAR A PREDATOR que es el máximo rango de Apex, espero despertar su interés en Apex, Nos vemos en el Cañon de Reyes o en Fin del Mundo, LETS GOOOO!!

Capturas y Logos realizados por mi con Picsart, Snapseed, Eraser, Capcut.
Agregenme para jugar
NICKNAME:RicardoEMT
ID:CBE2D90E089984BF6363BD
Dispositivo: Infinix NOTE 11 PRO
---
---