With toys we create wonderful environments [ESP/ENG]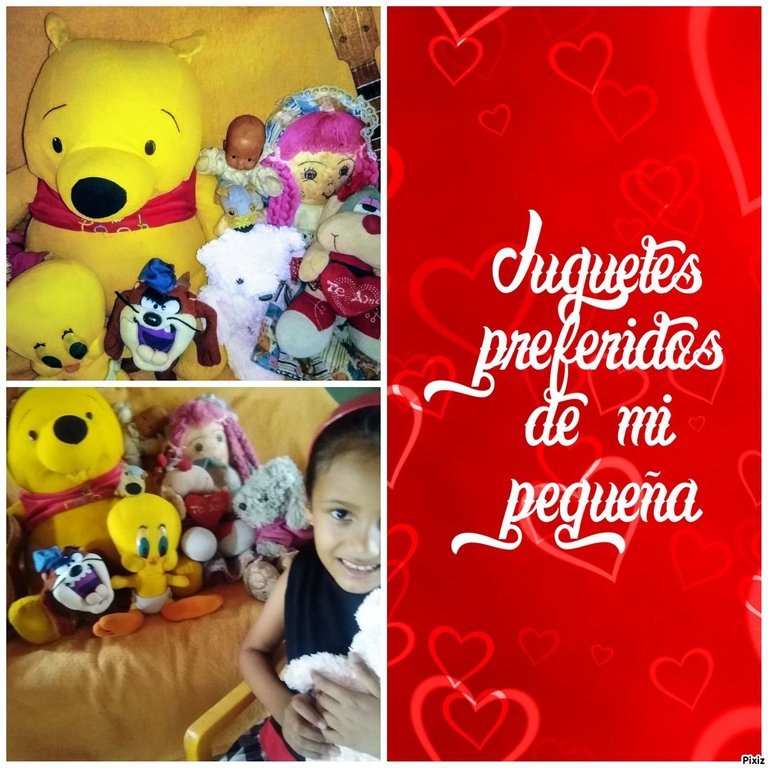 ---
Estoy feliz querida comunidad de saludarlos, y volver a estar con mis amigos colegas padres y madres. En esta ocasión les quiero hablar de los momentos increíbles que tanto mi hija como yo pasamos cuando jugamos o cuando la veo jugar con los juguetes de su preferencia.
I am happy to greet you, dear community, and to be back with my fellow moms and dads. This time I want to tell you about the incredible moments that both my daughter and I spend when we play or when I see her playing with the toys of her choice.
---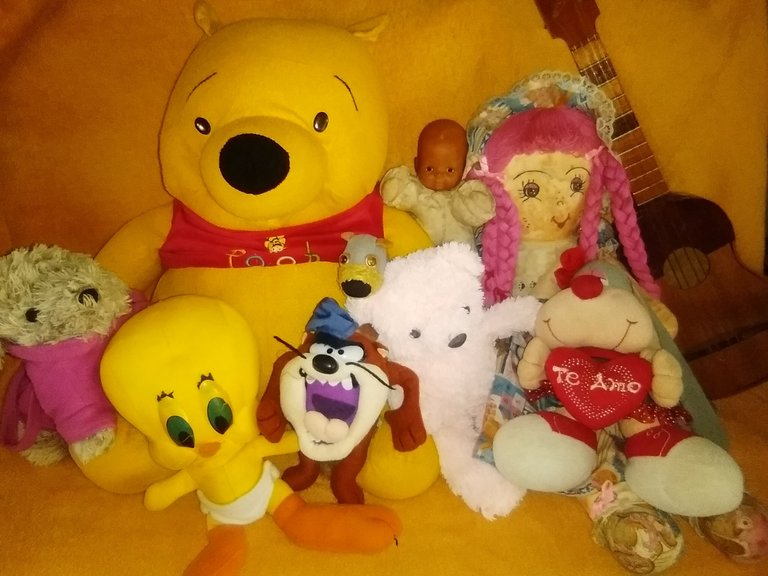 ---
Debo decir que la mayoría de los juguetes que tenemos han sido obsequiados por mis amigos que son familia. Para ella no ha sido fácil en este tiempo estar solita sin amiguitos con quién jugar pues como saben tengo solo una niña. Así que tengo que apartar tiempo de mi ajetreado día para jugar o realizar otra actividad. Por cierto muchas de esas actividades las he compartido con ustedes amigos de Hive.
I must say that most of the toys we have have been given to us by my friends who are my family. It has not been easy for her during this time to be alone with no friends to play with because as you know I only have one child. So I have to take time out of my busy day to play or do other activities. By the way, many of these activities I have shared with you Hive friends.
A cada uno de ellos mi pequeña le coloco nombre: su preferido se llama puche, su nombre se debe a qué estaba muy bebe y casi no sabía pronunciar peluche así que solo podía decir ¡PUCHE! 😂, Lo aprecia mucho y siempre duerme con él. Está pendiente que no se ensucie y casi siempre lo saca a pasear y cuando vamos en camino le muestra las cosas que le ve. PUCHE fue un regalo de una amiguita que se fue del país y tan linda se lo dejo a mi hija ella le dijo a mi bebé: "este osito tiene muchos años conmigo cuídalo". Y hasta ahora ha cumplido con el compromiso.
My little one named each one of them: her favorite is called puche, his name is because he was a baby and could hardly pronounce stuffed so she could only say PUCHE! 😂, She appreciates him very much and always sleeps with him. He's watching that he doesn't get dirty and almost always takes him for a walk and when we are on our way he shows him the things he sees him. PUCHE was a gift from a friend who left the country and so cute she left him to my daughter, she told my baby: "this bear has many years with me, take care of him". And so far she has kept her promise.
---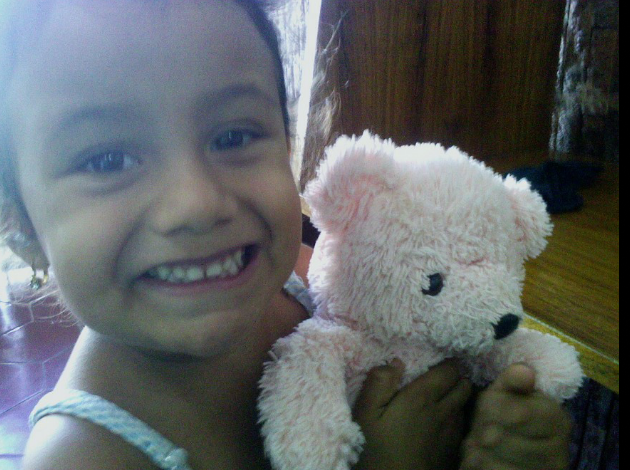 ---
También tiene un cuatro donde se expresa cantando canciones de su propia inspiración, ese cuatro también se lo regaló una muy querida amiga, cuando ella lo recibió se alegró muchísimo. Y para decir verdad ya nos había pedido una guitarra pero claro un cuatro es perfecto para su tamaño. Así que muchas veces nos canta serenatas, es muy gracioso escuchar sus canciones improvisadas.
She also has a cuatro where she expresses herself singing songs of her own inspiration, that cuatro was also a gift from a very dear friend, when she received it she was very happy. And to tell the truth she had already asked us for a guitar but of course a cuatro is perfect for her size. So she often sings serenades for us, it is very funny to listen to her improvised songs.
---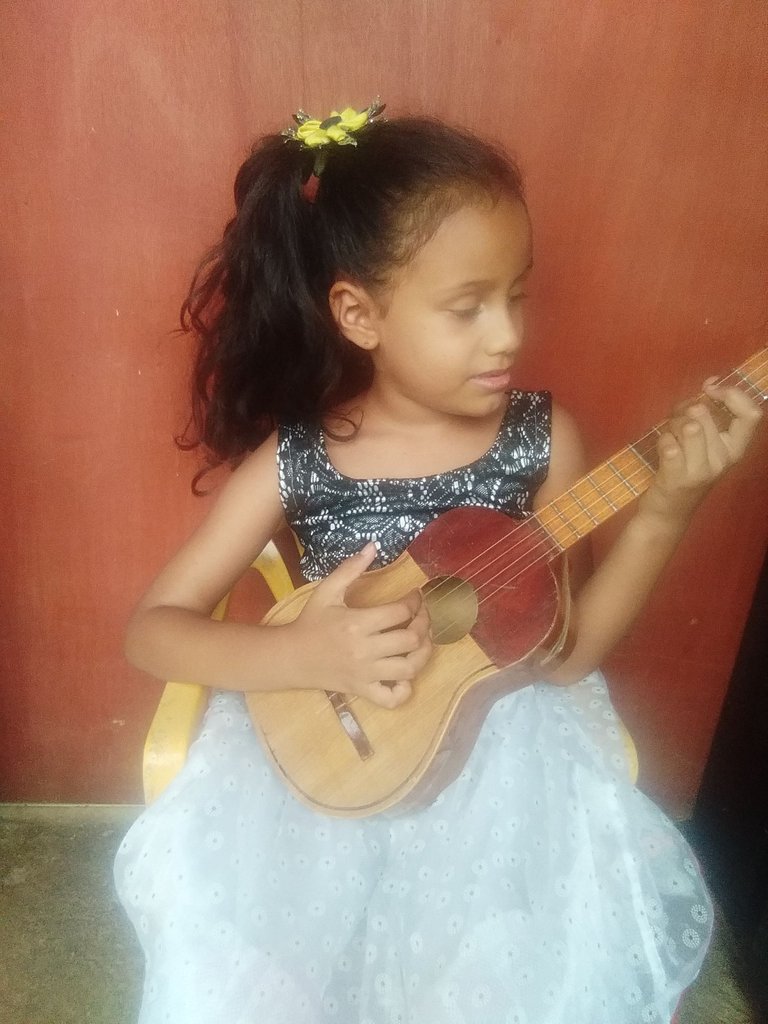 ---
La capturó cada vez que me parece bonito el juego que hace con sus juguetes, por lo general juega a ser veterinaria, les da sugerencias como cuidarse y recomienda algunas comidas. Tiene jeringas (sin la aguja), goteros para atender a las mascotas.
I captured her every time I find it cute the game she plays with her toys, she usually plays veterinarian, gives them suggestions how to take care of themselves and recommends some meals. She has syringes (without the needle), droppers to take care of the pets.
---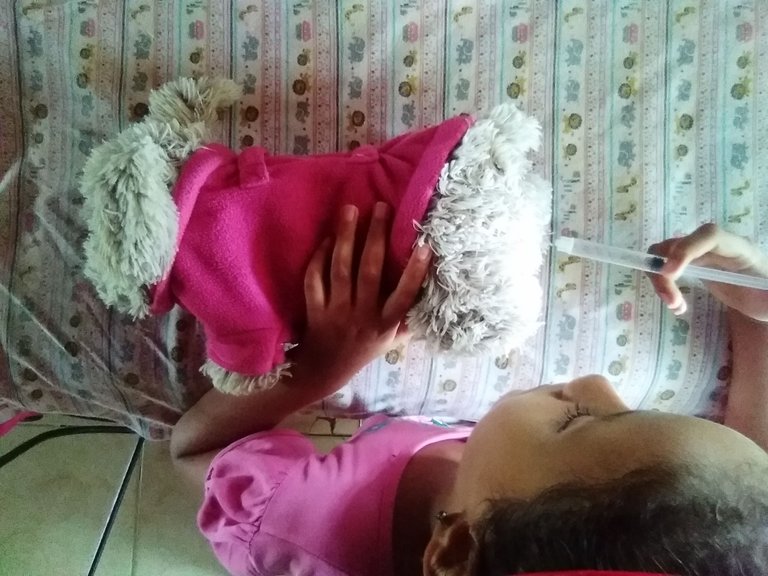 ---
Son muchas las anécdotas que he tenido con mi pequeña y sus juguetes, pero pronto les contaré más. Mientras les puedo decir que es realmente maravilloso ponerse en el lugar de ellos y tratar de compartir un rato diferente con nuestros pequeños.
There are many anecdotes that I have had with my little one and her toys, but soon I will tell you more. In the meantime, I can tell you that it is really wonderful to put ourselves in their shoes and try to share a different time with our little ones.
Por ahora hasta aquí mi publicación, espero que les haya gustado. Muy agradecida por visitar mi post.
---
Las fotos son de mi propiedad te mandas con mi teléfono Alcatel y una fue capturada de un álbum fotográfico
The photos are my property you send with my Alcatel phone and one was captured from a photo album.
Foto de portada editada por mi con la aplicación pixiz.com
Cover photo edited by me with the pixiz.com application.
---
---