Dark Souls 3 never ends, so far my favorite. // Dark Souls 3 nunca acaba, hasta ahora mi favorito. (ENG/ESP)
➤ My adventure inside Dark Souls 3 has been full of many emotions, from the greatest happiness in the world to indescribable anger and a boss that destroys your life for more than 100 tries. But without a doubt something that I've realized is that so far it became my favorite From Software game, even above Elden Ring, and not speaking technically if not only by personal opinion and how much I've enjoyed in this game. And the fact that AFTER I KILLED ONE BOSS I LITERALLY TRANSPORTED ME AGAINST ANOTHER BOSS WITHOUT THINKING TWICE. And the fact that there are so many bosses in between and feel that they never end, is something incredible, so it's time for a new chapter of my adventure in this world full of suffering.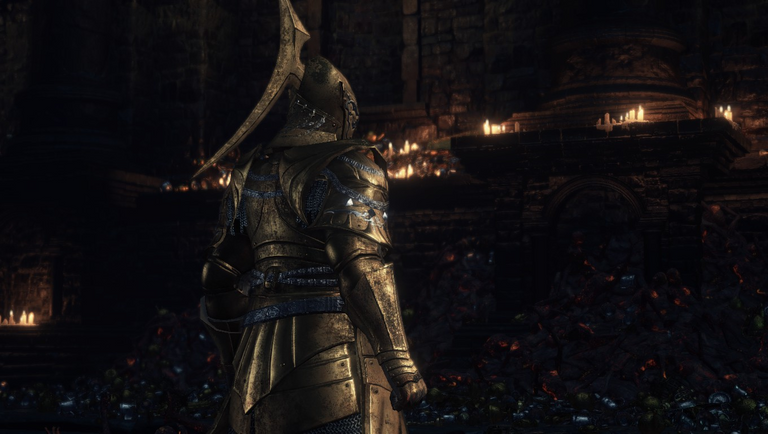 ---
➤ Literally after killing the giant I start to be magically teleported and a strange voice starts talking to me, the good thing is that at least as I remember they gave me the time to be in the bonfire to raise my levels, because if not imagine how horrible it would have been to lose all the amount of souls they gave me. At the end I was teleported to the church at the beginning of the game, in the city. Where the old lady who gave me the flag in a church was, old lady who is now dying and ends up becoming a pretty annoying boss. So it's time to meet the Boreal Valley Dancer. By the way, a curious detail, we can face against this boss at the very beginning of the game, I discovered it when I was doing my NG. In fact, the intro cinematic of this boss is pretty cool how he comes out showing off his two tuned swords of fire and darkness.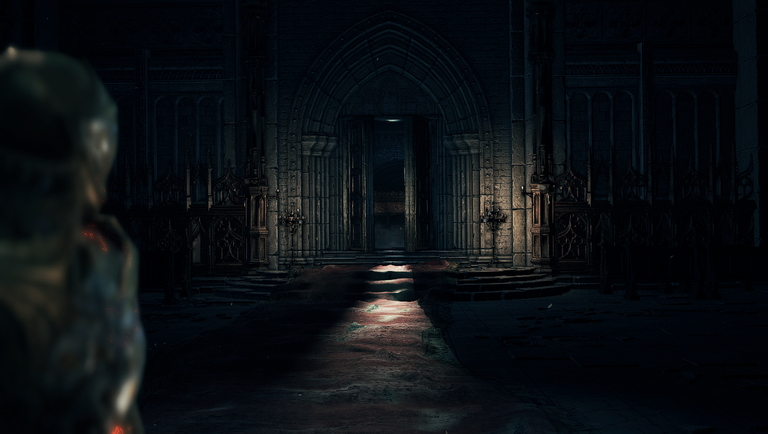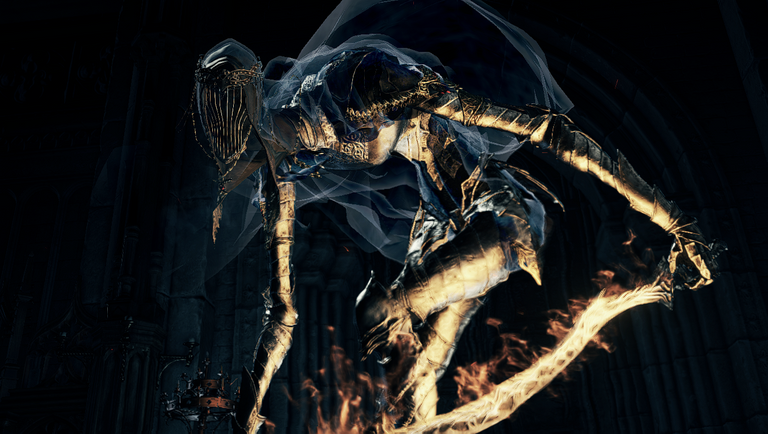 ---
➤ This boss is pretty good and in fact I would say a bit original compared to what you are used to, apart from having a fairly acceptable degree of difficulty and I have to admit that it did take me several attempts but it was not at all impossible. It's a very skilled boss and attacks quite fast and in fairly close combos, so we have to dodge constantly and for a long time, standing still for a second or getting hit by a blow practically means that we get 5 more. Apart from having some special abilities of those that if it grabs us, it practically takes all our lives away. The only good thing is that he is quite weak and if we have a heavy weapon we can lower him a lot of life and also break his position.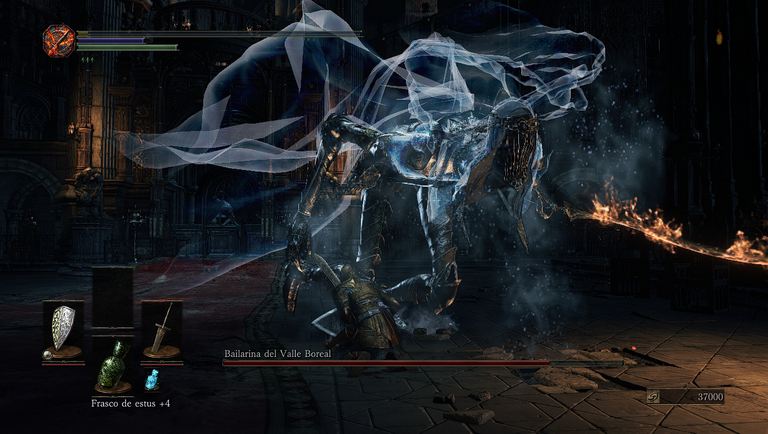 ---
➤ The fast part isn't really in her movements, because she moves like a super slow turtle and as a dancer, well... I don't see her dancing much, I was expecting her to do some bachata steps but it was a disappointment. But as I said, the fast part is in his attacks and it's the only thing that can catch us off guard but luckily the environment of the fight can help us a lot by covering us with the pillars and running super far away. I think I killed this boss maybe after about 10 tries or a little more, it took me a while but you get used to it fast. But it was a battle that I thought was great and serves to compensate for the fight against the giant, as I found it to be a bit of a ñeh battle.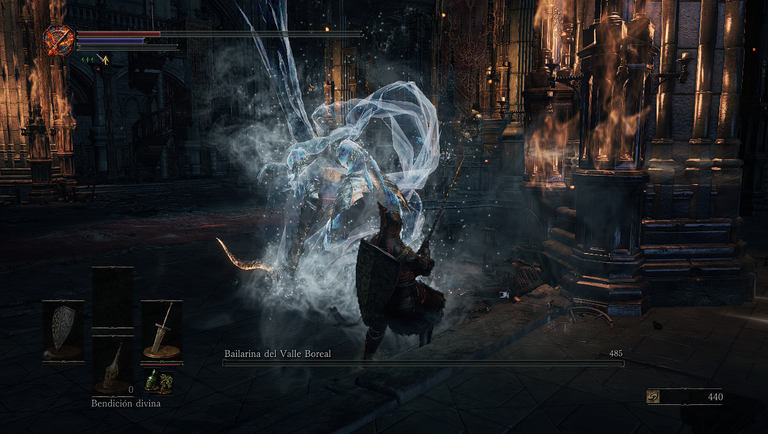 ---
➤ After the victory will start another cinematic where a statue moves, starts to drop blood that falls into a vase and a staircase is activated, yes, of course everything has a lot of sense and logic in this game. So don't ask me what happened after all this especially because I don't know why I almost didn't take pictures of this whole process, I think because I found it a bit tedious but the important thing is that I discovered a secret boss that was hidden in one of the worst possible ways, guarded by fifteen hundred enemies, a damn swamp and a thousand deaths to get to him.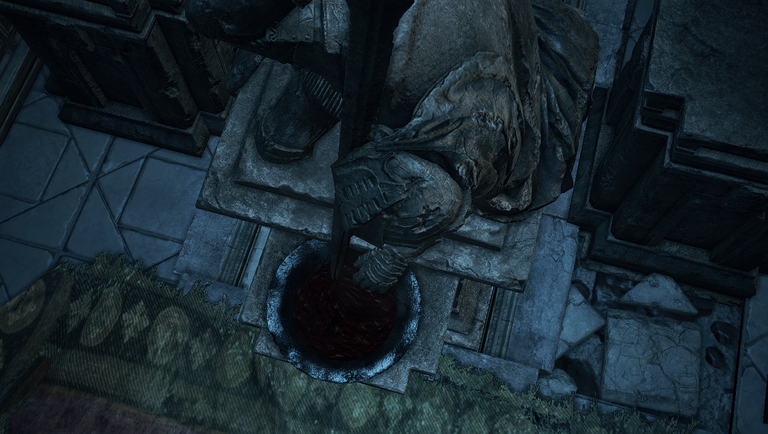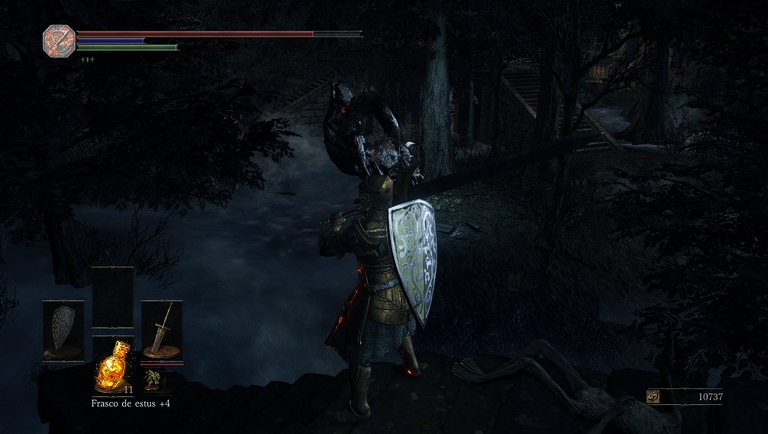 ---
➤ This boss will be nothing more and nothing less than a dragon, but not just any dragon, it will be the ugliest and stupidest dragon that we are going to see in our entire life, so get ready to meet Oceiros the consumed king, which in fact is let's say something like a representation of Seath the scaled from the first Dark Souls, and by obtaining his soul we can create the famous moonlight sword, which practically this weapon has gone through all the Souls. This time I have to admit that this was a terribly annoying boss, not only for what it cost me to kill him, but also for how tedious was the way to get to him, but my satiety to get his souls to level up was more.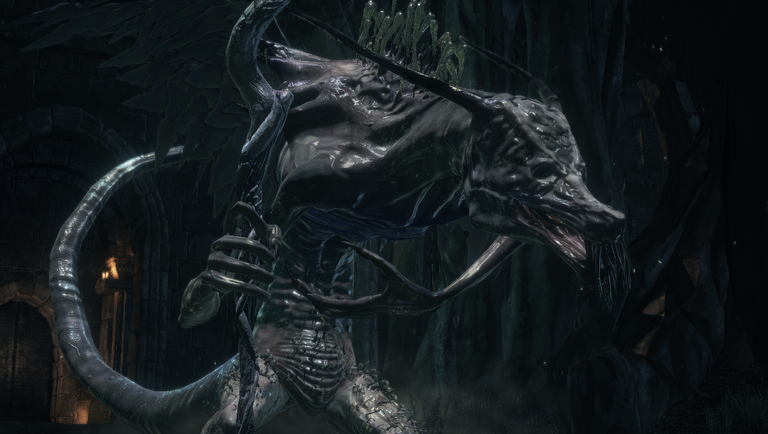 ---
➤ It is a super small dragon that in fact does not even fly, but it is excessively fast and slides like a lizard attacking us suddenly by stampedes that are difficult to dodge, apart from throwing spells from afar because it is also like a magician, and make use of ice and the worst, the curses, dying by his curses was horrible. The good thing is that he is also an enemy that is weak against powerful weapons and with a sword we can stop him a little based on hits and lower his life a lot, but do not think that this will not make it very easy because he can still kill us super fast and we have to dodge in the best possible ways, I have to admit that it took me several attempts to kill him and I found it incredibly tedious and when I killed him I was relieved of happiness.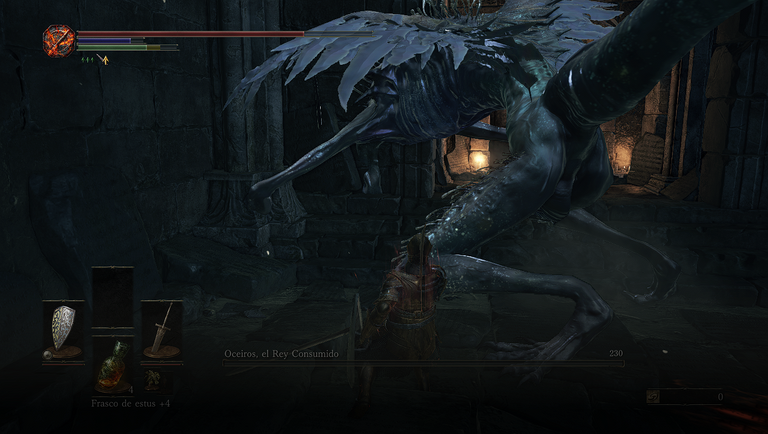 ---
➤ After killing him we will reach a twisted, dark and mysterious place and I actually found it to be an amazing area, and it's a pretty well crafted secret area and one that we can walk right past without noticing at any time. But for now, I'll leave you with the suspense as that will be for the next chapter of the incredible adventures of Risha the dragon and giant exterminator, this is all for now, thank you very much for reading, see you in the next post!
All images are by me. 

---
Versión en Español
---
➤ Mi aventura dentro de Dark Souls 3 ha estado llena de muchísimas emociones, desde la mayor felicidad del mundo hasta enojos indescriptibles y un jefe que te destroce la vida durante más de 100 intentos. Pero sin duda algo que me he dado cuenta es que hasta ahora se convirtió en mi juego favorito de From Software, incluso por encima de Elden Ring, y no hablando de forma técnica si no solamente por opinión personal y lo mucho que he disfrutado en este juego. Y el hecho que DESPUÉS DE MATAR A UN JEFE LITERALMENTE ME TRANSPORTARON CONTRA OTRO JEFE SIN PENSARSELO DOS VECES. Y es que el como hay tantos jefes de por medio y sentir que nunca acaben, es algo increíble, así que hora de un nuevo capítulo de mi aventura en este mundo lleno de sufrimiento.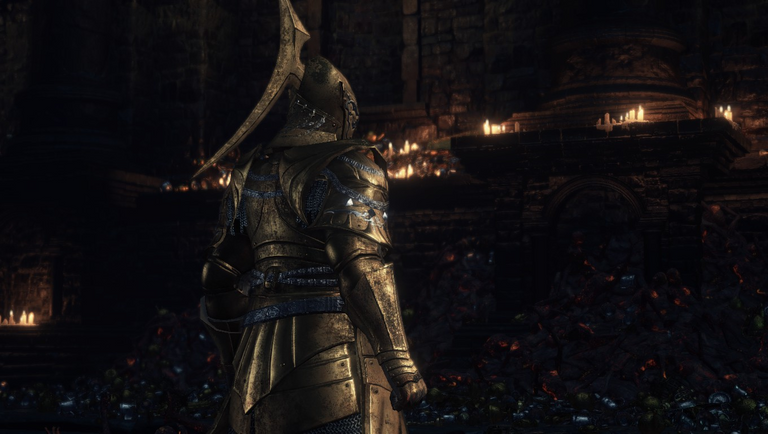 ---
➤ Literalmente luego de haber matado al gigante comienzo a ser teletransportado mágicamente y una voz toda extraña comienza a hablarme, lo bueno es que al menos según recuerdo me dieron el momento de estar en la hoguera para subir mis niveles, porque si no imaginense lo horrible que hubiera sido perder toda la cantidad de almas que me dieron. Al final me teletransportaron a la iglesia del inicio del juego, en la ciudad. Donde estaba la anciana que me daba la bandera en una iglesia, anciana que ahora se está muriendo y se termina convirtiendo en un jefe bastante fastidioso. Así que es hora de conocer a la Bailarina del Valle Boreal. Por cierto, un detalle curioso, podemos enfrentarnos contra este boss en pleno inicio del juego, lo descubrí cuando estaba haciendo mi NG. De hecho, la cinemática de presentación de este boss es bastante cool el como sale luciendo sus dos espadas tuneadas de fuego y oscuridad.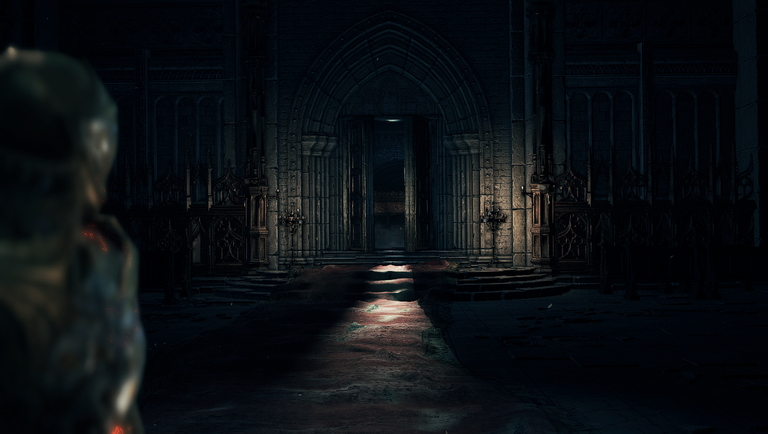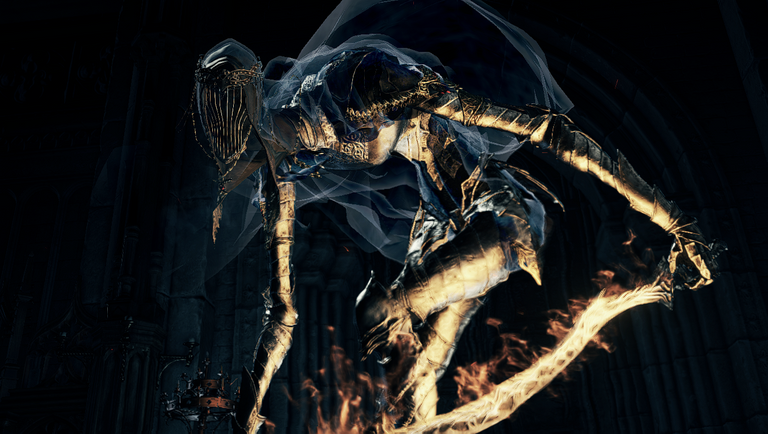 ---
➤ Este jefe es bastante bueno y de hecho diría que un poco original en comparación a lo que uno está acostumbrado, aparte de tener un grado de dificultad bastante aceptable y es que tengo que admitir que sí me costó varios intentos pero para nada se me hizo imposible. Es un jefe demasiado hábil y ataca bastante rápido y por combos bastante seguidos, así que tenemos que esquivar constanemten y durante bastante tiempo, quedarnos quietos un segundo o que nos pegue un golpe prácticamente significa que nos dé 5 más. Aparte de tener algunas habilidades especiales de esas que sí nos agarra nos baja toda la vida prácticamente. Lo único bueno es que es bastante débil y si tenemos un arma pesada podremos bajarle muchísima vida y también romperle la posición.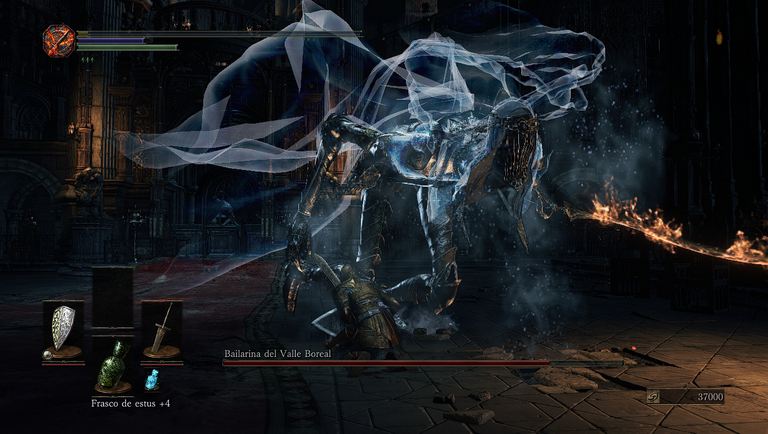 ---
➤ Realmente lo rápido no está en sus movimientos, porque se mueve como una tortuga súper lento y lo de bailarina bueno... no veo que baile mucho, me quedé esperando que hiciera unos pasos de bachata pero fue una decepción. Pero como decía, lo rápido está en sus ataques y es lo único que nos puede tomar desprevenidos pero por suerte el ambiente de la pelea nos puede ayudar bastante cubriéndonos con los pilares y corriendo súper lejos. Creo que maté a este jefe tal vez luego de unos 10 intentos o un poco más, me costó pero uno se acostumbra rápido. Pero fue una batalla que me pareció genial y que sirve para compensar la lucha contra el gigante, ya que me pareció que es una batalla un poco ñeh.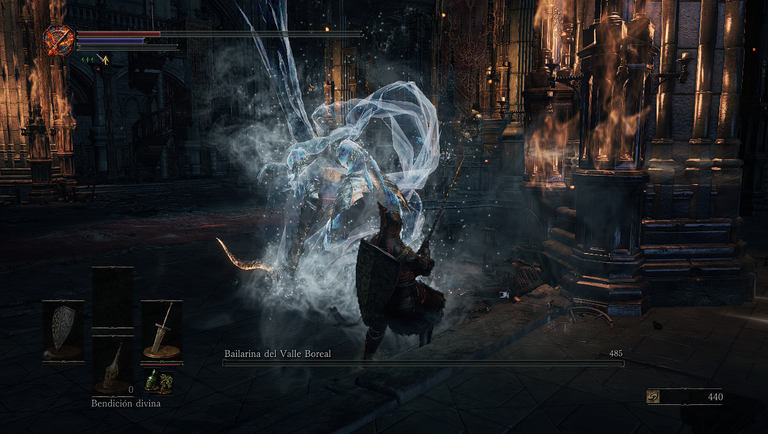 ---
➤ Después de la victoria comenzará otra cinemática donde una estatua se mueve, comienza a botar sangre que cae en una vasija y se activa una escalera, sí, por supuesto que todo tiene mucho sentida y lógica en este juego. Así que no me pregunten qué pasó después de todo esto sobre todo porque no sé porqué casi no tomé fotos de todo este proceso, creo que porque me pareció un poco tedioso pero lo importante es que descubrí un jefe secreto que estaba oculto de una de las peores formas posibles, resguardado por mil quinientos enemigos, un maldito pantano y mil muertes para poder llegar hacia él.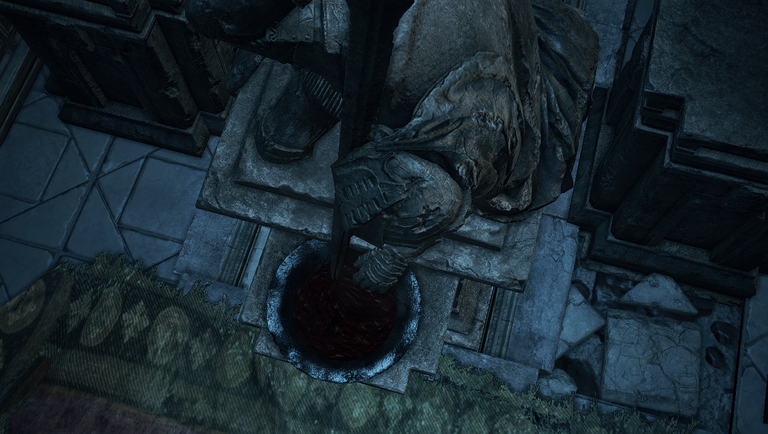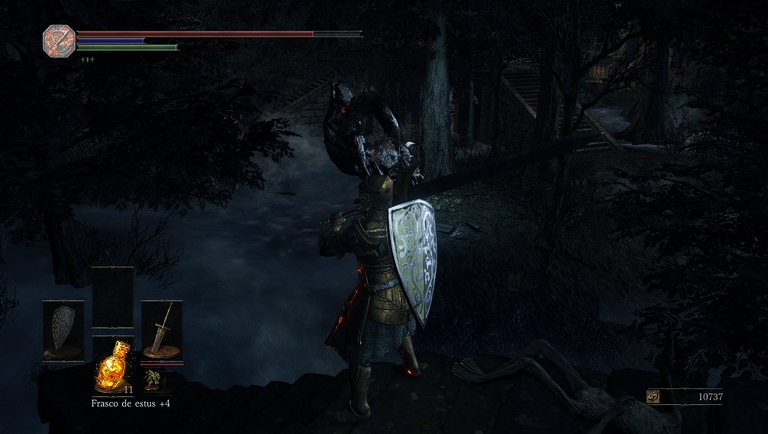 ---
➤ Este jefe no será nada más y nada menos que un dragón, pero no cualquier dragón, será el dragón más feo y estúpido que vamos a ver en toda nuestra vida, así que preparense para conocer a Oceiros el rey consumido, que de hecho es digamos que algo así como una represetanción de Seath el descamado del primer Dark Souls, y al obtener su alma podremos crear el famoso espadón de luz de luna, que prácticamente esta arma ha pasado por todos los Souls. Esta vez sí tengo que admitir que este fue un jefe terriblemente fastidioso, no solamente por lo que me costó matarlo, si no por lo tedioso que era el camino para llegar hacia él, pero mi sacia por conseguir sus almas para subir de nivel era más.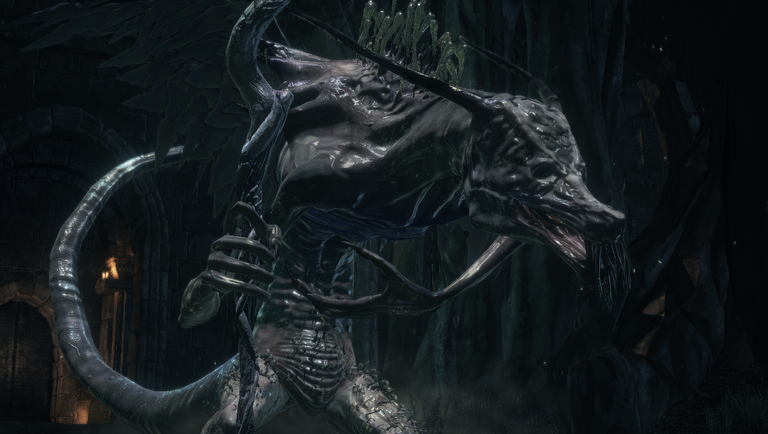 ---
➤ Es un dragón súper pequeño que de hecho ni vuela, si no que es excesivamente rápido y se desliza como un lagarto atacándonos de repente por estampidas que son difíciles de esquivar, aparte de lanzarnos hechizos desde lejos porque también es como un mago, y hacer uso del hielo y lo peor, las maldiciones, morir por sus maldiciones era horrible. Lo bueno es que también es un enemigo que es débil ante las armas potentes y con un espadón podemos detenerlo un poco en base a golpes y bajarle bastante vida, pero no crean que esto tampoco lo hará muy fácil porque igual puede matarnos súper rápido y tenemos que esquivar de las mejores formas posibles, tengo que admitir que me costó varios intentos matarlo y me pareció increíblemente tedioso y cuando lo maté me aliviané de la felicidad.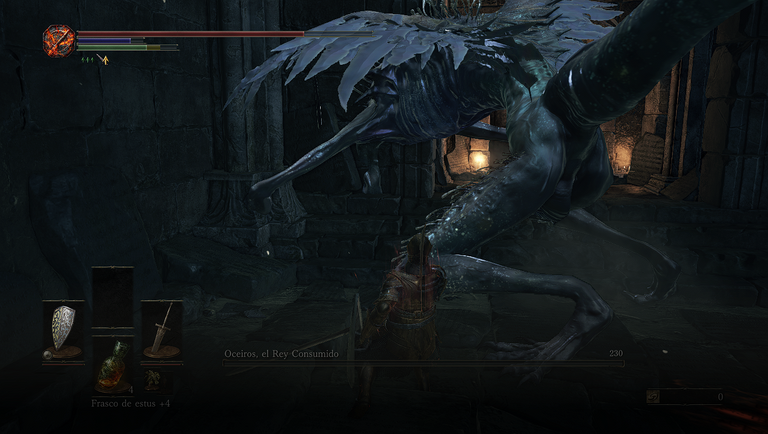 ---
➤ Después de matarlo llegaremos a un lugar retorcido, oscuro y lleno de misterios y que de hecho me pareció una zona increíble, y es una zona secreta bastante bien elaborada y que podemos pasar de largo sin darnos cuenta en cualquier momento. Pero por ahora, los dejaré con el suspenso ya que eso será para el próximo capítulo de las increíbles aventuras de Risha el exterminador de dragones y gigantes, esto es todo por ahora, muchas gracias por haber leído, ¡nos vemos en el próximo post!
All images are by me. 

---
---