Dead Island again, it's time to smash an island full of zombies with friends. // Dead Island de nuevo, es hora de destrozar una isla llena de zombies con amigos. (ENG/ESP)
➤ Many, many months ago I got to play Dead Island in co-op with the guys, becoming a big team and having fun in survival until one day it all just disappeared, we completely forgot about the game and now between boredom, my 7 day ban from CSGO and the desire to try different games, again between @therealflaws, @gabrielserra and me, we have returned to this legendary game. Dead Island is like a mix of many survival games in one, even having RPG components like leveling up and the presence of skills, with a pretty normal premise but with the great advantage of being a fully cooperative multiplayer, full of missions and objectives.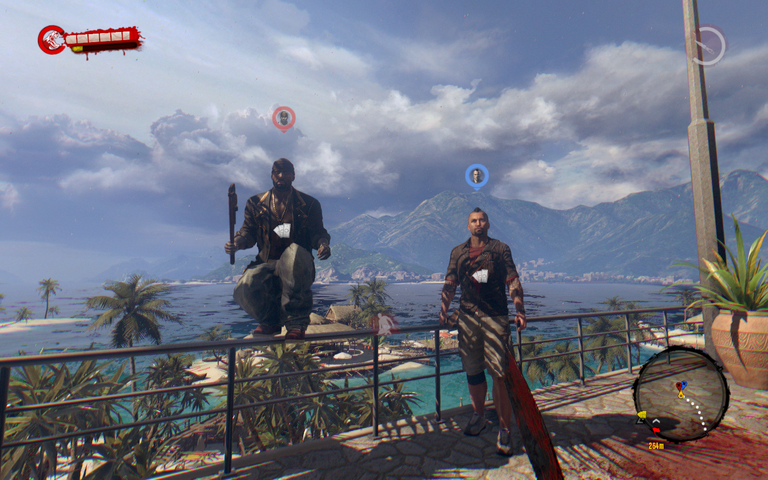 ---
➤ But as they say, a picture is worth a thousand words, or in this case, a video. So I bring you the full experience with a gameplay of our game full of incredible moments, the first one being the irrational hatred towards Gabo for his character, and Jean because he stays afk. We decided to start the game from scratch and the truth is that we realized that we did not advance too much in our previous game, so we started like crazy doing all the missions that we find, even if they are useless, all for the rewards. Although I do not know if it is a bug in the game or because it is so, but there is a problem with the missions and is that most of the time the goal or where to go will not be marked, at least not to the 3, but only the one who accepts the mission will see it even though the mission applies to the three of us. It is very rare and uncomfortable but I guess it works to make everyone go doing separate missions, but I think the fun is to go as a group crushing zombies.
➤ The combat against the zombies in this game really doesn't have a lot of back and forth, basically we grab any stick we find on the floor and we beat them like savages, although it still has some interesting mechanics like throwing our weapon at them, for example I noticed that if I throw a knife at them and approached them, I could make a critical hit where I ended up bald the knife I had already thrown at them and thus kill them in one blow. And although it is a simple combat, it is too much fun and is that the experience of this game itself is to play it with friends, never in my life would I see myself playing this alone.
---
➤ Something that I also love about this game is its graphic level, that despite being something old keeps incredible details apart that graphically looks great, with a brutal lighting quality, although I remember that I already mentioned it in my post many months ago, but in our games with Jean we noticed a new detail, such as seeing in the sky as the leaves of the palm trees fly around, not many games I have seen details like these, especially in games with already quite a few years above. And yes, those dots you see there are leaves.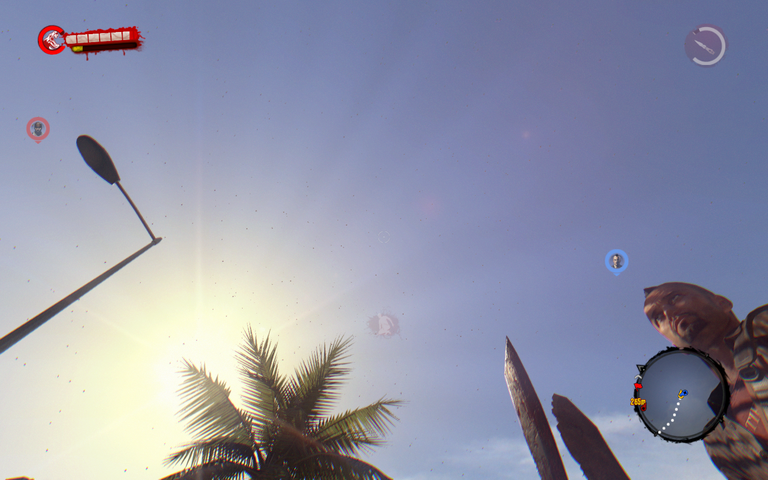 ---
➤ The laughs are really not missing in this game and I hope this time I can complete it, it has quite curious missions and many mechanics that we still need to know, this is all for now, thank you very much for reading, see you in the next post!
All images and videos are by me.

---
Versión en Español
---
➤ Hace muchísimos meses llegué a jugar Dead Island en cooperativo con los muchachos, llegando a ser un equipo grande y divirtiéndonos en la supervivencia hasta que algún día simplemente todo desapareció, nos olvidamos por completo del juego y ahora entre el aburrimiento, mi baneo de 7 días de CSGO y las ganas de probar juegos distintos, de nuevo entre @therealflaws, @gabrielserra y yo, hemos vuelto a este legendario juego. Dead Island es como una mezcla de muchos juegos de supervivencia en uno, incluso teniendo componentes RPG como subida de niveles y la presencia de habilidades, con una premisa bastante normal pero con la gran ventaja de ser un multijugador cooperativo por completo, lleno de misiones y objetivos.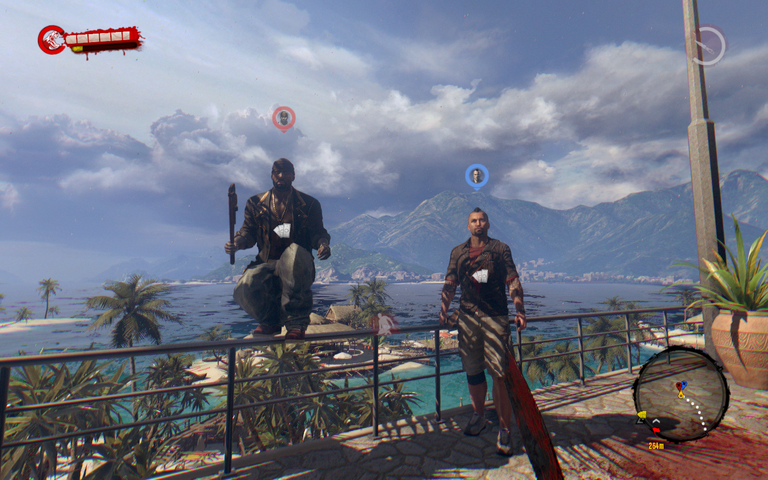 ---
➤ Pero como dicen por allí, una imagen vale más que mil palabras, o en este caso, un video. Así que les traigo la experiencia completa con un gameplay de nuestra partida lleno de momentos increíbles, siendo el primero el odio irracional hacia Gabo por su personaje, y a Jean porque se queda afk. Decidimos comenzar el juego desde cero y la verdad es que nos dimos cuenta que tampoco avanzamos demasiado en nuestra anterior partida, así que comenzamos como loco haciendo todas las misiones que nos encontremos, así sean inútiles, todo sea por las recompensas. Aunque no sé si es un bug del juego o porque es así, pero hay un problema con las misiones y es que la mayoría de las veces no se marcará el objetivo o hacia dónde hay que ir, al menos no a los 3, si no que únicamente el que acepte la misión lo verá a pesar de que la misión se aplique a nosotros tres. Es rarísimo e incomodaba mucho pero supongo que funciona para hacer que cada uno vaya haciendo misiones aparte, pero yo pienso que lo divertido es ir en grupo aplastando zombies.
➤ El combate contra los zombies en este juego la verdad es que no tiene mucho va y ven, básicamente agarramos cualquier palo que nos encontremos por el piso y los caemos a golpes como salvajes, aunque aún así tiena algunas mecánicas interesantes como tirarles nuestra arma, por ejemplo noté que si les tiro un cuchillo y me les acercó, pudo hacerles un golpe crítico donde terminó de calvarles el cuchillo que ya les había lanzado y así matarlos de un golpe. Y aunque es un combate sencillo, es demasiado divertido y es que la experiencia de este juego en si es jugarlo con amigos, nunca en mi vida me vería jugando esto solo.
---
➤ Algo que también me encanta de este juego es su nivel gráfico, que a pesar de ser algo antiguo mantiene detalles increíbles aparte que gráficamente luce genial, con una calidad de iluminación brutal, aunque esto recuerdo que ya lo mencioné en mi post de hace muchísimos meses, pero en nuestras partidas junto a Jean notamos un nuevo detalle, como por ejemplo ver en el cielo como vuelan las hojas de las palmeras alrededor, no en muchos juegos he visto detalles como estos, sobre todo en juegos con ya bastante años encima. Y sí, esos puntos que se ven ahí son hojas.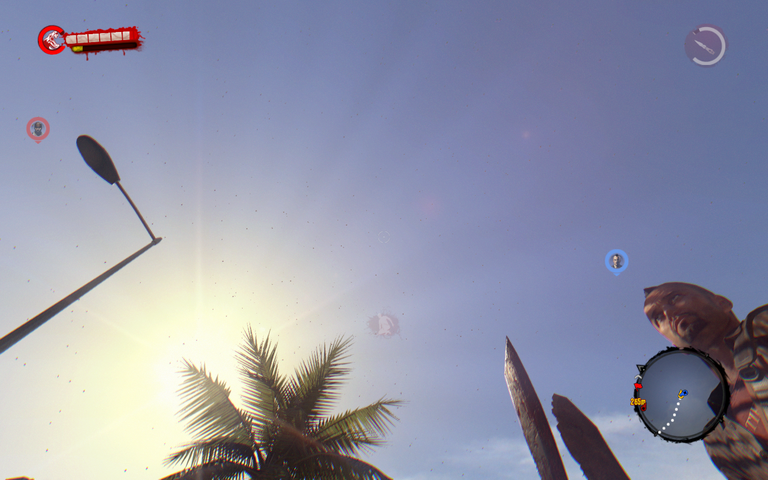 ---
➤ Las risas realmente no faltan en este juego y espero esta vez poder completarlo, tiene misiones bastante curiosas aparte de muchas mecánicas que aún nos faltan conocer, esto es todo por ahora, muchas gracias por haber leído, ¡nos vemos en el próximo post!
All images and videos are by me.
---
---