Paladins, hour of frenetic action and skills everywhere. // Paladins, hora de acción frenética y habilidades por doquier. (ENG/ESP)
➤ Paladins is a game that I personally have always loved, in fact I got to play it in its beginnings or just when it was starting to have renown, back in 2017 and the truth is that from that moment to the present, it has changed too much, and not for the worse. Although I do not remember almost anything it is quite easy to familiarize yourself again with the game and enjoy everything it has to offer, as a frantic shooter with a strategic touch full of characters and incredible skills, and no, I'm not talking about it being similar to Overwatch, but how enjoyable it becomes with friends.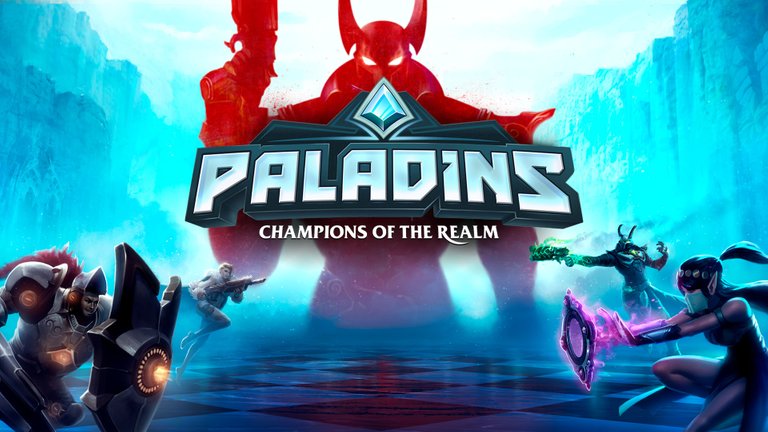 Source
---
The Paladins mode is not very difficult to explain, there is a giant variety of champions or selectable characters, I think there are up to more than 50. And each of them are divided by roles or classes, they can be tanks, healers, dps or flankers and between these is made a composition of 5 players who will have to face each other in different game modes, such as deatmatch which is simply kill each other crazy, and my favorite mode, the Siege, in which as a team we will have to dominate a point with a bomb and move that point to the enemy base, which is possible by maintaining the presence in that place and the pressure ending with the other team and here it is very important to fulfill the roles. That's the game I bring you today and you will see how frantic and incredible it is, and not only that, how fun it is to play with friends, this time I played with @kuronokenshi, @stk-g and @gabrielserra. Kuro is the Paladins pro among us, I don't know how many hours he must have already played the game but he knows everything and he was the one who invited us to play.
---
➤ I had so much time without playing that I didn't even remember the characters I used apart that I don't even have them unlocked because I'm on a new account, so I had to use the characters in rotation of the moment, this system reminded me of Brawlhalla since it has the same rotation mode where there are different free characters every week. My favorite without a doubt was the tiger tigrito, that's what I called him. He's a character named Tiberius which I think is great, his mode is supposed to be DPS but I see him being good for pretty much everything. He has incredible abilities like making a giant jump that you can use to escape from your enemies or even chase them, he also throws a sword that does a lot of damage and we can bring it back to us with a boomerang effect, and another where he increases his damage and attack speed to kill relentlessly. Also each character has a special ability that would be the most powerful and is unlocked as you play the game, Tiberius's is to take his sword and slide hitting people with swords and lowering a lot of life, although I'm not too convinced because I would like to have some kind of immunity or damage reduction, because while you do it you can easily be killed and you do not achieve anything.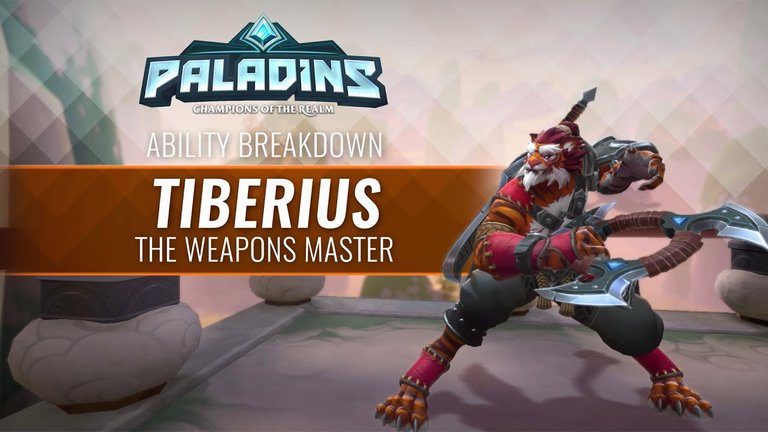 Source
---
➤ I think my only complaint would be that the game takes forever to open, even up to 10 minutes, I don't understand why this problem happens but it's something that happens to everyone. But otherwise, it's incredibly fun and frantic, this is all for now, thank you very much for reading, see you in the next post!
The video are by me. 

---
Versión en Español
---
➤ Paladins es un juego que personalmente siempre me ha encantando, de hecho lo llegué a jugar en sus inicios o apenas cuando empezaba a tener renombre, por allá en 2017 y la verdad es que desde ese momento a la actualidad, ha cambiado demasiado, y no para mal. Aunque no recuerdo casi nada es bastante fácil familiarizarce de nuevo con el juego y poder disfrutar de todo lo que tiene para ofrecer, como un shooter frenético con un toque estrátegico lleno de personajes y habilidades increíbles, y no, no vengo a hablar de que es parecido a Overwatch, si no de lo disfrutable que llega a ser con amigos.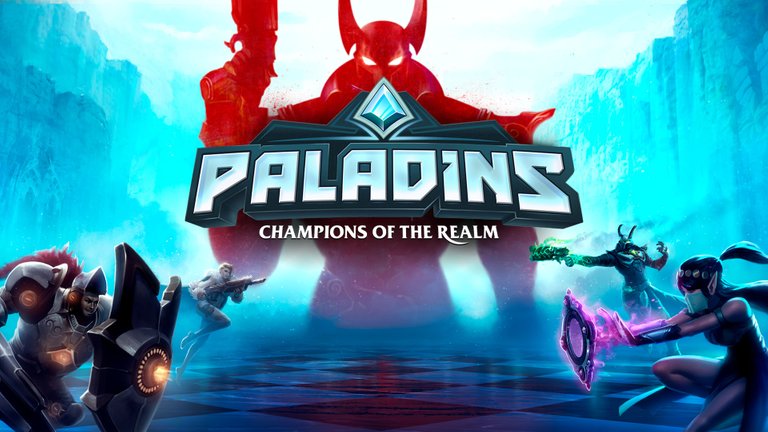 Source
---
➤ La modalidad de Paladins no es muy difícil de explicar, hay una variedad de campeones o personajes seleccionables gigante, creo que hay hasta más de 50. Y cada uno de ellos se dividen por roles o clases, pueden ser tanques, healers, dps o flancos y entre estos se hace una composición de 5 jugadores que se tendrán que enfrentar entre si en distintos modos de juego, como deatmatch el cual es simplemente matarse a lo loco, y mi modo favorito, el de Asedio, en el que como equipo tendremos que dominar un punto con una bomba y trasladar ese punto hacia la base enemiga, lo cual es posible manteniendo la presencia en ese lugar y la presión acabando con el otro equipo y aquí sí es muy importante cumplir con los roles. Esa es la partida que les traigo hoy y van a ver lo frenético e increíble que es, y no solo eso, lo divertido que es jugar con amigos, esta vez jugué con @kuronokenshi, @stk-g y @gabrielserra. Kuro es el profesional de Paladins entre nosotros, no sé cuántas horas debe tenerle ya al juego pero es que sabe de todo y él fue quién nos invitó a jugar.
---
➤ Tenía tanto tiempo sin jugar que ni me acordaba de los personajes que yo utilizaba aparte que ni siquiera los tengo desbloqueados porque estoy en una nueva cuenta, así que me tocó usar los personajes en rotación del momento, este sistema me recordó a Brawlhalla ya que tiene el mismo modo de rotación donde hay personajes gratuitos distintos cada semana. Mi favorito sin duda fue el tigre tigrito, así lo llamé. Es un personaje llamado Tiberius el cual me parece genial, se supone que su modalidad es DPS pero yo veo que sirve para prácticamente todo. Tiene habilidades increíbles como hacer un salto gigante que te puede servir para escapar de tus enemigos o si no incluso perseguirlos, también lanza una espada que hace muchísimo daño y la podemos volver a traer hacia nosotros con un efecto boomerang, y otra donde aumenta su velocidad de daño y ataque para matar sin descanso. También cada personaje posee una habilidad especial que sería la más poderosa y se desbloquea conforme vas jugando la partida, la de Tiberius es tomar su espada y deslizarse pegando espadazos a la gente y bajando mucha vida, aunque no me termina de convencer demasiado ya que me gustaría que tuviera algún tipo de inmunidad o reducción de daño, porque mientras la haces fácilmente te pueden matar y tú no lograr nada.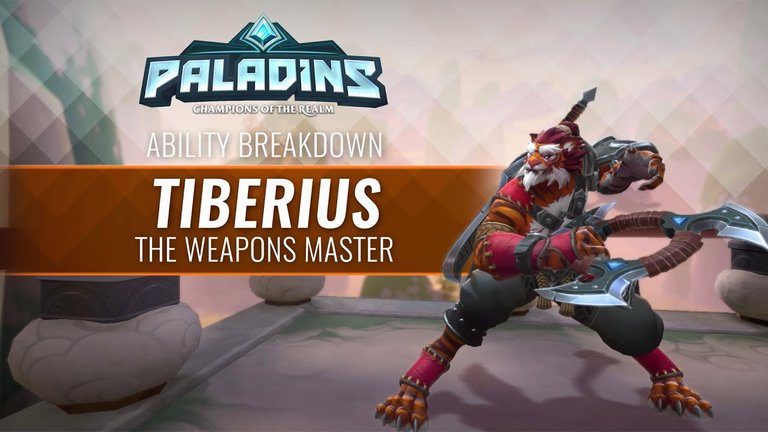 Source
---
➤ Creo que mi única queja sería que el juego tarda una barbaridad en abrir, incluso hasta 10 minutos, no entiendo por qué ocurre este problema pero es algo que le pasa a todos. Pero de resto, es increíblemente divertido y frenético, esto es todo por ahora, muchas gracias por haber leído, ¡nos vemos en el próximo post!
The video are by me. 
---
---