New Tattoo: Dragons & Roses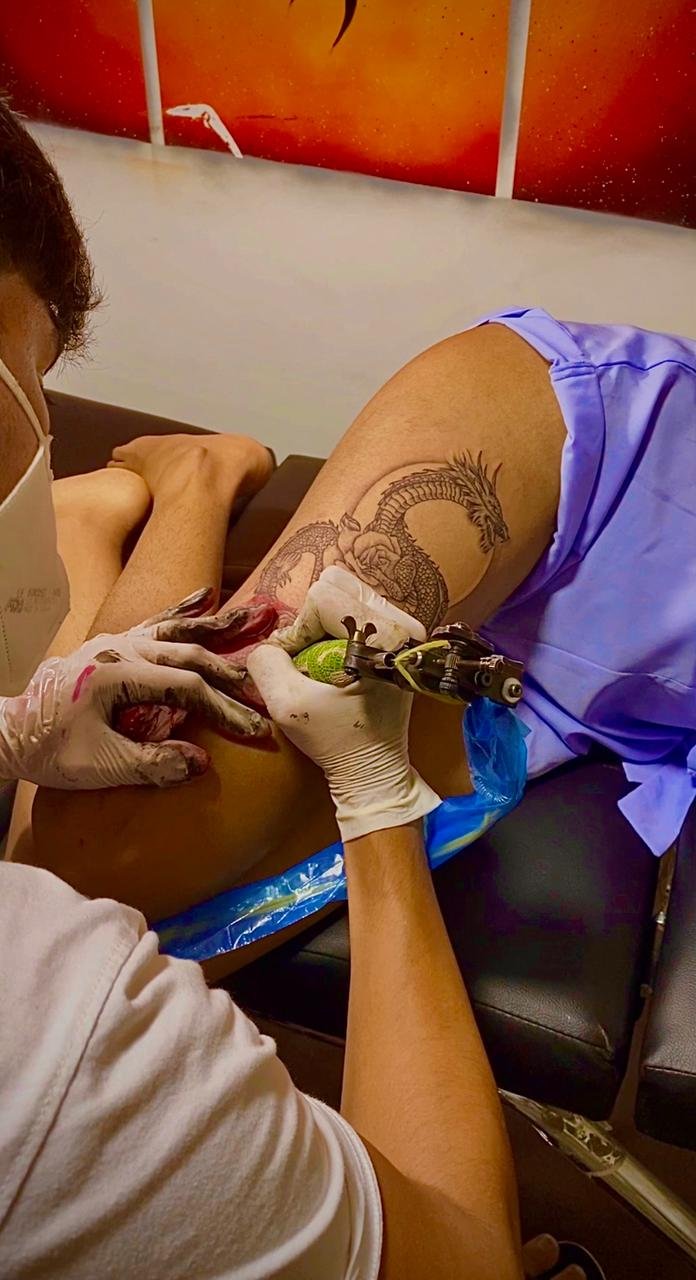 For quite some time I had been wanting to get a new tattoo. I had got my first one done when I was 15 back in 2016. It was a small one on my hand that read 'Belle Âme' meaning Beautiful Soul in French.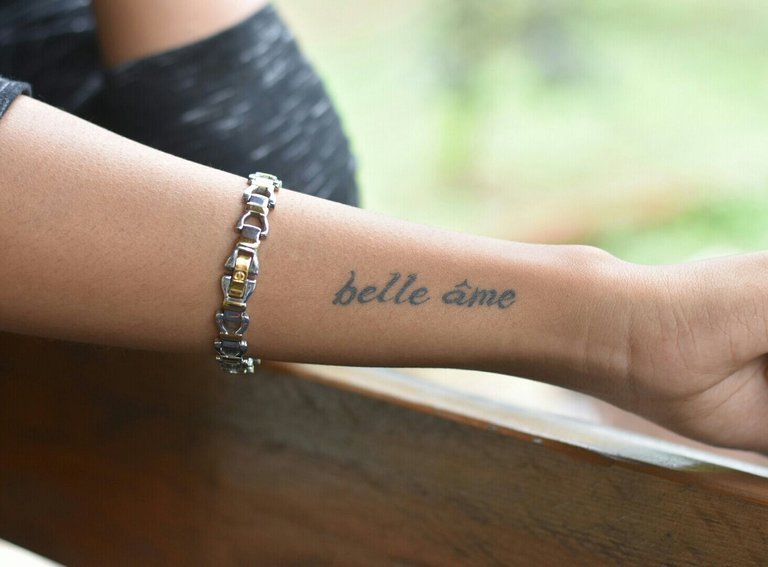 I was planning to get another one on the nape region but couldn't find a likeable design for more than five months. The other day while I was randomly scrolling through Pinterest, I came across a picture of a woman with a floral tattoo on her thigh. I did not like the design much but it made me want a tattoo on my side thighs. Further, I started to dig for designs that would look good on the thigh region and that is when I found this design and absolutely loved it-
This one is the Chinese dragon which symbolizes freedom of life, power and knowledge. To me, the dragon treading over the roses stands for getting past the past and rising above it all.
Once I was sure I wanted this inked on my thigh, I contacted Sketchh Studio which is located in Nandigudda, Mangalore. The studio is run by a very skilled tattoo artist, Rohan. He discussed with me to understand my needs and preferences. He then improvised on the sketch I provided him with and came up with the following-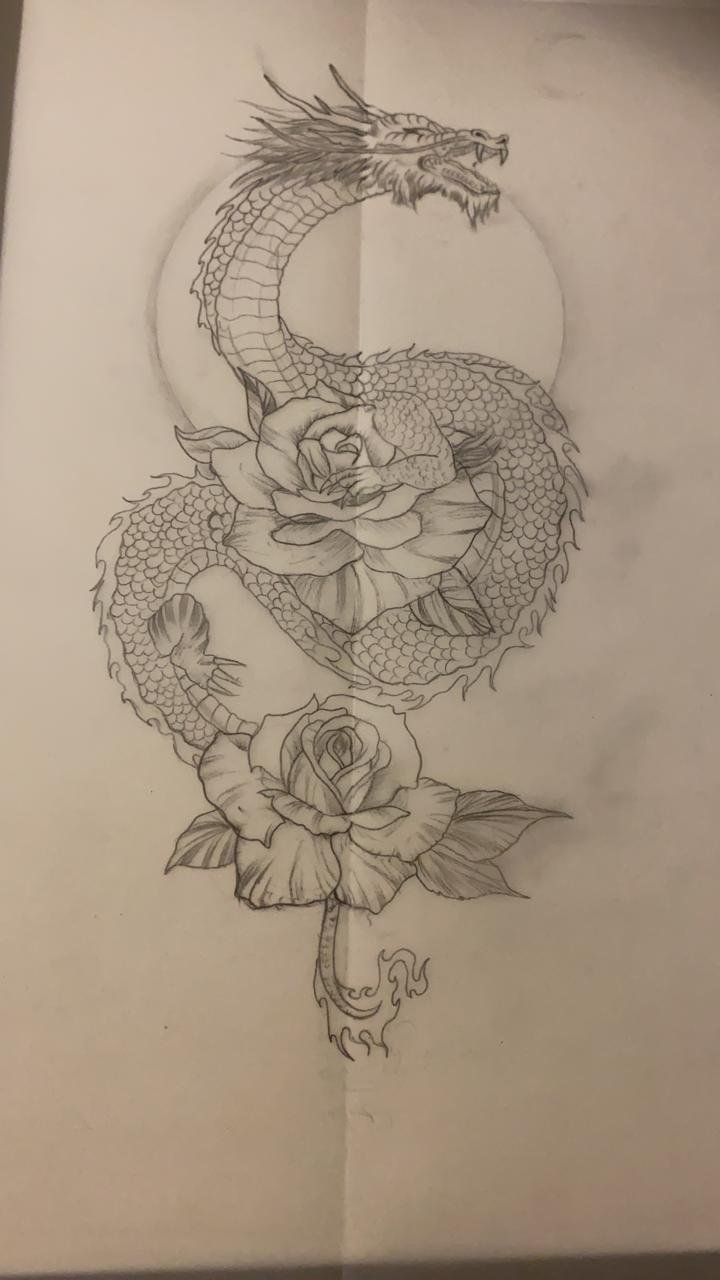 He then copied the design with carbon paper and got the print on my thigh.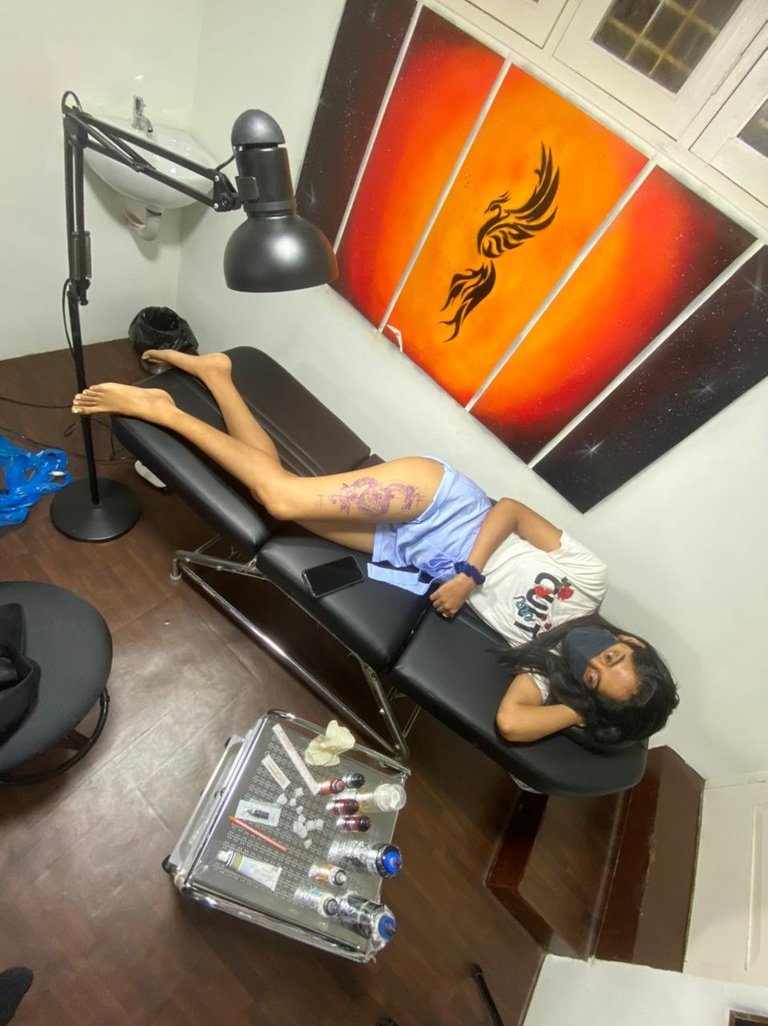 He then prepped the needles, ink and equipment required for tattooing. All precautions were taken care of for the same. Differently sized and shaped needles are used for different strokes like outlining, filling, shadows etc. He started off with the black outlines and then worked on the shadows. The pain was not as bad as I had expected.
The outlining, detailing and shadows took him 5.5 hours to complete and the picture below was the product. Next was to add colors to highlight parts of the tattoo.
He chose to add deep red, bright orange and punch pink. He also added white for the little detailing. The color filling did hurt a little more compared to the rest of it. This is because the needle used for this is a very thick one. The first needle from the left in the picture below is used for color fill and the others were used for the other parts of it.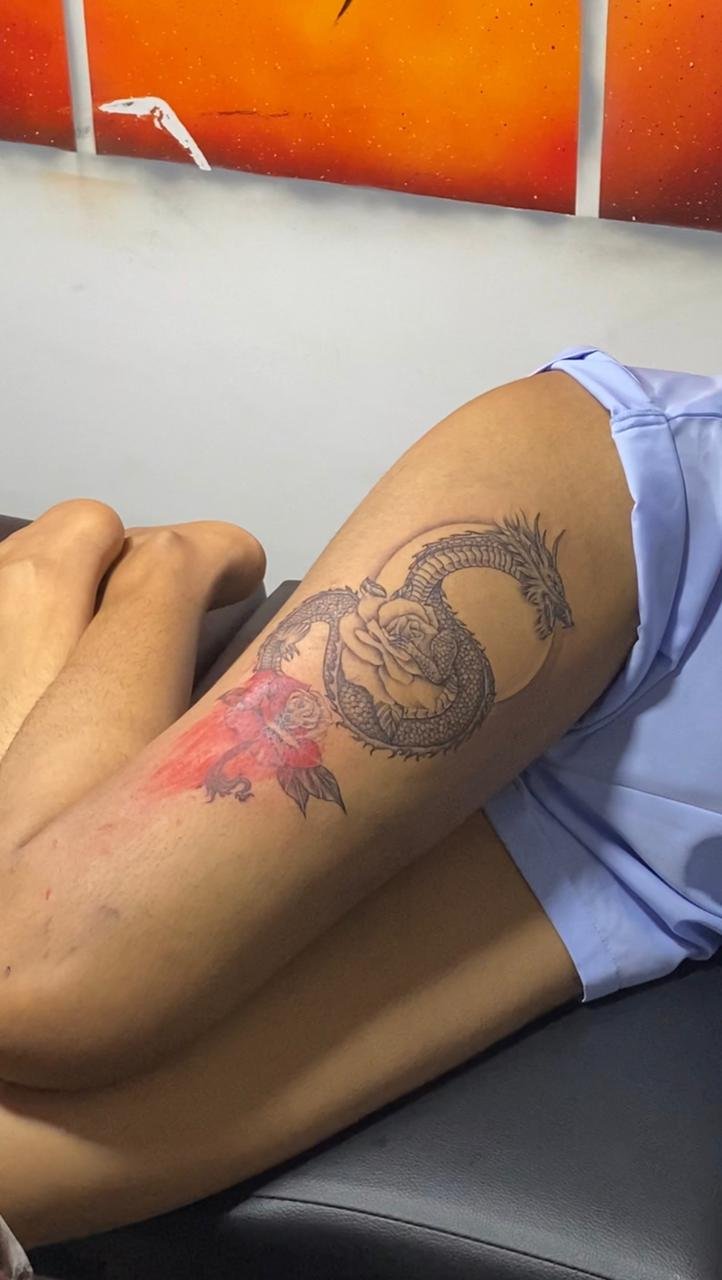 After more than seven hours of him working and me struggling to not move, the tattoo was complete and I've ever since been in love with it. The detailing in the design just makes it stand out and it was a wonderful job done. It was a great experience overall.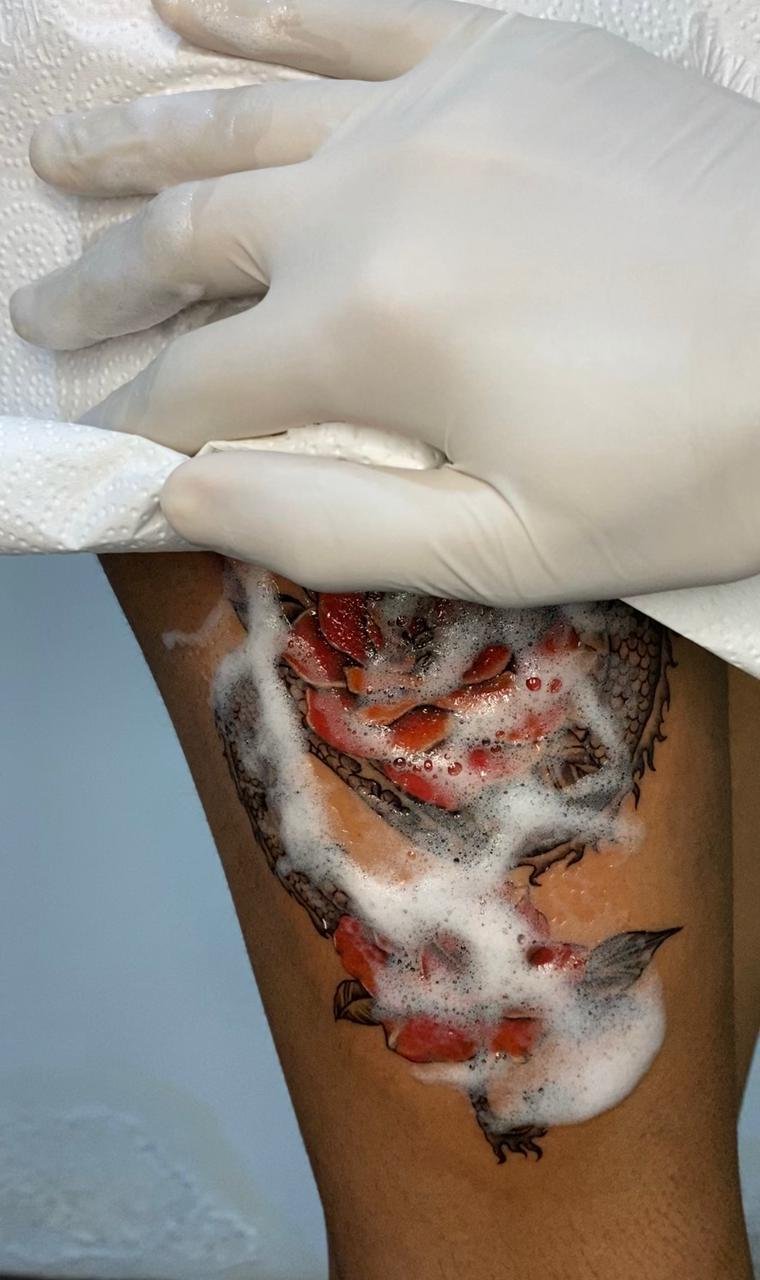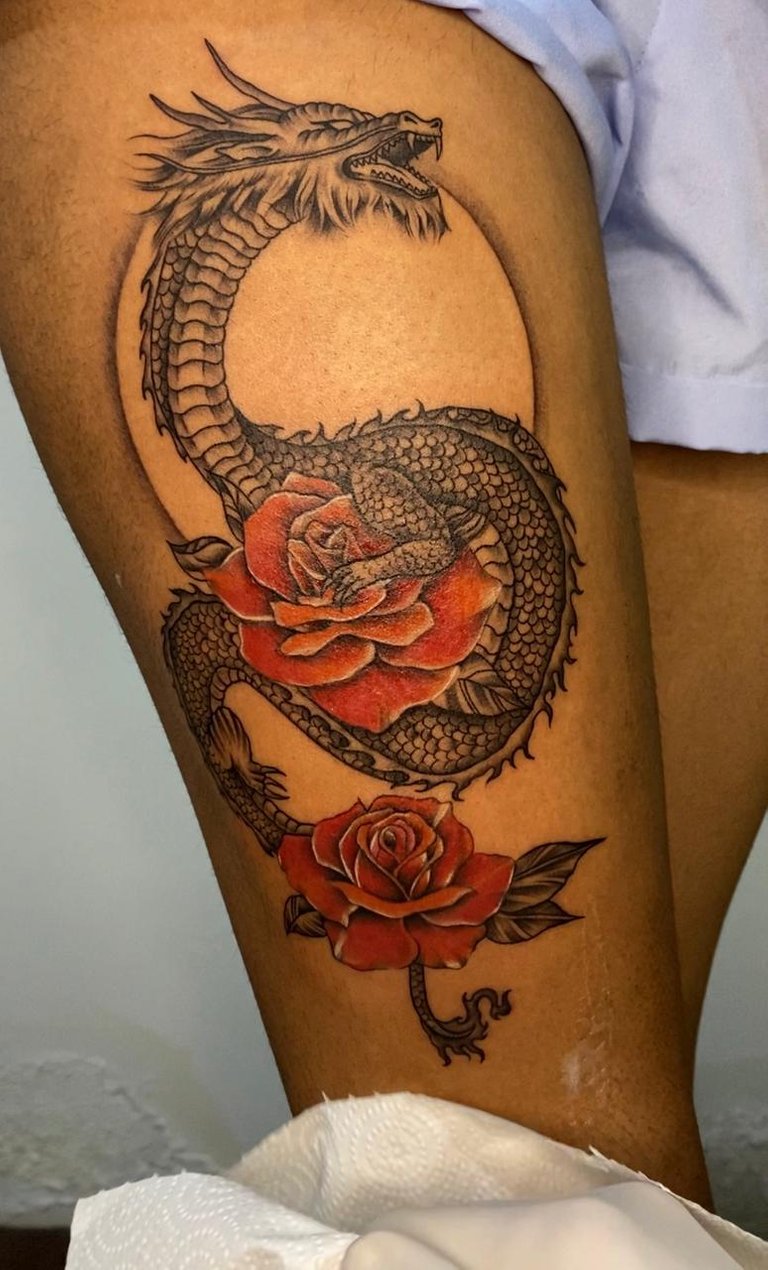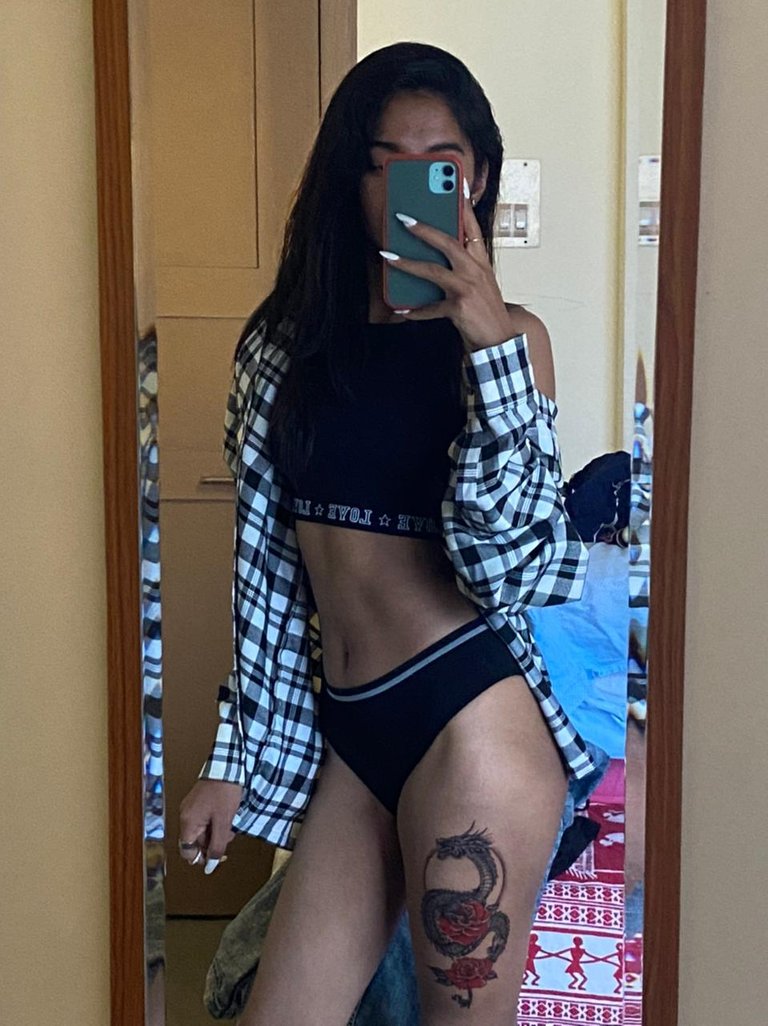 If you read till here and liked the post, do let me know through an upvote, a comment and maybe a reblog. Well, a follow would just make my day. You can also find me on other platforms @riyaflona. Stay tuned for more updates. Cheers!
---
---