It is what it is
In our country, most of the restaurants and cafes are owned by big corporations. A lot of money is invested, to make some more money in return. It's a money game; yet, some small-scale establishments do stand out.
Pop-up and family-run cafes and restaurants aren't so common here, you may find 1 family-run restaurant from a wide list of 10 eateries. Alas, in the end even these handful of small businesses don't actually survive against the big fancy corp-run establishments.
So, in about 3 to 5 years or so most of these businesses end up going out of business.
Nonetheless, to me what matters is good food and service; as long as my coffee is hot and not too "sugary", and my food is palatable, I'll just take it run. I rarely complain about my food, and if I do complain, that means there's something terribly wrong with it.
---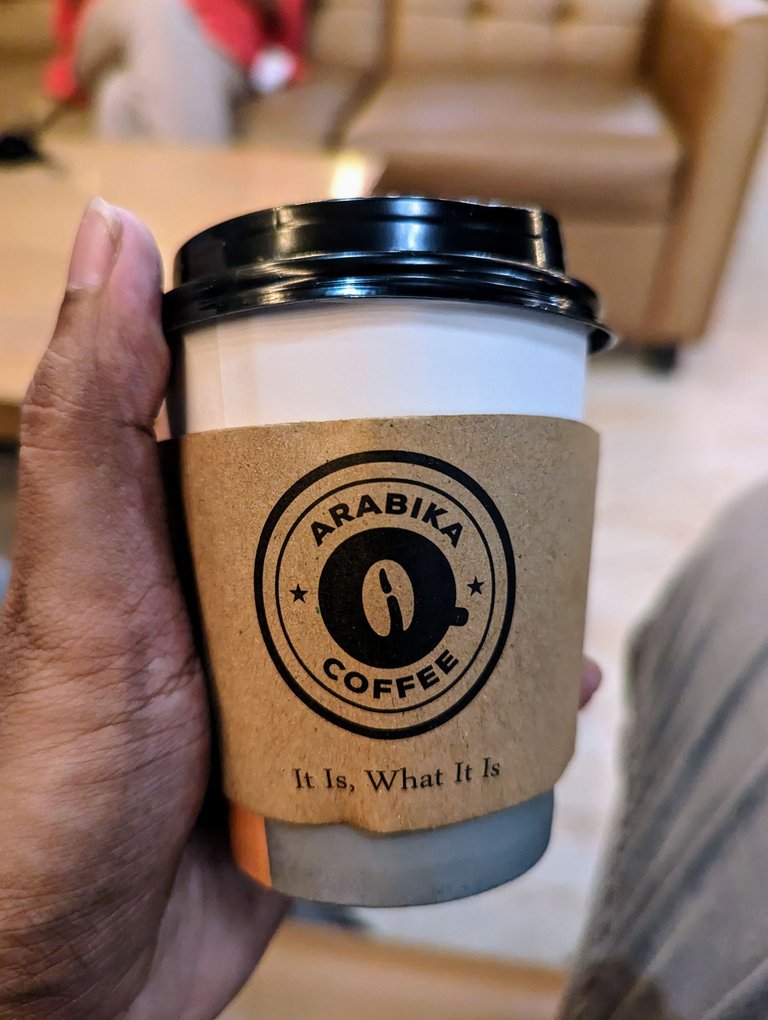 ᴵᵐᵃᵍᵉˢ ᵃⁿᵈ ᵒᵛᵉʳᵃˡˡ ᶜᵒⁿᵗᵉⁿᵗ ᵃʳᵉ ᵐʸ ᵒʷⁿ ᵘⁿˡᵉˢˢ ᶦᵗ'ˢ ᵐᵉⁿᵗᶦᵒⁿᵉᵈ
---
The other day I was at Arabika Coffee with two of my friends; who are also my partners in our 3D printing business. After Tabaq, Arabika has seen my "smug face" the most haha. Arabika is a nice cafe, that is why it's always packed.
Yet, something tells me Awake Coffee Roasters might just be better, but I still haven't gotten the chance to try their food.
Awake Coffee Roasters is a much smaller establishment, smaller and newer, but they have gained a fair bit of popularity in the past 2 to 3 years or so. It's a family-run business, and the founder himself does all the roasting. Their sandwiches are a work of art, at least that's how it looks in the images, the coffee is good too, I've heard. But, I'll have to try it all myself, to come to a conclusion.
We actually went to Awake Coffee Roasters first, but it was packed to the teeth. So we decided to head towards Arabika after that.
We were out to talk about ideas, progress, and updates, while we sipped on some coffee. We did get some value out of it, but it was mostly a lot of jibber jabber and noise pollution at that time at Arabika. It was on a Friday after all, Friday is the busiest day for restaurants and cafes. We had already looked in 2 other cafes as I mentioned; first at Awake, and then The Food Hall, right before heading to Arabika, and every single one of those establishments was completely packed.
When we got to Arabika we just got lucky, I guess. We ordered the usual and found a couch big enough to occupy 3 tushies. We were there for only 30 minutes, then we realized that we'd have to arrange another meeting on Discord; all the noise there just wasn't helping. So, we decided to head out after that, all three of us in three different directions.
To my surprise, just when I decided to head out, four of my school friends came out of nowhere and surrounded me. We go way back to the days of Elementary School. And like every other group of friends after high school or college, not a lot of us could maintain that friendship and connection; all thanks to the busyness of life.
It's been close to half a decade since I last met most of them. And there we were that day, in a random cafe, catching up and talking about our current circumstances and lifestyles.
This is what I like about popular cafes and restaurants, I can always expect the unexpected. There are only a handful of such popular establishments in our city. So, whenever you visit such a restaurant or cafe, especially on a busy day, you better look towards running into some familiar faces.
And I like meeting old friends and acquaintances randomly, out of nowhere.
Because, some of these moments are just better unplanned...
---
---

---
---
---