The Red Giant
Making peace with Dhaka doesn't even seem to be an option sometimes. You head out on time, have a schedule ready, all positive and energetic, having a mental map in place, of how you're going tackle the day. And then, Dhaka just decides to pull one of its random and unusual tricks from its magical topper hat.
However, things weren't always like this.
Yes, it was always crowded here, but the huge crowd of pedestrians really wasn't the issue. The problem really started around 2014, that's what I noticed at least; the problem being uncontrollable traffic and the increase of "pulpy" delinquents behind the wheel. An unnecessary number of private cars, reckless bus drivers occupying half the road as a stoppage area, and all the types of rickshaws that have no time to lose.
---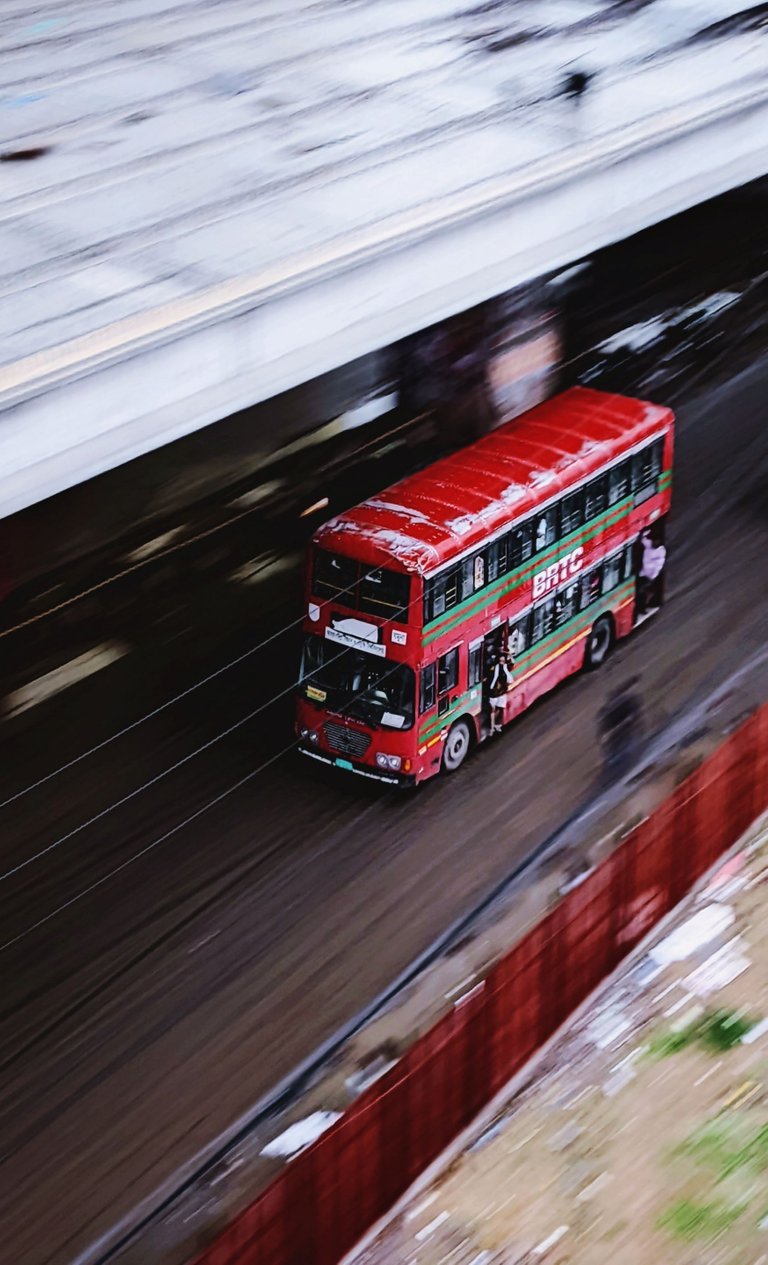 ᴵᵐᵃᵍᵉˢ ᵃⁿᵈ ᵒᵛᵉʳᵃˡˡ ᶜᵒⁿᵗᵉⁿᵗ ᵃʳᵉ ᵐʸ ᵒʷⁿ ᵘⁿˡᵉˢˢ ᶦᵗ'ˢ ᵐᵉⁿᵗᶦᵒⁿᵉᵈ
---
Things used to be different, much more calm and peaceful, it's wasn't as torturous at least. Nowadays avoiding a lengthy ride to the other parts of town seems like the most reasonable option.
I actually used to look forward to the daily rides on the second deck of the red giant. I have so many memories on those things, and the amount of money I used to save back then, thanks to the cheap tickets.
But the red giant isn't the first giant I was introduced to actually. The first giant I saw and had the chance to ride on, was the white and yellow Volvo double deckers, brought here all the way from Sweden. A fleet of these robust monstrosities were found rolling on the streets about 2 decades ago, sometimes wrapped in Grameenphone and D-Juice posters, they would never go unnoticed.
Even though the Volvo double deckers were robust and ahead of their time in terms of features and looks, the fleet still did not last that long on the cruel streets of Dhaka. Soon enough they were sold off as scrap. Although, you still may see some of them today, kind of "alive and kicking", working for some government office sector.
Volvo actually has a good reputation when it comes to their vehicles and their reliability, especially the older models; yet, the buses we had on our roads barely even lasted a whole decade. Which actually ended up being a bad investment.
So, before long, a massive fleet of red giants had to be imported from our neighboring country, India. A fleet of the Ashok Leyland Titan Double Decker and the Articulated/Double Cabin buses took control of the streets as soon as they hit our very Deshi tarmac. After that the availability of BRTC buses skyrocketed all of a sudden, and the very cheap and affordable fares just decimated the competition. And then, you also have that unbeatable second/top deck view, which no other bus service/company can provide, even to this day.
My journey would usually start all the way from Motijheel or from around Bishwa Road. There was always an urgency, to quickly jump on the bus, and then to secure a window seat for one hell of a view. Soon enough you might even have to take a peaceful, yet non-essential nap; while getting massaged by the bumpy Dhaka tracks, on which the red giant laboriously treads on.
The worst part though, was when you get off, because it would be so crowded from the top deck to the lower one, and even the stairs. So you would literally have to squeeze the living shit out of yourself as you try get out of the bus haha.
Yet, at least we didn't have to waste almost half our day pushing traffic, just to cover 8 to 10 kilometers. People were fairly patient, there weren't too many vehicles on the roads, and most of the drivers and riders actually knew how to drive a car or ride a bike.
Now the only hope we have is all in that new Metro Rail of ours, to roam and visit the other parts of town more, and also cover more ground efficiently. We'll surely save a lot of time because of the metro, but hopefully the fare/tickets won't cost much; because at this point even the bus fares aren't cheap anymore, so we'd rather save some time by using the metro.
---
---