Stand by me Doraemon (review)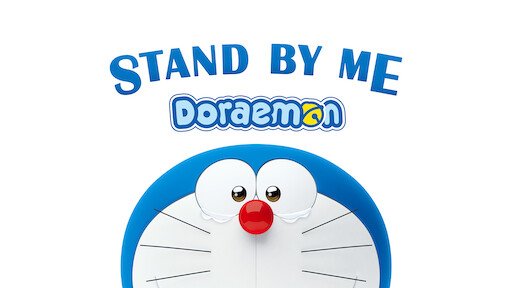 Así de aguados como los ojos de Doraemon se me pusieron los ojos al recordar aquellos tiempos en que despertaba temprano los fines de semana para nunca perderme este manga animado. Sin duda alguna hizo que mi sentir florecía en miles de aspectos.
My eyes were as watery as Doraemon's eyes when I remembered those times when I woke up early on weekends to never miss this animated manga. It certainly made my feelings blossom in a thousand ways.
Cabe destacar que no me había enterado de este par de películas que Netflix ya tenia disponible, la verdad me lo he encontrado porque estaba revisando la lista de animes nuevos para ir agregando a la lista. Cuando lo vi, no pude seguir bajando, tuve que reproducir para aprovechar que estaba en casa de mis padres y rememorar todos esos recuerdos en el mismo ambiente donde solía vivir.
It is worth noting that I had not heard about this pair of movies that Netflix already had available, the truth is that I found it because I was reviewing the list of new anime to add to the list. When I saw it, I could not continue downloading, I had to play it to take advantage that I was at my parents' house and remember all those memories in the same environment where I used to live.
Yo siempre pensé que Doraemon era un mapache, aún no he confirmado si eso es verdad, pero me resultaría decepcionante que no lo fuera por ende es mejor seguir recordándolo tal y como antes.
I always thought that Doraemon was a raccoon, I still haven't confirmed if that's true, but I would be disappointed if it wasn't, so it's better to keep remembering it as it was before.
Al inicio de la primera parte de la película me preocupe porque la animación era tan real que pensé que iba a perder la esencia original, pero la historia resumida de Doraemon me distrajo por completo.
At the beginning of the first part of the movie I was worried because the animation was so realistic that I thought it was going to lose the original essence, but the summarized story of Doraemon distracted me completely.
Una historia con la que yo siempre me sentí identificado y que seguramente muchos otros también. Siendo niño para ese entonces, también fui victima de abusos y burlas, y sobre todo cree una dependencia que de la cual siempre iba a necesitar de alguien para poder sentir un tanto de seguridad y que dicha persona siempre estuviese para ayudarme en cualquier cosa que seguramente estaba capacitado para hacer pero cuya inseguridad me cegaba.
A story that I always felt identified with and I'm sure many others did too. Being a child at that time, I was also a victim of abuse and mockery, and above all I created a dependency that I would always need someone to help me to feel some kind of security and that this person would always be there to help me in anything that I was surely capable of doing but whose insecurity blinded me.
Siempre quise tener un Doraemon para que las cosas malas en mi vida cambiaran de matices, no pedía que fuese todo un arcoíris, pero si algo que me pudiera dar paz y seguir con mi crecimiento de un modo sano. Algo que por cierto, me llevo a todo lo contrario porque casi siempre estuve solo y la maldad de la sociedad y las culturas humanas siempre estuvieron presentes en mis inicios de vida.
I always wanted to have a Doraemon so that the bad things in my life would change shades, I didn't ask for a rainbow, but something that could give me peace and continue with my growth in a healthy way. Something that, by the way, led me to the opposite because I was almost always alone and the wickedness of society and human cultures were always present in my early life.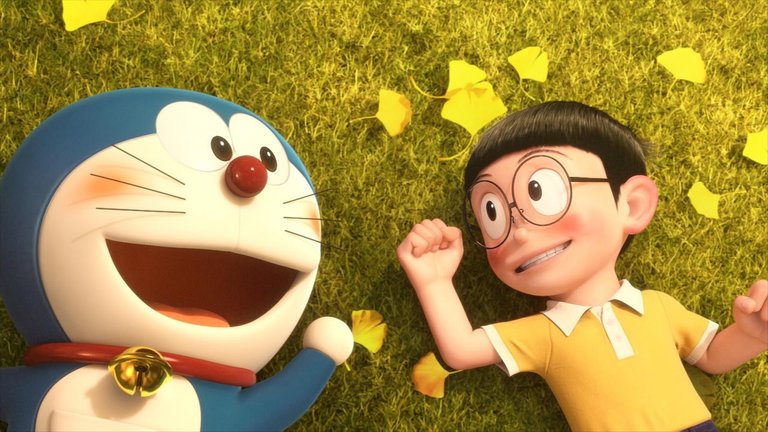 Creo que por eso yo era mi Doraemon, de alguna forma empecé a creer que todas las cosas podían arreglarse con un aparato mágico o con simples pensamientos de magia. Sabia que de mi cajón no iba a salir un mapache azul y blanco para decirme que tenia la misión de hacerme feliz. Yo tenia que buscar ese rayito de felicidad entre tanta neblina y oscuridad.
I think that's why I was my own Doraemon, somehow I started to believe that all things could be fixed with a magic device or with simple thoughts of magic. I knew that a blue and white raccoon was not going to come out of my drawer and tell me that he was on a mission to make me happy. I had to look for that bit ray of happiness among so much fog and darkness.
Sin embargo la serie, y en especial esta película resumida, me dio para ese entonces y actualmente, esperanzas.
However, the series, and especially this abridged movie, gave me hope then and now.
Estos días atrás he estado bastante triste con cosas personales, pero sobre todo con temas dentro de Hive, algo que si bien me voy a reservar, es un malestar colectivo y notorio.
These past few days I have been quite sad about personal things, but above all with issues within Hive, something that although I will keep to myself, it is a collective and notorious malaise.
Básicamente he tenido que enfrentarme a mi propio Takeshi y Suneo, que si bien para Nobita fueron personajes amenazantes, al final terminaron siendo amigos con ciertos conflictos.
Basically I have had to face my own Takeshi and Suneo, who although for Nobita were threatening characters, in the end they ended up being friends with certain conflicts.

Para Nobita su felicidad era casarse con Shizuka, para ese entonces la mía era poder vivir sin el miedo a que me señalaran y me sintiera derrotado por todas las inseguridades que me había sembrado la sociedad.
For Nobita his happiness was to marry Shizuka, by that time mine was to be able to live without the fear of being singled out and feeling defeated by all the insecurities that society had planted in me.
Por supuesto, en mi camino hubo muchos mapaches azules que estuvieron para abrazarme como reflejo de algún objeto mágico sacado de su bolsillo delantero y de ese modo hacer de mi vida momentos de felicidad como las que sintió Nobita.
Of course, on my way there were many blue raccoons that were there to embrace me as a reflection of some magical object taken out of their front pocket and thus make my life moments of happiness like those felt by Nobita.
Pero, en el caso de la serie como en la película, el objetivo siempre fue hacer feliz a ese niño que necesitaba ver el valor que tenia y que otros veían en él. Una vez logrado seguramente ese mapache se iría a cumplir mismo objetivo con otros niños (bueno eso siempre pensé yo, hasta ayer).
But, in the case of the series as in the movie, the goal was always to make happy that little boy who needed to see the value he had and that others saw in him. Once achieved, surely that raccoon would go to fulfill the same objective with other children (well, that's what I always thought, until yesterday).
Mis mapaches también se fueron a hacer feliz a otros ya sea momentáneo o para siempre. Pero así como Nobita encontró una forma de ser feliz nuevamente al lado de Doraemon, yo he descubierto que mi propio ser, mi yo mapache, he tenido y tendré que buscar la felicidad sin tener que incurrir en la dependencia que tenia antes.
My raccoons also left to make others happy either momentarily or forever. But just as Nobita found a way to be happy again at Doraemon's side, I have discovered that my own self, my raccoon self, has had and will have to seek happiness without having to incur the dependency I had before.
Esto fue algo que pensé ayer mientras me deleitaba con mi padre y hermana esta película que tiene muchos mensajes ocultos y de gran valor. Sin duda alguna me alegra mucho ser de esa generación que pudo contrastar la inocencia de esta serie animada con su vida siempre y de alguna forma resguardarse en ella. Creo que eso es Doraemon, una forma de resguardar el dolor de la sociedad, convertirla en algo mágico y buscar objetos que te hagan la vida más fácil; en la realidad, los momentos que siempre te den aguante o empuje para seguir adelante.
This was something I thought yesterday while I was enjoying with my father and sister this movie that has many hidden messages of great value. Without a doubt I am very glad to be of that generation that was able to contrast the innocence of this animated series with their life always and somehow take shelter in it. I think that's what Doraemon is, a way of sheltering the pain of society, turning it into something magical and looking for objects that make your life easier; in reality, the moments that always give you the stamina or push to keep going.
No puedo omitir las veces que quise tener una puerta mágica que me llevara a los lugares que deseaba ir o incluso escapar de aquellos donde el dolor, la angustia o soledad se respiraba en el aire.
I can't omit the times I wanted to have a magic door that would take me to the places I wanted to go or even escape from those where pain, anguish or loneliness was in the air.
Por supuesto, sentí ese mismo dolor de anteponer a los demás y su felicidad por encima de la mía, creo que actualmente a veces aplico lo mismo o más bien dudo en hacerlo pensando en cómo se sentirá el otro pero en un sentido que siempre me pongo a un nivel por debajo de su felicidad, sintiendo que con otra persona, ese ser importante estaría mejor o feliz.
Of course, I felt that same pain of putting others and their happiness above my own, I think that nowadays I sometimes apply the same or rather hesitate to do so thinking about how the other will feel but in a sense that I always put myself at a level below their happiness, feeling that with someone else, that important being would be better or happy.
Hay muchas formas y perspectivas de captar esos mensajes en esta película, creo que todo depende de cómo se sienta la persona y lo que Doraemon como ejemplo signifique para ellos.
There are many ways and perspectives to capture those messages in this movie, I think it all depends on how the person feels and what Doraemon as an example means to them.
Por cierto, al inicio les había dicho que eran dos películas, así que esta es solo la primera parte, luego vengo a comentarles y cerrar mi reseña con la segunda.
By the way, at the beginning I had told you that there were two movies, so this is only the first part, then I will come to comment and close my review with the second one.
---
---