JUNO "Whale Story" Takes Dark New Turn ...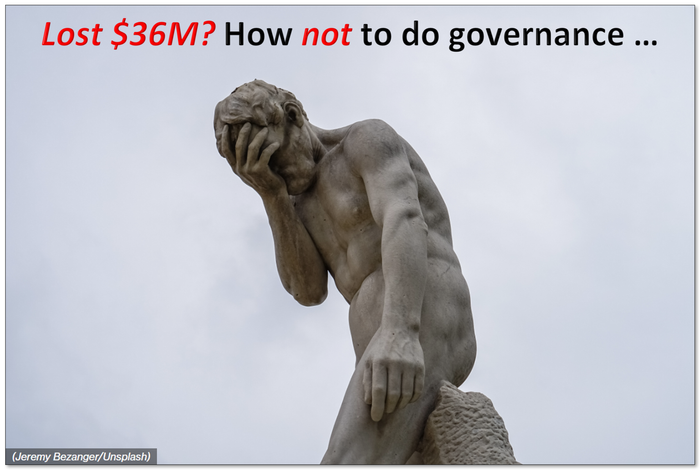 Source: Post on CoinDesk about JUNO's latest screwup
JUNO Governance, "Whale Story," and Major "Choke"
As reported on faithfully by
@jk6276
, in this
post
among others, there has been an ongoing saga in the JUNO community over how to handle the alleged (never proven, not provable?) "whale" taking advantage of their airdrop.
Well, this story took a dark new turn, as reported by CoinDesk in the post above. As part of their "final solution,"
they "seized" $36M from this account
and moved it to an address
which no one can access!

As least for the moment, that is the claim. No one can access these funds? They are lost forever? How can anyone "choke" that badly, with so much at stake?
Or did they really and there is something more sinister underway? Well, of course, I have no idea, but what a mess ...
So ...
A "choke" for the record books? "Kharma?" We can rest assured there is going to be a lot said in response for a long time to come.
LeoFinance Community Governance
Yes, it is a "long way" from the JUNO community to our LeoFinance community. But governance voting and the implications for our future have been a hot topic of late.
As I have a major investment in them, I obviously hope we do not go anywhere near having outcomes like what continues to play out in the JUNO community. Should we have any concerns? "Nothing to see here?" "Move along?" ...
To be crystal clear, I am not implying anything. But I will say I do not believe good intentions are enough. What "safeguards" can be enacted to ensure we do all possible to avoid outcomes like what has and continues to "plague" the JUNO community? I hope a genuine discussion surrounding this topic might take place.
I'd love to hear any feedback you may be inspired to provide.
Respectfully,
Blogger
@roleerob
Hive "Dolphin" 🐬,
LeoFinance
"Whale" 🐋, &
Man Cave
"Dragon" 🐉
🐝 🍯 🐝

________________________
Posted using LeoFinance and "immutably enshrined" in the Hive blockchain on Friday, 6 May 2022!
🌲 No trees were harmed in the publishing of this post! 🌲


LeoFinance: A Hive blockchain community devoted to investing!
Discord: Engage with LeoFinance's Online Community!

Posted Using
LeoFinance Beta
---
---