Beautiful Architecture and Unique Design of Alana Cafe
Hello Architecture+Design Community 😊
Come back again with me @romirspc here and today i want to share about Beautiful Architecture and Unique Design of Alana Cafe to all of you guys.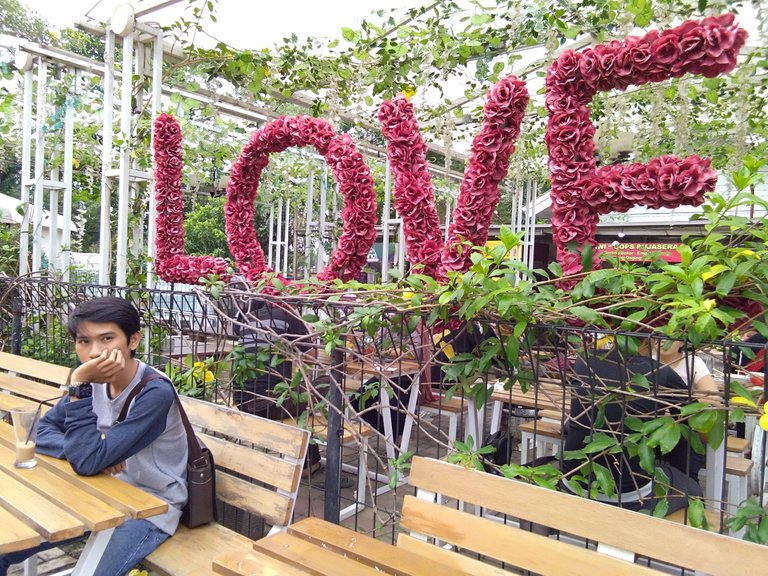 Alana cafe is a cafe that is famous for having a large outdoor area and a very comfortable place for customers, there are lots of things here that make me interested in visiting this cafe because it has an attractive architecture, environmental design, exterior and interior design. Here i will explain how beautiful and unique this cafe to all of you guys and for the first i will explain the detail of outdoor this cafe.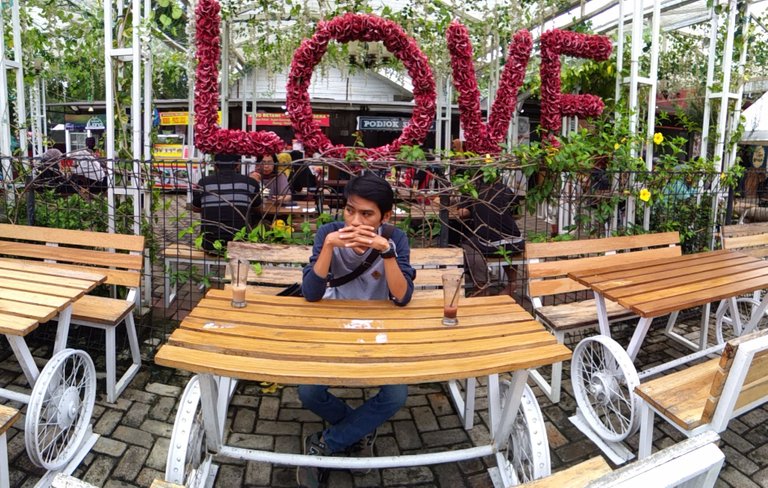 Alana cafe has a large outdoor area and is used as a place for customers who like the outdoor atmosphere, here you can see how unique my seat is made of wood and a table made of wood which also contains a western seat design, then on the table legs are added decorations from the motorcycle wheel frame is painted white so it looks very authentic.
Furthermore, there are some very striking faux flower decorations, namely the LOVE shaped decoration made of artificial roses and around it there are vines as a complement along the fence and the iron frame makes this decoration very catchy to take pictures.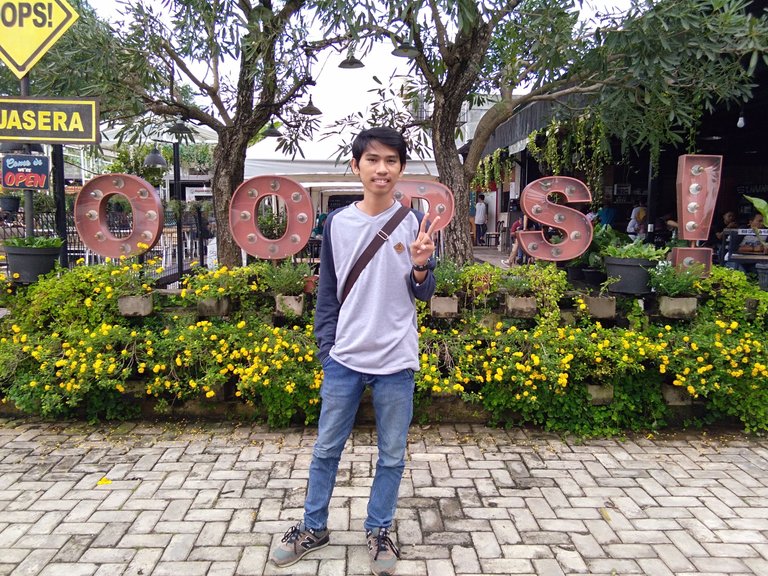 ---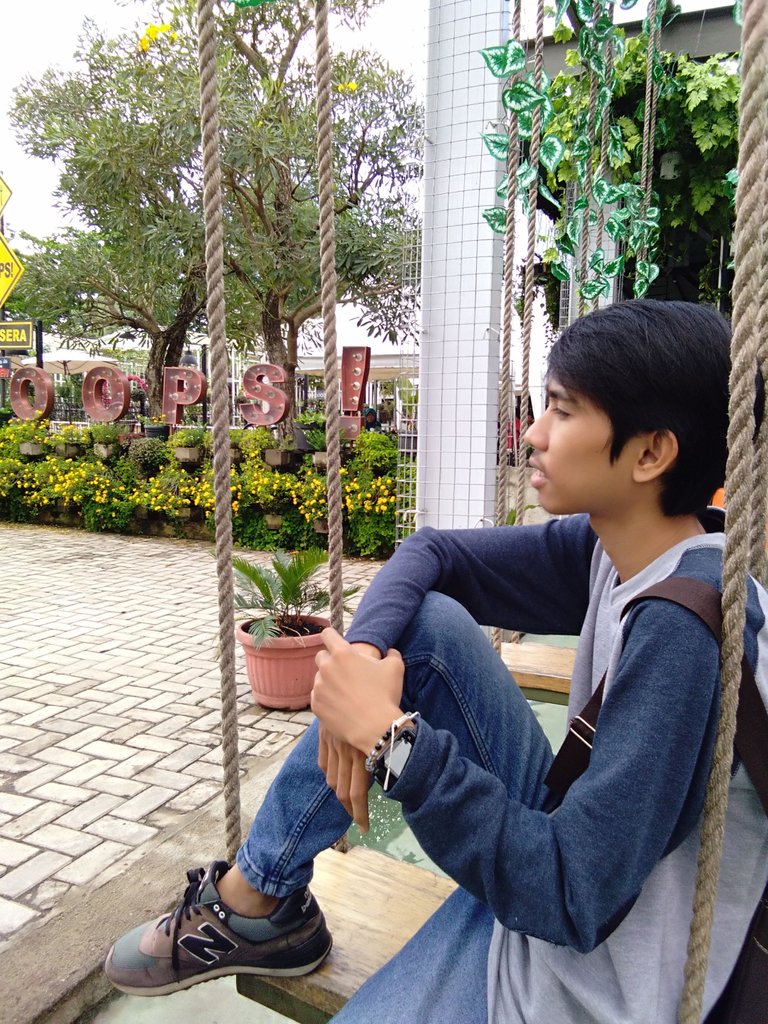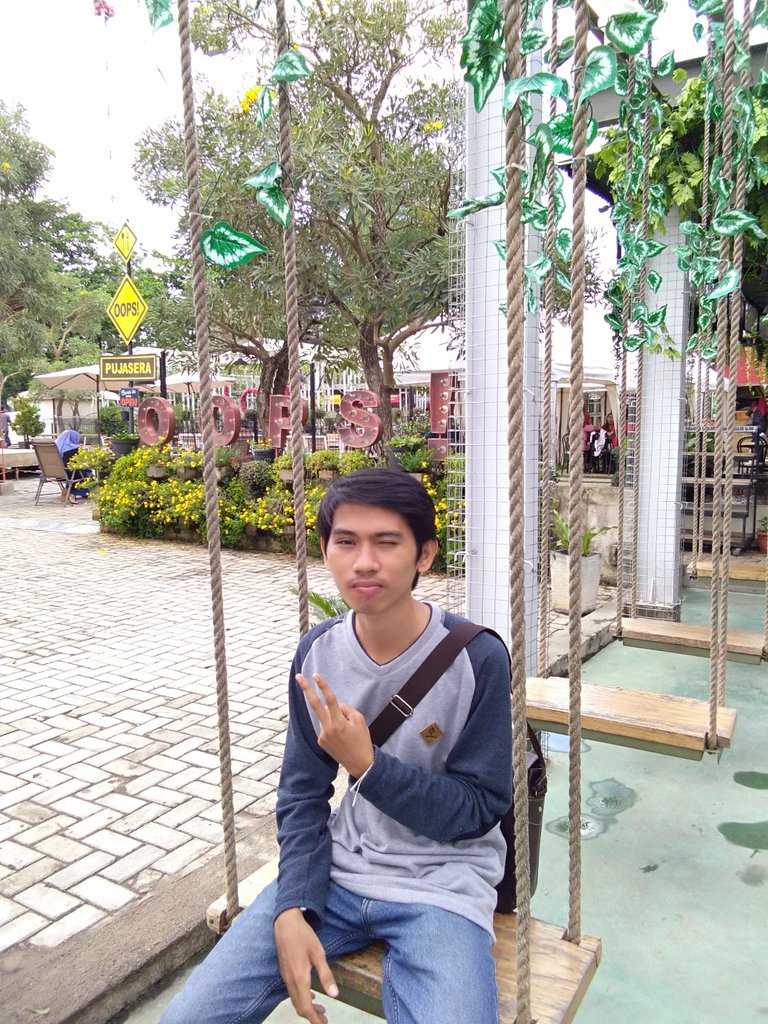 ---
Beside my seat there is a small garden with colorful flowers, trees and decorations that say OOPS! which is an interesting environmental decoration for photo spots, besides that on the OOPS writing decoration there is a light that can be lit at night making it very beautiful when the lamp is turned on.
In front of the flower garden there are several interesting swings for customers to relax and take pictures here, these swings are decorated with artificial plants and leaves along the ropes on the left and right which add to the aesthetic value.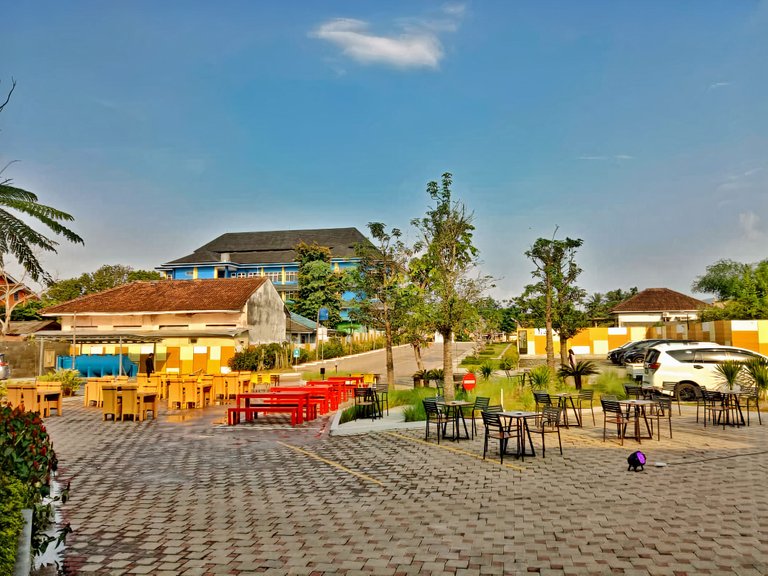 In the evening, the arrangement of the outdoor seating is usually changed, this is because there will be live music events there so that visitors can enjoy food while accompanied by live music which will enliven the atmosphere.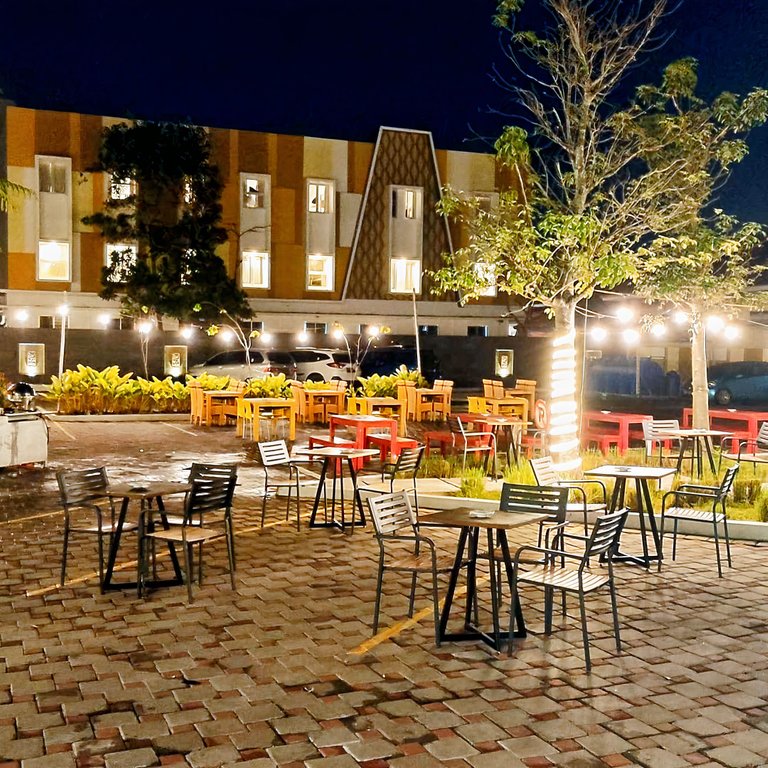 In the evening the atmosphere will be better and more interesting where the lights designed on trees and plants will be turned on and become a very beautiful environmental decoration. At the back there is also a building that has a unique architecture like a building with the concept of a Dutch house.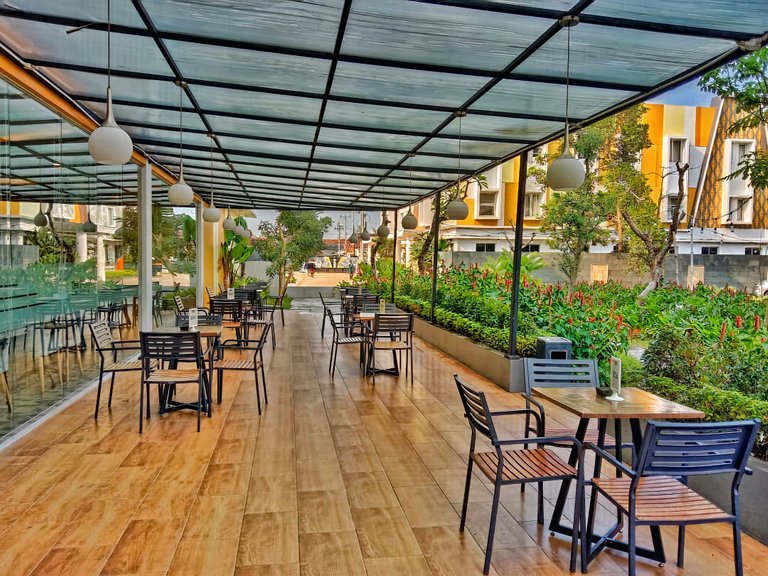 On the terrace of the cafe there is also a place for visitors where there is a table and chairs made of iron and wood, then on the terrace floor also ceramic patterned like cabin wood makes it very classic and hanging lamps add to the aesthetic value of this terrace.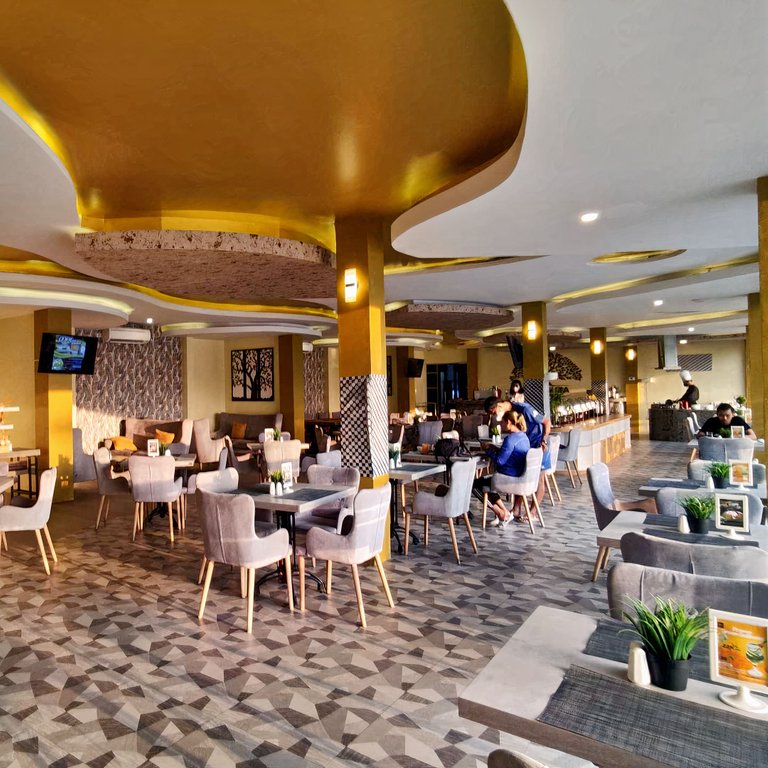 The room in Alana's cafe is very unusual because it has a unique architecture, you can see the roof of the cafe which is in the form of a modern abstract creating a very slick artistic value, then the chairs and tables are neatly arranged and on the walls there are decorations in the form of paintings, television and air conditioners. comfortable atmosphere for customers.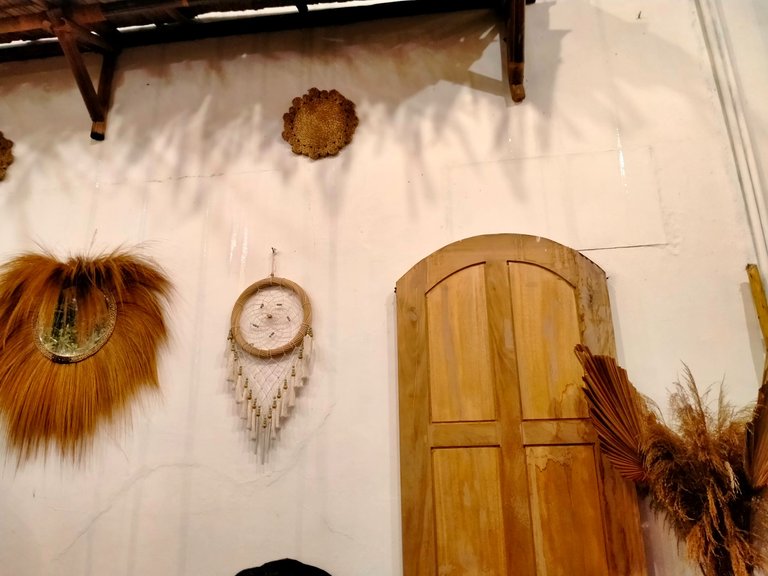 The thing that caught my attention was the decoration beside the cashier which has innovative displays as photo spots, you can see here there is a wooden door as a decoration and then it is equipped with several wall displays such as a wooden clock, some wicker from rattan and wood, some cloth feathers around paintings and dried flowers add to the beauty and aesthetics of this room.
Thankyou for visiting/stopping to reading this article, don't forget if you like this article you can upvote, rehive or reblog and let's be friends with follow each others for sharing perspective and thoughts together :)
See you in the next article Architecture+Design Community 😊
---
All Photos was taken originally by me @romirspc with my camera phone Xiaomi Note 10 Pro
---

Who am I?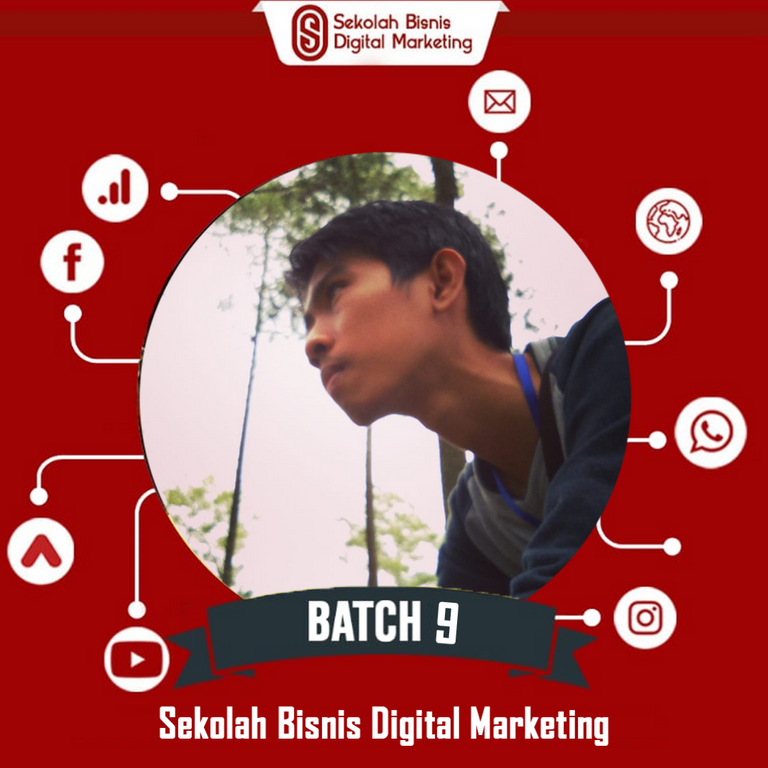 I'm Romi and i'm Crypto Enthusiast, that interesting with Blockchain Ecosystem, i love to be content creator in blockchain social media, sharing my perspective and experience based on my knowledge and hobbies. I Hope that i can develop my knowledge day by day especialy about Cryptocurrencies and making new friends that i can called as my families :)
Contact Info:
Telegram : https://t.me/romirspc
Facebook : https://facebook.com/romi.rezpector.397
Youtube : https://youtube.com/channel/UCatiDINT-LAnphz9c59_YVw
Twitter : https://mobile.twitter.com/romirspc
Noise Cash : https://noise.cash/u/romirspc


---
---