Unique Architecture and Interior Design Concept of Mattrox Cafe
Hello Architecture+Design Community 😊
Come back again with me @romirspc here and today i want to share about Unique Architecture and Interior Design Concept of Mattrox Cafe to all of you guys 😊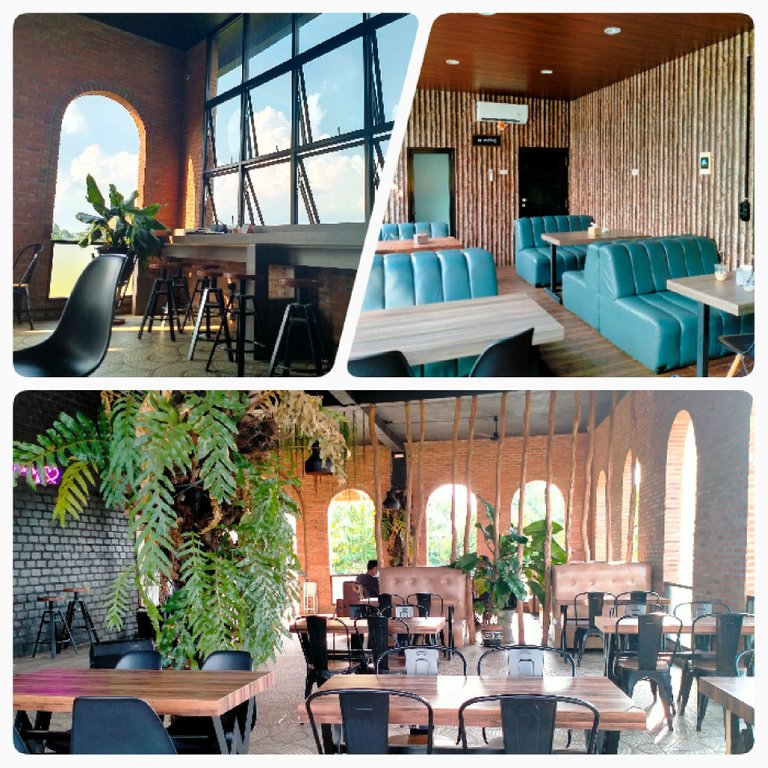 Mattrox Cafe is one of the popular cafes among young people in my city, lots of customers are interested in this cafe because it has a unique place and an attractive design that makes many customers come to gather with friends, colleagues, family and partners. Besides the attractive architecture, this cafe also has a lot of delicious food and drink menus, so it's no wonder that this cafe is very popular in my city.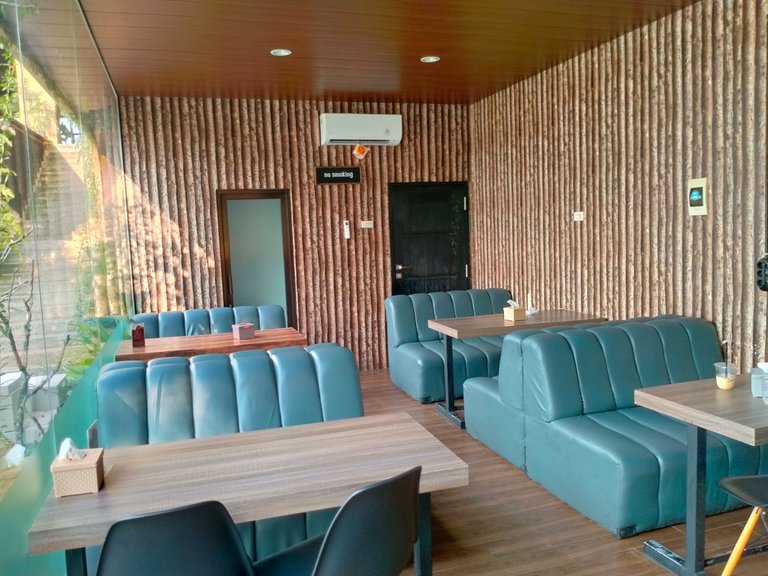 Matrox Cafe has an L-shaped and multi-storey building so that it has several rooms that are used as cafes and has a variety of unique designs for each room. First I will explain the first room which is used as a cafe and a place to order food, although the room is small but has a beautiful interior design, you can see this room has patterned wallpaper and several sofas and tables for customers which are neatly arranged and have a toilet. Usually this room is used customers for family gatherings rather than young people.
---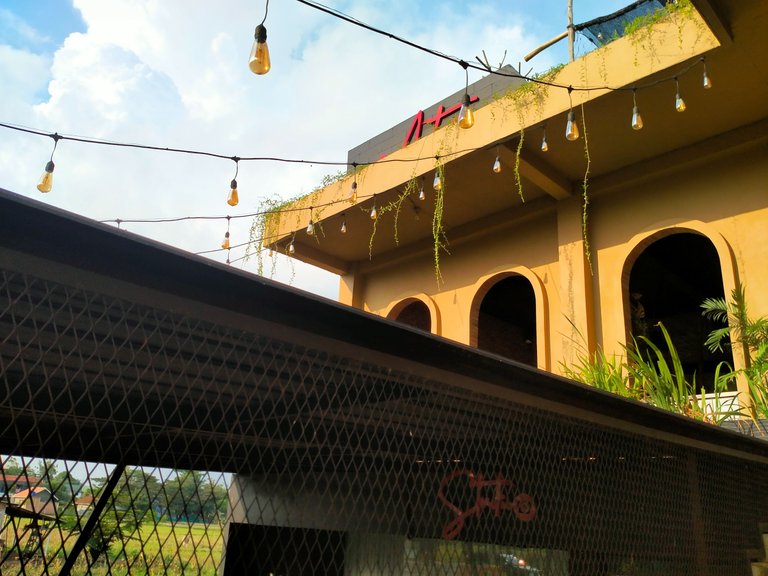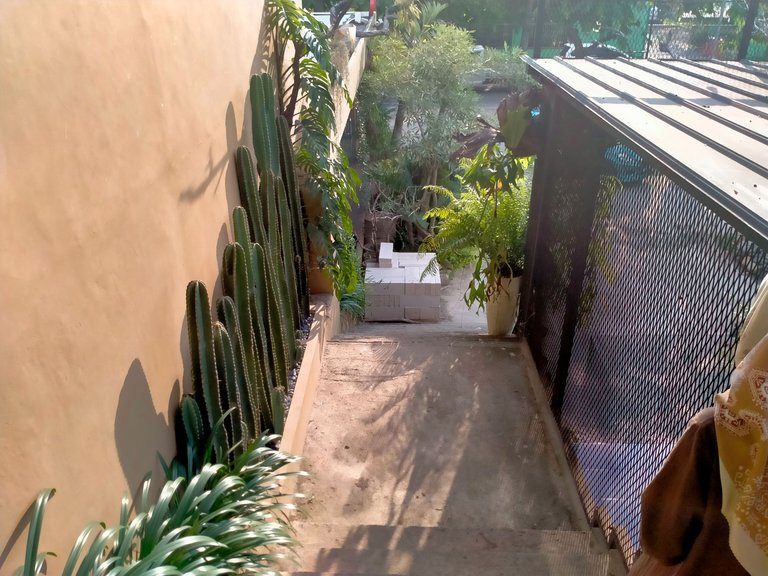 ---
The next part is the building on the second floor where this room has a lot of unique architecture, if we look from the outside this building is in the form of a semi-Arabic building which has many holes as doors and windows on the outside as well as some hanging lamps to increase the aesthetic value. when night. Then on the stairs leading to this room are also planted with flowers such as cacti and other plants.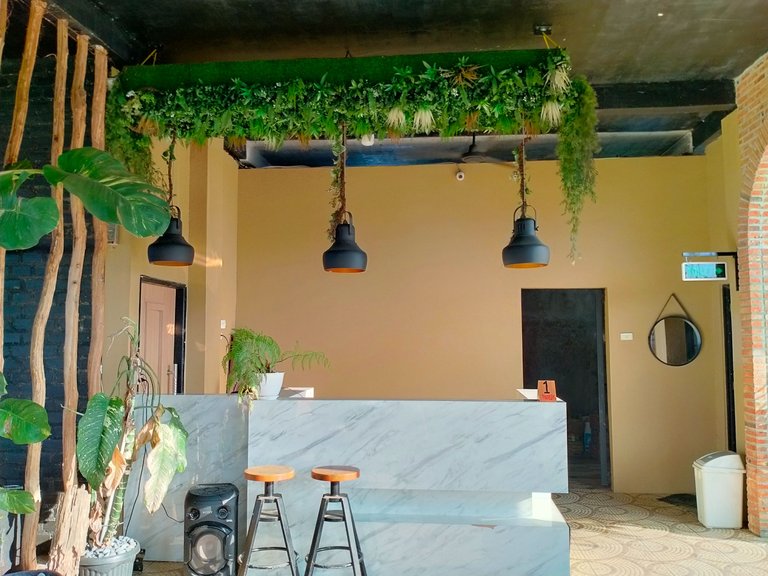 ---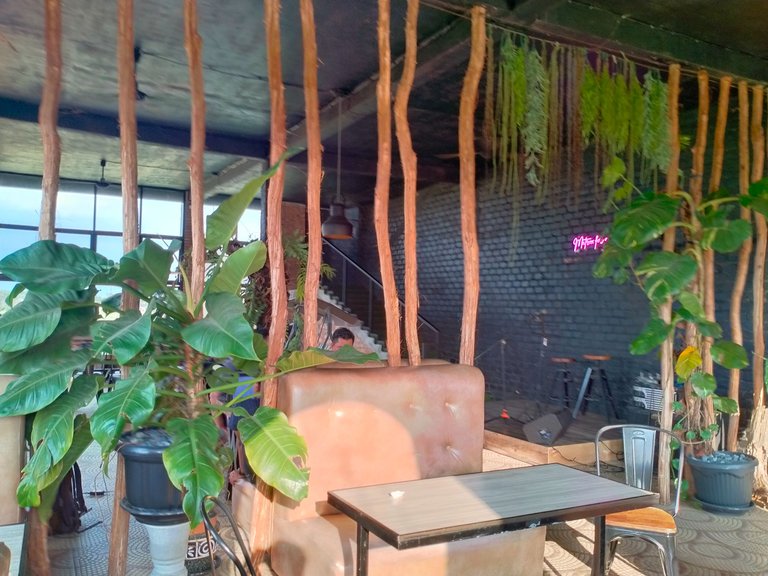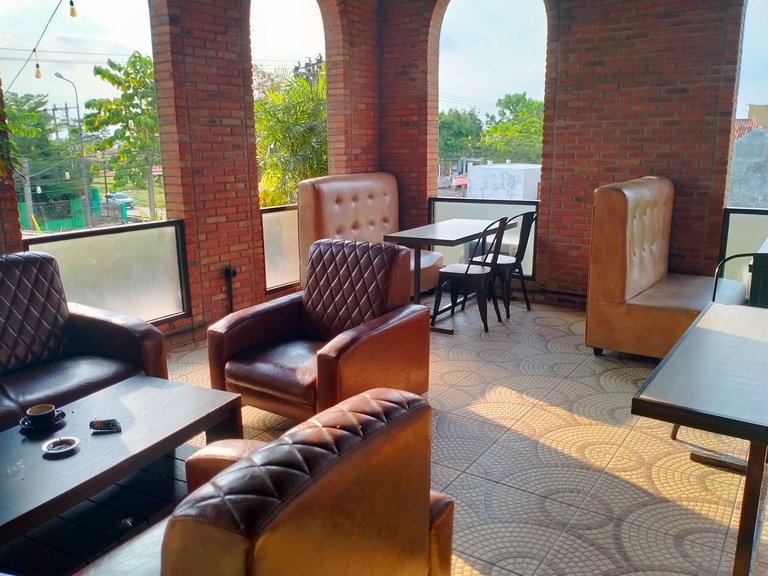 ---
When i entered this room, the first thing that caught my attention was the cashier section which was interesting to me because it has an attractive design with a uniquely shaped chandelier decorated with plants on it, then design furniture that uses a small round chair made of wood.
Furthermore, this room is divided into 2 parts where in the first part we can see that the customer's seat has a design with a sofa chair and a square wooden table that is neatly arranged, then there are several large flower pots and several wooden blocks as a separator between the rooms.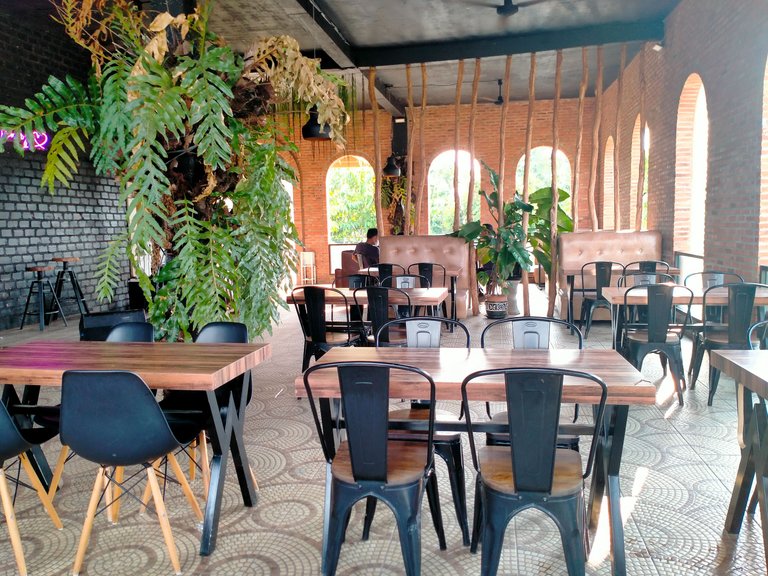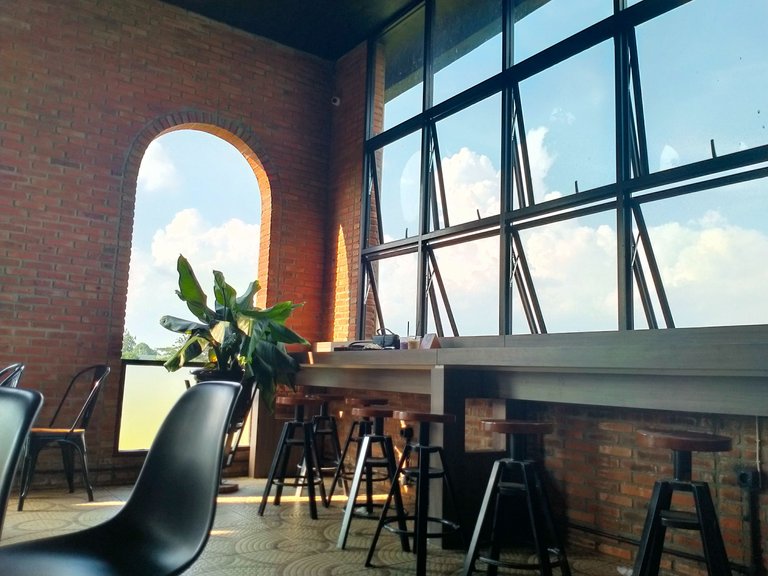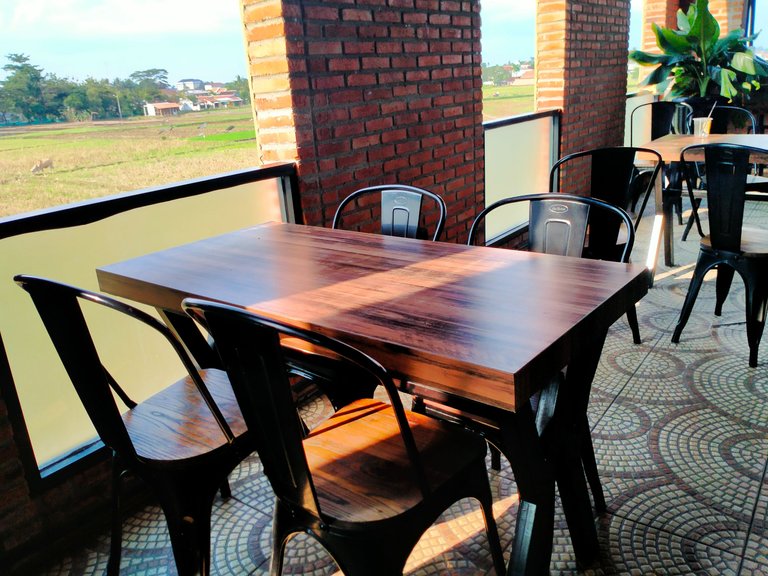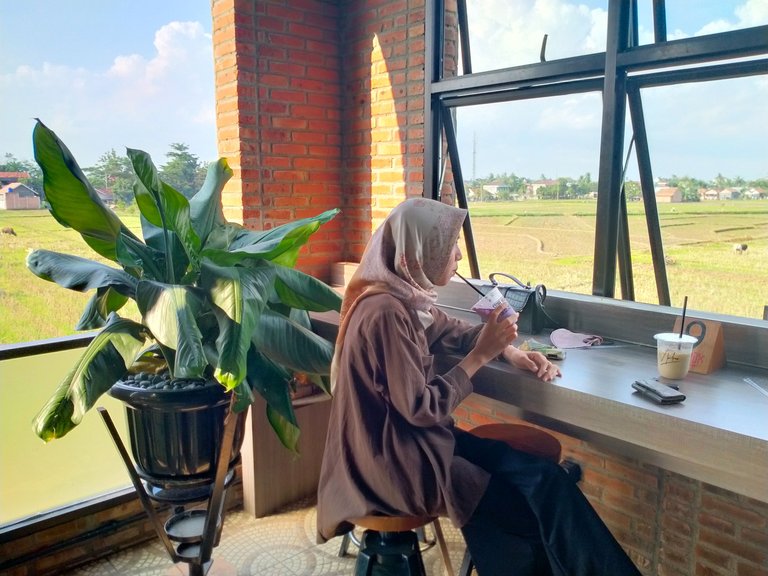 In the next room we can see that it has different and interesting interiors and furniture designs where we can see chairs and tables that are neatly arranged and some are made of wood and plastic with various shapes. Furthermore, the inner wall is made of bricks so that it supports the interior design used.
The interesting thing about the architecture of this building is that large ventilation is made because it utilizes the environment around the cafe which has a beautiful green landscape so that customers can hang out and see the natural beauty around the cafe.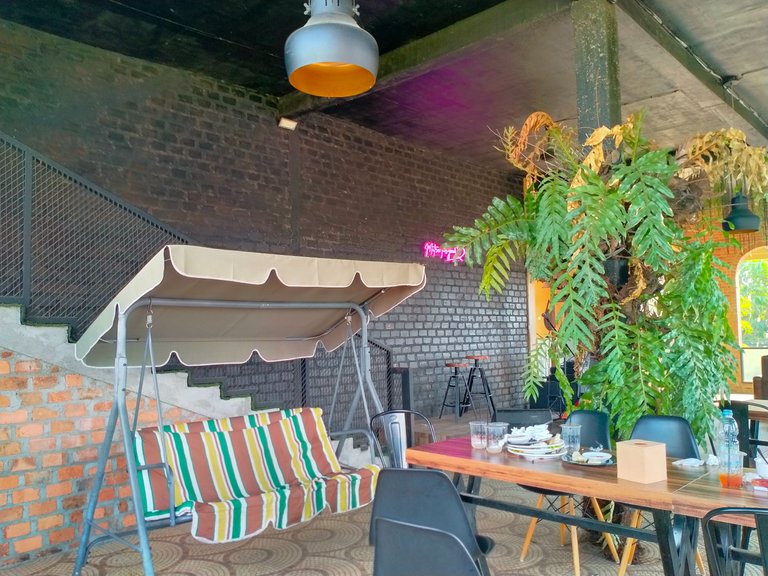 ---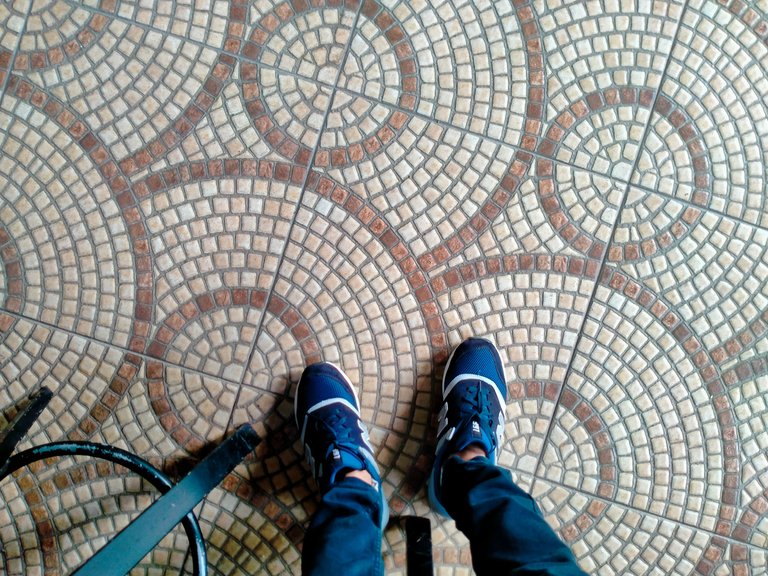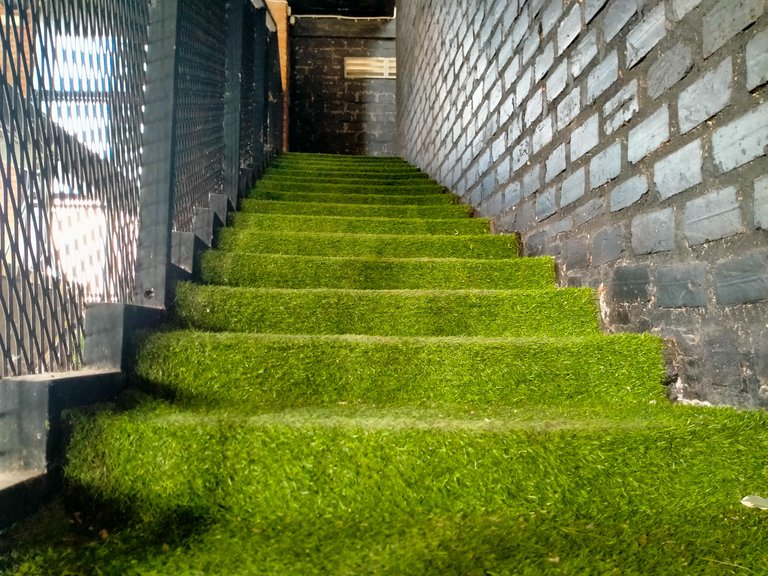 ---
Some of the photos above are the things that caught my attention, the first thing i discussed was that there was a swing designed for taking pictures, then there were ornamental plants around the pole to make it look more fresh. Here also what caught my attention is the unique floor with ceramics made of natural stone and has a unique round pattern and finally there is a unique staircase covered with artificial grass towards the roof of the building which is used as an outdoor cafe room but unfortunately it is being renovated so i can't yet to go there.
Thankyou for visiting/stopping to reading this article, don't forget if you like this article you can upvote, rehive or reblog and let's be friends with follow each others for sharing perspective and thoughts together :)
See you in the next article Architecture+Design Community 😊
---
All Photos was taken originally by me @romirspc with my camera phone Xiaomi Note 10 Pro
---

Who am I?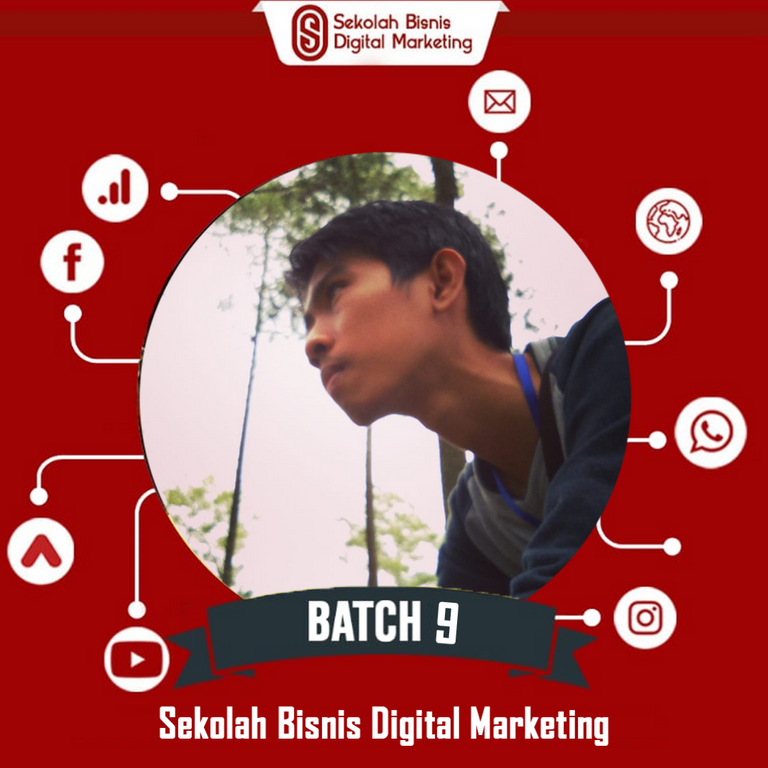 I'm Romi and i'm Crypto Enthusiast, that interesting with Blockchain Ecosystem, i love to be content creator in blockchain social media, sharing my perspective and experience based on my knowledge and hobbies. I Hope that i can develop my knowledge day by day especialy about Cryptocurrencies and making new friends that i can called as my families :)
Contact Info:
Telegram : https://t.me/romirspc
Facebook : https://facebook.com/romi.rezpector.397
Youtube : https://youtube.com/channel/UCatiDINT-LAnphz9c59_YVw
Twitter : https://mobile.twitter.com/romirspc
Noise Cash : https://noise.cash/u/romirspc


---
---