[Esp/Eng] I continue to advance in risingstar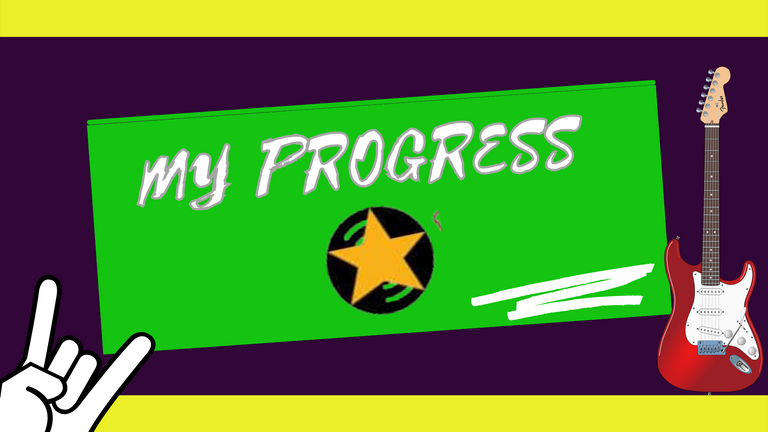 Imagen Diseñada en canva
Hola queridos colegas jugadores de #risignstar. Tenia algo de rato que no compartía mi progreso con ustedes del juego, pero quiero decirles que voy muy bien, quizás mejor de lo que esperaba y lo mejor es que ya estoy apunto de cumplir mi primer año dentro de #risingstar.
Quiero compartir con ustedes que hace unas semanas logre al fin llegar al nivel 75 y comencé a realizar mis lecciones de música con orquesta,(me dolió salir de mis pianos) no es facil hacer cambios de instrumentos tan repentinamente pero cuando de economía se trata hay que tomar riesgos.
bien dicen que quien no arriesga no gana, y quien no pierde no aprenda.
Hello dear fellow #risignstar players. I haven't shared my progress with you in the game for a while, but I want to tell you that I'm doing very well, maybe better than I expected and the best thing is that I'm about to complete my first year in #risingstar.
I want to share with you that a few weeks ago I finally reached level 75 and I started my music lessons with orchestra, (it hurt me to leave my pianos) it is not easy to make changes of instruments so suddenly but when it comes to economy you have to take risks.
It is well said that he who does not risk does not win, and he who does not lose does not learn.


Imagen obtenida de mi perfil de juego de Rising Star
Las cartas que ven en la primera imagen fue de regalo del juego y es que no solo llegue al nivel 75, también logre completar 2000 misiones y fue el premio por lograrlo.
La segunda imagen si es más reciente,ya voy en el nivel 80, mis fanáticos si están un pocos bajos, no se si alguien recuerda que tenia más, mi skill si subió a 9492, mi Luck es de 1879 y mi IM es de 30.
-Rosmi, pero, ¿Por que tienes pocos fanáticos si tenias más?
Bueno, digamos que mejore una de mis condiciones para poder jugar #risingstar a donde quiera que voy, sin necesidad de cargar la computadora, si, me compre un teléfono nuevo y puedo decir que entre #hive y #risingstar costearon el 40% del costo del equipo, así que 20 puntos.
The cards you see in the first image was a gift from the game and is that not only reached level 75, I also managed to complete 2000 missions and was the prize for achieving it.
The second image is more recent, I'm already at level 80, my fans are a little low, I don't know if anyone remembers that I had more, my skill did go up to 9492, my Luck is 1879 and my IM is 30.
-Rosmi, but, why do you have few fans if you had more?
Well, let's say I improved one of my conditions to be able to play #risingstar wherever I go, without needing to carry the computer, yes, I bought a new phone and I can say that between #hive and #risingstar they paid 40% of the cost of the equipment, so 20 points.

Ya soy medianamente una alcohólica, tengo 3 botellas de Whiskey y acompaño con buenas pizzas para una gran cena mientras disfruto de un gran concierto.
Tengo muchas cosas más por compartir, pero eso lo dejo para una nueva publicación y solo les digo que iniciar sin inversión externa si se puede, solo es paciencia y perseverancia.
I am already moderately an alcoholic, I have 3 bottles of Whiskey and accompany with good pizzas for a great dinner while enjoying a great concert.
I have many more things to share, but I'll leave that for a new publication and I'll just tell you that starting without external investment is possible, it's just patience and perseverance.

---
---