AMPLIACIÓN DE BARRAS - PARQUE "LAS BALLENITAS" - TERCER DÍA [ESP|ENG]
---
Circuito de Barras ¡¡COMPLETADO!!
Bars Circuit COMPLETED!!
---
🌻 ¡¡Bienvenidos a mi post!! 🌻
💙 Welcome to my post! 💙
---
| 🇪🇦 SPANISH 🇪🇸 | 🇺🇲 ENGLISH 🇺🇲 |
| --- | --- |
¡Buen día! Y un saludo a todos amigos de HIVE y

Street Workout Community

Yo soy

@rousbertsw99

. El día de hoy les comparto el tercer día y último día de trabajo en el Parque "Las Ballenitas", sobre el nuevo circuito de barras que se estuvo construyendo;

(Al final de la publicación les estaré dejando los enlaces del primer y segundo día de trabajo)

. A continuación, les dejaré con el Video que edité con mucho cariño para todos ustedes, a mí personalmente me gusto muchísimo el resultado ¡Disfrútenlo!. 🥰🤗

Good morning! And greetings to all friends of HIVE and

Street Workout Community

I'm

@rousbertsw99

. Today I share with you the third day and last day of work at "Las Ballenitas" Park, on the new barre track that was being built;

(At the end of the post I'll be leaving you the links of the first and second day of work)

. Next, I will leave you with the Video that I edited with much affection for all of you, to me personally I really liked the result Enjoy it!!. 🥰🤗
---
---
VIDEO
▶️ Watch on 3Speak
---
---

---
---
El pasado jueves, 17 de marzo, se continúo con la construcción del circuito de barras, para el presente día solo faltaría pintar, soldar una tapa y varias patas en cada uno de los tubos estructurales; las tapas servirían para evitar que el agua de lluvia se acumule dentro de los tubos estructurales y las patas serían para reforzar el tubo con la placa base y también funcionaría para disminuir la vibración que se genera cuando alguna persona este haciendo ejercicio, freestyle o cualquier otra variedad de movimientos que se puedan realizar.

Last Thursday, March 17, we continued with the construction of the bar circuit, for the present day we only need to paint, weld a lid and several legs on each of the structural tubes; the lids would serve to prevent rain water from accumulating inside the structural tubes and the legs would be to reinforce the tube with the base plate and would also function to reduce the vibration that is generated when a person is exercising, freestyle or any other variety of movements that can be performed.
---
---
| | |
| --- | --- |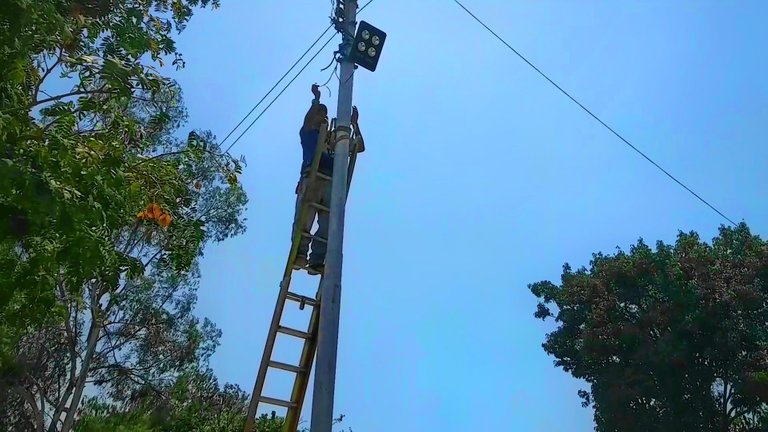 Además de ello, se colocó un faro al parque, ya que siempre entrenábamos con una iluminación bastante nula después del anochecer. 🌖 También se soldaron en los tubos estructurales platinas del logotipo de

#HIVE

😍❤️ Lo cual es algo que me ha encantado muchísimo.

In addition to that, a headlight was attached to the park, as we always trained with pretty much zero lighting after dark. 🌖 Also,

#HIVE

logo platens were welded onto the structural tubes 😍❤️ Which is something I really, really loved.
---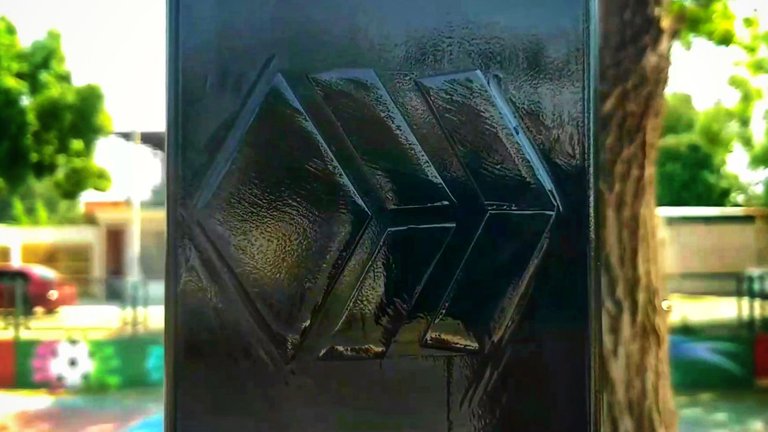 | | |
| --- | --- |
Ya por último solo faltaría pintar todo el circuito de barras con rojo y negro. ♦️🖤♦️

Finally, the only thing left to do is to paint the entire bar circuit with red and black. ♦️🖤♦️
---
| | |
| --- | --- |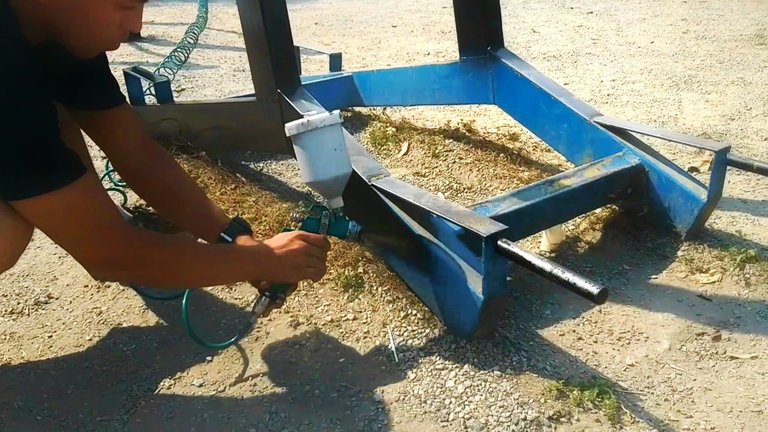 | | |
| --- | --- |
¡El parque es realmente precioso! Y además ahora podemos practicar nuestra querida disciplina deportiva Calistenia - Street Workout con más comodidad. Hoy ha venido mucha gente a entrenar e incluso gente que se había visto coartada para entrenar por la gran cantidad de personas que utilizaba las barras, últimamente he conocido gente nueva y eso es algo realmente increíble e importante para mí. 🥰💜

The park is really beautiful! And besides that now we can practice our beloved sport discipline Calisthenics - Street Workout with more comfort. Today a lot of people have come to train and even people who had been restrained to train by the large number of people who were using the bars, lately I have been meeting new people and that is something really incredible and important for me. 🥰💜
---
---
~ Ya todo finalizado ~
🌹 ~ All finished ~ 🌹
---
...Al día siguiente...
😍 ...The next day... 😍
---

Circuito de Barras (Construcción)
---
---
Bars Circuit (Construction)

Todo esto fue posible gracias a

#HIVE

y a todas las personas que nos han apoyado desde el inicio del proyecto

#SWC

, personas a las que agradezco de todo corazón 💙 Por todo el apoyo que nos han brindado. Esto es algo que requeríamos y paso a paso fue posible hacerlo gracias a ellos y a HIVE BLOCKCHAIN ❤️ Quienes nos han dado la oportunidad de crecer y desarrollarnos como persona y atleta. ¡¡GRACIAS POR TODO!! 💜 Este fue el último día de construcción del circuito de barras, espero que les haya gustado el video y les haya gustado mi post 🥰 Cuídense mucho, ¡¡Hasta la próxima!! 🌹

All this was possible thanks to

#HIVE

and all the people who have supported us since the beginning of the

#SWC

project, people who I thank from the bottom of my heart 💙 For all the support they have given us. This is something we required and step by step it was possible to do it thanks to them and HIVE BLOCKCHAIN ❤️ Who have given us the opportunity to grow and develop as a person and athlete. THANK YOU FOR EVERYTHING!!! 💜 This was the last day of the bars circuit construction, I hope you liked the video and liked my post 🥰 Take care of yourselves, see you next time!! 🌹

🄶🅁🄰🄲🄸🄰🅂 🄿🄾🅁 🅅🄸🅂🄸🅃🄰🅁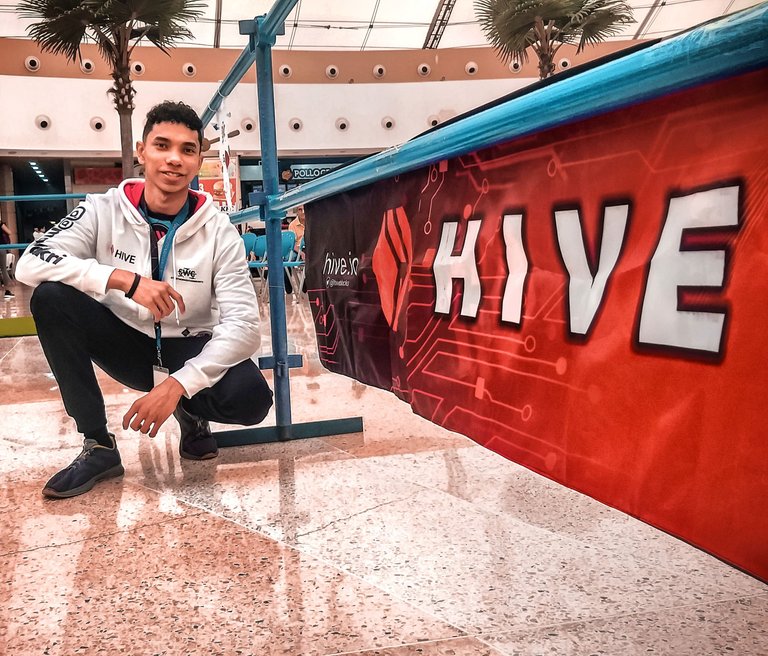 ..Thanks for visiting..
░▒▓█▓▒░▒▓█▓▒░▒▓░▒▓█ ░▒▓█▓▒░▒▓█
Créditos

Credits

Camara: @rousbertsw99

Camera: @rousbertsw99

Producción

Production

@rousbertsw99

@rousbertsw99

Imágenes y Video-Gif

Images and Video-Gif

@rousbertsw99

@rousbertsw99

---

| Musicalización | Music |
| --- | --- |
| La música usada en la producción del video esta libre de derechos de autor | The music used in the production of the video is royalty free |


░▒▓█▓▒░▒▓█▓▒░▒▓░▒▓█ ░▒▓█▓▒░▒▓█


DETALLES DE EDICIÓN - ESP

Dispositivos: Samsung Galaxy J8 y Krip K4 📱
Edición de Video: Capcut 🦋
Estabilización del Video: Google Fotos 🏋🏻
Edición de Imágenes: Snapseed y Picsart 🍃
Logos: threespeak ~ hiveio ~ swc-oficial ~ aliento-3speak ~ eddiespino
Traductor: Deepl.com

---

EDITION DETAILS - ENG

Devices: Samsung Galaxy J8 y Krip K4 📱
Video Editing: Capcut 🦋
Video Stabilization: Google Photos 🏋🏻
Edición de Imágenes: Snapseed and Picsart 🍃
Logos: threespeak ~ hiveio ~ swc-oficial ~ aliento-3speak ~ eddiespino
Translator: Deepl.com

░▒▓█▓▒░▒▓█▓▒░▒▓░▒▓█ ░▒▓█▓▒░▒▓█

"Lo difícil lo hago de inmediato. Lo imposible me tardo un poquito más"

~Cantinflas~

🌐Social Media🌐

✧ ✧

Contenido original de su atleta Rousbert Arturo 🐼💜🌹

Original content of your athlete Rousbert Arturo 🐼💜🌹

---

▶️ 3Speak
---
---