Real Madrid Win To Keep Pressure On Barca At The Top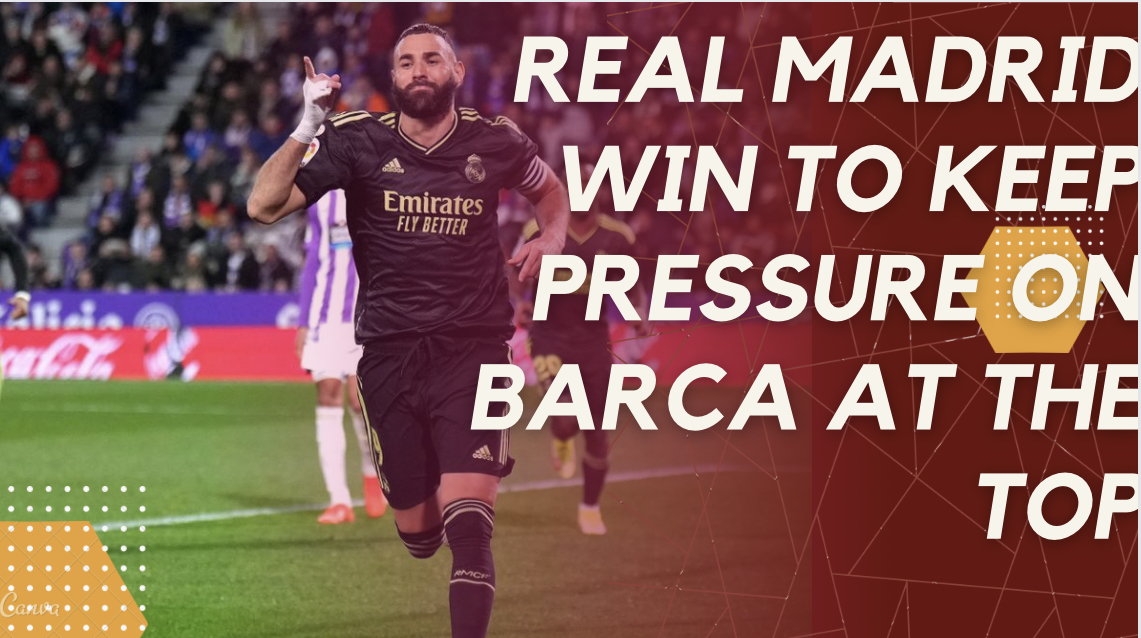 Image designed on canva
This is not the first time Real Madrid have had to play so badly and win a match. In fact, since last season we have been performing this way and still had a way to get out of it. Now, I don't blame the team though. Carlo Ancelotti is not one of those coaches who like his players to hold the ball have useless possession and just pass the ball around without making use of it.
Real Madrid Vs Valladolid was our first game back and boy I didn't enjoy that. I know we always tend to struggle against Valladolid but this time around it looked like we were gonna lose. They passed the ball through us so easily.
When I saw the lineups I didn't like them. The frontmen were Vini, Benzema and Asension which I didn't like. I would have preferred Valverde played that role or even Rodrydo. In the middle of the park, we have Valverde, Kroos and Ceballos.
This was where I had problems. I understand that Kroos is a regular player in the middle of the park but starting Ceballos in this type of game was not so cool for me. He has the capabilities of Modric but he is not Modric. He is not as creative as Modric but he did prove me wrong in a way.
Valverde can play anywhere and that was his regular position even though he has played most of the games as a right-wing. Instead of Ceballos, I think he could have played Camavinga there but still. Camavinga eventually came on and was a massive difference to the game.
We got a penalty which was not very controversial though as everyone could understand that it was a clear handball, but there was a similar incident that happened in the first half and it was not given. The ref's excuse was that the player's second hand was on the group as the ball came back but after watching replays of the video it was not so.
The second goal was all thanks to Camavinga who put the ball on a plate for Benzema to score. But Benzema still had to control it and deceive a few players to score. Camavinga stole the ball from a player and carried it all the way to their box.
It was a 2-0 win but not comfortable. If our keeper had a bad night we could have conceded up to 3 goals but thank God for Thibaut Courtois. Now real and Barca are level on points as Barca drew on Saturday against Espanyol but Barca is on top due to the goal difference.
Thanks for reading.
---
---