[WE 128] A Movie Film Starring Ruffa M with a Tittle: "The Journey"
Looking back on the life I've had in the past 28 years, I can say that I've already experienced a lot. Though there is no near-death experience or even an action where I have to deal with a loan shark or whatever, my life is still exciting, fun, and full of drama. What is life anyways if we don't have dramas in life? It may seem cliche, but we all have it. But we can learn from it, and we can grow as cool humans, only if we choose it.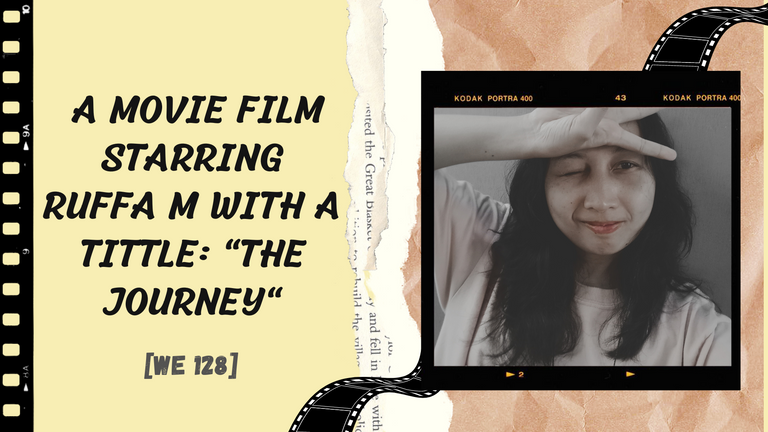 Image created in Canva with it's free Templates.
Thank You so much Mr. @galenkp for the awesome topic this weekend. Out of five topic, I chose this;
What if you were to star in a movie made about your own life. Would it be an action movie, comedy, science-fiction, apocalyptic, romantic-comedy, drama, action-comedy or a porno? In at least 400 words explain your choice and why you chose it and what the plot might be.
---
If ever someone asked me about my stories and film it as a movie, the Genre would be Drama-Comedy with a little bit of Adventure.
Let's start with my childhood. I had a fun childhood because I loved to play, and thanks to heaven, we had neighbors who were my age, and they became part of those fun times. Although they are not included in the adventures I experience because most of the time I just do them alone.
And what are those adventures? Example: climbing the roof of our house and almost falling from it because of my curiosity. I saw this thing on the roof that was unfamiliar to me, and because I am too curious, I stepped on it, and that is where the accident happened, lol. I got whipped by Mom's belt because of that, lol.
Of course it's not always fun and adventure time because I also cried a lot while growing up. I resented my Mommy (auntie) because of the way she stops me from doing all of the fun things as a teenager. I feel like I was caged and I have no choice but to obey her. I thought of leaving her house and just go back to my real Mom.
But.... I thought of my future. What will happen if I leave and listen to those voices in my head who's whispering to go rebel and do the bad things, to defy her, destroy my life or be the worst human being that exist in the world. I never listen to it. Instead, I did the things that I thought is what's good for me. I endured it all, for myself and for my future.
Did I ever regret doing it? No, never! Because I did thr right thing. I learned to forget all of what happened. I forgive them all while doing my best to be a better version of myself. Those resentment I had for her? It's gone. What's left is gratefulness and just love. Because I understand her now. She did it for me. She only did what she think is right.
See, it's full of drama. But it's never end in just all the drama. Because the life I have right now is still full of fun and excitement. I am still in my adventure of life although I do it all mostly indoor. But that's what I want and I am happy with it. There's no perfect life in the world. But I know that I am still walking in the right path right now.
As for the plot, it should go like this:
"Ruffa is a happy-go-lucky kind of kid, but soon she will discover that life is not always easy. She will experience a lot of things on her life journey, and it is up to her to decide how she will live with them. She will also realize a lot of things, and it is up to her to decide how she will face them. Soon, she will face a bunch of problems, heartache, and more obstacles in life. Will she face them like a warrior, or will this be the reason for her downfall?"


---
---