[WE137] We Have No Beginning nor End. But He Made Me Happy.
Hmmm, first love? While most people can remember their first love, I, on the other hand, can't remember it. All I remember is my first crush, and I don't consider him my first love; he is only my first crush and will stay in that category forever. The reason I can still remember him is because of the good feelings I got from admiring him. I started to admire him because of his height, lol. Is that weird? I have a thing for huge people, lol. I imagine him as one of the heroines in the romance novels that I love to read.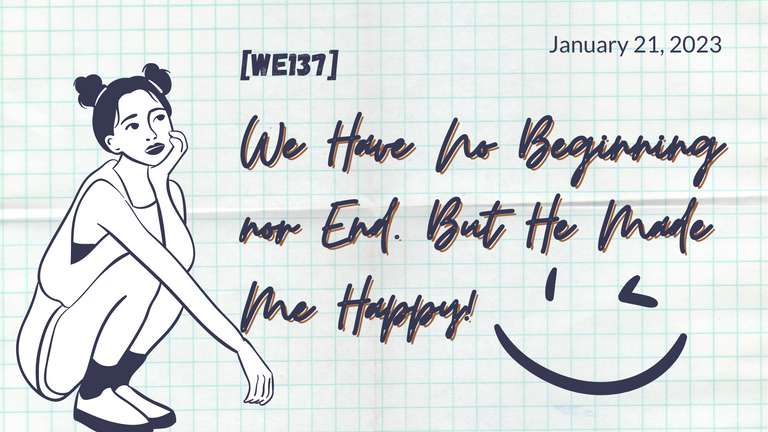 Image Created in Canva with it's free Templates.
He is the first boy who has made me feel happy. He showed me what real happiness is, just by admiring him. He is not that good-looking, but his appeal to me at that time is superb! I want to blame the Romance Pocketbook because I learned about this too early. Lol. For a moment, I lived in the fantasy that we would be together. But that didn't happen. I was tomboyish during that time, and my pride wouldn't let me confess to him. I mean, it's just a crush, so there's no need to make it a big deal.
And I can just admire him while looking at him from a distance. Even with that, it makes me happy. I was in Grade 5 when I first noticed him. I imagined him to be one of the characters in the book that I am reading, and I developed a crush on him. I am just admiring him silently. I was like a crazy girl that time, smiling crazily after looking at him for a second. I will pretend that I am looking for my classmate, but the real thing is that I just want to gaze upon him. just for a second, for a dose of happiness.
It continues until he graduates from elementary school. His new school is close to our house, so they can pass by when he goes home. But the sad thing is, their school day ends much earlier than ours in the elementary grades. So, even if I wanted to see him and catch a glimpse of his tall body, I couldn't because when I went home, he was already home. But there are some times that I got lucky and could still see him. He loves playing basketball, which is why they spend time playing after school.
And that's the time when I will feast my eyes on his sight. That's the only time that I can see him—a little time, but for me, it is already enough to make me feel so damn happy. Having a crush is bliss! It is fun and exciting, and it can make me feel crazy. Of course, not every day is a happy one. I can't take the sight of seeing him with any girl. But what choice do I have at that time? I am just a simple, tomboyish girl who's secretly admiring him. It's not like I can tell him to stop seeing any girl, lol. I mean, it's a secret.
My feelings toward him were my big secret at the time. You see, I was being a pretentious kid at the time. I pretended that I didn't care about any boy at all, but in reality, I have a crush on that someone. I acted like I didn't care, but in reality, I admire him; I have a crush on him. I'd rather act like a boy than let my feelings be discovered by anyone. And I only trusted myself at that time, so I never really shared it with anyone. And actually, having a crush during that time is not that shameful because of this classmate of ours.
But I still feel shy about letting others know about it. I feel like having a crush does not fit the image I created. This girl loves to walk like a man and show it to everyone to make herself look cool. And because of that, she feels like having a crush is not right. Well, it was just my thought at the time. A crazy thought of mine. It is sad, though, because there is no beginning or end between us. Because there was never us in the first place, so it remained a secret crush.
Anyway, as far as I can tell, he already has a family. I learned about it when I saw him and his family here in our area one time. He is still skinny, just like before, but I think he is happy, and I am happy for him.

Happy Weekend everyone! This is my entry for the Weekend Engagement Concept with a Topic; Crushing it. Feel free to join guys.

THANK YOU FOR READING!
---
---