La Voz Cantante week 56. Gloria en lo Alto. "Cristine d´ Clario. cover @rulejazmingarcia. eng/esp
---
Hola mi gente hermosa de PUKUMUNDO
Hello my beautiful people of PUKUMUNDO
Estamos en la semana 56, DE LA VOZ CANTANTE y el día de hoy les voy a interpretar una canción de Cristine D´Clario,al mejor estilo del Rockkk!! espero que la disfruten de la misma manera que yo lo disfrute.
We are in week 56, OF THE SINGING VOICE and today I am going to interpret a song by Cristine D'Clario, in the best Rockkk style!!! I hope you enjoy it in the same way I enjoyed it.
GLORIA EN LO ALTO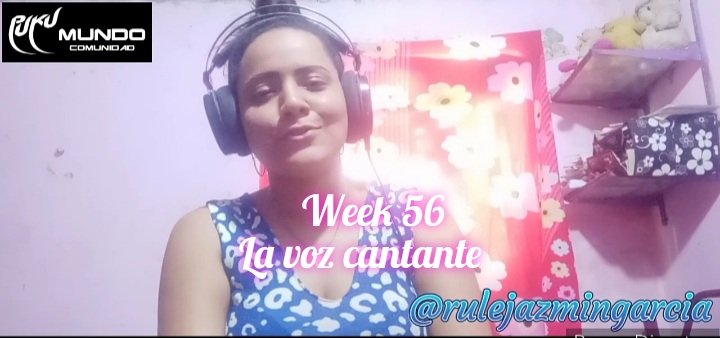 Mi gente hermosa de Pukumundo, para esta semana quise interpretar para ustedes este hermoso tema titulado, gloria en lo alto, es un tema que me deleita mucho y me complace cantar. y a su vez, para los que no los han escuchado puedan conocerla y cantarla conmigo.
My beautiful people of Pukumundo, for this week I wanted to interpret for you this beautiful song titled, glory on high, it is a song that delights me very much and I am pleased to sing, and in turn, for those who have not heard you can know it and sing it with me. .
Este hermoso tema de Cristine d´Clario llamado eterno, es un Rock muy hermoso que describe que tenemos un Dios eterno que diseño todo lo que tenemos alrededor bajo una gran perfección y que bajo ese diseño debemos de adolarle al Rey Eterno.
This beautiful song by Cristine d'Clario called eternal, is a very beautiful Rock that describes that we have an eternal God who designed everything we have around us under a great perfection and that under that design we must worship the Eternal King.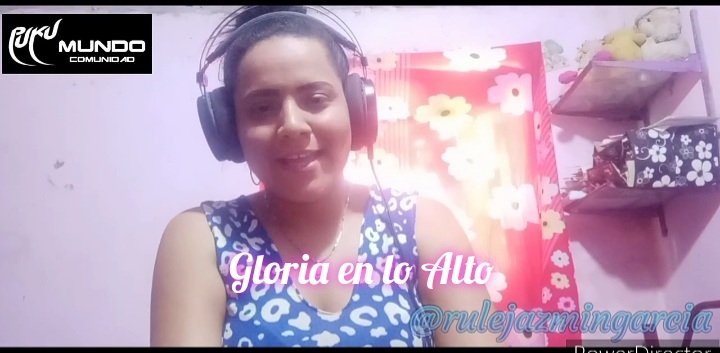 Gloria en lo Alto se refiere a esa exaltación que hacemos a ese ser supremo y grande, en esta canción esta cantante glorifica de gran manera el nombre de Dios, espero haberle agradado con este grandioso tema, que nos conecte a seguir hacia adelante, siempre sabiendo que tenemos un ser superior que nos cuida y quien debemos darle gloria.
Glory on High refers to that exaltation that we make to that supreme and great being, in this song this singer glorifies in a great way the name of God, I hope I have pleased you with this great theme, that connects us to move forward, always knowing that we have a superior being who takes care of us and who we must give glory to.
en español
Gloria en lo Alto
LETRA
Quebrantado fuiste, oh Jesús
Por mi rebelión
Resucitaste y hoy puedo vivir
Y de nuevo nacer
Cuánto amaste al mundo, Dios
Cuánto te quiero agradecer
Gloria, gloria en lo alto
Gloria en lo alto, gloria al rey
Gloria, gloria a ti, mi Cristo
Tu nombre por siempre exaltaré
Venciste el mundo pecador
Con tu gran amor (gloria en lo alto, gloria en lo alto)
Ahora el Padre te ha exaltado
Al más alto lugar (gloria en lo alto, gloria en lo alto)
Cuánto amaste al mundo, Dios (gloria en lo alto, gloria en lo alto)
Cuánto te quiero enaltecer
Y gloria, gloria en lo alto
Gloria en lo alto, gloria al rey
Gloria, gloria a ti, mi Cristo
Tu nombre por siempre exaltaré
Oh, gloria, gloria en lo alto
Gloria en lo alto, gloria al rey
Gloria, gloria a ti, mi Cristo
Tu nombre por siempre exaltaré
Tú eres digno
Exalto
Oh cordero
Digno, solo tú eres digno
Solo tú eres digno
Solo tú eres Dios
Digno, solo tú eres digno
Solo tú eres digno
Solo tú eres Dios
Oh, digno, solo tú eres digno
Solo tú eres digno
Solo tú eres Dios
Tú eres digno
Solo tú eres digno
Solo tú eres digno
Solo tú eres Dios
Oh digno
Digno, solo tú eres digno
Solo tú eres digno
Solo tú eres Dios
Oh, digno, solo tú eres digno
Solo tú eres digno
Solo tú eres Dios
Oh gloria, gloria en lo alto
Gloria en lo alto, gloria al rey
Hoy doy gloria, gloria a ti mi Cristo
Tu nombre por siempre exaltaré
Oh gloria, gloria en lo alto
Gloria en lo alto, gloria al rey
Oh gloria, gloria en lo alto
Gloria y honra
Tu nombre por siempre grande es
english
glory on high
LETTER
You were broken, O Jesus
For my rebellion
You rose again and today I can live
And be born again
How you loved the world, God
How I want to thank you
Glory, glory on high
Glory on high, glory to the King
Glory, glory to you, my Christ
Your name I will forever exalt
You conquered the sinful world
With your great love (glory on high, glory on high)
Now the Father has exalted you
To the highest place (glory on high, glory on high)
How you loved the world, God (glory on high, glory on high)
How I want to exalt you
And glory, glory on high
Glory on high, glory to the King
Glory, glory to you, my Christ
Thy name I will forever exalt
O glory, glory on high
Glory on high, glory to the king
Glory, glory to thee, my Christ
Thy name I will forever exalt
Thou art worthy
I exalt
O Lamb
Worthy, only you are worthy
You alone are worthy
You alone are God
Worthy, only you are worthy
Only you are worthy
Only you are God
Oh, worthy, only you are worthy
Only you are worthy
Only you are God
You are worthy
Only you are worthy
Only you are worthy
Only you are God
Oh worthy
Worthy, only you are worthy
Only you are worthy
Only you are God
Oh worthy, only you are worthy
Only you are worthy
You alone are God
Oh glory, glory on high
Glory on high, glory to the King
Today I give glory, glory to you my Christ
Thy name I will forever exalt
O glory, glory on high
Glory on high, glory to the King
O glory, glory on high
Glory and honor
Your name is forever great
VIDEO OFICIAL
https://
---
---