Un artista underground / An underground artist

🔸 Buenos días Hivers...Hoy es Lunes y les saludo deseándoles un buen comienzo de semana enviándoles muchas bendiciones.
🔸 Good morning Hivers...Today is Monday and I greet you wishing you a good start of the week sending you many blessings.
---
---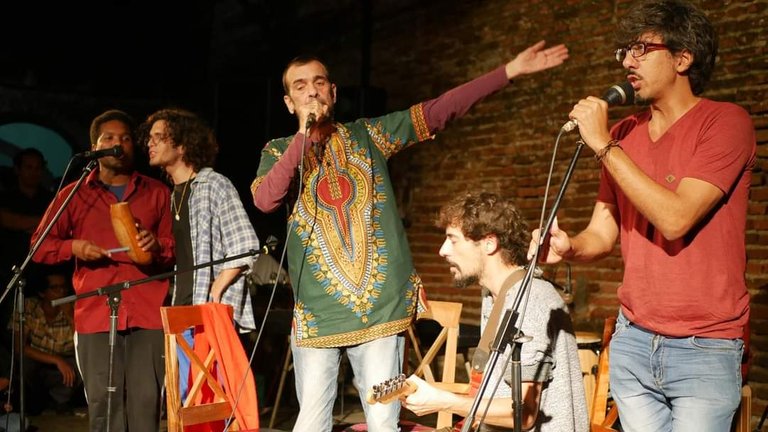 ---
---
Siempre tuve muy claro que ser un artista underground es mucho más que llevar tatuajes, piercing, dreadlocks y una pinta (rara) que te diferencie visualmente de los "artistas convencionales". Es un estilo de vida dentro del arte, una decisión que debes defender con dignidad "a capa y espada".
I always had very clear that being an underground artist is much more than wearing tattoos, piercings, dreadlocks and a (weird) look that differentiates you visually from the "conventional artists". It is a lifestyle within art, a decision that you must defend with dignity "tooth and nail".
En Cuba ser un verdadero artista del underground es muy difícil, por no decir casi imposible. Y comienza por no pertenecer (en lo que concierne a tu arte) a nada de lo regido por el estado, lo que te deja prácticamente sin opciones. Ya que aquí el estado (como se sabe) de una manera u otra; lo controla todo.
In Cuba being a true underground artist is very difficult, if not almost impossible. And it starts by not belonging (as far as your art is concerned) to anything governed by the state, which leaves you with practically no options. Since here the state (as is known) in one way or another; controls everything.
---


El simple hecho de ser un artista; lo agradezco y lo asumo como un regalo divino, no lo veo como una profesión o carrera a llevar para ganarme la vida, es más bien un "don inevitable" algo con lo que se nace.
The simple fact of being an artist; I am grateful for it and assume it as a divine gift, I do not see it as a profession or career to make a living, it is rather an "inevitable gift" something that you are born with.
---


Yo me pasé más de la mitad de mi vida (ya tengo 60 años) aprendiendo y nutriéndome del arte, andando pa'rriba y pa'bajo "a la sombra" de grandes artistas, sobre todo músicos de mi generación y de otras. Y en el fondo me alegro 😄, porque si lo hubiera intentado cuando joven; tal vez hubiera hecho una carrera profesional en la música como la mayoría de mis amigos y eso estaría en una contradicción enorme con la visión que tengo sobre el arte.
I spent more than half of my life (I'm already 60 years old) learning and nourishing myself with art, walking up and down "in the shadow" of great artists, especially musicians of my generation and others. And deep down I'm glad 😄, because if I had tried it when I was young; maybe I would have made a professional career in music like most of my friends and that would be in a huge contradiction with the vision I have about art.
---


Simplemente me considero un cantautor con una forma de componer bastante sui generis, no toco ni guitarra ni piano (lo mío es la percusión), la armonía que habita en mi cabeza va en un concepto jazzístico y libre, dándole paso a una melodía que fluye suelta y sin esfuerzo y con un ritmo interno donde el folkclore afrocubano lleva la delantera. No soy de los que me siento a ver si se me ocurre algo, ni me gusta componer por encargo u oficio, a mi la inspiración tiene que sorprenderme, y lo hace... en los momentos y lugares más inesperados 😉😁.
I simply consider myself a singer-songwriter with a rather sui generis way of composing, I play neither guitar nor piano (percussion is my thing), the harmony that dwells in my head goes in a jazzy and free concept, giving way to a melody that flows loose and effortlessly and with an internal rhythm where Afro-Cuban folk music takes the lead. I'm not one of those who sits down to see if I can think of something, nor do I like to compose on demand or by trade, inspiration has to surprise me, and it does... in the most unexpected moments and places 😉😁.
---


‌Hubo una época en que soñaba la música y me despertaba como un sombi para grabar las ideas con una pequeña grabadora de periodista que tenía en mi mesita de noche, terminaba y me volvía a dormir sabroso, después al otro día valoraba y les daba forma 😎. A veces se hacía la magia, la música y el texto venian cogidos de la mano, así... ¡ de un tirón !.
There was a time when I dreamed the music and I woke up like a sombi to record the ideas with a small journalist recorder that I had on my bedside table, I finished and went back to sleep tasty, then the next day I evaluated and gave them shape 😎. Sometimes the magic happened, the music and the text came hand in hand, just like that.... all at once!
---


El inmenso respeto que siento por la poesía y la música me hace ser muy quisquilloso con las letras, armonías y melodías de mis canciones y eso se convierte en un rigor un poco incómodo que demora bastante el resultado final.
The immense respect I have for poetry and music makes me very picky about the lyrics, harmonies and melodies of my songs and that becomes a somewhat uncomfortable rigor that delays the final result.
---


Sin más; hoy les traigo el texto de una canción de mi autoría que titulé "Underground" y explica lo que soy en relación al arte, y así se aclara un poquito más lo que quiero mostrarles en esta publicación.
Gracias miles por su tiempo de lectura y como siempre les mando un saludo cariñoso desde La Habana...
Without further ado; today I bring you the text of a song of my authorship that I titled "Underground" and explains what I am in relation to art, and thus clarifies a little more what I want to show you in this publication.
Thank you very much for your reading time and as always I send you a warm greeting from Havana....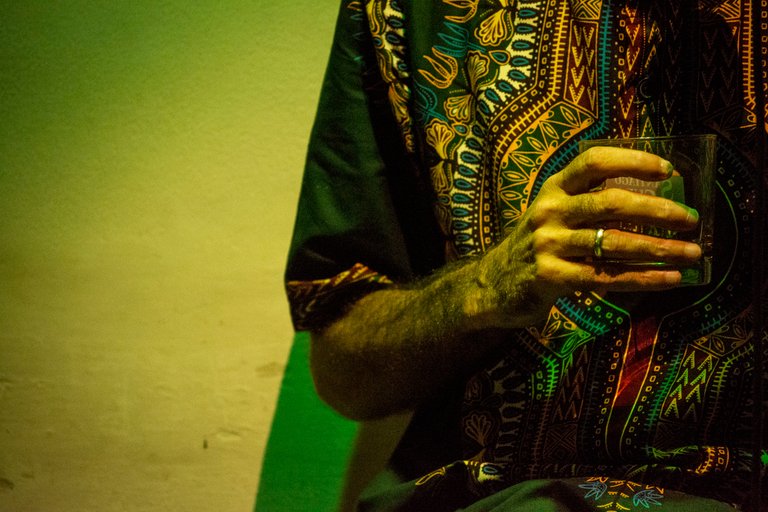 ---
UNDERGROUND
‌
Es en el underground
donde estoy mejor
sintiendo el traqueteo
de mi corazón.
El verso arrabalero
no pierde su voz
si salen de la "bomba"
el Quinto y el cajón.
Quedarse en esta tierra
tiene otro color
lanzando entre las nubes
la imaginación.
Maria en Uruguay
Noriko en Japon
jazzear en Nueva Orleans
rumbear por el Bronx.
Vanito guarachando
y el Boris "dando caña"
Medina y Alejandro
luchando allá en España.
Y ahora que encontré
mi camino y mi ser
sigo fraseando
esas canciones de ayer.
Siempre lejos
de la sombra partidaria
no permito
que me metan en un saco
ni me alineo
ni conspiro
ni me voy
alalalala.
Solo digo lo que pienso
en mis canciones
la mentira y la verdad
son relativas
ni me alineo
ni conspiro
ni me voy
alalalala.
Y es en el underground
donde estoy mejor
escribo poesía
alquilo habitación
y pago mis impuestos
con resignación
contando estrellas
desde mi balcón.
La Flaca en Alemania
Silvita está en Finlandia
se agolpan en el pecho
lucecitas del alma
y ahora que encontré
mi camino y mi ser...
sigo fraseando
esas canciones de ayer.

✍️ JC Piñol @rumbapoet
---
---
---
UNDERGROUND
It is in the underground
where I am at my best
feeling the rattle
of my heart.
The arrabalero verse
does not lose its voice
if they come out of the "bomba
the Quinto and the cajón.
Staying in this land
has another color
throwing between the clouds
the imagination.
Maria in Uruguay
Noriko in Japan
jazzing in New Orleans
partying in the Bronx.
Vanito guarachando
and Boris "dando caña
Medina and Alejandro
fighting back in Spain.
And now that I have found
my way and my being
I keep phrasing
those songs of yesterday.
Always far away
from the partisan shadow
I do not allow
to be put in a sack
nor align myself
nor do I conspire
nor do I leave
alalalalala.
I just say what I think
in my songs
lies and truth
are relative
I neither align myself
nor do I conspire
nor do I leave
alalalalala.
And it is in the underground
where I am at my best
I write poetry
I rent a room
and pay my taxes
with resignation
counting stars
from my balcony.
La Flaca in Germany
Silvita is in Finland
the lights of the soul
little lights of the soul
and now that I have found
my way and my being...
I keep phrasing
those songs of yesterday.


✍️ JC Piñol @rumbapoet
---
---
My native language is Spanish, this text is translated with Deepl.com in its free version.
---
---
Las imágenes fueron tomadas por María José Minatel y pertenecen a mi archivo personal.
The images were taken by María José Minatel and belong to my personal archive.
---
---
---