Back home!
Our quick weekend getaway ended and we returned home on Sunday evening. As a new week began, we decided to have lunch out after Trumpman finished work. We met at a nice place we like to hang out at by the park. The atmosphere there is very nice, plus we get the chance to let Little Man play at the park (in other words run around like crazy with one of us running after him and trying to prevent him from putting things in his mouth).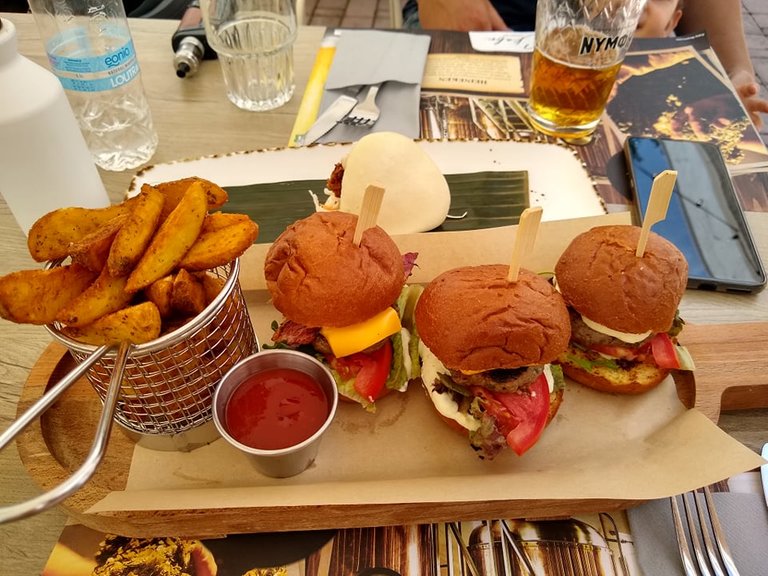 This time we didn't make it on time to get the brunch platter as they serve it only until 14:00 (after all it was lunch we were out for), so we chose to try some mini burgers.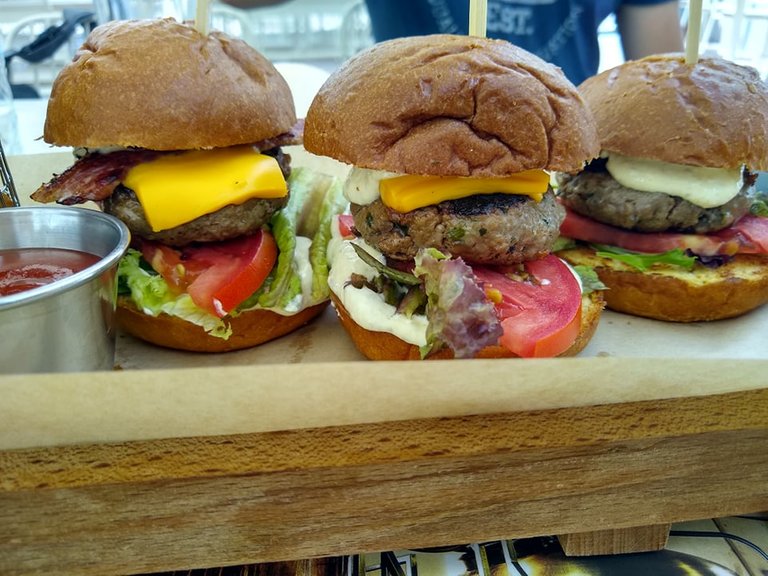 Three mini burgers made with brioche buns, sauce, tomato, lettuce, beef burgers and cheddar cheese. These little sins were really good! Balanced ingredients, delicious burger and sauce, the only bad thing about them was the size, since they were very small and when you tried to have a bite things started to fall unless you held your food tight and with both hands.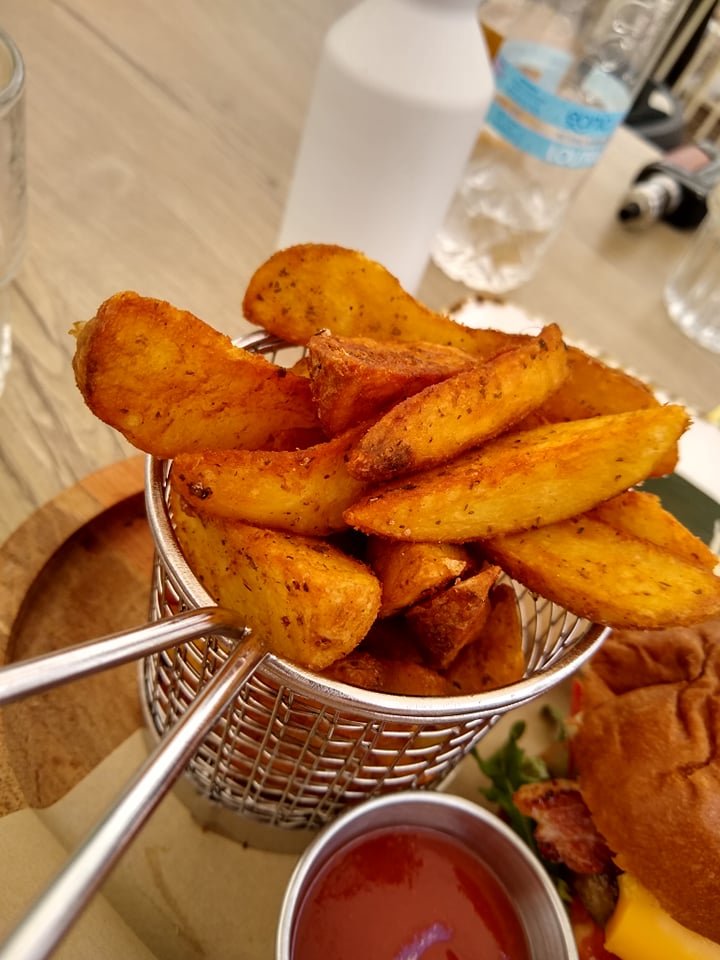 Country potatoes and ketchup on the side... Nothing much here, the usual country potatoes recipe, they were as good as they could be. Maybe some barbeque sauce would be more suited for my taste instead of ketchup I think, but I'm not sure. I just felt that something was missing.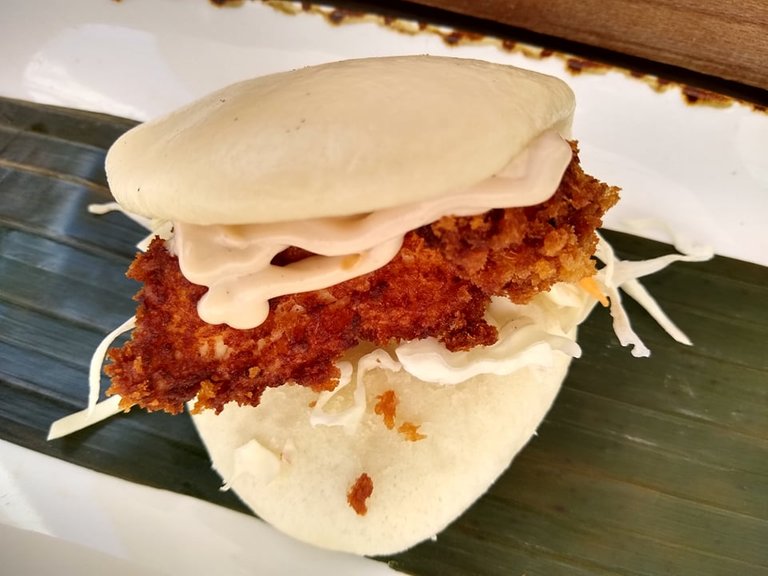 Oh, we also saw this little sandwich on the menu and got intrigued by the description. I don't remember the name, but I can tell you it was a fluffy bun (that felt a little more soggy than I expected) filled with crispy fried chicken (which was very nice and I wished I could have a whole fillet cooked like that), cabbage that had gone dry and a sauce that was very tasty although in a small amount (for me, they should have added some sauce right beneath the cabbage because it was too dry and felt like it didn't belong there). All in all, despite the cabbage, It was an interesting choice, I'd like to have it again.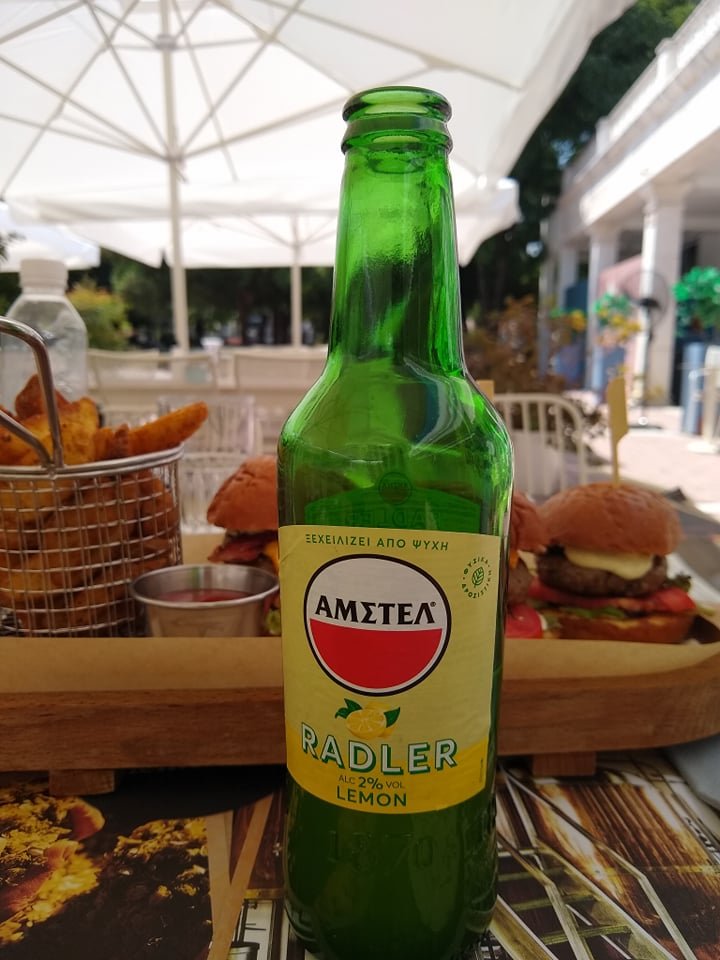 And because a proper meal is not complete without a drink, I chose a radler beer (beer, more like a lemonade with a beer aftertaste to be honest). It's a great, cool choice for the summer since alcohol makes you sweat whereas ice cold lemonade feels really refreshing and sometimes I feel like I could drink whole jugs at one sitting.
We had dessert too (on the house, as we already felt too full to order anything else). Trumpman took a photo of it but I forgot to tell him to send it to me. The manager treated us to a creme brulee served with a scoop of chocolate ice cream. A nice comparison between the warm cream and the cold ice cream. I need to find the photo and upload it tomorrow. For now, I'll hit the hay as a new day will dawn in a few hours and Little Man will need someone to run behind him all day while he tries to climb on every piece of furniture around the house.
Goodnight!
---
Original content by @ruth-girl - All rights reserved
---
---