Pakistan Cricket Team : Most Unpredictable cricket team in the world.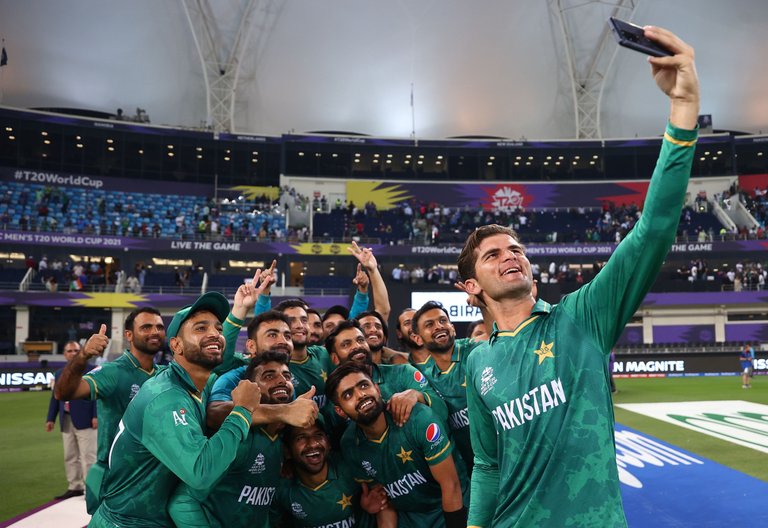 Source
Context: What a momentous day for Team Pakistan at the T-20 World Cup in India. First time in the history of the T-20 World Cup, they defeated their archrivals India. They also sought retribution in 2007, when Misbah was on the verge of winning the match for team Pakistan but ultimately fell short. But yesterday it was a great win for team Pakistan. And it was heartwarming to watch members from both teams gather around one another after the game ended. Let's take a look at the match's recape as well as the conversation that followed.
Post Match Discussion :
Pakistan's bowling lineup has always been strong, and they demonstrated it once again in this encounter. Shaheen Afridi was the standout performer in the bowling department, taking the wickets of Rohit Sharma and KL Rahul, as well as Virat Kohli later in the innings. As a result of his efforts, Pakistan was able to keep India's total to less than 160 runs, which was a poor score considering the dew factor in the United Arab Emirates at the time. This is an extremely important component for the chasing squad because it will provide them with advantages. Because of the dew element, the bowl will come to the bat really nicely. As a result, Team Pakistan did an excellent job of capitalizing on the opportunity. But who could have predicted that they would achieve such high levels of perfection? With their batting, Babar Azam and Mohammad Rizwan saw Pakistan through the match and claim the victory. Who would have believed they'd be able to bat their way through the match? In fact, they were far too polished and outstanding during the entire contest. For Pakistani fans around the world, yesterday was like an Eid celebration when their team defeated the Indians for the first time in the Twenty20 World Cup. And what makes you think it wouldn't be?
Another point I'd want to bring up is the fact that the players are being harassed and trolled by the fans. Following the match, Indian cricketer Mohammad Shami was subjected to a barrage of abuse. Cricket is regarded as a gentleman's sport. You are not allowed to mention anything that would harm the players. Everybody has a family, and they are all successful in their fields. Because you are not in the field, you will not be able to gauge the pressure and environment that exists there. So, before you say something to a player, consider your words carefully.
---
---