My DCity Update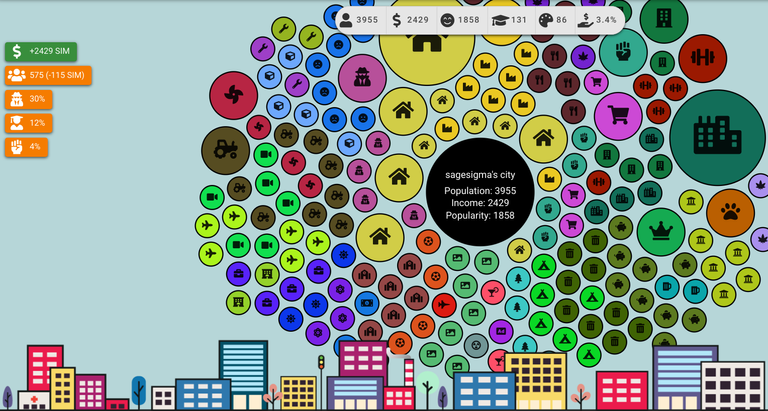 Well, I'm changing strategies, yet again. Thanks to some much-appreciated advice from @jrcornel (thanks again, my friend!), I've focused my attention on getting as many income-producing First Edition cards in the short term future. I have plenty of bodies available for work for the time being; I don't need to get any more basic house/luxury houses for a bit. With that said, once I was rewarded 2,245 SIMs for my #DCity simulation, I ran a quick matrix on some income-producing First Edition cards. Here is what that looked like: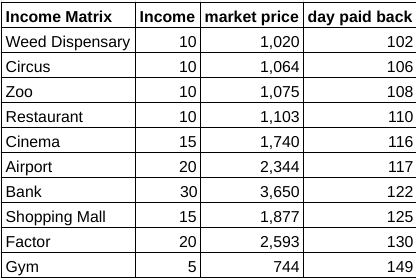 As there were no Weed Dispensaries available, I opted to use my daily SIM income to invest in a Circus and in a Zoo. That netted me roughly 20 SIM more a day, dropped my unemployment rate to 14.58%, and improved my DCity popularity. My plan is to continue to use this updated matrix daily to spend my SIM cash. So for this demiurge, immaterial gnosis not required - who cares about finding Sophia? It's all about generating more SIM at this point. My Archon matrix now looks as such since the Great Thanksgiving 2020 Reset:

Not bad, not good, but it's something to keep track of going forward. My assumption is that once First Edition cards are discontinued, they will more or less be available for a premium in the future. If you are still not playing this game, I would highly recommend you check it out. Much more value-added than something like buying a ton of Pillar.
---
---