Alby Zalmi Ladies Road to SM-Veckan Champions | Umeå 2023

SM-Veckan (Svenska Mästerskap) is a sports event held in Sweden every year and includes tournaments in every sport, which is played within a week. Consistently in past years cricket has been included in SM-Veckan where not only mens cricket, but also women's cricket is played. This year SM-Veckan was decided to be played in Umeå.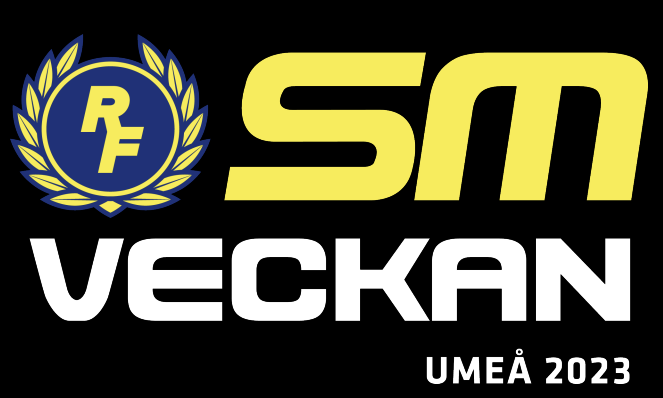 Picture by Bangolf
How to Qualify for SM-Veckan
The Swedish Cricket Federation made a group of five teams where each team would play four matches, and the top two teams would therefore go on to play the SM-Veckan. Remember that the format was T10 which means 10 over match. Winning the SM-Veckan means that you are the Swedish Champions, which is a dream for every club.
This year, as said before, Umeå was the hosting city and cricket was scheduled to be played 30 june-1 july. First achievement for Alby Zalmi ladies team was to qualify from the five teams placed in their group and to furthermore keep their form, to then travel to Umeå and win the final. So, let's take a look at the amazing journey they had.
Team Squad
Captain: Areeba Khan
Vice Captain: Tzoulietta Zilfidou
Players: Asma Khalil, Deepa Joshi, Eman Asim, Fatima Zahra, Haya Noor, Laiba Raja, Marwa Abdul Qader, Meghana Alugunoolla, Sabeen Nawaz, Safa Fazal Qader, Sara Nawaz, Signe Lundell, Ramiza Bhalli, Aqsa Ahmed.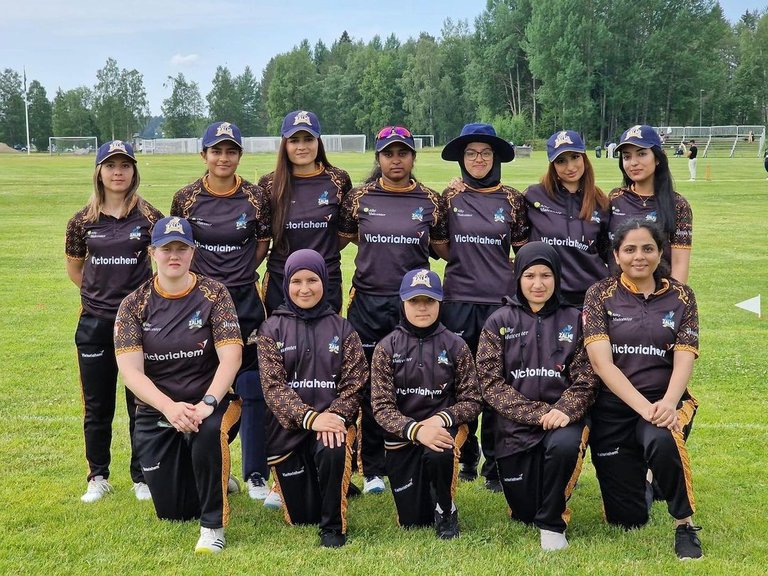 Group Matches
Alby Zalmi Ladies had their first match against Stockholm CC Ladies and as there were only four group matches there was no room for settlement or mistakes. First match is always stressful because you want to make a bright start to both lift the morale and get rid of the pressure you have for the qualification. Winning the toss would mean that you can follow the plans you had and put a bit of pressure on the other team, but unfortunately Stockholm CC Ladies won the toss and elected to bat. Despite losing the toss, Alby Zalmi Ladies bowled tight and didn't give any chance to the opposition team to score big at all. Signe Lundell took four wickets and had an economy of 3.50 in her two overs. At the same time Haya Noor and Asma Khalil took a wicket each to maintain the pressure on Stockholm CC Ladies. Stockholm CC Ladies managed to make 56/8 in 10 overs and Alby Zalmi Ladies had to make 57 runs to win the match. As the bowling was incredible they're job was to play calmly without risking to give out wickets, and just so, the openers Fatima Zahra & Signe Lundell chased down the target within 2.3 Overs, with Signe Lundell scoring 29 runs off just 10 deliveries and with an Strike-Rate of 290. Signe Lundell was Player of the Match and Alby Zalmi Ladies announced their arrival to the tournament with an incredible and comfortable win.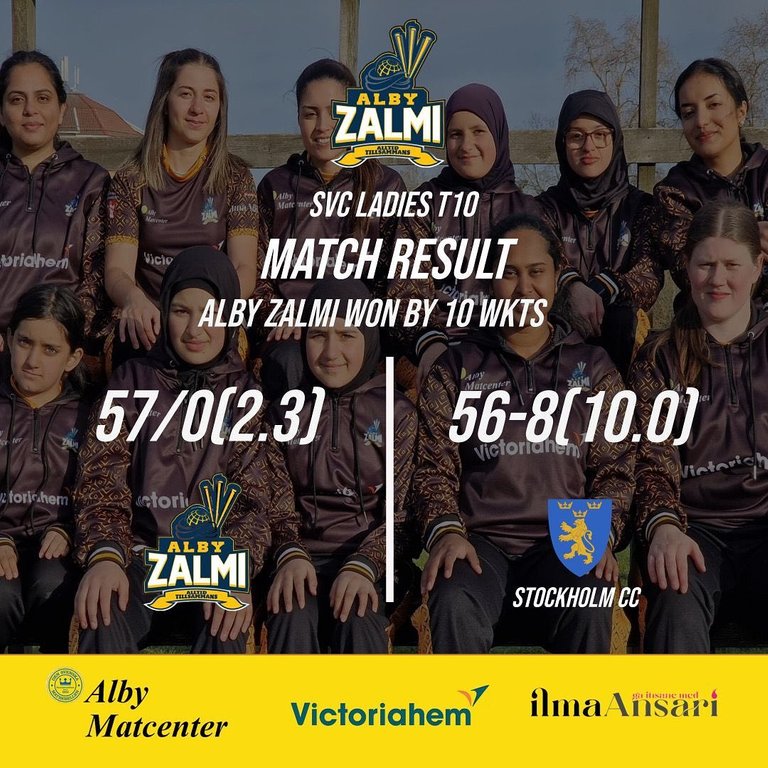 Second match for Alby Zalmi Ladies was against Västerås CC Ladies. Västerås CC Ladies were playing their first match of the group stage, unlike Alby Zalmi Ladies who had played one match and were in great form. Unfortunately, yet again Alby Zalmi Ladies lost the toss and Västerås CC Ladies elected to bowl. Alby Zalmi Ladies had a great start and managed to score 90 runs in 10 overs, where Eman Asim was the Highest-Scorer for the team with 23 runs of 30 deliveries but unfortunately got Retired Hurt. In the death overs Tzoulietta Zilfidou and Meghana Alugunoolla made a partnership of 23 runs to get Alby Zalmi Ladies to a solid 90 runs. Västerås CC Ladies started the innings safely, slowly and steadily without losing any wickets and managed to reach the target of 91 runs with just two deliveries to go. Safa Fazal Qader bowled beautifully with one maiden over and with an economy off just 2.50 and was also the Player of the Match. A tight match and some lessons and learnings to keep in mind for the upcoming matches for Alby Zalmi Ladies.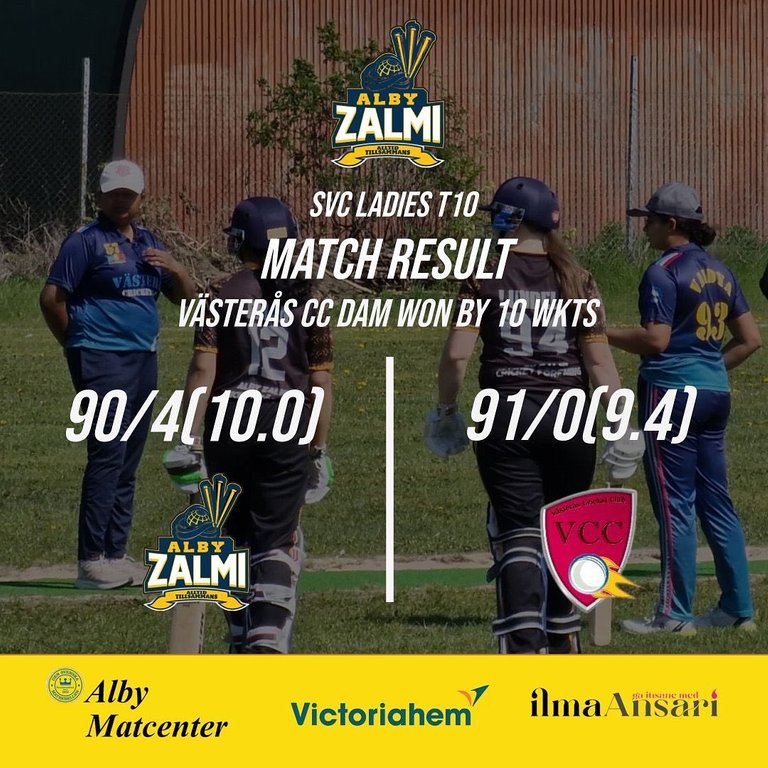 The third match was against Trident Women XI, but the match was forfeited by them which meant that Alby Zalmi Ladies were handed the winning two points.
The last match was against last year SM-Veckan Champions Djurgården IF Ladies. The situation was very dramatic, both Alby Zalmi Ladies & DIF Ladies had 4 points and as Västerås CC Ladies were unbeaten they were already qualified, which meant that the team that wins this match goes through to SM-Veckan. When it mattered the most, Alby Zalmi Ladies won the toss and elected to bowl. Alby Zalmi Ladies did not only make individual contributions but also made team effort with 2 run-outs, which shows how exceptional they were in the field. Meghana Alugunoolla took two wickets and Eman Asim with one wicket and an economy of 5.50. Alby Zalmi Ladies had to make 68 runs to win and progress to SM-Veckan. Alby Zalmi Ladies started well and the score after 9 overs were 61/2, which meant that they needed 7 runs on 6 balls to win the match. Signe Lundell was on 32 runs for 25 deliveries and Meghana Alugunoolla was on 1 run for 1 delivery. First ball went for a single, second ball was a wide, then a dot ball, third ball single, same on the fourth ball. Now there were 2 balls left and 3 runs required, Signe Lundell strikes the ball they push for a single but Meghana Alugunoolla gets run out which makes it harder for Alby Zalmi Ladies to win the match. Tzoulietta Zilfidou comes into the pitch and Signe Lundell is on the strike, Alby Zalmi Ladies now need 3 runs from 1 delivery. Signe Lundell strikes the ball and gives everything to push for one, they then get a chance to take the second but that's it and the match ends in a draw between Alby Zalmi Ladies and DIF Ladies. There was only one thing that could decide who will be going to SM-Veckan, and that was Net Run Rate. DIF Ladies with 5 points had a Net Run Rate of 1.1546 & Alby Zalmi Ladies with 5 points had a Net Run Rate of 2.2976 which meant that Alby Zalmi Ladies were headed to the SM-Veckan in Umeå 2023 together with Västerås CC Ladies. Signe Lundell scored in total 35 runs off 29 deliveries and was the Player of the Match for the final game of the Group Stage.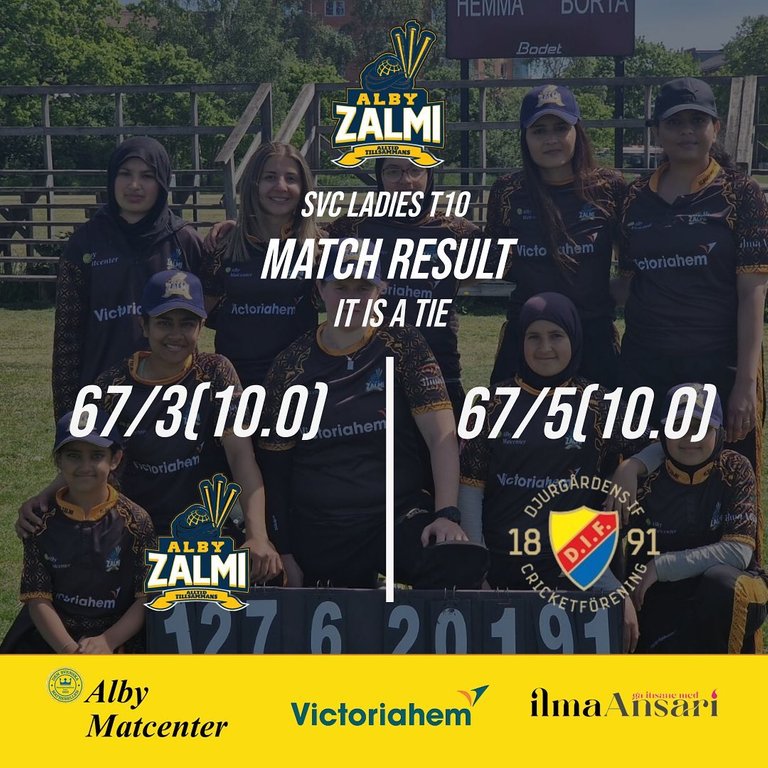 Group Stage Stats
In terms of batting Signe Lundell was the Second Highest Run-Scorer with 78 runs in 3 matches and had the Highest Strike-Rate of 162. Eman Asim was 6th place with 42 runs and Meghana Alugunoolla had 3rd highest Strike-Rate of 136.
In terms of bowling, again Signe Lundell, this time topping the chart with 4 four wickets as well as being the Highest-Ranked player with 518 points in total.
SM-Veckan
The structure was like this for the SM-Veckan, that Västerås CC Ladies and Alby Zalmi Ladies were going to play best of 3 matches, so the team that wins the most will be crowned as Swedish Champions.
First match of the SM-Veckan against the team Alby Zalmi Ladies lost against in the group stage, which also meant that they would have more confidence they had already beaten Alby Zalmi Ladies before and were unbeaten throughout the group stage. Alby Zalmi Ladies won the toss and elected to bowl first in order to put some pressure early in the match. Alby Zalmi Ladies bowled and fielded really well and restricted Västerås CC Ladies to 54 runs, Eman Asim and Asma Khalil, both took two wickets each and had an economy of 3. Alby Zalmi Ladies looked very comfortable to chase this and by scoring 8 runs every over they chased the target within 6 overs and claimed the first victory. Eman Asim this time with the bat scored 21 runs off 17 deliveries and deservedly got the Player of the Match Award.
Going into the second match, Alby Zalmi Ladies were ahead and in control to secure the title by winning this match whereas Västerås CC Ladies were in pressure to comeback to tie for the last decider. Once again Alby Zalmi Ladies won the toss and elected to bowl, going with the same tactics as the first match. Yet again, a super bowling unit managed to restrict Västerås CC ladies to 43 runs and the highlight was Fatima Zahra with a Hattrick! Alby Zalmi Ladies easily without risking it chased down 44 runs in 7 overs to confirm the title and just wait till the end of the third match to therefore get the title celebrations going. Fatima Zahra with the incredible Hattrick was named the Player of the Match as well
The third and also the last match of SM-Veckan Ladies, this was only a consolation match as Alby Zalmi Ladies had already won the best of 3 finals by leading 2-0. One important thing to mention, huge respect for Västerås CC Ladies to still play the third match for the crowd and cricket instead of giving a walk over or anything. Alby Zalmi Ladies won the toss elected to bat first. Alby Zalmi Ladies managed to score 89 runs in 10 overs with Meghana Alugunoolla scoring 32 runs off 31 deliveries and with the help of Eman Asim who scored 27 runs off 21 deliveries. In the second innings Västerås CC Ladies could only score 24 runs and the top bowlers were Signe Lundell with two wickets and Haya Noor with one wicket. Player of the Match was handed to Eman Asim for a great all round performance.
Now was the time where the whole Alby Zalmi Ladies team and Alby Zalmi Family could celebrate the victory by lifting up the trophy and announce themselves as the Champions of Sweden. From losing the Semi-Final in SM-Veckan 2022 to keeping the heads up, wait a whole year, practice more and harder and finally get the reward by beating all the clubs convincingly and being the Swedish Champions. Alby Zalmi Ladies has definitely made the whole Alby Zalmi Family proud.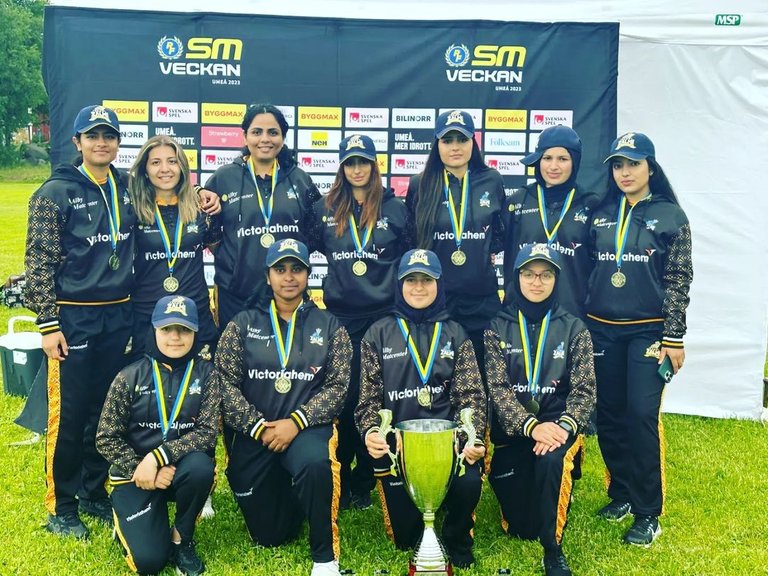 ---
---