Alby Zalmi Road to Champions | Saif-ul-wahab
European Cricket Network:
European cricket network is Europe's biggest and leading cricket event founded by Daniel Weston. Their main goal is to promote cricket in Europe and has made European Cricket Network the Champions League of cricket. Having different editions of tournaments such as Dream11 European Cricket Championship (ECC) where 35 countries play against each other to be the best cricket team in Europe. Dream11 European Cricket Championship (ECC) where one team from the 35 member countries gets qualified and represents its country in Dream11 European Cricket Championship (ECC) to become the best club team in Europe.
Winning the Swedish T10 cup and becoming the best team in Sweden. Alby Zalmi were now headed to Europe's biggest tournament representing Sweden to compete against top clubs. European Cricket Network announced the group, and there were 5 groups each one having 6 clubs. Alby Zalmi was put in Group D having some of the toughest teams, such as last year's champions V.O.C Rotterdam. One team would win its group and then play against the other teams in the Championship Week to win the whole tournament.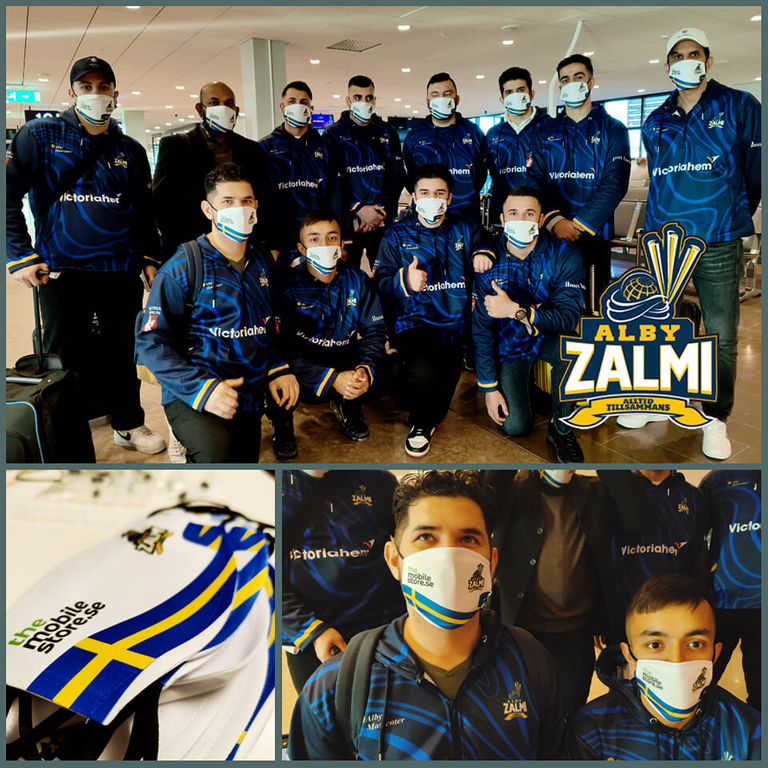 Photo credit @shahzad-ansari
Team Squad:
Team Manager: @shahzad-ansari
Coach: Pubudu Keppetiyawa
Team Captain: Raheel Khan
Batsman: Raheel Khan, Shahed Ali, Zabihullah Niazy, Saad Nawaz, Taj Hussain, Basir Sahebi, Mashal Khan, Ismaeel Zia
Bowler: Lemar Momand, Usman Jabbar, Faseeh Choudhary
All-rounders: Azam Khalil, Sami Khalil, Qudratullah Mir, Aman Zahid Khan, ZiaKhan Alozai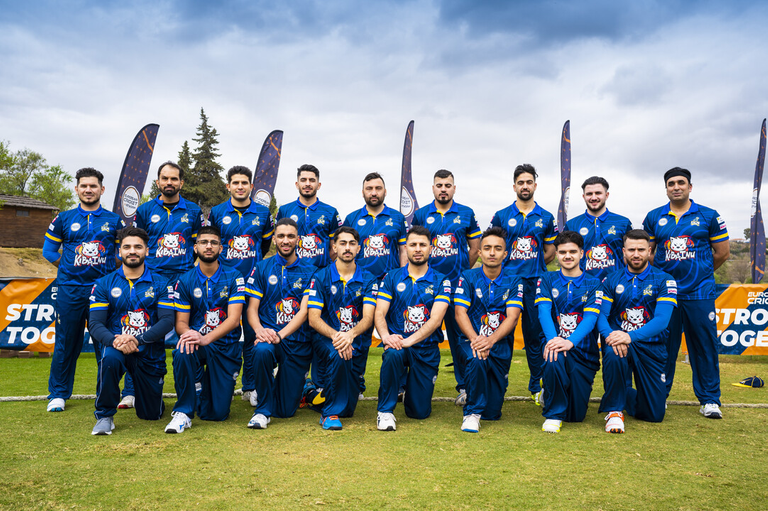 Photo Courtesy Diana Oros ECL
Let's take a look a look at Alby Zalmi road to Champions:
Group Matches:
Alby Zalmi 's first match was against the Belgian Champions Ostend Exiles, a dangerous team with a great batting unit and bowling unit as well. Exiles won the first battle, which was the toss and elected to bowl first. Already in the beginning Exiles started taking some wickets which saw Alby Zalmi in a bit of pressure, despite Azam Khalil taking the stand scoring a brilliant half century in only 31 deliveries and got support from ZiaKhan Alozai who scored 24 runs off just 13 balls. Sohail Chaudhary with the wickets for Exiles (2) and being the most Economical bowler with an average of 5.50. The target was now set to 97 and Alby Zalmi had to defend that to win their first match of the group. ZiaKhan with amazing variation and performance took 2 wickets and gave away 20 runs in his complete over, despite a great bowling performance by Alby Zalmi the Exiles beat them by 6 wickets because of an amazing opening stand and cameo by Sulaiman.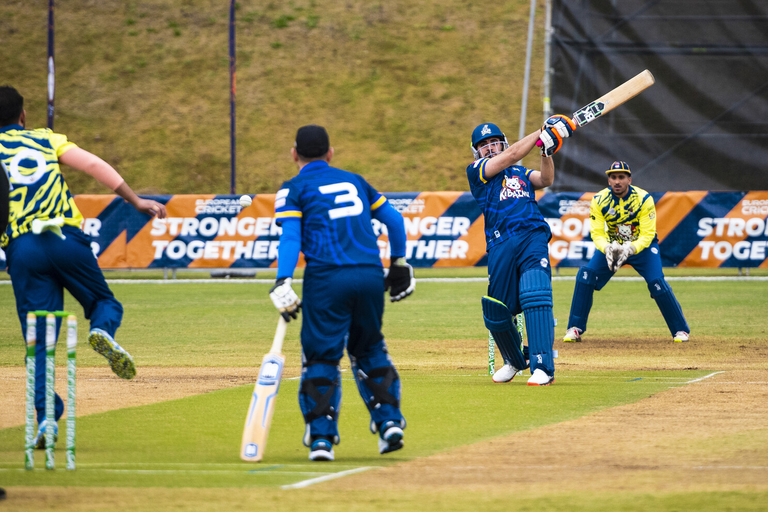 Photo Courtesy Diana Oros ECL
Match number 2 was against the giants of the group Calpe Giants. Calpe Giants were about to play their first match and it was against Alby Zalmi, which also meant that they weren't as prepared as Alby Zalmi were. Same as the Exiles match, Alby Zalmi lost the toss and were put to bat again second time in a row. This time Alby Zalmi batted till almost the last man and a contribution from the whole team saw them score 109 runs which was the first in the group a team scored over 100 runs. ZiaKhan slapping the bowler and hitting sixes and fours for fun saw him to 55 runs on just 28 deliveries. Alby Zalmi now needed a good bowling performance from the bowlers to be able to win the match, and just like that Tas Qureshi getting two crucial wickets, with Ziakhan Alozai and Azam Khalil contributing with one as well. Even though Alby Zalmi bowled well it was a close match and saw them winning the match by 6 runs. This was Alby Zalmi first win out of many to come.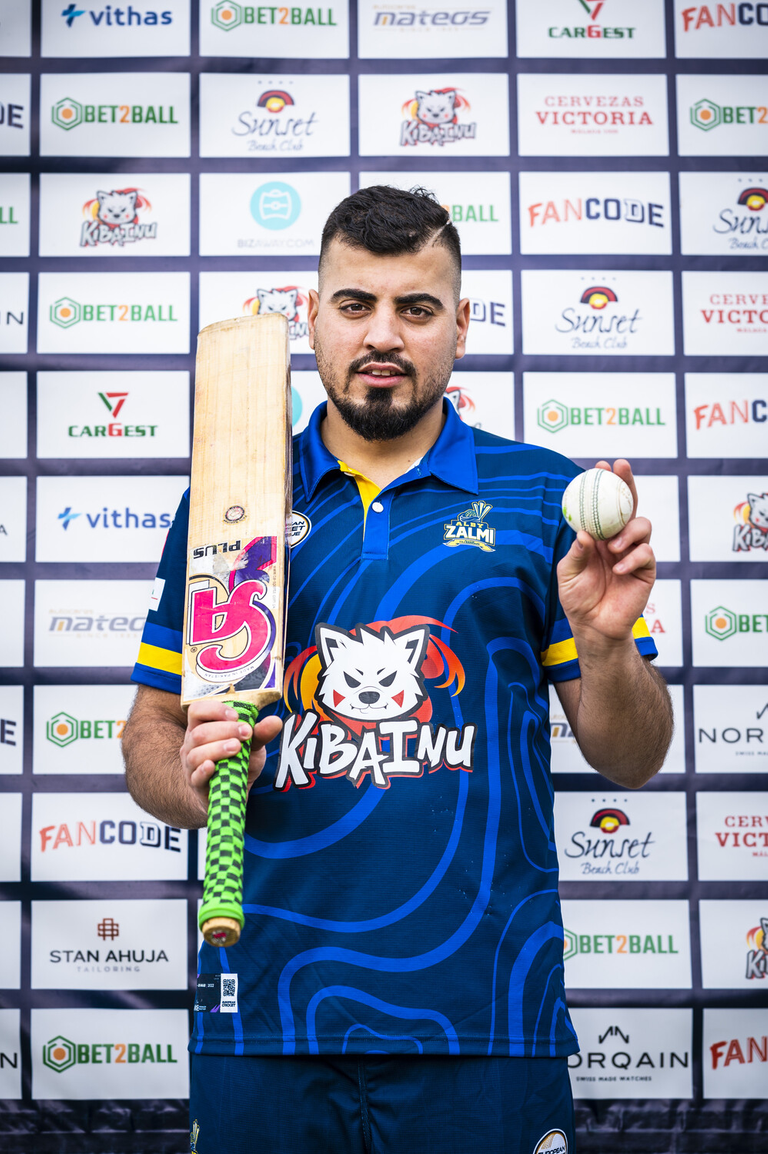 Photo Courtesy Diana Oros ECL
Third match was against the german team MSC Frankfurt, an amazing and difficult team with the likes of Shahid Afridi, Waled Khan and Daud Muhammad. This time again Alby Zalmi lost the toss and MSC Frankfurt elected to bat. MSC Frankfurt hammered it and two of their batters got more than fifty runs, because of that they got to an incredible 125 runs. Now Alby Zalmi needed 125 runs and 13 runs per over which could only be done by a miracle. Unfortunately the match didn't end in Alby Zalmi's favor and they lost the match by 42 runs.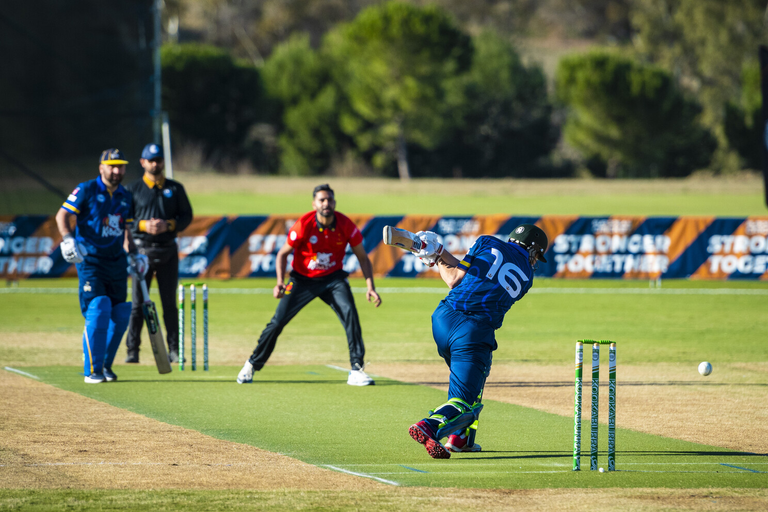 Photo Courtesy Diana Oros ECL
The fourth match was against the defending champions V.O.C Rotterdam. A team coming in with a lot of experience and confidence as they are the former champions. Fourth match in a row Alby Zalmi couldn't win the toss and this time they had to bat first. A different batting line up where Taj Hussain led the team by scoring 20 runs in 15 deliveries and Azam Khalil scoring 24 runs in only 7 deliveries and hitting 3 sixes and 1 four. Even though 90 runs seems like a defendable score, the defending champions still handled it because of their openers and won the match against Alby Zalmi by 7 wickets.
Fifth and the last match was against Malta Kings, Malta and Alby looked like a very similar team in terms of result and now Alby Zalmi had to finish off the group matches on a high. This time around we took the win and it was a difficult match. Alby Zalmi won the match by 4 wickets.

The Format of this tournament was different, the top three teams in the group had 3 chances to get to the final, whereas the rest of the 3 teams had only one chance. Because Alby Zalmi finished fourth they had to win all of their 3 remaining knockout matches to reach the final.

Now coming to the Eliminator 2, it is a must win match for Alby Zalmi to progress in the tournament. This match is against Malta Super KIngs and you could say that both the teams have been on a same kind of run, not only that but the team that wins this match is going through. The tradition continued and Alby Zalmi lost the toss and Malta Super Kings elected to bat. Tas Qureshi being the dangerman and taking 2 crucial wickets and being the most economical bowler in the match, the rest of the bowling unit was as economical and restricted Malta to 81 runs. Alby Zalmi now needed 82 runs to qualify for the playoffs and despite their recent run, the batting order was extremely excellent. Everyone batted well but Ismail Zia the match winner scored 15 runs in just 5 deliveries and had a strike rate of 300 which is incredible. The team came up at the right time and secured the place for Eliminator 3.
Now comes Eliminator 3 where we will face V.O.C Rotterdam, a team we lost against in the group matches. As i said from now on every match is a must win. Of course Rotterdam was confident as they won last time around against Alby Zalmi and Alby had to prove everyone wrong. A close match came to an end and even though you couldn't tell who would win till the last ball, Alby Zalmi knocked Rotterdam out and had only one hurdle to pass and that was Qualifier 2.
Here comes Qualifier 2 where Alby Zalmi will face the Belgian giants again. Ostend Exiles just lost their match to Frankfurt and only one team would go to the final from here on. Despite winning the toss for some time, Alby Zalmi lost it this time and Exiles elected to bat first. A great bowling performance saw Alby Zalmi restrict Exiles to 77 runs, as we can see the previous matches were high scoring matches which means that this was chaseable. A captain's knock and some excellent hitting by Ismail Zia saw Alby Zalmi go through to the Finals of the European Cricket League.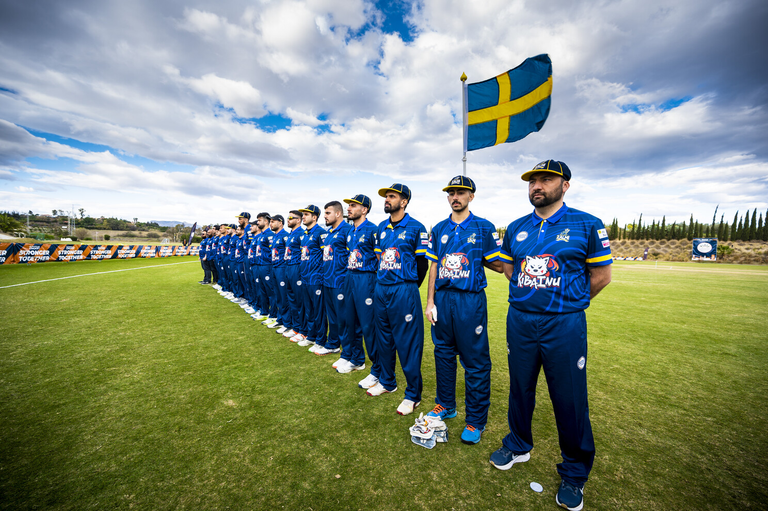 Photo Courtesy Diana Oros ECL
The stage was set, every team and fans were there to support the two teams, Alby Zalmi and MSC Frankfurt. Alby Zalmi represented Sweden, and needed to win the match against an unbeaten German team.
The toss, something Alby Zalmi didn't have much luck with, but in the final you never know what happens. This time Alby Zalmi won the toss and elected to bowl. The perfect decision by the team because the fast bowlers did not give any room for the batters to put runs on the scoreboard. The likes of Shahid Afridi and Waleed Khan couldn't do anything against Lemar Momand and our highest wicket-taker Tas Qureshi. Alby Zalmi had to chase 66 runs to win the match, but of course Frankfurt were still in the mood to win the match. The top order was not in control as Alby Zalmi lost early wickets as Frankfurt did in their inning. In the last 6 balls Alby Zalmi needed 8 runs, a difficult task to complete.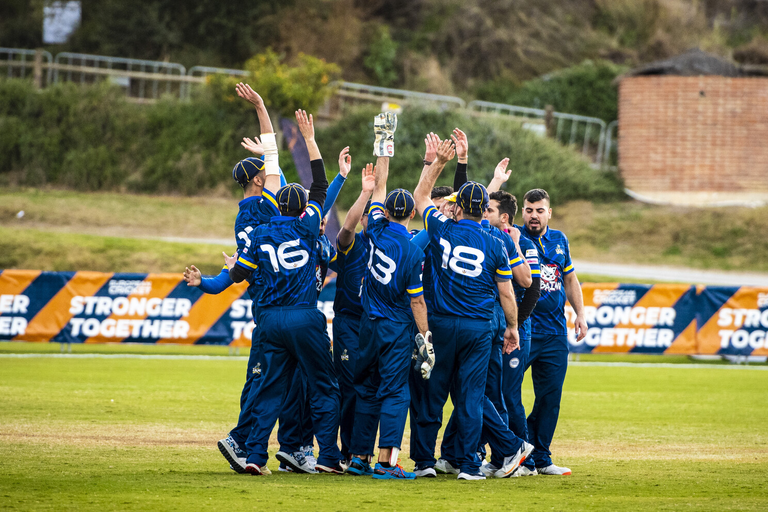 Photo Courtesy Diana Oros ECL
Usman Jabbar and Lemar Momand the bowlers batting for Alby Zalmi. First ball and they took two runs by a miss field from the Frankfurt fielder and that eased the pressure from the batters. Now needing 6 runs off the last 5 balls to win the group. The bowler looked stressed and so was our batsmen. Second ball and … unbelievable 4 runs and Alby Zalmi could be winning the match. Now needing 2 runs on the last 4 balls. Third ball can they take 2 runs no they only run for a single and now one run can settle the game for Alby Zalmi. Tensions everywhere, bowler coming towards the batsman and and and …. Yes they take a single and Alby Zalmi are the Champions of group D. Everyone ran around and screamed with joy. They have made everyone proud and now they are the Champions.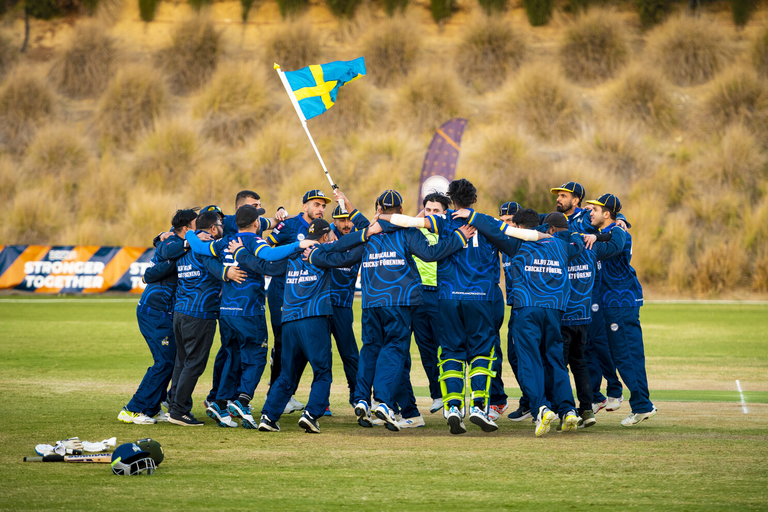 Photo Courtesy Diana Oros ECL
Being the champions of the group in most dramatic fashions Alby Zalmi then headed to the Championship week of the European Cricket League and faced 4 other group champions. Unfortunatelly the team couldn't win the whole tournament, but seeing them playing at such a big stage made everyone of us proud. Second time they traveled to play the Championship Week I was there as well, so that's just an hint for maybe an upcoming blog.

This artice was first written by me on March 13, 2022 days after the team came back from the tournament. I published the article on
Linkedin
and wanted to now share it here on Hive, this time I rewrote it just to make the blog more detailed and interesting for you guys. Just to conclude i would like to share one thing I mentioned to the team and in my article,
Matches can be won and lost but winning people's hearts is like winning the title.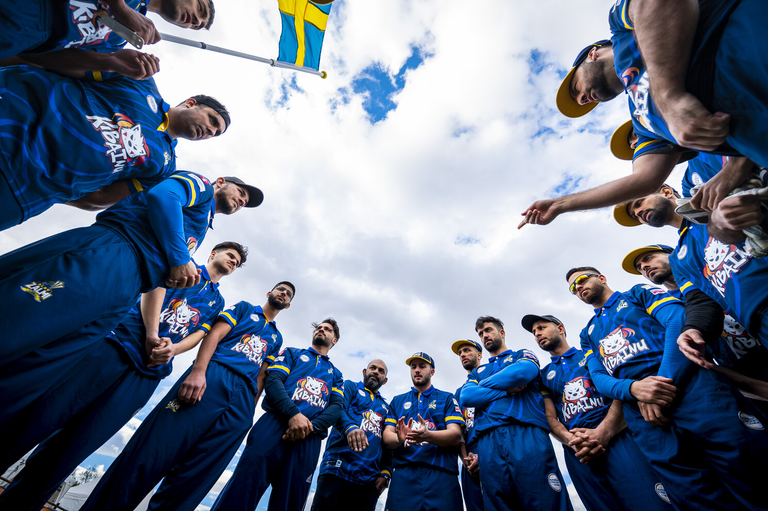 Photo Courtesy Diana Oros ECL
---
---