Challenges for Pakistan | Saif-Ul-Wahab
The start for the Pakistan Cricket team hasn't been great in this year's Men's T20 World Cup 2022, first match being played against India, second match against Zimbabwe and third against Netherlands. Pakistan is right now second last in their group, only above Netherlands with a Net Run Rate of +0,765. The hopes were high for the team, because of their great run in the Men's T20 World Cup 2022 last year being unbeaten till the Semi-Finals, but what has happened to them this time around?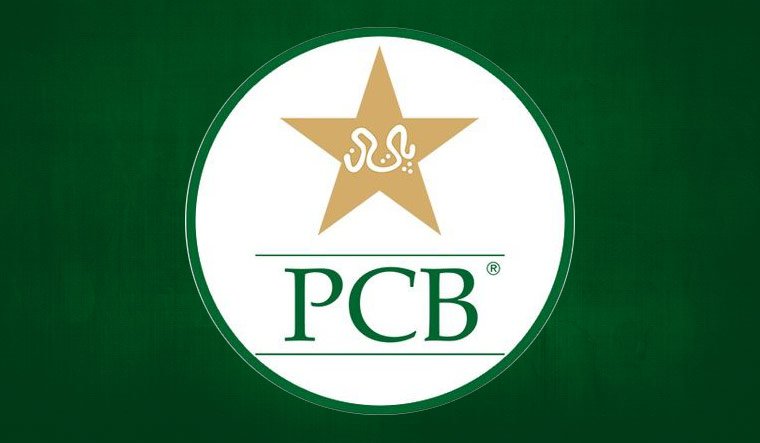 Picture by PTI from Theweek
Pakistan Cricket Team Squad
Batsmen: Babar Azam, Shan Masood, Haider Ali, Fakhar Zaman, Asif Ali, Kushdil Shah, Iftikhar Ahmed.
All-rounders: Shadab Khan, Mohammad Nawaz
Bowlers: Shaheen Shah Afridi, Naseem Shah, Haris Rauf, Mohammad Wasim JR, Mohammad Hasnain, Usman Qadir, Shahnawaz Dahani
Wicket-Keeper: Mohammad Rizwan & Mohammad Haris
What's not clicking
The famous and right now world best opening partnership of Babar Azam and Mohammad Rizwan hasn't been the same in this tournament. In those matches I have noticed and I think a lot of people will agree, its Babar Azam form that has let Pakistan down. Right now he has played a total of 3 matches, scoring only 8 runs and hitting only one boundary, these stats itself says a lot. On the other side Mohammad Rizwan is trying his best but when the wicket of Babar Azam falls he gets under pressure and doesn't get any help from the other batters and makes a mistake. Rizwan has scored a total of 66 runs in 3 matches, highest score against Netherlands scoring more than 50% of team runs. The reason why he could score that much was because he got backed up by Fakhar Zaman who scored boundaries but was willing to offer Rizwan the strike as he was playing well. Beside these two openers the bowling has been great, I think everything there is perfect. The middle-order as I said isn't backing up the team which is why if Babar or Rizwan gets out, no one is there to control the game, instead players just do unnecessary things and destroy the game.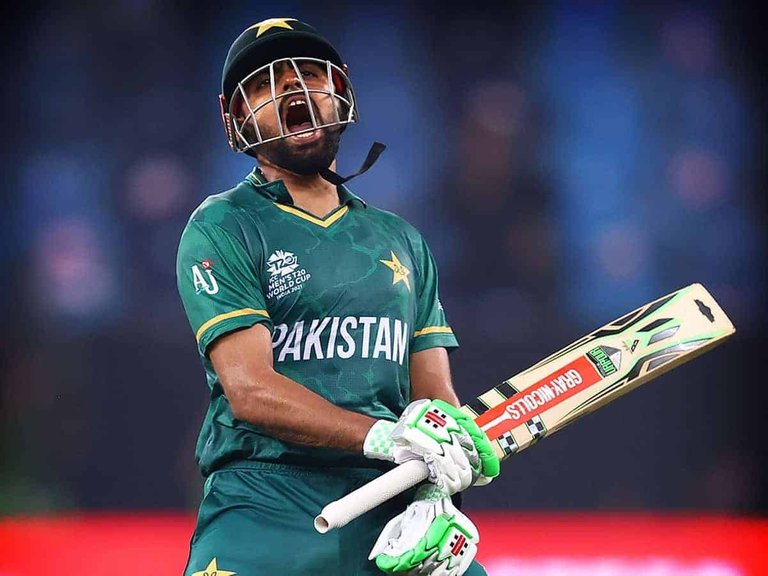 Picture by ICC from Siasat
What should be done
This is what I think might work for them. We have heard and also seen that the key for scoring a good total in T20 is to be aggressive in the powerplay. Because this year's Men's T20 World Cup 2022 just started I am taking some stats from last year's Men's T20 World Cup tournament, Pakistan was not even in the Top 10 teams who had the best average powerplay score. Pakistan had an average powerplay score of 35, and I think it's because Babar and Rizwan knew they are the heart of the batting line up and didn't want to get out, that's also why they have far from the other teams the best average wickets lost of 0.5. The best solution is to partner Rizwan with Shan Masood. Mohammad Rizwan has the best Strike rate in T20 of 128,84 and during powerplay a Strike rate of 119,22. This means he has to start for us with that kind of Strike rate. Shan Masood on the other side scored 39 runs against England in Warm-up for Men's T20 World Cup 2022 and had a strike rate of 177, against India he scored 52 runs and controlled the innings very well to get a competitive target. He also has a strike rate of 142,2 in PSL and has opened with Rizwan in PSL as well. One thing to mention is that personally I think Pakistan need Shoaib Malik in the middle-order to succeed, but unfortunately because he isnt in the squad, I think this should be the eleven for the rest of the matches. Don't get me wrong Babar and Rizwan duo is amazing, but Babar isn't clicking right now which is why just for the remaining matches I think Shan should start ahead.
1. Mohammad Rizwan
2. Shan Masood
3. Babar Azam
4. Iftikhar Ahmed
5. Shadab Khan
6. Asif Ali
7. Mohammad Nawaz
8. Mohammad Wasim JR
9. Shaheen Shah Afridi
10. Haris Rauf
11. Naseem Shah
How can Pakistan qualify from here?
Pakistan has to win their remaining matches against South Africa and Bangladesh to still keep hopes alive for Semi-Final qualification, but they are now very dependent on other results which is the worst thing that can happen to you in a tournament.

Shreenshot from t20worldcup
Lets say Pakistan win both their matches, then either India or South Africa has to lose at least one of their remaining two matches. South Africa play Netherlands on Sunday 6th November, if South Africa lose that match or it gets washed out and Pakistan win against Bangladesh, then Pakistan will qualify.
Second way is if India loses against Zimbabwe, but that is more difficult because they'll have to lose by a big margin so that Pakistan can get through with a better Net run rate. Pakistani fans might be on the Netherlands side on Sunday or would like rain to come so that they can get through.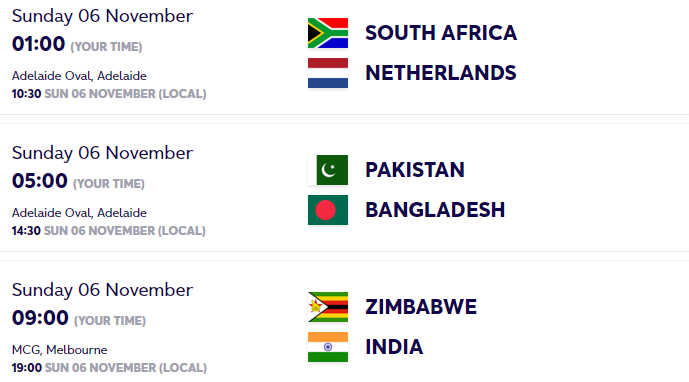 To be honest this squad could be even better, as I think that there are more deserving players out there, and in this tournament Pakistan have made things difficult for themselves which is totally their fault. Now the only thing that we as fans can do is to pray that somehow South Africa lose and Pakistan win their matches.
---
---