Fun 2 Day Cricket Tournament | Saif-ul-wahab
Senior Premier League (SPL) is a tournament organized by the Swedish Cricket Federation (SCF) where top players in the country get selected, then 4 teams are made, resisting all these players. This time right after SPL the Swedish National Team were heading to Germany to play Tri-series and after that they had to play the ICC 2024 Men's T20 World Cup Europe Sub Regional Qualifier. Before arranging SPL the Swedish National Team coach, legend Jonty Rodhes left the team because of internal reasons. Now that the National Team didn't have a coach, who was going to select the team? Somehow the board signed Qasim Ali to be the next coach for the team, but he was already on a task in Abu Dhabi T10 league being the coach of a famous team named Deccan Gladiators coaching great players like Andre Russell, Wanindu Hasaranga and Wahab Riaz. The board decided to have a 2 day Senior Premier League and then the selectors would pick the best players, make a squad and we would have a complete team. One thing which is important to tell is that there wasn't any semi-finals or final because the meaning of this tournament was different.
Time for Commentary
As I have mentioned in earlier blogs @shahzad-ansari have been doing a lot of live streaming of matches in Sweden and in fact being the first one, and I have also said that I was with him every time being a crazy cricket fan. During these matches of course we needed a commentator so that the viewers could enjoy the match even more and because @shahzad-ansari knew how big of a nerd i was, he told me to do the commentary. It started with a few league matches but eventually the numbers became bigger and that is also how people started to interact with me. Previously I have done commentary in two SM-Vecka events which is Sweden's biggest sporting event where different sports tournaments are played and each sport gets its winner. Coming back to SPL, @shahzad-ansari told me a few days before the matches were going to start that i was going to do the commentary and my brother @hamza-art was going to do the online web scoring, and to be honest I was glad, but it was such a long time ago last i did any commentary.
The plan was told to me and we also wanted to take some interviews with the Chairman of SCF, the selectors and hopefully Qasim Ali, our new coach for the National Team.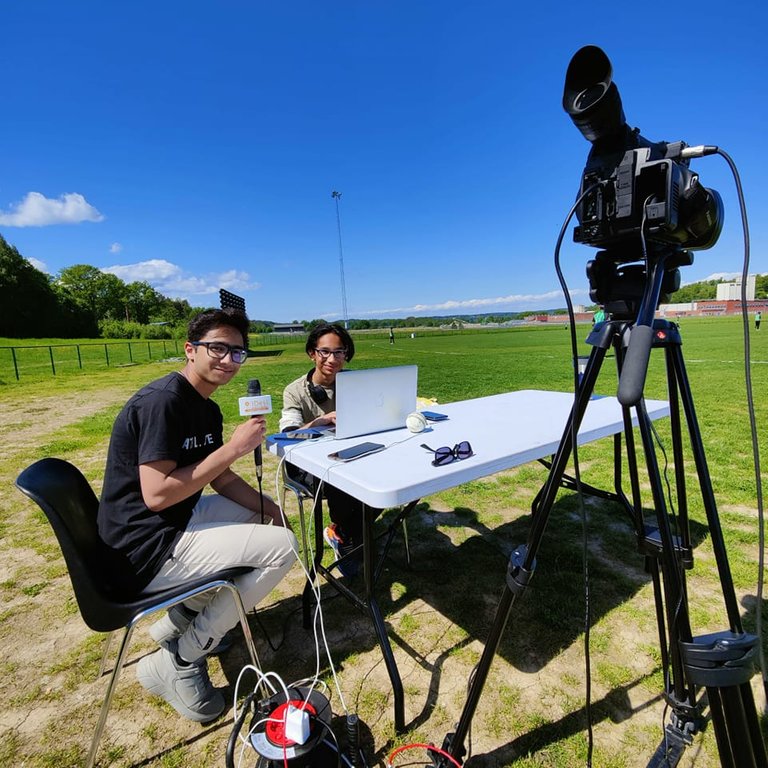 Time for some Interviews
I first interviewed RSF (National Team Selector) Pubudu Keppetiyawa. My question to him was, "how RSF are going to pick players and what is going to be difficult for them". He replied, "Our main job is to make a balanced squad with great batsmen, all-rounders, and bowlers so that we don't lack depth in any department, as well as picking players that show spirit to the game and are not only good players but also great sportsmen." I absolutely agreed with Pubudu, of course this sudden change was not only difficult for the players but also for the selectors, but he summed it up beautifully saying that they will try to make the squad as competitive and balanced as possible.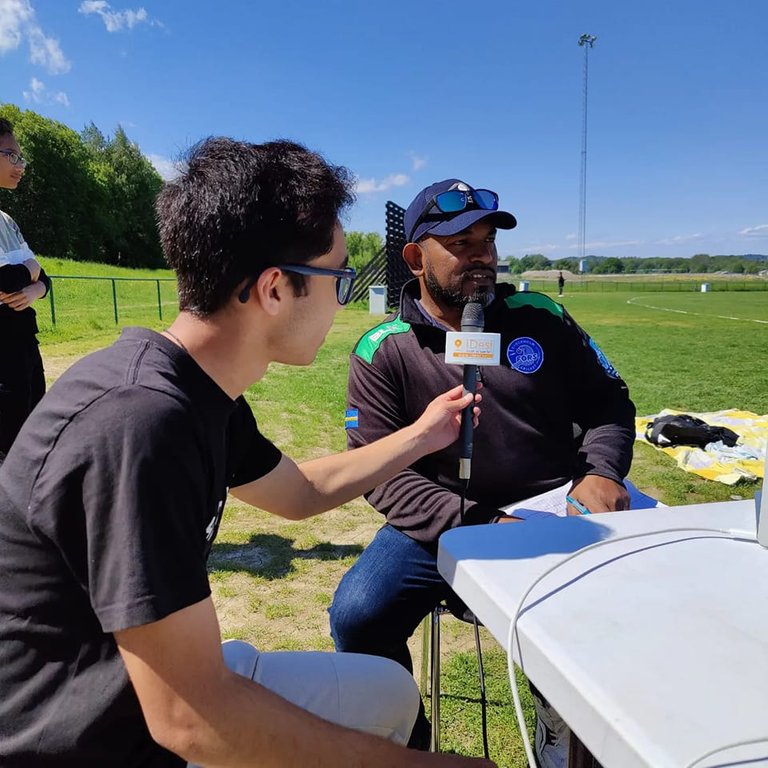 After a few matches, I got to meet Chairman of Swedish Cricket Federation (SCF) Dinesh Adhikari. I have mentioned in my Intro blog about the sports channel I have named SportsNerd, whenever i post anything about cricket i go to a Facebook group we have where everyone from around Sweden are there and post things related to the sport. Interestingly Dinesh told me that he had seen my videos on Facebook and really enjoyed them, and that itself was a confidence booster. During the interview I asked him about our new coach and how we will progress from here. " I think it is a sudden change, but we have coped with it well by announcing this tournament. Of course our new coach Qasim Ali will be joining us, and with his experience I think he is the right man for the job." I also asked him about the future of Swedish Cricket and what the focus is for him as Chairman. He replied with, " Every individual has its own perception about what is best, one person might think that the system is key, where one might think that kids activities are the best. Because of that I can't really tell in bold words exactly what our main focus is, but we will try to slowly but steadily grow cricket in Sweden by increasing the number of umpires and courses we have for them and we would also like to grow the interest of the sport as well." I agree, if you ask someone what is your main focus or aim, then everyone will think differently.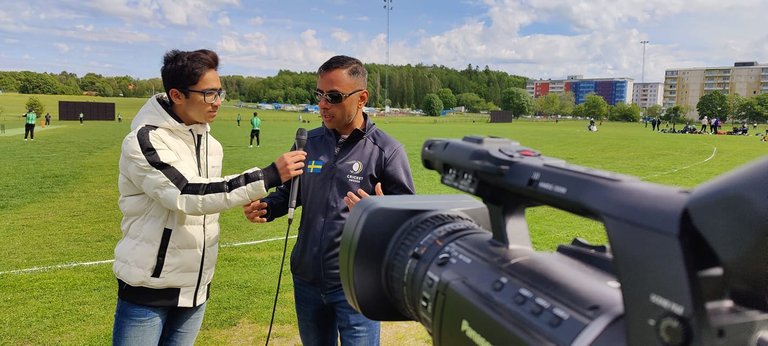 Lastly we had Qasim Ali who I interviewed, of course he was new to the people and the country so I couldn't yet ask him about his thoughts about things. My question was then what his expectations are and what's his plan for the upcoming big tournaments with the National team. He said, " I am delighted to be here, already seeing that the country has a lot of cricket lovers and of course I am new, but I will try my best to get familiar with players, staff, board and everyone. Our goal is to get a good squad which I will work with and do our best in the qualifiers and Tri-Series." I thanked him for coming and wished him good luck. Later on I took a picture with him and had a nice chat about the players, cricket here and also showed him my channel which he liked.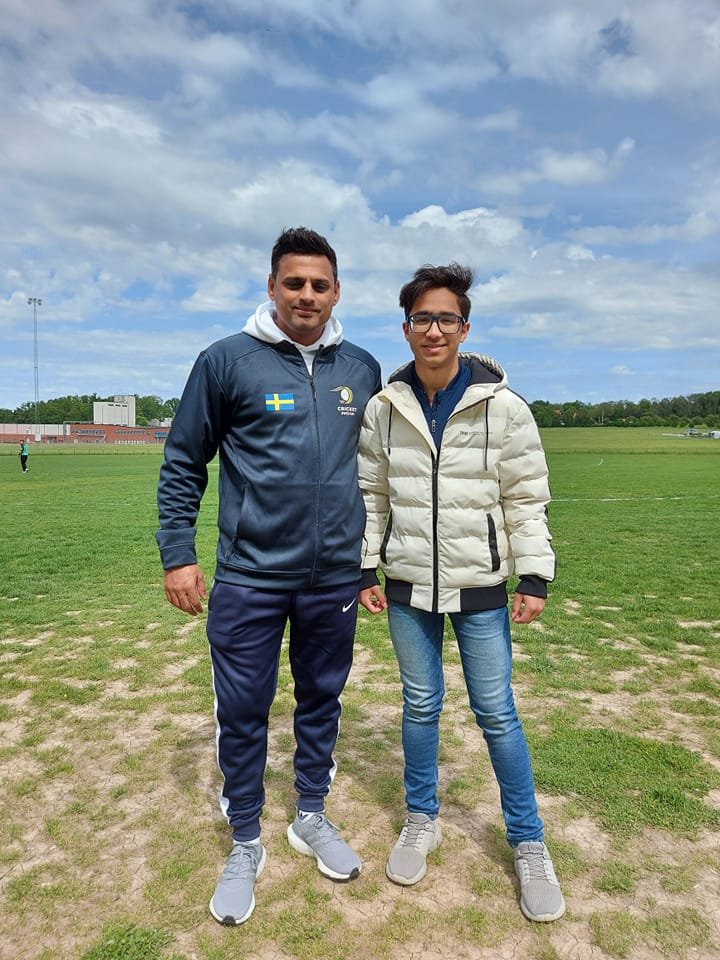 It was a great two day cricketing event where we saw some amazing talents, great performances and got to meet new and familiar people.
Best Performances
Just to end of this blog i would like to tell you guys the top performers of this tournament:
Most Runs & Best Player Ranking: Abhijit Venkatesh, who got named National team Captain with 101 runs and a player ranking of 401
Best Wicket-Keeper: Ismael Zia with 4 Catches and 2 Indirect Run-Outs
Most Wickets & Best Bowler: Baz Ayubi with 7 wickets
---
---