Rocketry: The Nambi Effect- A Movie Every Patrotic Person Should Watch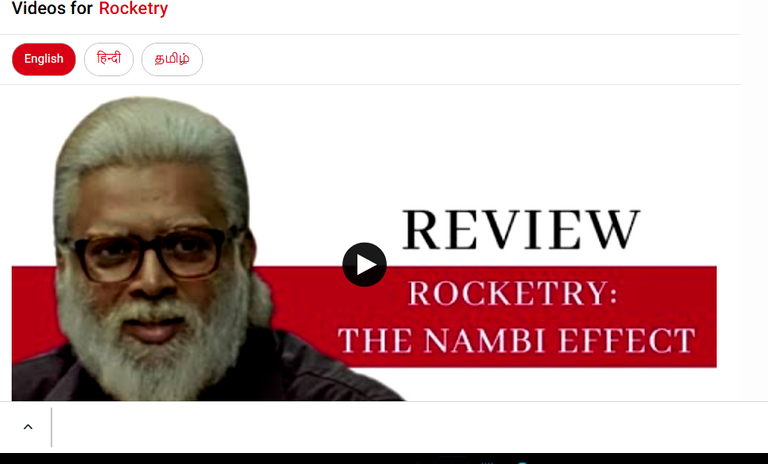 R Madhavan, Simran, Rajit Kapoor, Sam Mohan, and Shah Rukh Khan play the lead roles.
Writer and director R Madhavan.
release date, July 1, 2022.
While returning from a seminar, I had to stop for the night due to rain in the city of NCR. I watched "Rocketry: The Nambi Effect" in a nearby mall and felt that it was like reliving those moments with Indian scientists, which were part of their lives until a couple of decades ago.
Well, the situation has changed a lot now, but till 10–20 years from now, injustice was a part of their lives. I am a fan of Madhavan, but I did not realize before watching the film that this was a true story of a famous scientist, Nambi Narayanan. Whatever I saw shook my heart and mind.
I was watching a movie and was trying to stop my tears from getting emotional. How much injustice happened to this talented scientist who left his excellent job and came to India from America, and he suffered all this?
If you are on the path of truth, even after facing all this, he was happy, but he knew the pain of his heart. The film 'Rocketry: The Nambi Effect' is the story of patriotic people who make their skills their passion and keep their self-interest aside, and put everything into work. This film is also the story of those people who get stabbed in the back when the people around them see them rising up or doing something extra ordinary. That's called jealousy.
This is such a story of an obsessed man moving towards success, who was implicated in false allegations and put behind bars for years. This movie tells you that if Nambi Narayanan was given the proper respect and his due credit, then today the Indian Space Research Organization would be the world's number one space agency. Maybe, NASA would be looking at ISRO with its hand trying to fix its hat from falling down. Nambi, wanted to do something for his country and returned to India, refusing a job in NASA', the dream job of every scientist.
Rocketry: The Nambi Effect: This is not only the story of the injustice done to Nambi Narayanan, it is the story of the injustice done to the entire country. We could have gone past many countries in technical fields if not for our carelessness that we showed to our talented scientists.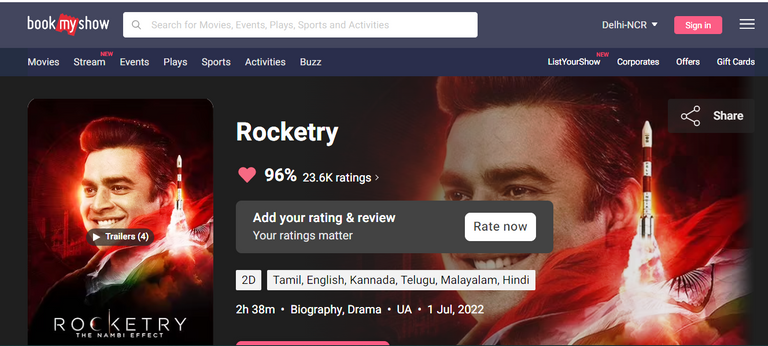 The burning question regarding Indian filmmakers, the story of Nambi Narayanan, is such that it is astonishing to think why no major film production company has made a film on it till now. After watching the film on Tuesday, I heard that Madhavan, who wrote, produced, directed, and acted in this film, is facing criticism for this true story.
But, barring the audience, the rest of the film world is not coming forward to praise this movie. Maybe they're scared that a new cinema will replace their traditional style of movie making. We don't want patriotism in a real way but in the same melodramatic way that has been the so called patriotism for them. But after watching this movie, I am sure the trend will change.
'Rocketry: is the true story of Nambi, who worked with names like Vikram Sarabhai, Dr. APJ Abdul Kalam. Nambi went to one of the best educational institutions in the world, Princeton. He gets a job at NASA but returns to ISRO, which pays far less than that. Nambi was developing a rocket to take satellites into space. Finally, he made a rocket. The name of the rocket was Vi As. When he tested it successfully, he added "KA" taken from his guru's name, in the middle, and the name of the rocket became Vikas, the development.
The rockets sent by ISRO into space to date follow the same pattern shown by Nambi. And who made them in the beginning? Nambi Narayanan. Shahrukh Khan has done his part impressively as usual.
But Madhava's acting I think is his best performance till date. If you have a love for the country, and an interest in science, then the film Rocketry: The Nambi Effect is a film for you that you will never forget. He has made this film considering his duty. He was not tempted by offers to sell his movie on ott platforms, otherwise he would have sat pretty like other producers on the release of their successful films.
But then Madhavan thought of this film for the big screen. Madhvan has taken every care to see to it that all special effects and photography are top notch, which suits the mood of this impressive movie and matches the tempo. The cast of the film is perfect and has worked effectively. In the role of Meera, wife of Nambi Narayanan, Simran, a regular costar of Madhavan and a hit Tamil film star, has done justice to her role.
With her expressions, Simran has shown what happened to Nambi and how it affects a house maker in Indian society. And, Madhavan has also done what was required for the movie, which is normal for him with his kind of acting talent. I ask you a question? Can you stop your tears when you watch a talented scientist getting wet sitting on the road with his national flag on his head to protect himself from rain? Yes, the Narayanan couple were sitting on the road, desperate and helpless. Madhvan has done justice to his role.
Madhavan is battling this system alone and showing how the corrupt politicians ruined it, just like Nambi Narayanan was once battling with the system and the judiciary to prove himself innocent. The police officer who implicated Nambi in this false case has now been arrested in the case of Teesta Setalvad.
As an actor, director, or producer, Madhvan and, "Rocketry: The Nambi Effect" force you to wipe your eyes because tears will come out no matter what you do,
I feel the film "Rocketry: The Nambi Effect" is not only a film inspired by a true incident of injustice done to a space scientist in the country. Madhavan has tried to make it exactly the same as what happened with Nambi Narayanan, scene by scene, frame by frame. And we know what happened to Nambi.
And yes, Nambi Narayanan himself has been associated with the making of this film from the beginning. If you wish to know what happened in the past, go watch this movie. I recommend this movie to anyone willing to do something for this country.
My Heart Felt Thanks to @bighungrypanda for inspiring me to do this review.
---
---