Cudos Network: When Cloud and Blockchain Unites (Cosmos)
The world of decentralized systems is welcoming many people into its community but with the situation in the market, the behavior is giving newbies another perspective about the digital world.
Is this a decentralized system for us? This is the question newbies into the decentralized system are asking!
Let's take a dive into how to answer this question correctly.
It is interesting to know that, understanding the basis of a system activates the best path to follow in bringing out what makes that system works. A close study on decentralized system release to you the solutions this system brought to us.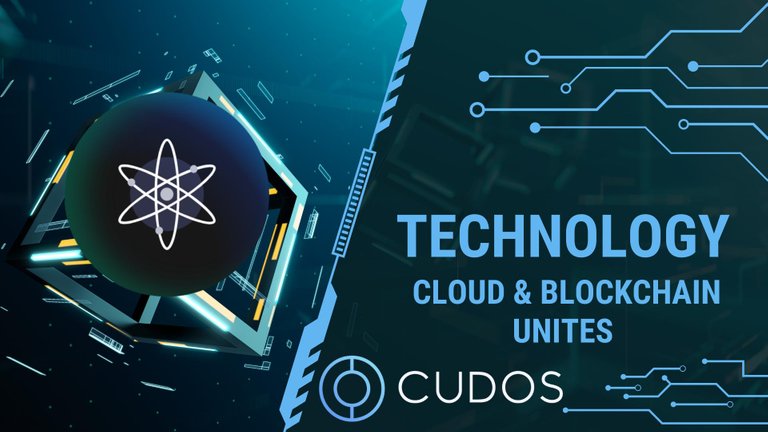 Understand this, how the system work is different from why is the price of crypto going down. These are two different things.
One of the solutions decentralized systems brought to us through the power of Blockchain is cutting off third-party during transactions. As a user of the system, you can transact from your corner of the room without visiting any bank.
In the space, there are multiple numbers of projects that use the power of blockchain to solve the real world problems, is now for you to do your research and understand what solution the project you selected solving in real world.
Cosmos Ecosystem As A Case Study
Cosmos Network has been one of my major network I love to talk about due to how is been structured and great projects within its ecosystem.
The network of Cosmos was designed as an interoperable network but again an autonomous Blockchain that can exchange information and tokens between each other in a permissionless manner. This network focuses on three major elements which are:
Autonomy.
Sovereignty.
Scalability.
This is one of the reason Cosmos is called Internet of Blockchain.
As I have said earlier, amazing projects has built on this network, at least over 260 decentralized applications are on Cosmos Network.
Recently, Cudos launched its mainnet on Cosmos network using Cosmos SDK.
Let's talk a walk into Cudos as a project on Cosmos Network been the new project on the network.
Cudos On Cosmos Network
Cudos network is a special-purpose Blockchain built to unites cloud and Blockchain by using the available global computing power. As a decentralized cloud computing network, it uses spare computing to create a decentralized, sustainable, and connected world. With this solutions, upto 100,000 nodes computing scaling are anabled.
It ecosystem consists three elements:
A layer 1 network.
A layer 2 solutions.
An oracle network.
In its mission statement, Cudos is set to attain cross-chain interoperability via bridging with Ethereum, Polkadot, Algorand, and Cosmos to suport scalable computing and layer 2 oracles on all the bridged networks.
How possible can this be?
Recently, Cudos launched its mainnet on Cosmos Network to achieve cross-chain operability through the use of blockchain's inter blockchain communication integration. It is important to know that IBC (inter blockchain communication) is responsible for Cudos smart contract running on multiple blockchains.
Unique Features of Cudos
The followings are major features that set apart Cudos from other blockchains:
Less vulnerable to attacks and hacking
Less expensive than others.
Their is decentralized control based on decentralized model in place.
The network is more secure and transparent
In conclusion, on Cosmos Network, there are great projects one can leverage on like Cudos a project that users can build nodes and validators, create smart contracts, NFTs and DApps. All you need is to understand the network fundamentals.
Learn More
Website | Cudos Doc | Telegram | Medium
Posted Using LeoFinance Beta
---
---