My favorite places to write / Lugares donde me gusta escribir
En un momento de mi vida no pensé que la escritura fuera a ser tan relevante, ya me gustaba escribir, pero no lo hacía de forma frecuente. Sin embargo, desde que empecé a ser Blogger se ha vuelto parte de mi rutina diaria, no solo escribo para, mi blog sino también para mis otros proyectos.
At one point in my life I didn't think that writing would be so relevant, I already liked to write, but I didn't do it frequently. However, since I started being a Blogger it has become part of my daily routine, I not only write for my blog but also for my other projects.
Spanish
Estoy publicando este post para dos públicos por lo cual lo encontrarás en dos idiomas español e inglés.
English
I am publishing this post for two audiences so you will find it in two languages, Spanish and English.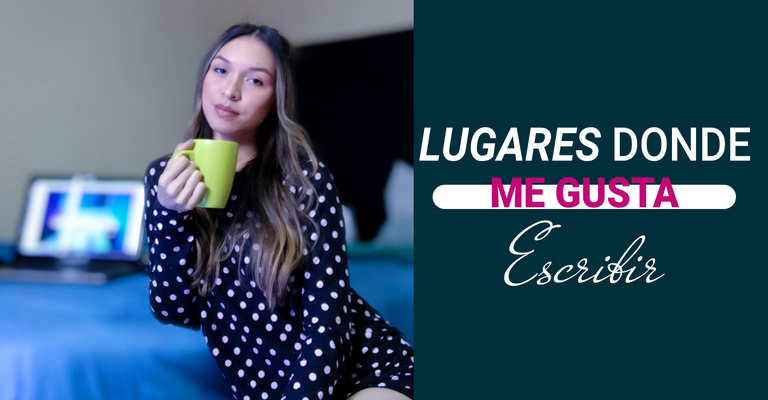 ---



Entonces, a veces escribir requiere algo de inspiración e impulso, a veces se escribe de forma metódica, todo depende. Hablaré de mi blog, acá escribo desde diferentes lugares, he notado que variar de lugar al escribir me genera más creatividad.

No es que voy de un sitio a otro, escribo en mi cuarto oficina, en un pequeño escritorio que tengo acá, también escribo a veces en la cama, pero por momentos muy breve. Pero aún hay más, como estoy con el celular siempre cerca de mí, cuando tengo ideas o inspiraciones las escribo en el celular, he llegado a escribir muchos posts desde mi celular estando en diferentes lugares.

A veces me voy al balcón y me siento a escribir, mientras siento la brisa rosar mi piel y escucho el canto de los pajaritos, no lo hago de forma frecuente que lo haga en esta época porque es verano y hace calor, pero en las mañanas el clima de afuera es muy favorable.

So, sometimes writing requires some inspiration and impulse, sometimes you write methodically, it all depends. I'll talk about my blog, here I write from different places, I've noticed that varying from place to place when I write generates more creativity.

It's not that I go from one place to another, I write in my office room, in a small desk I have here, I also write sometimes in bed, but very briefly at times. But there's more, as I have my cell phone always near me, when I have ideas or inspirations I write them on my cell phone, I've even written many posts from my cell phone while I'm in different places.

Sometimes I go to the balcony and sit down to write, while I feel the breeze touching my skin and listen to the birds singing, I don't do it often at this time of the year because it is summer and it is hot, but in the mornings the weather outside is very favorable.

---




---





Me gusta escribir y estar cerca de la naturaleza, sea un jardín, sea desde el balcón o frente al mar. Pero en casa me gusta escribir en la madrugada en el cuarto que ocupo como oficina, ahí tengo un lugar para mí, donde estoy en calma y puedo concentrarme plenamente.

Y tú ¿Cuáles son tus lugares favoritos para escribir?

I like to write and be close to nature, whether it's a garden, a balcony or the sea. But at home I like to write in the early morning in the room I use as an office, there I have a place for myself, where I am calm and can concentrate fully.

And you, what are your favorite places to write?




Gracias por leer mi post

Thanks for reading my post







Otras redes:

3speak.online| Instagram | Youtube Vlog | Youtube Blockchain

Emoji de Bitmoji



---
---