1 Bitcoin a Day, Says Nayib Bukele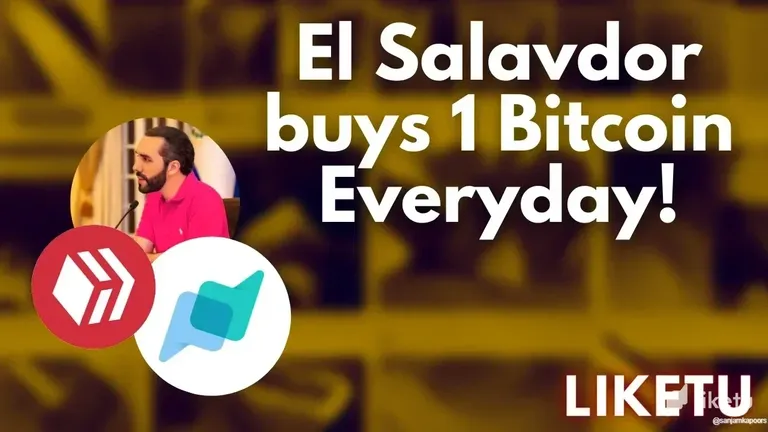 Greetings everyone, I hope you all are doing great today and if you are I am thankful. Recently just few hours back Nayib Bukele, the president of El Salavador announced that they would be buying 1 Bitcoin every single day from today as the time of writing this post which is just literally insane for the adoption of Bitcoin. Right now Bitcoin revolves around $16000 and even if it doubles up in the upcoming months imagine, the ecnomic grwoth they will be recieving through that. Isn't this amazing?
We can already see how big the adoption of Bitcoin is in El salavador and by doing this, it could increase it even more. Good for the people. If Bitcoin crashes further from here then that would be a lillte sad moment and deressng for the market because FTX's collapse has alreadycaused Billions of Dollars of loss for the people and the makret and many people are not ye ready to handle such an incident again but you should because we are ina bear [prase and these things are usual in a bear market and we have to FACE it and HANDLE it.
#FTX
Court filings are revealing a lot, literally so many things which can juststraightway astonish your brain, one thing, a thing is spreading in the market relating to SBF and Caroline s*x tape to be pblicly released if they are not accountable at the time of writing this post. I do not know if this is true, (99% I do not think so) then that would be just so fucked up LOL!
Twitter is like a Warzone RN!
Back again!
John Roy is back on another mission for FTX and becoming the CEO, the person who cleared the Enron's fraud mess, handled with so many bankruptcies. It is very likely that we would be looking to another bankrutcy very soon which is of BlockFi as they have took $250 Million Load in FTT and probably that must have been also destroyed. The collapse has not ende yet rather more to come! Keep accumulating the crypto currency you want, you believ in and you trust in a safe and secure manner with a secure place.
Thanks, nothing here is a financial advice but rather my thoughts got shared for entertainment purposes..
SANJAM
---
For the best experience view this post on Liketu
---
---