Can Solana Recover after such a Crash? Solana is Extremely Centralized, Discussion.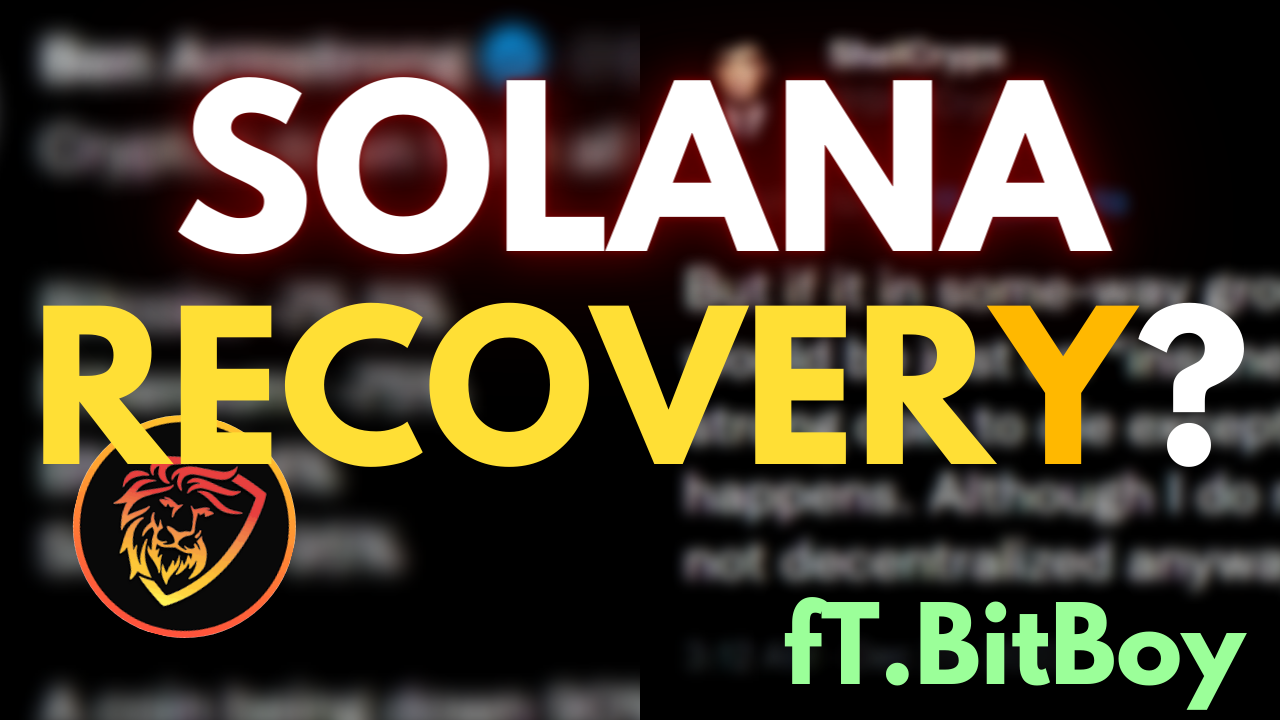 The crypto market has seen some serious dips in the past few months. Bitcoin, Ethereum, BNB, and Solana are all down more than 75%, with Solana being the most affected, dropping nearly 95%.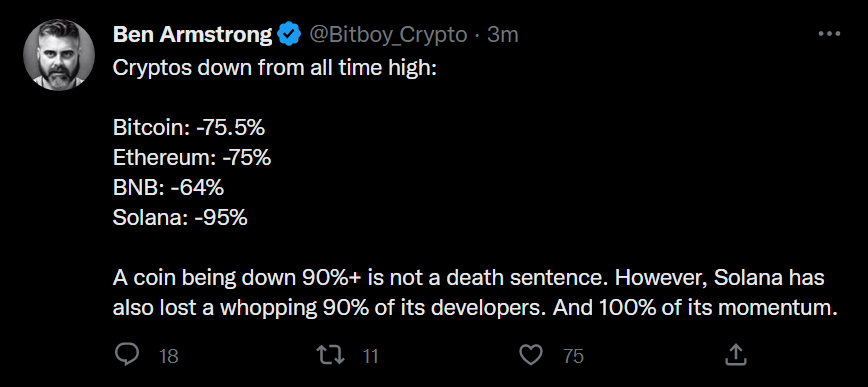 source
This market downturn has been a difficult time for many crypto investors, especially those who invested in the tokens before they skyrocketed in value. It's important to remember, however, that the crypto market is cyclical and these dips are not necessarily permanent. The current crypto market downturn is not just limited to these four tokens. Many other tokens have also seen significant losses in value. This is an unfortunate reality of investing in cryptocurrency, as prices can be volatile. Despite the current market downturn, there are still some positive aspects to consider. For one, the market downturn has made it easier for new investors to get involved in cryptocurrency. This is because prices are lower, making it more affordable for new investors to enter the market.
It's also important to note that the current market downturn can be an opportunity for investors to buy low and potentially sell high in the future when the market recovers. It's clear that the crypto market is in a tough spot right now, but it's important to remember that this is not the end. The crypto market is cyclical and the current downturn will not last forever. By understanding this and taking advantage of the current market conditions, investors can still make money in the long term.
The bull runs and bear markets have been intense, and many investors have suffered great losses, with some cryptocurrencies dropping more than 90%. But it's important to remember, crypto dropping more than 90% is not dead. In fact, it could be setting up for a massive rebound. It is also important to remember that crypto dropping more than 90% is not necessarily dead. Therefore, it is important to stay patient and wait for the right time to invest. With the right strategy, you could be in for great gain.
History tells us that a crypto bear market is often followed by a crypto bull market, and the same could be true for the current situation. This means that prices can be unpredictable and risky. But, it also means that there is great potential for those who are willing to take the risk.
My Opinion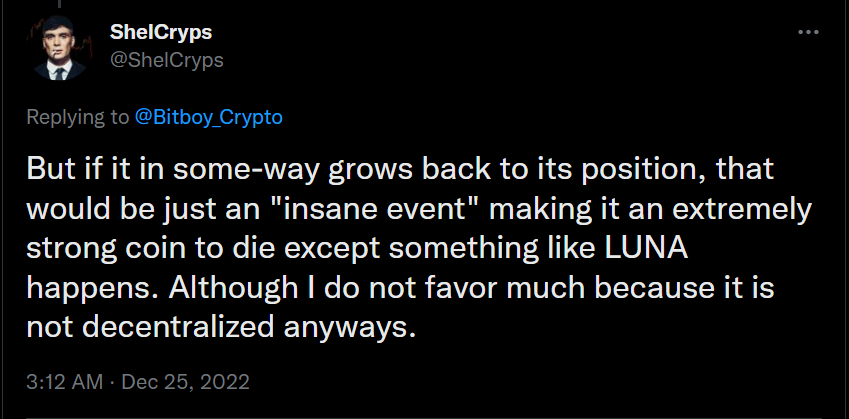 Source
The current situation of Solana is dire, but this could be the biggest comeback story of the market if it recovers. After the departure of some of its developers and a decline in the price momentum, recovery seemed like an impossible task. What is more encouraging is that the Solana team is doing all it can to make the comeback a reality. Solana is now launching new applications and protocols that are designed to make it easier to build, deploy and scale decentralized applications. This is a testament to the commitment and resilience of the Solana team.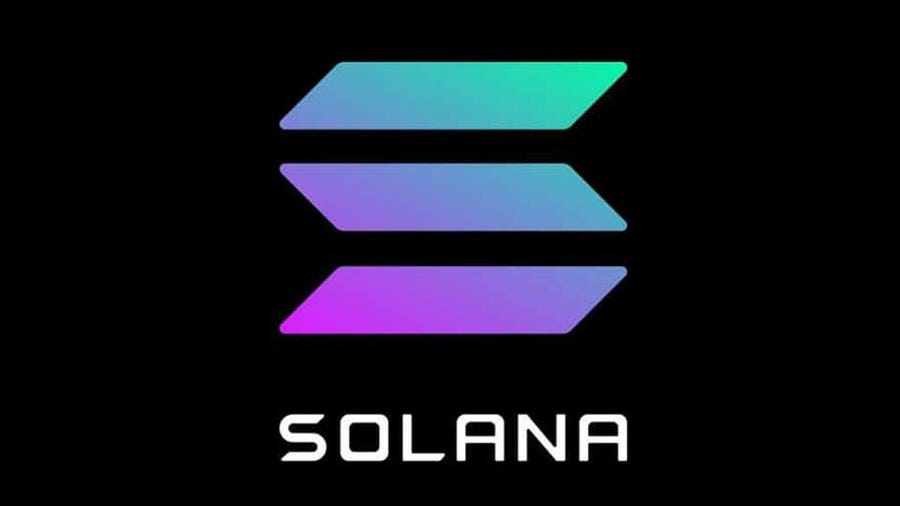 [Source](
https://www.google.com/url?sa=i&url=https%3A%2F%2Fwww.forbes.com%2Fadvisor%2Finvesting%2Fcryptocurrency%2Fhow-to-buy-solana%2F&psig=AOvVaw09Xp28vG9zCZo_dwlhwlLV&ust=1672005648512000&source=images&cd=vfe&ved=0CBAQjRxqFwoTCLjZuMigk_wCFQAAAAAdAAAAABAI0
Solana has also made an effort to regain its lost developer community. It has launched a new developer portal and has also held several hackathons and coding challenges to attract more developers. This is an indication that the Solana team is dedicated to its mission and is working hard to make Solana the premier platform for decentralized applications.
We can only wait and see how this story will unfold but one thing is certain: if it succeeds in its mission, it will be one of the greatest comebacks in the market.
Negative Aspect of SOLANA
Solana was supposed to be a platform for decentralized applications and blockchain technology, but it has become increasingly centralized over the past few years. This means that a few powerful entities have control over the network and decision-making process. This is in direct opposition to the spirit of decentralization, which is supposed to prioritize the collective control of users.
The problem with this centralization is that it can lead to a lack of transparency and accountability. Decentralized networks are supposed to be open and accessible, but with Solana, this is becoming increasingly difficult. It is also worth noting that many of the decisions made by the centralized entities running the platform are not in the best interests of the users.
As someone who values decentralization, I do not favor much the current Solana situation. This centralized system is in direct opposition to the true meaning of decentralization and is getting more and more centralized, which I never am and was never in favor of. The current Solana situation is a stark reminder of why decentralization is so important. Without it, there is no guarantee that our data and networks are secure and in the best interests of the users. It is essential that we make sure to support systems that prioritize decentralization and reject those that do not.
Incident that proves.
It's no secret that the current Solana situation has been a source of frustration and concern among many of its users. Recently, a user experienced a particularly concerning incident wherein Solana blocked his wallet, preventing him from liquidating the assets of other users. This has caused a great deal of confusion and fear among the Solana community and has raised questions about the overall security of the network. At the heart of this issue is the fact that Solana's blockchain is based on a delegated proof-of-stake consensus mechanism, meaning that certain users are granted the power to validate transactions on the network. This system has its advantages, but it also means that a single user can have a disproportionate amount of power over the network. In this case, it appears that the person who had their wallet blocked was using that power to extract profits from other users.

Thanks for going through the post and I hope you must have attained value from it and also, enjoyed it. Rest, this all is not financial advice but rather, my thoughts being shared here and also just for entertainment purposes. Have an amazing rest of your day!
SANJAM
Posted Using LeoFinance Beta
---
---