Band Collaborations: Part 1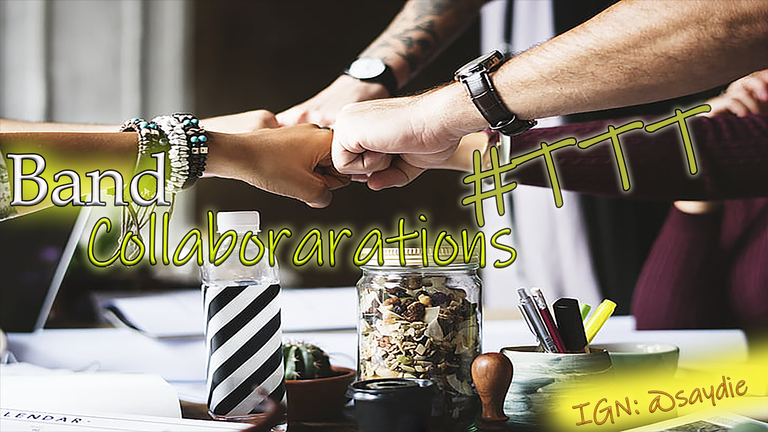 Hello to all my fellow music lovers! @saydie here and for this week's TTT, I have come to list 3 songs that were made by bands collaborating with others bands.

Silverstein- The End Feat Lights
The first song on my list was The End from the bands 4th album A Shipwreck in the Sand released on 2009 in collaboration with Lights which adds overall warmth to the song and comparatively softer the usual post- hardcore style of Silverstein such as "Bleeds no More" and "Your Sword vs. My Dagger".
A Day To Remember- If it Means A Lot To You Ft. Sierra Kusterbeck
For my Second song, it will be If it Means A Lot to You from the bands 2009 album Homesick in collaboration with Sierra Kusterbeck from the band Versa. Like Silverstein, ADTR was a post hardcore band which I featured from a previous post so its quite refreshing when they made songs like this. The male part of the song how much he wants to go back home while the female part tells how she patiently waits for the man to come home.
The All American Rejects- Another Heart Calls Ft. The Pierces
For my last video, I share Another Heart Calls from the bands 3rd album When the World Comes Down in collaboration with The Pierces. What I get from it is a relationship where one or the other of them (or both) has a chance/desire to be with someone else: "Another heart calls" (or maybe already has been... "I didn't lie, but didn't I tell you?") and they have to figure out whether they want each other or not. They make it sound much deeper, of course, but that's the general vibe I get from it.

And that was it for this week's #threetunetuesday post. This was a project initiated by @ablaze where everyone was free to share their favorite music every Tuesday. Thank you very much if you made it till the end and you can tell me which song have you liked or was something that you never heard.
See you until next time!
Credits
---
---