June, Monsoon, Hive and Greens

Today is June 1st, 2023. I powered up ten hive. I hope I will also be able to power up one hive daily. So, far I have completed January, April, and May. February and March could not be completed because I failed to power up on a day and I gave up in despair.
Anyways, the inspiration to power up hive on a daily basis was got from the city of Neoxian and I hope I can do it always. Hive has changed my life for the better and I am not sure I can express it in words.
As I mentioned, it is the start of June which also means that the monsoon season is about to start. The clouds are beginning to appear dark and the air is already damp. I hope the rains come but not in such a fashion that there are floods. I do wish the city and suburbs are designed in a manner that ensures good drainage otherwise, the city is usually flooded after a few days of continuous rain.
Schools have reopened today after the summer holidays and I am sure the excitement of wearing new clothes and new books and meeting new friends will be a great experience for the students. I am thankful that the children are safer now. Fingers crossed.
Usually, the rains are welcomed after the hot summers but when the rain pours down non-stop for a few days and the sun seems to have gone for a vacation, it can become depressing. So, be ready for such situations and always consume hot foods that are prepared in hygienic conditions. If possible, avoid eating outside, especially from street joints that may not be neat. Make sure to have food that is fresh and drink water even if you are not thirsty. Just enough to remain hydrated.
By the way, it is not 'chai-tea'. I see a lot of people mentioning chai as chai-tea which is not right. It is like saying, I want tea-tea. There is a story that Tea and Chai were two Chinese merchants who sold the beverage to other countries and it was named after them.
Adding a bit of ginger and cardamom to the chai will not only increase the taste but it will also help heat the body during the rains.
After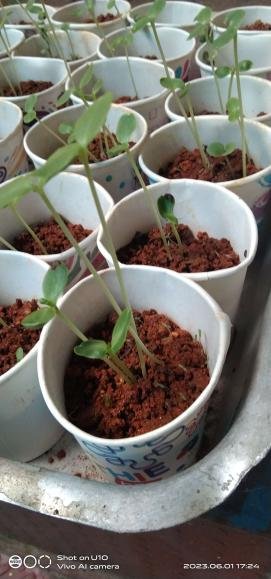 Before
Now is the time to plant some vegetables like cucumber, bitter gourd, and creeper veggies that will grow healthily during the rains but I hope excess rains will not destroy the crops during the growth periods. it is always wise to grow your own veggies because you can not only get the satisfaction of contributing to making the planet greener but also eat healthily.
Preparing your own meals is better than ordering food or eating outside as you may not be sure of the quality of the food and if they are using preservative-loaded spices and other ingredients that could even be well after the expiry date.
Give it a thought and start to grow at least one vegetable seed. You need not even buy a pot. You can use discarded containers.
So, happy farming.
All images - own
---
---